What is a Facebook Advertisement?
Marketing is the right communication to the right people at the right time. While your traditional marketing campaigns and advertising methods such as TV commercials, paper ads are working pretty well and pays good result, don't you want to take a look at an advertising platform that gives you the opportunity to target based on age, sex, behaviour, custom audience through the database, website visitors, demographic and interests? And also pay only for advertisements shown to the specific group of people? It does sound economical. Isn't it?
Facebook, as we all know is the biggest marketing platform for digital marketers; being the most popular website helps advertisers to reach the target audience. Facebook generates around 4.5 billion likes every day and it has around 1.4 billion users of which 1.25 billion were mobile users (Source: VentureBeat). And on a daily basis, 936 million people log onto Facebook, which represents a 17% increase year over year. Videos uploaded on Facebook now exceed YouTube. Facebook has over 40 million active small business pages. There are around 2.5 million active advertisers on Facebook.
Did you know that there are around 126 Million Facebook users in India? Statistics show that 10 million Facebook users are from Tamil Nadu out of which 52 Lakh users are from Chennai alone. So if you are a smart marketer, you wouldn't overlook this platform when you are coining your marketing plan for 2016. This blog will take you through various statistics and facts that you must know about Facebook as a platform and will provide you a thorough understanding on the types of Facebook Ads and the objectives that you can set for Facebook Ads.
How can you make it work?

You know what you are selling. As a marketer, you know what you are selling be it service or product. Once you know what you are selling, you need to define whom you want to sell it to. Without a clear understanding of your target audience, your money will be spent on advertisements reaching the not so definite or clear audience.
Facebook has more than a billion users and every time a person creates a profile on Facebook, he/she stores various information about themselves like their age, gender, interests and location, education, relationship status, interests like favorite movies, music and all the social activities such as a like or comment on a post is recorded. Now this information is stored on the Facebook platform.
This stored information on Facebook allows advertisers to choose the target audience through a built-in algorithm and allows advertisers to create groups to run specific and targeted advertisements. This is how Facebook advertisements are optimized and personalized.
Advertisers are benefitted by not spending on people who will be least interested in what they are about to offer and users are benefitted to view ads that interests or relevant to them. This also means that as advertisers pay a minimum amount to reach out to maximum potential customers.
Why is Facebook Ads important?
Google Ads helps you meet the demand whereas Facebook Ads helps you in creating demand.
When compared to Google Ads, Facebook Ads offer image-based ads, additional character length to descriptions and the ads are shown multiple times to a targeted audience. Since audience today spends more time on Facebook and the ads appears on their timeline (both mobile and desktop) there are higher chances you capture the eyeballs here if missed out anywhere else. Also, Facebook ads bring a social element by creating a story about how many of your friends have liked the advertisement or commented on it. It is noted that 20% of all page views on web are from Facebook.
With Facebook advertisements, targeted audience can be reached at a lower budget when compared to other marketing means. 1.39 billion people access facebook via mobile phones as of 30/9/15 according to Facebook. 'This makes it easy for Facebook to show advertisements on mobile phones. The visual engagement and access of Facebook through mobile phones makes the marketing efficient on Facebook. Since Facebook has a large user base and allows advertisers customize their target audience, it is the right place to market your brand. Unlike other websites Facebook doesn't limit users to just reading the content, with fan pages for brands and interactive ads by brands knowing users opinion is easy. It is noted that 78% of fans use the brand/product and then like the page on Facebook.
Facebook advertisements help retain old customers and add new fans by targeting the right audience. Another promising fact for advertisers is that Ad clicks are increasing by 70% year over year.
Also, targeting is the whole new ball game in the digital era of advertising. You can target your customers on Facebook from 7 to 8 different ways.
What Kind of objectives can you set on Facebook Ads?
Execution of Facebook Ads comes with its set of objectives which is tailored to suit an advertiser's needs. Facebook spoils you with choices when it comes to choosing an action for running Ads. Facebook has 10 diverse options for you to choose from. Let us look at the options now:
1. Boost Your Posts: In this option, you can boost the engagements of posts through Ads manager. Boost post can be done in two ways on Facebook:
You can boost it directly from the community – make it reach to community members and their friends and the audience you decide on the basis of interest, age and location.
The other way of boosting post is using the Ads manager. Through this you can target your post to an exclusive audience of your choice on all the possible targeting ways that Facebook allows advertisers. Your post can be a text, link, video, series of posts in format of album (direct upload) or single post. The boost post rule implies strictly on the basis of 20% text rule and other key guidelines that can be observed here. Boost post is a really important tool for marketers and advertisers today as your one potential post can reach to millions of people without having a community in place.
For example: Urban Tree Infrastructures, a very popular real estate company based out of Chennai focussed a particular post about its property to the NRIs living in the United States and England. This post got close to about 100 leads in the comments section alone – The number of likes, comments and shares helps raise eyebrows and triggers more people to ask questions.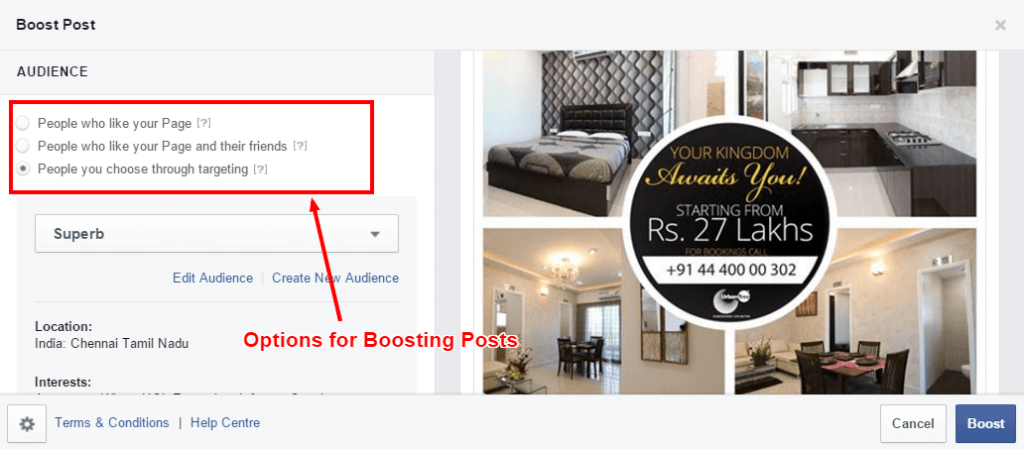 2. Promote your page: Have you come across advertisements on Facebook that asks you to like the page? Well, with 'promote your page' objective you can help your brand achieve followers for their official Facebook pages. When executed with pleasing images and accurate copy targeting to the right audience, this campaign can set your page off to your followers. But, remember the organic reach of Facebook pages is almost dead so it is essential to build the community of known audience base if you are a small business owner. Also, ensure your page is interesting enough in order for people to continue staying on your page! The 'Promote Your Page' ad comes along with an image and 90% text, title of the page and the like button.
For example, Oliva Clinics – a hair, skin and laser treatment centre based in Hyderabad and Bangalore promoted their page to their audience with clean & simple creatives on a regular basis and amassed 100,000 likes for their page with this winning strategy.
3. Send people to your website: If you have something on your website that you want the world to see then 'click to website' objective is a great way to drive traffic to your website. The 'Clicks to Website' advertisements has a different ad copy when compared to the like campaign ads. The ad copies allow brands to place more text and have a list call to action buttons to pick from.
For example: D2D Chennai night marathon that was scheduled to happen in December 2015 saw a great response when they ran Ads for sending their audience to their website. What worked for them was the usage of previous events' images to run their Ads. The event got 4000 registrations in total; of which a major part came from social media.
4. Increase conversions on your website: If you have a website where you want people to register for an event or sign up and track it, this Ad is the apt one you need to execute! This Ad campaign also requires you to generate a pixel code and have it incorporated in the thank you page. Even if the pixel today is integrated with the website the advanced 'Custom Pixel' will help you decide the conclusion page for the conversion journey. This objective will help you track conversions. There is no difference between the ad copies of send people to your website and increase conversion on your website advertisements.
For example, the Indian Food & Culinary Association (IFCA) was hosting a Global Culinary Exchange in Delhi. Website conversion ads were run in order to garner attention and create a buzz. This activity got them the 300 entries that they wanted for the event, making it a full house attendance as this event was exclusively targeted at the chefs.
5. One click website conversion: One of the most preferred Ads by Facebook marketers these days. And we'll tell you exactly why. The one click website conversion Ads can be run without a pixel code and has a built-in form that can be generated, edited and then circulated to the target audience along with the ad. By practise we have seen that these ads give us more leads than the regular website conversions ad. This maybe attributed to the fact that the audience do not have to exit Facebook to key in their details.
For example, upon completion of 5 years as a trainer, we at echoVME are running one click lead generation ads to bring in participants for the free digital marketing course that is offered as part of the commemoration of this milestone. From what we have seen so far, we have been getting quality leads coming in for the budget we have allocated.
6. Get Installs of your app: Have an app and want people to download it? Head to this option which helps with the objective of increasing the app downloads. Once you click on it, you shall get the option where you need to place the URL of the app. You can get the URL from Google Play or iStore, copy it and place it in the space. Once done, continue with the process and place your order and let the downloads begin!
For example, Light Notebook, an app that functions as a cross between WhatsApp, Google chat and Evernote executed app download ads to increase users of their app. This resulted in 100+ downloads.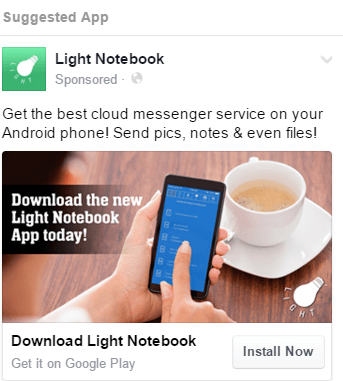 7. Increase engagement in your app: If your objective is to increase the engagement of the app vis-à-vis: make people use your app more frequently. Once you click on the "increase engagement in your app" select the app whose engagement you want to increase and choose targeting of your app. This includes even the platforms in which you want increased interaction!
8. Reach people near your business: If your objective is to make people around your area aware of your business aware of your presence, this ad is the right one to go to! Businesses like retail, FMCG, automobile dealerships, spas & salons can benefit largely if this strategy is applied. Imagine you have a spa in Nungambakkam, Chennai and you want people around the area to know about it, running this ad will help you make people living around your area to know and recognise your business. Once you click on this, you will be prompted to choose the radius of perimeter that you want to target. Pick the distance anywhere between 1 to 70 kms or go for the custom radius and continue with the process and place your order.
Oliva Clinics has made the best use of this feature and runs it to people around their area to get visibility for their clinic.
9. Raise attendance at your event: A quite recent addition to the Facebook Ads family, this Ad you can get people to see and respond to your event. Please note that this can be run only if you have an event page. With this Ad campaign, you will be boosting the event to the target audience so that the reach is more effective thus garnering more attendance for your event.
10. Get people to claim your offer: If you have an offer that you are running on your page, make it reach your target audience using this option on Ads manager! Please note that this can be done on an offer that is active and running at the time of the execution of the ad. Pick your page, select the offer and go ahead to furnish the target location, audience and place your order to get it running!
11. Get video views: Got a new product launch coming up? Have a video you want people to see? Use this feature and get more people to view your video! There are a few specifics you need to remember while uploading a video. Facebook accepts either .MOV or .MP4 extension files, with a resolution of 720p. The length of the video must not be more than 45 minutes for Facebook. If you want to run your video on Instagram, the length must not be more than 30 seconds. A new feature here is that you can create a slideshow with 3-7 images and have them play like a video!
Apart from the Ads we run using the Ads Manager, Facebook also provides us a powerful Ad platform – Power Editor. With Power Editor, you can create, edit, manage and optimize ads and campaigns in bulk across a large number of different ad accounts. While Power Editor has few Ads in common with Ads manager such as Clicks to Website, Event Responses, Local Awareness, Lead Generation, Offer Claims, Page Likes, Page Post Engagement, Video Views & Website Conversions, there are a few unique objectives that are available only on power editor and they are listed below:
12. Desktop App Engagements: Create Ads to encourage people to use your app more.
13. Desktop App Installs: Create Ads which encourages people to install your app on desktop
14. Mobile App Engagement: Create Ads to encourage people to use your App more.
15. Product Catalogue Sales: Create Ads that automatically show your products from your product catalogue based on the target audience.
So here we have it! The many objectives you can set for marketing your brand on Facebook and how you can achieve it. Practise hard reap the benefits. Good luck!
This article was contributed by Malavika, Social Media Manager, echoVME, Vishnu Priya, Social Media Executive, echoVME  and Kavya Shree, Social Media Executive, echoVME under the guidance of Sorav Jain.