Anna Hazare a man that won many Indian hearts through his simplicity, non violence principles and fight against corruption is badly in need of our support to take action against government and freed India from the corrupt scenario. I understand we can't spend our regular time to support him due to financial, time and other constraints but apart from physically taking part in the activism you can extend the support online too. Here are various ways to support Anna Hazare on Social Media:
1. Follow 'Janlokpal' & Kiran Bedi on Twitter:
@Janlokpal profile on Twitter is sharing the details of the protest against government and the latest updates from the media. The profile also updates about the details of the protest happening in the individual city, the number of people in the protests etc. You can support by following the profile on twitter, Re-tweeting their tweets and recommending people to join the same in order to extend the support through your followers. You might also want to follow Kiran Bedi (@thekiranbedi) as she constantly updating her status in the movement.
2.Follow the Twitter Trend:
I was glad to see today the majority of the topics that were trending nationwide are associated with the Anna Hazare Movement. It was either about Ambika Soni and her nuisance, Kapil Sibal and his dramatics, Manmohan Singh and his silence, Kiran Bedi's situation, Tihar Jail and lot more. The below mentioned are few trending topics for the day. You can pick any of these topics, learn from people what is the discussion all about and support the 'Trend' by tweeting your opinion or supporting someone's else by manually re-tweeting. Ensure to add #isupportannahazare in your tweet.
3.Change Your Display Picture:
If you are not active Social Media user and still want to support the movement online. Change your display picture with an image of Anna Hazare or tri color that has logo of Lokpal Bill.
4. Join Anna Hazare on Facebook:
There are several pages that support Anna Hazare movement on Facebook. You can join any of them or all of them. I would recommend you to join http://www.facebook.com/annahazare as currently there are around 2, 27,200 individuals who are active supporters of the community (This community is mostly people driven). An active community that can keep you updated about every moment of this movement is the India Against Corruption Community (https://www.facebook.com/IndiACor) with about 305,400 supporters as of now. There are about 31 Million Indian Facebook users and I would request you to join the page, share the link on your wall and ask your friends to join the same to make the movement shine brighter.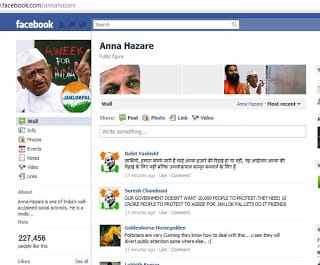 5. Capture the Activism:

If you have a decent digital camera and are physically the part of the various activities going on in your city to support Anna Hazare then click some pictures and share the same on your Social Media channels. This is something that you can do continuously with some image of yours in the movement so as to encourage your peers and friends to support you, Anna Hazare in the activism.
6. Record the Movement:
Yes, there are various things that media is showcasing about this movement. But, we are still not sure what are small cities doing to support Anna Hazare. Why not, record some movement with your video camera and share the story of the same to the world via youtube / vimeo. This will help Anna Hazare supporters from the big city understand, they are not alone.
7. Blog Posts:
If you think you have a story to tell about your experience in the movement and the issues you have faced due to corruption. It's the right time to voice your opinion in detail and share the same to the world. In fact, you can also upload your captured, recorded movement with your descriptions about it so as to better understand the storyline of your experience. Remember, blog posts have long term mileage than your other activities, if your blog has a better SEO ranking then do not forget to voice your views to support Anna Hazare as I am doing now. It just takes few minutes.
8. Share Updates, Likes, Comments:
You can actively share updates from the online news channels, videos related to Anna Hazare from YouTube, popular tweets, celebrity opinion, journalist statements through your Social Media Channels as status updates so as to spared awareness and initiate conversations about this activism. Extend your support by liking and commenting on your friends statuses who are voicing their opinions about the movement.
9. Live Coverage:
If you are using a smart phone or have a laptop with access to WiFi, why not share every moment of the activism by live tweeting or facebooking your experience when you are on streets to peacefully protest.
10. Sign the Petition:
There are various petitions that are seeking your signature to make the movement stronger. One such petition is here: http://www.thepetitionsite.com/1/SUPPORT-ANNA-HAZARE/ and the other potential one created by Avaaz.org has got more than 6, 88,244 petitions till now: http://www.avaaz.org/en/stand_with_anna_hazare/?twi please fill the above, share it on your social networks or via mail and increase the number of signatures to make the movement stronger.
I am doing my bit by writing this post and will ensure to follow the most of the above.