Every time I Travel, I talk about my experience online! I let world know, how many amazing things are available around for one to explore and that generates a lot awareness, lot of perceptions and in a way indirect marketing for the brands I mention online! As per a research done by FunSherpa about 87% of travelers used the Internet for a bulk of their trip planning, whether it was to research an upcoming vacation, read online reviews or source initial ideas about where to travel – That shows how important it is for marketers to consider Social Platforms for marketing their travel deals.
Social Media Week Team, Bangalore invited me for a session on Travel Marketing organised in association with Lonely Planet – the one who makes the best travel guides. This session was completely interactive and I had shared 10 most important tips that every Travel Marketing Company should consider (They can be in domain of travel planners, holiday planners, hotels, restaurants and ticket booking sites like Yatra, MakeMyTrip, ClearTrip etc.)
 Tip 1: Classify Your Audience As Much As You Can:
Instead of thinking of choosing Social Media channels and building communities you need to decide which category your customer falls in. Some of the most popular categories are:
Lonely Traveller
Honeymoon Traveller
Religious Traveller
Backpackers
Family Holidays
Luxury Freak
Exotic Destinations
Wildlife Traveller
Short Escapes
Cultural Freaks
Foodies
Photo Tours
Eco Tourism
Adventure Tours
Medical Tourism
Business Traveller
Ensure that you pick your niche even before thinking of your content marketing plan. Many Travel Marketing brands are creating their presence on Social Media channels and randomly posting content without any plan and without strategizing a niche based content plan.
 Tip 2: Have Something For Everyone!
If your brand serves all the above categories then you need to address your content marketing plan in any of the two initiatives:
Have Something for Everyone in A Larger Community: – Create content and theme based activities that reaches out to the desired target audience. Create content and offers for all the categories.
Build Smaller & Niche Communities: – Create small communities for each niche segment. Especially for religious travellers, backpackers, lonely travellers, adventure travellers etc.
Tip 3: Place Content @ The Right Place:
While most of you decide to boost post whenever you make a post on Facebook –you know that your community might not be a niche community and your content is reaching to the random audience. It is necessary to post content and make it reach to the relevant audience by using Facebook Advertisement dashboard. For example as per Facebook Advertising dashboard* here are some of the categories with population, I have added some segments that can reach out to them:
There are about 3,00,000 people in India celebrating anniversary in next 30 days. –Short escapes, surprise holidays, honeymoon again holidays, exotic destinations.
There are about 9,60,000 people in India who are interested in Lonely Planet – Backpackers, lonely travellers, cultural freaks, generic travel segment.
8,80,000 people who are engaged in India – short escapes, honeymoon packages, exotic travel,
2,20,000 parents have kids in age group 0-3 years – short escapes, family holidays.
3,20,000 parents have kids in age group 10-15 years – family holidays.
2,40,000 people in age group 25-60 are interested in Sai Baba of Shirdi – Religious vacations, short trips, medical tourism
5,00,000 people are interested in Travel + Leisure – Luxury travel, exotic destinations.
40,000 people are intended travellers to Australia, Canada, USA, Thailand, Spain, Italy and more – Country specific deals.
1,10,00 people are business travellers as per behavioural analysis on Facebook ads dashboard – Business travel tips, business travel escapes, business travel schemes.
(*As of 25th Feb 2015)
 Tip 4: Third Party Reference Matters Most – Encourage Them: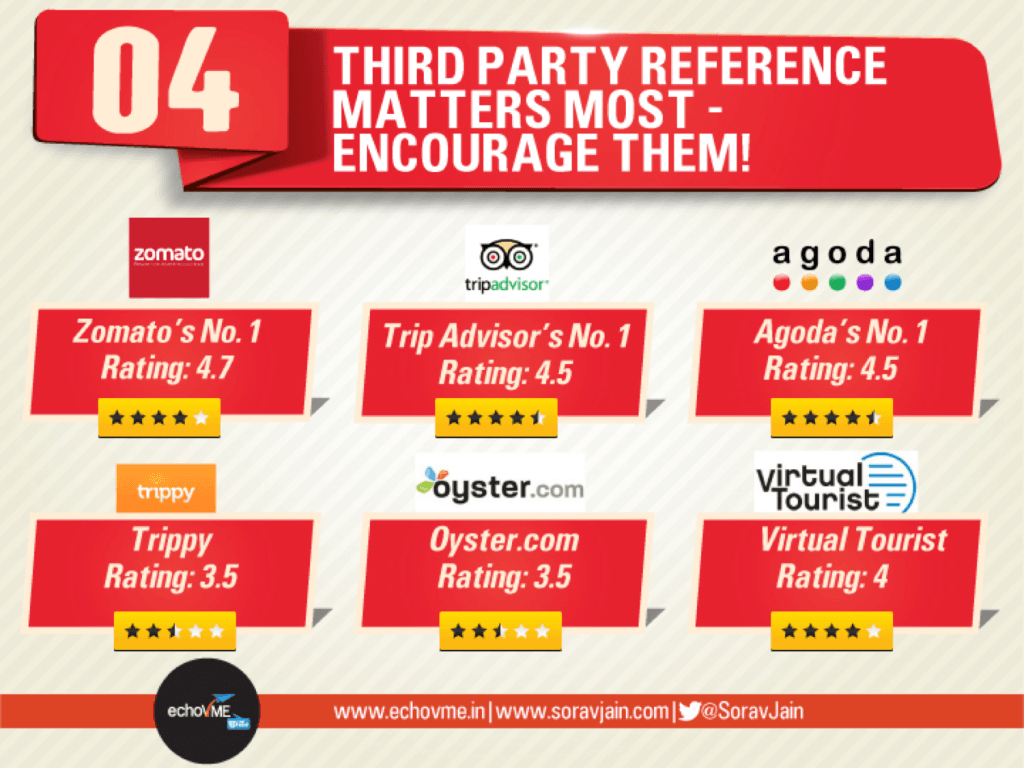 People believe in peer reviews when it comes to Travelling. They love to hear social stories. Even when sites like Tripadvisor, Agoda, Zomato, Trippy, Oyster, Virtual Tourist don't pay to write, people still prefer writing on them and share their experiences. Ratings here matters, being on top list matters. Encourage your tourists / customers to share their experience on travel / hotel / restaurant review sites. Give them an incentive or create enough noise that you would love to hear their reviews on these sites.
Tip 5: Encourage Them to Contribute Content for You: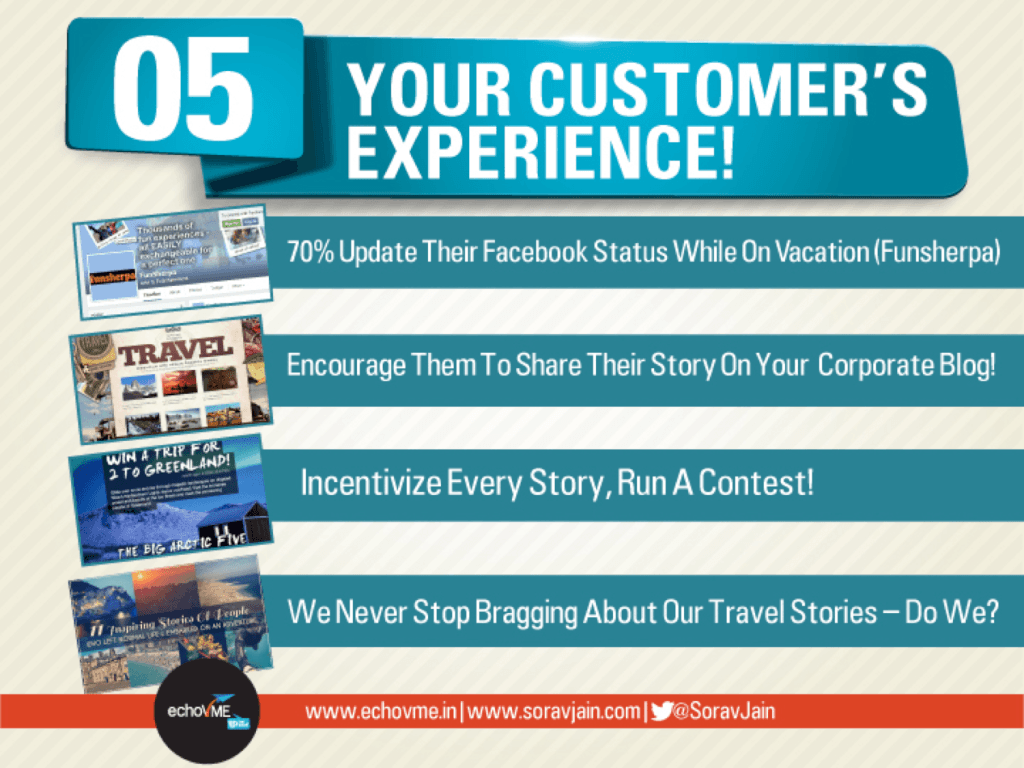 While writing content on review based sites is going to help you achieve credibility through third party websites, you need to build content for your website too. Integrate a corporate blog and encourage your customers to write their travel experiences on your blog. Let your Travel blog be completely crowd-sourced. You can offer them an incentive for helping you build content or run a contest with some fantastic giveaways that excites them to participate. Ensure that you have clear terms & conditions for contribution or participation. This process will help you build original content and assist your search engine optimization process. However, you can also ask them post this on their blog instead of yours in case they don't wish to contribute.
 Tip 6: Community Vs. Content Marketing: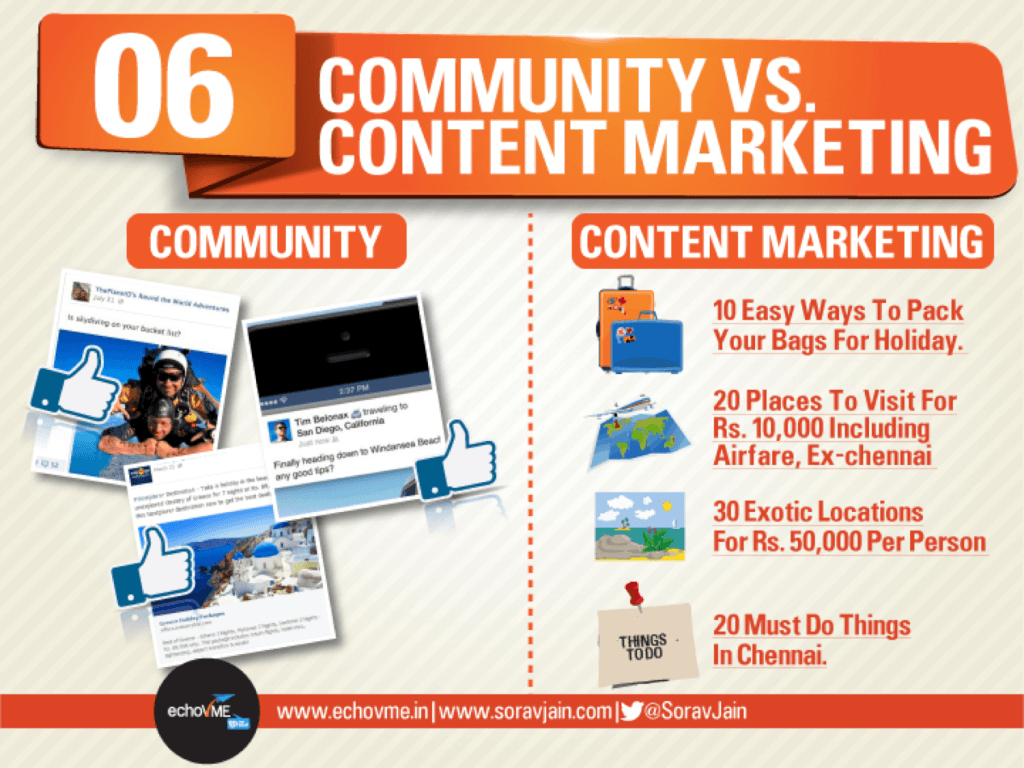 Don't just invest in developing your social media communities also invest equivalently in content marketing by using platforms like Blogs, YouTube and Slideshare. Your blog should be the trampoline for all your social media activities. Invest in list based blog posts, titles that carry number.
 Tip 7: Social Media Influencers and Travel Bloggers are Your PR Partners:
In India there are many bloggers who loves to write about their Travel experiences. Many of them have quit their full time job and explore world to share their experiences with the world again through their blog. They have picked up a niche, the niche that is relevant to your industry and what they say on their blog matters to their set of followers who probably are your target audience. You might want to invite these bloggers to experience your brand / product related to travel and talk about you on their blog. They are your real brand ambassadors in the social media world go invite them or hire them and get a strategy of communication rolling through them. Here is a list of 25 Top Travel Bloggers of India who you would like to interact with.
 There are many frequent travellers and business bloggers who love to share their travel experiences online. Their travel experiences matter to most of their like minded individuals – they are your best bet for niche based PR through them. For example popular business travellers Mahesh Murthy, CEO @ Pinstorm, Kiruba Shankar, CEO @ Business Blogging, Vivek Bhargava, CEO @ IProspectCommuncate2 often share their travel experiences online.
 Tip 8: Listening Is Important: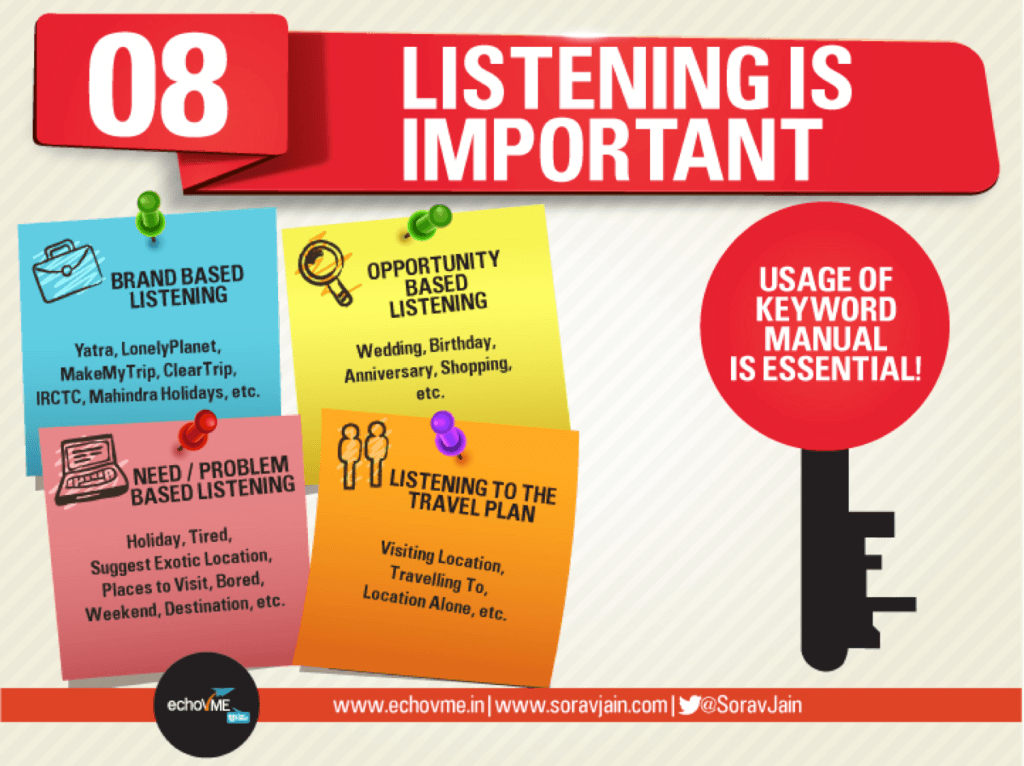 You cannot ignore listening at all even if it is a tedious task! Social Media is a common ground where everyone discusses everything possible! Travel is the commonest of all conversations online. Be it ticket booking at IRCTC or on Yatra.com people tend to share their experience. Be it the chillness in Kashmir or the breeziness at Kanyakumari people do disclose their point of view online – in general. Marketers have an opportunity to listen to them and join in their conversations!
 At echoVME – India' leading digital marketing company we do four types of listening for brands – Brand based, opportunity based, need based and subject based.
A Listening manual is very important for a startup Travel Marketing brand.
 Tip 9: Pinterest is Google Friendly, Instagram is User Friendly –
A best travel marketer invests heavily in clicking amazing photographs and these photographs have a greater scope on Pinterest and Instagram. Pinterest allows brands to create boards, these boards can be very location specific. Pinterest boards have maximum chances of getting visibility on Google search results when the right kind of keywords are incorporated in the boards on the basis of search volume analysis. For example: 'Things to do in Chennai' would be the right board for a marketer promoting Chennai tourism.
If an Instagram profile is kept public and appropriate hashtags are used, your amazing clicks can reach to the maximum audience! Ensure there is a proper research done on most working hashtags and the images posted are at appropriate timings when your target segment is active. Ensure that you activate listening on Instagram too and use the keywords manual here as well to strike conversations with travellers or intended travellers.
 Tip 10: Build Databases, Do SEO and SEM for Re-Targeting:
Facebook advertisements allow you to build custom audiences. Custom audiences can be built through – Databases (Upload of excel sheet with phone numbers of email ids of your desired target audience) or through Web re-marketing pixel code (this allows you to place a code on your website which captures the number of visitors and throws it open on Facebook or Google Adwords as an audience to you).
SEO and SEM investment is essential, as it will build traffic to the site that will help you capture the audience for Re-Marketing.
Start collecting email addresses of your target audience, as that's the best your time and efforts can buy in this era for smart re-marketing. For example: you host a stall a travel exhibition and you have about 5000 foot falls – you can collect their email address and run a Facebook or Google ads advertisement on all their timeline or network respectively – thanking them for visiting your stall – This would surprise them!
You can view the presentation on slideshare here:
Feedback From Participants: 
Brilliant masterclass by @SoravJain at Take5 like the enthu.#SMWBangalore #DellAtSMWBangalore #IntelAtSMWBangalore #Germin8AtSMWBangalore

— #SMWiBLR (@SMWiBangalore) February 26, 2015
.@SoravJain Hey Thanks for the Follow, your session was superb, liked your style of presenting. Best Session of #SMW2015 🙂

— Sana Sheikh (@SanaSheikh) February 26, 2015