There are many real estate players in Chennai city marketing their brand both traditionally and on the digital platforms in order to reach out to Chennaites, NRIs and people around to sell their properties and most of them are stuck with the cliche 'Buy 2 Bhk @ Following Price @ Following Area' kind of communication. While this is straight forward, every spender or investor gets to see this coming on their timeline. At echoVME, we work / have worked with several Real Estate players like Urban Tree Infrastructures, Lokaa Developers, Fomra Housing, South Indian Shelters, Isha Homes, Lakeside2 (Sugal and Damani Group), DRA Homes, DAC Promoters and more. While working with the real estate developers I realized how the market is currently running on downside and there are not many investors in Chennai at present , even if they are they are more likely to invest in 'ready to move homes' than investing in homes that's going to be handed over 3 years or 4 years down the line. It's fun to work with Real Estate segment as you get to experiment a lot of things, selling cost effective stuff is lot easier than selling homes that costs a bomb.
A month back, echoVME had an opportunity to pitch for Credai FairPro 2018 – Chennai's largest property expo. We were pitching along with 5 other  agencies and we were proud to have won the contract and opportunity to work with the CREDAI team. The focus was to sell tickets to the FairPro, inviting quality audience to the expo that happens every year at Chennai Trade Centre, where more than 75+ builders of Chennai city participate.
We adapted a 360 Degree Integrated Digital Marketing Plan for CREDAI FairPro 2018 and this case study is all about that.
Problem Statement:
To reach out to 30+ age group who are more likely to buy a home in Chennai city.
To achieve 10,000+ quality registrants, right before the event (though this was a Free event, we were focussing on driving registrations to put them into a funnel of follow up) – people in India generally register for Free events and not turn up later if they are not given enough reminder about the same.
Overall Advertising Budget:
Rs. 20 Lakhs (max limit)
Audience Profile:
28+ audience / 35+ audience (investors, interested in real estate, small business owners)
HNI audience who are interested in investing in Chennai city
Working professionals (IT)
NRIs (People who are currently working abroad but wants to settle down in Chennai city)
People living in North Chennai (Hindi speaking audience)
Family person who is more likely to buy a home in the age 30 to 40
People celebrating anniversaries (as we have learnt that most people buy homes in first five years of their wedding as a token of gift to their spouse on their anniversary date)
CXOs who usually don't hang out much on Social Media other than platforms like LinkedIn.
People who are searching for 'Home' related keywords in Chennai (Anyone whose search intent is to buy home in Chennai)
People who are searching for all the brand names that are quite popular in Chennai city for example: Casa Grande, Urban Tree Homes, Ceebros, BBCL etc. – Anyone searching for them on Google saw our advertisements across the Google network
People who frequently visit news portals like The Hindu, TOI etc.
People who visit popular portals like Magicbricks, RoofandFloor etc.
Website visitors
Like the above we started our work based on a lot of such assumptions and kept building the audience profile on the above parameters. We just had about 20 days to market this event and after 10 days of campaigning with different creative approaches, actress Tamannah was roped in as a brand ambassador and traditional media was used to spread the word about the event through the means of newspaper ads, TV ads, radio ads and massive visibility through hoardings and banners across the city.
In this journey, we invested in the following platforms:
Facebook Advertisements
Google Advertisements
Colombia Advertisements
LinkedIn Advertisements
YouTube Advertisements
Display Advertisements
Third-Party Real Estate Promoters
SMS platform
Email platform
Activated Missed Call feature to integrate both in digital and traditional advertisements.
10 Step Event Promotion:
Our aim was to create excitement, engagement and generate leads. Team echoVME, followed the following steps to achieve the desired goals:
Step 1: Social Media Posts for Engagement and Excitement:
Our first set of operations included growing our audience base for which the best way is to make Facebook, Instagram posts that will drive engagement, increase page likes and create excitement. We launched different types of Social Media Posts, each with their own purpose that includes contests, audience engagement, informational posts and also posts that help in building credibility. We created the following content buckets:
Contest bucket – to create massive excitement as we just had 20 days to market.
Emotional bucket – Area specific campaigns to ignite the minds of people from different areas.
Festivity bucket – Cover important events during this journey.
Credibility bucket – Talking about past events of CREDAI.
Promotional bucket – Direct selling of the event.
Current Affair Based bucket – Roping in IPL season theme, wherever it was possible.
Launch bucket – to build up the hype for the event launch.
Contest Bucket for Audience Engagement:
The primary objective of these posts were to keep the audience engaged and build traction on the page. All the contest posts below had a giveaway in the form of an Amazon voucher worth Rs. 500 to one lucky winner.
We had hosted almost 10+ contests in the duration of 20 days and the winners were asked to collect the vouchers from the stall.
#1. The below contest was for the audience to figure out the last pincode of Chennai City. The post reached out to over 2200 people with about 610 engagements.
#2. This was post had an immediate giveaway in the form of an Amazon voucher for one of the participants who cracked the riddle on the post. This post also witnessed an amazing reach of about 5000+ people with 1000+ engagements.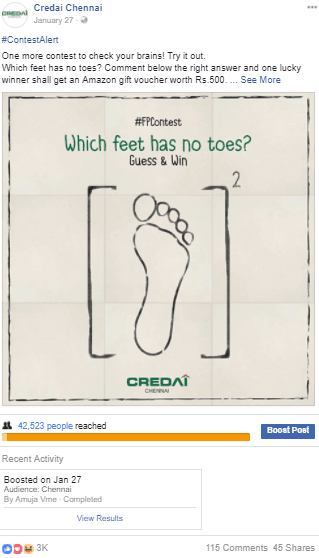 #3.  The contest again using Chennai as the theme of Chennai, looked for people to guess the names of the localities in Chennai which the icons conveyed. The post again reached about 5000+ people with one of them emerging the winner.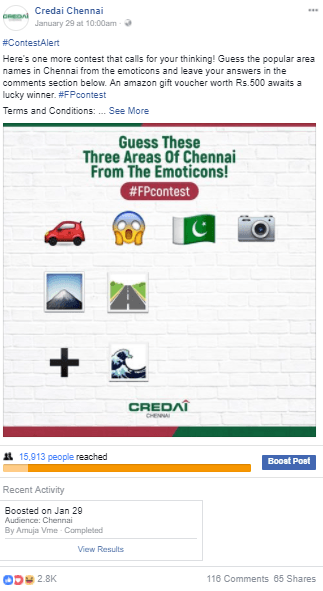 #4.  This was a contest post that required the audience to fill in the blank with the rest of the original monologue. It was based on an old TV commercial which ends with the man praising his friend for having a new house. This contest roped in a number of entries along with memories it brought with it. It witnessed about 100+ people participating after reaching 8500+ people.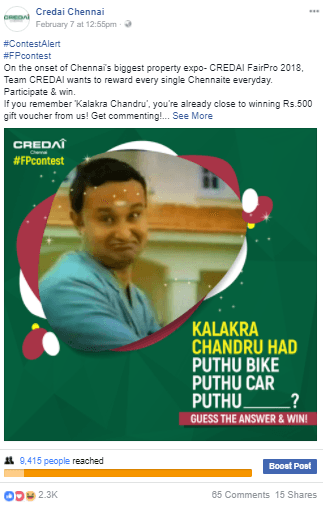 #5. This was one of our best performing contest posts was one where the audience had to comment with names of places in Chennai that end with 'Nagar'. The traction was amazing with about 2.3K  reactions, 70 shares and 100+ participants.
To promote the event we had more contest posts like the ones above.
Festive Bucket:
The event being in the month of February gave way for us to use generate leads using content that spoke about Valentine's day.
#1. The post below was targeted at newly-wed couples and couples whose anniversaries were fast approaching. We received about 2200+ engagements for the post with a lot of them calling the number mentioned on the post to give their contact details and get their VIP pass.
#2. This was another post leveraging on Valentine's day. It was a small clip to inspire people to gift their loved ones with homes this year for V-Day.
https://www.facebook.com/credaichennai/videos/1253230371487387/
Current Affair Based Bucket:
Posts made based on current affairs immediately strike a chord with the audience. We initiated our promotional activities for CREDAI the same time the IPL promotions had begun. We created the following post that refers to the IPL Auction and created a similar catchphrase – FPL Action.
Engagement Bucket:
These posts were activated with the primary motive of keeping the audience engaged and keeping the event on top of their minds, majorly with people who wanted to invest or buy homes.
#1.  This post portrayed the differences between owning and renting a house and the advantages of the former. This was a subtle attempt at tempting them into buying homes.
#2.  This post came as an announcement at the right time during our promotions. Coming as a relief to all home buyers, this post easily got the engagement of about 1500+ people.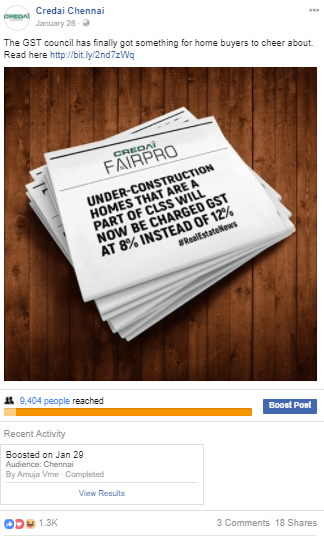 #3. One of the best tricks in the book is the 'Tag A Friend' manoeuvre. It is the easiest ways to get free referrals and drive engagement to a relevant audience.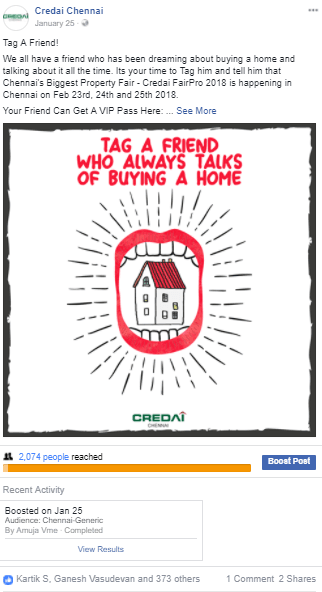 Credibility & Promotional Bucket:
It is important to build your credibility for your audience to trust your brand. The following set of posts aimed at social proofing by reiterating CREDAI's past achievements, builders that constitute the board, a personal video invites from the top officials of the board. The promotion budget for this segment of posts was minimum as the primary goal was to only build trust.
#1. This was a series post of the board of builders in the alphabetical order. There was no paid promotion for this post and it served the sole purpose of building credibility.
#2. This video was a glimpse into the previous year's FairPro and its success. The event was lush with bankers, builders and common folk with the dream of owning a home.
https://www.facebook.com/credaichennai/videos/1255401014603656/
#3. Myth busting is another great way to build credibility as it helps you present yourself as a thought leader. The post below is a series post that highlighted and busted the myths that pop up when ready to buy homes are being discussed about.
Videos work a great deal in promotions and grabbing the attention of the audience if done right. The series of videos aimed at educating the audience about being a part of the event. The audience were also segregated into different buckets based on how long they've watched the video.
#4. This video highlighted the reasons to be a part of the event – expert panel to answer your queries, in-house vaastu consultation, meeting the builders in the city in person.
https://www.facebook.com/credaichennai/videos/1259424340867990/
Long – Haul Bucket:
A video that was being rolled in the TVCs was uploaded on Facebook and targeted at all the people who had engaged with the page, posts, videos etc. And, it was freshly boosted to new audience to build an audience funnel:
https://www.facebook.com/credaichennai/videos/1253922878084803/
Launch Time Bucket:
#1. Credai hosted a press meet to launch this event, team covered the event live and also captured a video where the brand ambassador of CREDAI and actress Tamannah Bhatia expressed her excitement to attend the FairPro and also invited the audience to be a part of this grand event.
https://www.facebook.com/credaichennai/videos/1258838380926586/
While there were many other posts that can be checked out on the page of CREDAI Chennai. We created a series of posts to create excitement in last week of the event and also on the days of the event we continued to go live and post videos as reminders.
#2. This was basically a series of short videos that included a  daily countdown that happened starting from 5 days before the event and also gentle reminders that the event was happening just round the corner.
https://www.facebook.com/credaichennai/videos/1255399794603778/
#3. Videos on the event days
These videos were launched during the event, prompting people to go and take part in the event.
https://www.facebook.com/credaichennai/videos/1259430577534033/
Step 2: Facebook / Instagram Advertisements:
There is no better platform than Facebook to reach out to people in different categories. Our goal was simple, we didn't want to inform people about this event. We wanted to give them a purpose to attend this event and every ad campaign was designed with a purpose:
#1. Generic Campaign To Inform Chennai City: This was one of the first Facebook lead generation ads that was launched for CREDAI FairPro. We highlighted what people can expect at the event and also prompted them to getting their Free VIP pass. This ad campaign roped in 327 leads with Rs.35714 being spent.
#2. Vernacular Ads to Draw Attention of Tamil Speaking Audience: We tested the power of vernacular communication in the ads by using the local language – Tamil, and made sure that the ads were targeted at the Tamil speaking audience. This ad brought in about 150 leads at the lowest cost per lead of Rs. 79/lead reinstating my belief in the power of vernacular ads.
#3. Hinglish Ad to Reach out to Hindi speaking investors in Chennai:  This was a similar vernacular ad that was targeted at the Hindi speaking audience in Chennai. The ad had a similar response bringing in about 50+ leads (This was a video with a pinch of ghoomar and dancing puppets that could connect with North Indian crowd especially after the whole Padmavaat movie flavor was still afresh)
#4. Helping Curious Minds Register: The below video ad was another one of our lead generation campaigns, explaining the benefits of being a part of the event and addressing the common questions that people generally have with respect to buying a home in Chennai. Additionally, we segregated the audience in various buckets based on the time they viewed the video. We got about 100 leads with a spend of Rs. 10,500.
#5. People Celebrating Anniversaries: Since Facebook allows you to target couples who are celebrating anniversaries in the coming month, our communication was exclusively designed for them, trying to give them a purpose to visit this event in order to surprise their spouse with a new home. Though the traction was limited, it still helped us get some quality leads.
#6. NRIs: We wanted to give an emotional touch to people staying abroad. Many of them are working outside India and the two most common things that they usually miss are parents and Indian food. Our advertisements hit the right chord by telling them to invest back in their hometown and inform their relatives about this event.
#7. Recall: We ran an advertisement with Tamannah in the image and video considering that the entire Chennai city had her on bus backs, hoardings, TVs and Radio channels. It's a good idea to integrate offline ads and online ads so that people who see the counterparts in the offline world can take action in the online world.
#8. Facebook Messenger Campaign:
We also ran a Facebook messenger campaign ads to drive Facebook messages just to understand the quality of engagement, upon sending them the details about the event we saw a good response and continued to communicate with them through the means of chatfuel chatbot. In total, we got 350+ messages on spend of  Rs. 1000.
Step 3: Google Advertisements:
A fair amount was invested in Google advertisements (Search, Display and YouTube advertisements). Below are the details of the campaigns we ran on Google network:
#1. Text Ads: People who searched for the well known real estate players in the city were displayed our ads. With a budget of Rs. 1,49,000 the text ads witnessed 606 conversions. Search campaigns had keywords on the basis of: generic real estate keywords, builders name, event title, area specific searches, weekend events etc.
#2. Display Ads: People who showed interest in real estate, based on search behaviour were targeted, saw our ads throughout the Google display network. The ad roped in 155 conversions after spending Rs. 104000.
#3. The content on the post above was translated to the local language: Tamil and promoted on the Google Display network. The ad witnessed an interaction with around 1.98 Lakh people with the average cost per interaction at Rs. 0.75 and the conversion amounted to 155 individuals. This ad again stands as proof of the impact of vernacular language ads.
Step 4: YouTube Ads:
The video of Tamannah that was used earlier on Facebook was used again for promotions again on YouTube targeting the viewers located in Chennai. With a budget of Rs. 30500 the video ad reached out to 1,70,331 people.
Step 5: Times network ads:
We also opted to push the ads on the times display network using Colombia. The ad that was earlier used on the Google display and we had re-launched it on the times network with a budget of Rs. 100000 that reached about 33039 people.
Step 6: LinkedIn Campaigns:
Something that got my attention this time was LinkedIn InMail advertisements. We ran a campaign targeting all the professionals in Chennai above 35 who are in their managerial roles. The InMails were sent as a personal invite from the General Manager of CREDAI himself, which had a registration link for the free VIP Entry Pass.
Sponsored Content:
The below post was displayed as a sponsored post on the newsfeed of the target audience. The post saw a considerable amount of traction while getting about 5000+ impressions.
Step 7. Collect Chat:
The chatbot was integrated to pop up with a welcome message for anyone who visited the site. They were prompted for their contact details. This mode of lead generation came with no extra cost. All that had to be done was to set up the chatbot. This feature aided in a large number of conversions which amounted to about 1250+. I would recommend the collect chat chatbot for all the websites. You can try their free trial version for your website by clicking here:
Step 8. Sponsored Content:
Apart from the all the ads that were published from our end, we also got the most read newspapers, magazines and real estate agent sites to promote the event on their Facebook pages and websites. We roped in Vikatan, Daily Thanthi, The Hindu, Dinamalar, Malaimalar, Magic Bricks, Chennai Properties and RoofandFloor. Below are screenshots of some of the sponsored content.
Step 9. SMS Campaign:
We used the phone numbers that we obtained through the lead generation ads to initiate our SMS activities. We used bulk SMS senders to send confirmations of the registrations and also reminders for the event.
Step 10. E-mail Campaign:
We sent emails like the following to people who had earlier shown interest in buying homes and investing in real estate. While we began getting closer to the event dates, we sent them daily reminder emails.
Results:
The total budget of the event summed up to Rs. 20 Lakhs which together brought us 5941 leads and 5000+ missed calls that were then converted to attending the event. Apart from the online platforms, a part of the budget also went into reaching the audience through SMS and Whatsapp.
Here is the complete break-up of the spend and the leads each category fetched:
CREDAI FairPro – 2018 was indisputably a grand success and the credit also goes to the traditional advertising that included the hoardings all around the Chennai city, ads in the most-read newspapers and popular TV channels in Chennai.
8 Key Take Aways and Learnings From This Campaign:
When you have big budgets, you should creatively innovate and that's what we did in this campaign, team echoVME did a spectacular work throughout the event selling journey.
Invest in a lot of video campaigns.
We were earlier very excited and thought 20 Lakhs budget will almost help us drive 1 lakh+ registrations especially after selling 2000+ tickets for an event through social media with a budget of Rs. 17,000/-
The budget really doesn't matter, there should be a demand for the product that you are trying to sell or you need to generate demand through all possible means. If this event would have come 6 months in advance, we would have had a different strategy altogether that aimed at educating audience, going live, webinars, meetups etc. to form a stronger relationship with the audience.
LinkedIn was a complete game changer, the quality of leads that we got through LinkedIn was fantastic and they were genuine. Many real estate digital marketers ignore the power of LinkedIn InMail Lead Generation campaigns, if done right it can help brands reach out to investors and key decision makers.
We adapted Twitter as well and it is not mentioned in the above campaigns as the response wasn't very great and we finally restricted it for re-targeting or live coverage of the event alone.
Don't heavily invest in all the property portals, I saw some of the portals running Facebook ads to promote this event. If that's the case then why do I have to enroll them with the promotions. We could do this ourselves, right?
Don't ignore the power of SMS and eMail campaign. The automation triggers and emails helps you keep the momentum of event alive.
Important Measures Taken:
Triggered an immediate SMS / Email to people registering
Titled it as FREE VIP pass, as it attracts audience the most. While we were not sure to use the word 'Free' as it degrades the event, we realized people got confused when we just said claim VIP pass, the first question they asked was 'How much does the VIP pass cost?'
Created long funnel videos to build audience
Aimed at 360 degree Digital traction, covering all possible avenues in short time
Fixed colour pallets for all our designs to standardize the entire campaign