Year 2013 in India has been the year of Social Media. No Doubt! We are just half way through and there are many interesting campaigns already. There have been many video campaigns in the first half of 2013 that have captured the imagination of the fans in India. One significant trend that has emerged as a winner is the combination of TV and social media. Following are the 10 best video marketing campaigns this year worth appreciating.
1.      Zara Tapas Bar – Yamraj campaign – Best Video Marketing Campaign : Winner of the lone Indian FAB Award at the 2013 edition of the International Food and Beverage Creative Excellence Awards, the Yamraj campaign encouraged customers of Zara to call for a ride after having a few drinks. Focusing on drunken driving, the Yamraj campaign created a stir and further published a video of reactions of people that were shocked to see Yamraj in their cars. This video went viral on YouTube with over 421,537 hits
2.      Hindustan Times  – You Read They Learn: Winner of the prestigious "Best in Show" award, and considered the top campaign in the INMA Awards 2013 competition, Hindustan Times created the "You Read, They Learn" campaign. It was a community service campaign focused on providing underprivileged children with an education. With videos and celebrities endorsements, the campaign gained a lot of popularity and is considered one of the leading public service campaigns of this year. Series of Video. (The campaign was started in 2012 and is still continuing)
3.      Sony Xperia Marketing Campaign: Katrina Kaif as the brand ambassador, Sony Mobile India's official YouTube Channel created a playlist for Xperia Z. The channel hosted comments on Katrina and covered features of the phone. Additionally, a Facebook application called Katrina and You was launched  where Katrina's virtual image enables fans to view the phones features. Also, the microsite  hosted videos of Katrina and the phone. Along with its TVC promoted on YouTube which has accumulated more than 365K views in 6 days since the upload. Watch the video. 
4.      Aliva Life Insurance – Padding up with Sachin: This campaign focused on relationships between a father and child, and had Sachin at the forefront of the campaign. The campaign offers a series of cricket tutorials and interviews of Sachin and advertised it using Facebook and YouTube. The campaign's YouTube links to padding up with Sachin and Facebook app that accessible after the user 'like' the page. Padding up with Sachin has videos that currently have 1,564,377 views convey expert advice from Sachin of batting techniques, and interviews where he talks about his family, and so on. The Youtube platform is well customized and there are many videos in the series.
https://www.youtube.com/watch?v=vx0ecMEFnVk

5.      Vodafone – ZooZoo 10 Million Celebration: Vodafone's ZooZoo 10 Million Celebration was created to celebrate over 10 million 'likes' on their Facebook page. An animated Facebook app  and a series of videos of ZooZoo were created for this occasion to thank the fans for the support. A sample of the video is shown here.
6.      Pepsi – Oh Yes Abhi: A youth focused campaign, Oh Yes Abhi campaign focused on cashing into the impatience and impulse of the youth of today. Combined with ad files with the likes of Ranbir Kapoor, Priyanka Chopra, M S Dhoni endorsing it, it encouraged people to impulsively grab a Pepsi. Additionally, it promoted the 'Pepsi Shot 60' that basically asked its fans to submit online videos on Music Abhi which were also promoted on the facebook page.
They also launched a concert on-demand – connecting the broadcasted, online campaign to the offline word and giving it back to the community.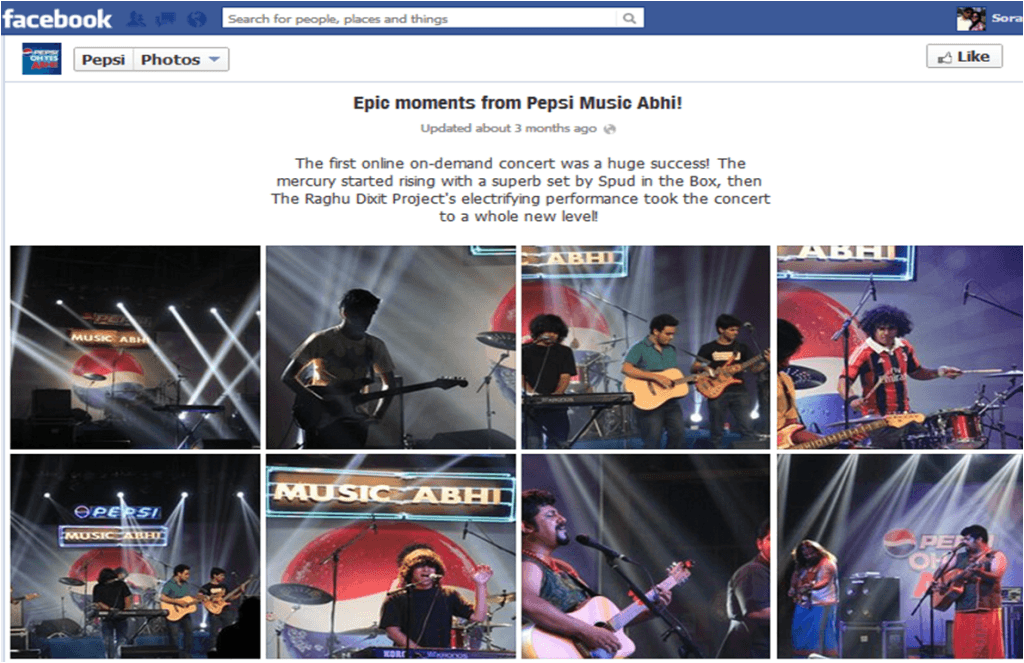 7.    Sunsilk – Perfect Straight Hair: Even before running the Perfect Straight campaign, Sunsilk ran an experimental campaign asking its fans to suggest ways to straighten hair. As part of the Perfect Straight campaign they created a you-tube channel that has over 1,277,788 video views and a Facebook app – s – This application is one of the finest interactive video marketing campaign I have come across. 'Straight Baal Lock Karo Rock Karo campaign' – once you authorize the app you see a video of two sisters picking up different shampoos and later there are various interactive incidents that asks you to choose the girl who has used the Sunsilk Shampoo.
8.      Cinthol – In Virat's head: Alive is Awesome campaign was used to launch Cinthol's deo range. In addition to the ad film it created a buzz for creating a microsite (http://www.cinthol.com/deo/) where fans could sign in using their Facebook or Twitter accounts to comment on what was going on Virat's head and give Virat some challenges. Along with this they hosted a Facebook page with an app http://www.facebook.com/godrejcinthol/app_503945129644244.
They first launched a teaser campaign video asking people to predict what is going on – virat's head:
After a lot of prediction from public they launched this video that went really viral – After all it was the crazy stuff that was making Virat rock!
9.     Fastrack – Move on (The Closet) campaign: Fastrack campaigns have almost always been youth centric and had taken it a step further with their 'The Closet' ads. Around the time when a lot of conversation surround the LGBT community and their acceptance, Fast Track's video campaign broke the stereotype with a funny yet powerful messages. Their YouTube video (also frequently played on TV) has received over 199,934 views. The best part of this video is when guys share it on Facebook / Twitter tagging two of their friends in girls ;).
10. Gurudev Motors: Gurudev Motors is Authorised Dealer for ŠKODA in Chennai, Madurai, Trichy and Vellore. They created a video of their employees dancing to the tune of "Chennai Super Kings" whistle podu anthem. This was posted on Facebook got them huge visibility with 6,000 likes, 2500+ shares and 400+ comments. Watch the video.
11. Thumbs up Commercial: Though this was a regular commercial showcasing Salman Khan as their new brand ambassadors. What was so great about this campaign was brand using Salman's official Facebook page to launch the video. Thus gaining momentum. As shared on my blog post: Endorsing Celebrities on Social Media 
Having an audience of 7.7million on Facebook, the commercial was well received and was launched on Saturday, the 23rd of February. Generating an average of 10k likes for each post, the Youtube page received upto 20k likes within a day of posting and reached roughly the same audience.