If you run a B2B organization, LinkedIn Company pages is a must have! LinkedIn claims to be the most genuine professional network in the world and hosts about 200 million+ individuals from across the world. Though LinkedIn Pages existed since quite long, it was considered as a content dumping hub as it added no value to the business element as such! Inspired by Facebook Business Page, LinkedIn company page was then revamped and businesses were allowed to communicate via them to their followers on LinkedIn company page. This was 'The Best' move LinkedIn could bring benefiting B2B organizations. LinkedIn Company Page in true sense = your Virtual Office as it allows you to list down your employees, your company details, job listings, services and product offering etc.
Today, managing your LinkedIn company page is equally or more important than Facebook. As LinkedIn is a professional platform to connect, engage and grow your business, the professional factor is higher than in other networking sites. So it is very important that you have an updated and well furbished LinkedIn business page for your business. At the same time, being active is also important. Following people and other business pages, updating posts, engaging with other followers, etc should be top priority for brands on LinkedIn. It will reflect poorly on the brand if it is inactive on LinkedIn.
Top 5 LinkedIn Company Pages from India: 
My team figured out the Top 50 Indian Companies (As listed on Economic Times) and we personally went across various company pages on LinkedIn and found that many top companies from India are not using their LinkedIn Company pages to their best. Some have started with the spark but have not completed the process.  After looking at various company pages on LinkedIn, here are some of the popular Indian brands who have been managing their LinkedIn Company Pages really well.
1. Wipro Technologies
With 2,34,493 followers, Wipro Technologies' last update reads to be about 20 minutes ago. A cover photo highlighting the company's green practices greets you. The 'About' section is crisp and updated. The 'Career' section has a video and links to contact them on the other social networking sites. The 'Jobs' section has listings from Web Content Management to Ecommerce. It also includes testimonials from their employees.
Their 'Services' section include customized banners (3 in number) covering their services (cloud, mobility, consulting). Recommendations are galore for Wipro from other LinkedIn users. A superbly managed LinkedIn Company Page – Kudos!
Ps: They also have other pages such as Wipro Infotech, Wipro Bpo etc.
2. Tata Consultancy Services
With over 346,952 followers, TCS has a fully active page with regular updates. The cover picture mentions the Insight section for followers to check on industry insights. It's Career section is first preceded with their current employees and proceeds to careers at TCS in video format. Jobs are also listed along with the location. Under their 'Products & Services' their banner is customized and 3 banners are used in accordance to the products (which are clickable). A total of 159 recommendations show for TCS services / products /  listed which are well listed with the right choice of images and detailed content.  TCS extra brownie points for using right choice of image for each product listed and for 159 Recommendations received for them so far!
3. HDFC Bank
HDFC  Bank greets you with a very cheerful cover picture of its employees celebrating the listing of HDFC's in the New York Stock Exchange. Recent updates flood the page and the it's About section holds all the information needed for one to know about the company and its achievements. Though the Products & Services section does not show customized banners, the products are updated and a total of 18 recommendations are listed. It has 43,085 followers.
4. Ramco Systems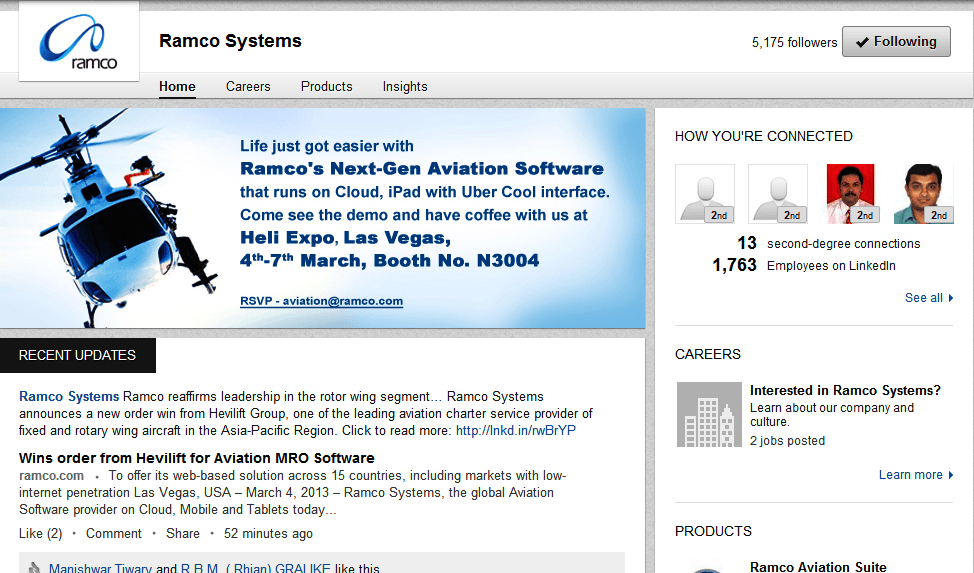 The cover picture talks about an event yet to happen and the recent updates show the page is very active and the banner image is used as a Headline Banner. The Career section shows current employees and jobs available with locations. Their Products are updated and the company has earned 75 recommendations and 5,175 followers. Overall, Ramco Systems is a well managed page. However, they just need to incorporate three banners on their services section – it will help them branding it further.  I have also observed that the team is not just sharing links but also posting pictures to engage audience- which is a very rare sight to see on LinkedIn. Ramco Systems earn +1 for their well updated banner and for making use of images to engage audience. PS: Ramco is not part of 500 Top Indian Companies list. 
5.  HCL Technologies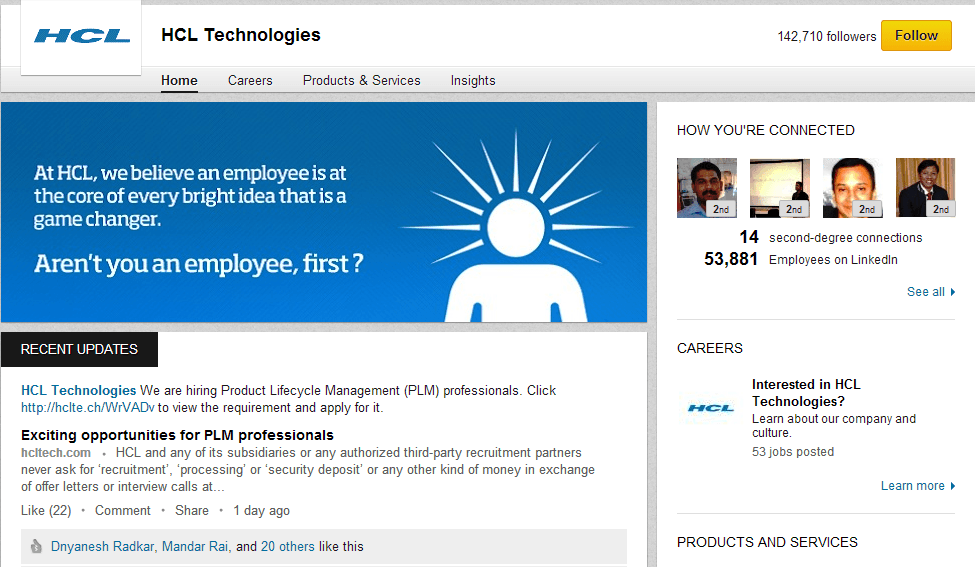 With 1,44,915 followers LinkedIn Company Page of HCL Technologies is well managed and updated. However the branding (banners) on home page, services page and careers page has more to do with Recruitment. The cover picture literally speaks a thousand words, stressing on employees' importance. The updates are recent, reading to be a day ago. The About section is up to date. The Career section has their present employees, a video of careers at HCL and testimonials from employees. Product and Services is updated and lists all products and has the 3 customized banners in place. The company has 45 followers recommendations.
Not so Well Managed Pages: 
Here are some of the other pages from the Top 500 Indian companies list that has created its presence but have not been managing their pages really well. The show has begun, but its not a regular one!
6. Airtel
 With 63,755 followers, the Career section precedes with its current employees and follows with a video on Careers at Airtel, testimonials from employees and job openings with locations. The Products & Services is updated with lists of its products and has a total of 91 recommendations. But, looks like their LinkedIn Page objective is to hire talent and that's it! That cover image is lacking + the page is not regularly updated.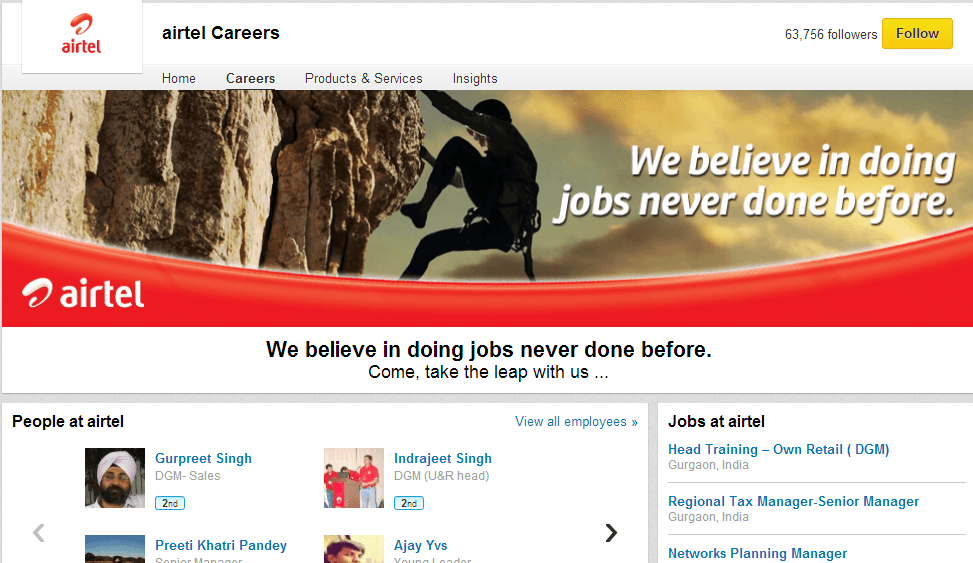 7. Infosys
Though there is no banner to greet, Infosys has some updates with interactions to begin with. With 2,64,952 followers, the About section is up to date and short. The Career tab is preceded with its current employees and a video for Careers. Under its Product & Services, its banners are customized and 3 banners are uploaded. 176 recommendations stands for Infosys and a 'Promotions' tab is used to update events and announcements. Looks like they have started the show keenly but have lost the interest as I see them tweeting but not updating the same on LinkedIn – Its not regularly managed!
Some Badly Managed LinkedIn Company Pages:
Where the above mentioned companies have a well managed LinkedIn page replete with all the platforms provided by LinkedIn, some companies are pretty dormant. Being big and well renowned companies, having established a page but either not updating anything or incomplete profiles. Few of them are listed below this paragraph. I have personally observed these five brands have social media presence for their services or products but a poorly managed LinkedIn Company Page shows their Corporate Communications team is still not too keen on considering 'Social Media' for communications. However, these pages have really good number of followers and by not engaging them they are just missing the 'Real Chunk' of business.
8. Reliance
Reliance has 5-15 different LinkedIn Company Pages (Reliance, Reliance Communications, Reliance Retail, Reliance Capital and Reliance Globalcom, Reliance Broadcast Network Limited, Reliance Cement, Reliance Digital Retail Ltd, Reliance Mutual Fund and more). Almost all the pages lack a cover picture and engagements. Despite all the pages have a decent number of followers the brand has not taken their LinkedIn presence seriously, yet! However, some pages show job listings.
9. ITC Limited
The landing page has a huge section of 'About' lacking any updates of any sort or a cover page. Nor does it have any products, careers or jobs listed. The same is the case with ITC Hotels (I see there are 2 such pages one with 253 Followers (ITC Hotels Ltd.) and other with 3,300+ (ITC Hotels). However, I see a banner is hosted with the former and the latter remains dormant. I guess the team is not aware that the latter one can be claimed from LinkedIn. However, I see these pages are not really update.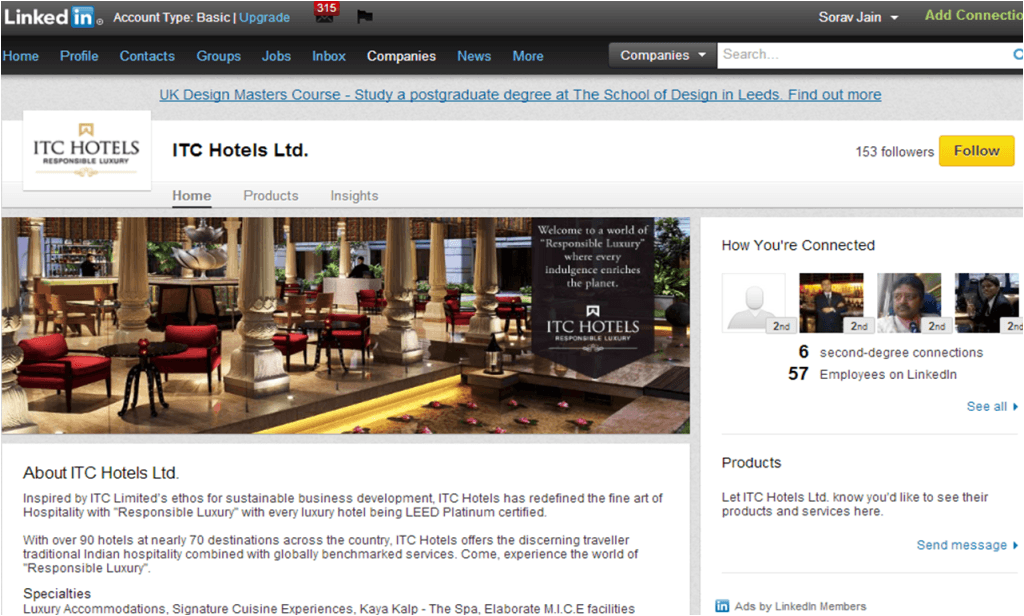 10. Larsen & Toubro Limited
Lacks cover page, banners, no products listed, few job postings seen no recommendations and daily updates.
11. ICICI Bank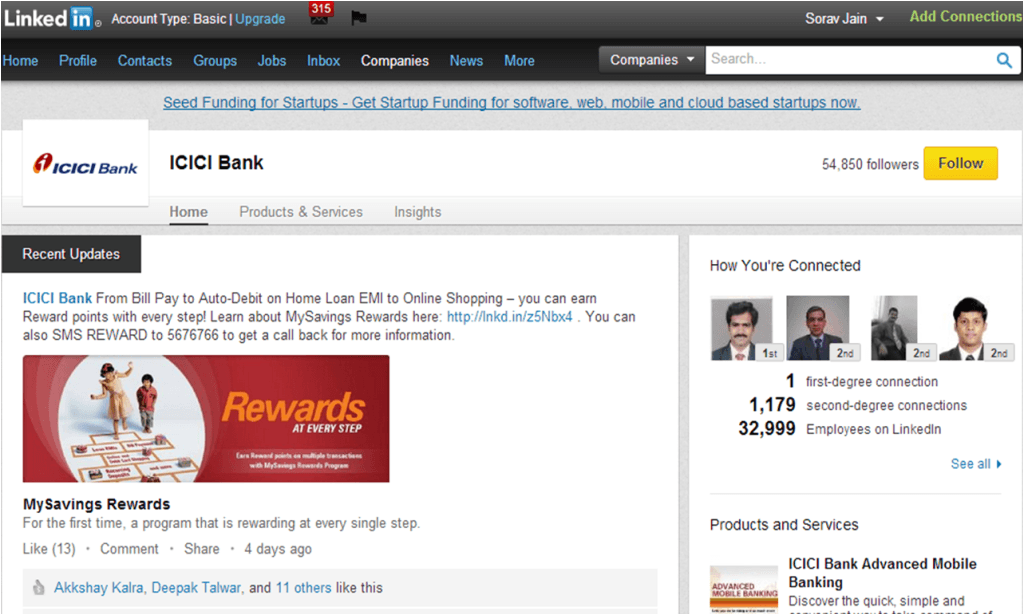 No cover picture, no careers or jobs listed, one service listed that has received 20+ recommendations and there is just one update made. Looks like the bank has  recently realized LinkedIn is also a place to be ;).
12. Bajaj Auto Ltd
No cover picture a full length About section, no products listed, no recommendations or daily updates, no careers or jobs. Though Bajaj holds 9,000+ followers and 2,321 employees on LinkedIn, it looks like their corporate communications team have still not realized worth of LinkedIn.
Many companies listed below have yet not started their LinkedIn Company Pages or don't regularly update it:
Mahindra & Mahindra Ltd.
Axis Bank Ltd.
Idea Cellular Ltd
Jindal Steel & Power Ltd.
Jet Airways (India) Ltd.
Adani Enterprises Ltd.
Videocon Industries Ltd.
Ashok Leyland Ltd.
Kotak Mahindra Bank Ltd
DLF Ltd.
Kingfisher Airlines Ltd.
Dabur India Ltd.
ING Vysya Bank Ltd.
Marico Ltd.
Fortis Healthcare Ltd.
Pidilite Industries Ltd.
Sundaram Finance Ltd.
Punjab National Bank
Hindustan Unilever Ltd.
Believe it or Not! 
Many B2B businesses have today benefited from their presence on LinkedIn. Especially LinkedIn Company Pages has helped them immensely to bring traffic to their blog post or website, get genuine recommendations for their products and regularly engage CXO level or highly professional (serious) individuals who do not like to hang out on Facebook or Twitter. Personally, I have seen Brand Manager or Corporate Communications Head have a craving for "Number of Likes" on Facebook, they would really not mind spending dollars to build their Facebook Community but I am wondering why are they not taking their LinkedIn Company Pages seriously? Surprisingly, almost all these globally renowned companies already have more than 4-5,000 followers on their LinkedIn Company Pages to begin the show with – A Opportunity Unexplored!
It is time for decision makers to wake up and understand Social Media is just not Facebook and Twitter. There is more to it! As Facebook is innovating and bringing in changes to its Facebook Timeline on a similar note LinkedIn is working hard towards making the company page features more engaging and beneficial!
Oh by the way,  this article is just a wake up call to all those brands who still thinks its tooooooo coooool to be on Facebook!
My next blog post is going to be about tips for effective LinkedIn Company Pages. If you would like to receive the same, do subscribe to my blog on the right side or showcase your interest in the comment section below (with your email address)