With just over a month to go for the London Olympics 2012, sports fans all over the world are whipping themselves up in frenzy. But this time something is very special – Followed by strong growth and high-engagement signals, social media has now reached a magnitude where it can take London Olympics 2012 to a completely new level.
What makes me say this? Look at these six interesting developments:
Larger Audience: At the last Summer Olympics in Beijing in 2008, Twitter had about 6 million users and Facebook 100 million. Today, the figure is 140 million for Twitter and 900 million for Facebook. The audience on Social Media has grown and so has the technology: smarter mobile phones, lighter laptops and tablets are must-have gadgets for technology or social media savvy enthusiasts.
 Cheering Online: In the last few years Social Media has been largely used for discussing sports and supporting favorite players and teams during matches. The 2012 Olympics will therefore see heavy coverage on Twitter, which has over 140 million users and considered to be popular outlet for sports fans to trade messages during live events. Organizers of Olympic 2012 are expecting more tweets, Facebook posts, videos and photos to be shared from London than any other sports event in history. British Airways is already ahead of the race here, having created the #HomeAdvantage hashtag to cheer for their home team, which has been trending for quite a while now.
@Olympics Twitter page has got around 8,30,225 Followers a single update reaches to enthusiastic mass. On an average a single Tweet is retweeted 100 – 300 times (automated).
As per the records, Champions League soccer match between Barcelona and Chelsea in April received 13,648 tweets per second, sent by its fans. It is expected that Olympics 2012 will break this record in London.
3. Facebook's Enthusiastic Push: Facebook is super-aggressive on London Olympics, and has come up with a special section devoted to the Games. With updates, photos and special videos being posted regularly, the page is the de-facto feeding tube for all instant news related to the Olympics. The page has over 32.8 million likes already, and will definitely grow very quickly as we get closer. Given that Facebook has grown nine-fold since the last Games, it's hard to even imagine the kind of response!
There are many other amazing Facebook pages for individual athletes, teams, sports and there is an official London 2012 page showcasing highlights from both Olympics and Paralympic games which are going to happen in London between 27th July – 12th August and 29th August – 9th September in this year respectively.
Since there are more than 100 pages suiting different interest levels and supporters connected with Olympics 2012, Facebook has come up with an official Olympics page that connects all the pages at one platform. You can quickly like pages of teams you like, athletes you support and sports and broadcasters that you would love to rejoice.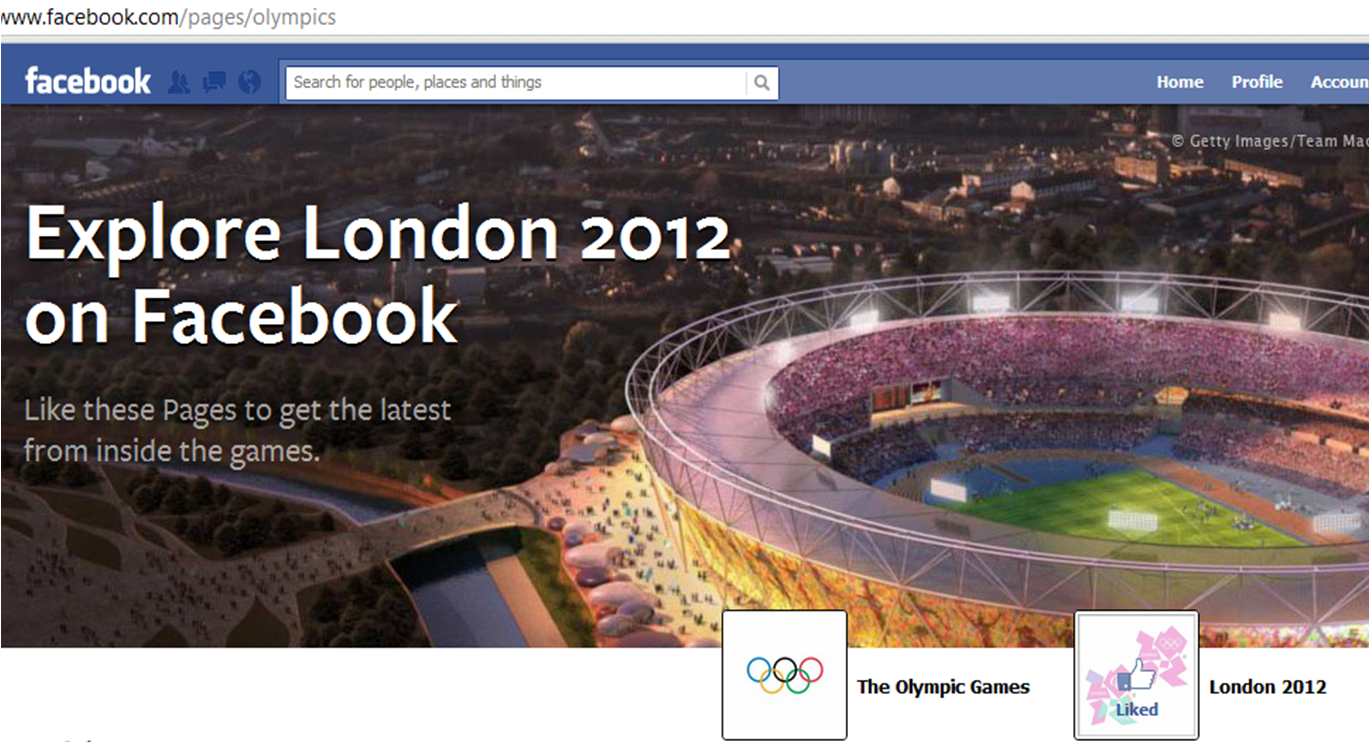 The site claims to have pages dedicated to specific Olympic sports and links to Facebook sites for 60 national teams and 200 athletes. Analyzing each of these pages is an impossible task to do! Trust me; they are all amazing and wonderfully managed. Something that really attracted me was the London 2012 page and the updates made there. Facebook is an amazing way to show how the city is changing and celebrating London 2012 to welcome Olympic and Paralympic games. Example of an update:
 Btw, only when I was accessing the London 2012 page with more than 395,000 fans I realized there is another page called London 2012 Festival with 11,000+ fans giving updates on the various programs and events hosted across city to celebrate London 2012. To my surprise, this event claims to be the biggest festival the UK could ever see with artists from all over the world.
The best parts of these Facebook pages are they are informative, proactive and rightly updated on time and the information is ever accessible.
4.      Sponsors Go Proactive: The sponsors of Olympics 2012 are also not leaving any stone unturned, and have started aggressive campaigning online. Coca Cola, BP, Cadbury, everyone is out to engage and woo customers. Here are some examples of the same:
Samsung has lunched this addictive app where you can compare personalities with Team USA athletes.
VISA has created a Visa Cheer/Go World app which allows users to create custom cheers, and more than 9 Million people have cheered till now using this application.
Panasonic has taken the traditional campaign online and has come up with Face painting app that allows you to upload picture and get a picture with a flag. You can post this on your wall or use it as your display picture.
Apart from Samsung's addictive application on Facebook, it has also come up with 'Everyone's Game Hub'. This one has got information on Samsun's sponsored athletes, the Olympic Torch Relay and the Samsung Hope Relay. Users can apply to be a Samsung Global Blogger and enter into the contest to win free tickets.
P&G has smartly used YouTube for successfully running its campaign. A commercial of P& G 'Best Job | P & G London 2012 Olympic Games Film' has gone viral with more 4 Million views. This videos honor moms behind Olympic athletes and the hard work they do.
On the other side popular national brands such as BP has come up with another London 2012 page promoted and supported by BP. The #homeadvantage campaign by British Airways is about supporting their home team for Olympics 2012. Here is the video describing the same 'British Airways Home Advantage'
BMW is running a regional campaign encouraging users to spot the #GoldenBMW which will be touring in UK. To win a free ticket one needs to spot the car, take a snap of it and share it with @GoldenBMW on Twitter. Btw, the best part is the twitter accounts shares the information on the destinations where @GoldenBMW would be.
Omega is running similar campaign encouraging use of #Startmeup (Read complete details and video in an official press release by Omega).
With an early start Cadbury has crowdsourced a virtual march on Facebook by creating an application, here is the video of the same 'Cadbury Olympics March'. Cadbury's Facebook page  also hosts regular competition with Olympics Tickets as prize.
 Coco cola has come up with awesome beat making application on Facebook. This analyses your social activity to create a sound for you.
5.  IOC's Technology Advancement – Athlete's Hub:
 IOC is planning to host live chats from inside the Olympic village with athletes and allows public to pose questions using their Social Media accounts. IOC has also created an online portal titled 'Athletes Hub' which will collate posts from their Facebook pages and twitter accounts. IOC has come up with a rewards system that allows people to earn rewards if they follow their favorite athletes and participate in the community. Well, as one participates he/she can unlock badges while scoring points by following athlete's social media channel. Well, this is a very smart social networking site to increase the visibility of athlete's and Olympic 2012's social media channels.
6.      IOC's Social Media Policy:
IOC allows athletes and accredited personnel to post, blog and tweet from personal perspective and doesn't allow athletes to favor any advertisements or commercials.
Social media posts by athletes should be written in a "first-person, diary-type format."
People can share photographs, monetizing is not allowed
People are allowed to film but uploading on the public sites is not allowed to protect the exclusivity of the broadcaster.
IOC has drawn strict rules for their 70,000 employees; they are not allowed to share details of location, images of scenes that are off limit to public, information about celebrities, athletes they are in contact with and any backstage activities that can be offensive to any of the above.
Given how much online interest IPL and soccer tournaments generate, Olympics 2012 is going to be beyond anyone's expectations. Thanks to the explosive growth of smartphones, London 2012 will be followed in real time and shared with unforeseen enthusiasm. So, I can confidently say that this edition of the games will be the first social media Olympics that will create history and set awesome benchmarks, and will gain hugely from it.
What are your thoughts? What other interesting campaigns or news have you come across related to the Olympics? Let me know in the comments!