Ahrefs is a distinguished tool which is largely used to keep a check on backlinks. For those who don't know what backlinks are it primarily is a hyperlink (incoming) from a website to other webpages. But often people get confused that the features Ahrefs has are limited to backlinks which are not the case; it has a lot more to offer and it does. Ahrefs has massive substantial data, which automatically makes it one of the most reliable and sorted SaaS tools out in the market. Ahrefs is one of those genuine tools that not only help individuals but also aid Google to get rid of unethical and corrupt SEO tactics. Ahrefs has made the tricky SEO so effortlessly simple which in turn has also helped the industry to get better. It has loads of features and gets updated from time to time. The features ahrefs offer to make people progressive at what they do, one may get lost and detour back at starting own links- one may try ranking tracked keywords.
While reading about Ahref I went through several reviews and most users believe Ahrefs to be influential and authoritative suites of SEO tools along with social media. There was one user that clarify the common mistake of backlinks by saying, that most of the SEO refers ahrefs as merely, 'Backlink Checker' that has a stiff competition with intelligence and analytical tools with other indices like the SEMrush or the famous Moz, but this tag of being a 'Backline Checker' has abominably undersold the Ahrefs as it is much more than that.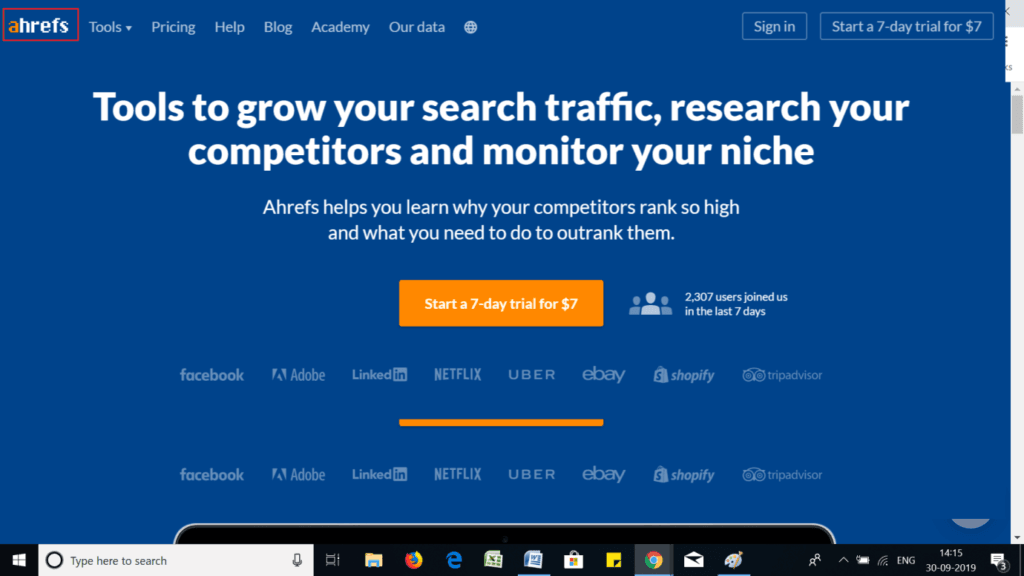 Key Features of Ahrefs SEO Tool
One of the main features that make ahrefs dashboard so popular is the content alerts and keyword rankings. Now, one can agree that Keyboard ranking has lost its importance compared to the good old days of SEO tools, but keyboard rankings can be useful for the diagnostic indicator, this can be a constructive data point to embed into the analysis. Given that Ahrefs includes tracking feature, it makes the critical keywords worth their value. In fact, they are useful for competitive study and planning outreach. For making the work easier start by targeting commonly used phrases, that have direct relevance to your webpage, this will help you get a feed every time a new content available around the targeted phrases. Ahrefs also pulls out the anchor text i.e. the text within the links, social metrics, provides the IP address, Backlink type along with HTTP status. Not a lot of users consider these but such additional pieces corresponding with a massive index of URL's is what sets Ahrefs apart and makes it a Marketer's suite.
List of key features are here:
Keyword Search
Most users are unaware of Ahrefs as a keyword research tool, and what all they miss out on. This is primarily the go-to tool for looking for keywords and innovative ideas.
Seeking Link Prospects
This is the most popular feature of Ahrefs to extract the link opportunities from contenders. Guides can help you to not only seek such link opportunities but to land the links your contenders have.
Backlink Audits
For any new SEO campaign, the primary step is to get the existing link profile audited. Ahrefs will provide you with every shred of information that will help you make an informed decision about the link profile.
Tracking Organic Visibility
Merely tracking down keywords is an obsolete strategy; the key feature of KPI in SEO is the searching of organic traffic data within Google Analytics. But for complete utilisation of the Google Analytics pull the leverage of "Total Organic Keyword" figures available inside Ahrefs
Analyze contenders and Validate Keywords
Any new user can learn the method of finding keywords but the real enchantment is not finding them it is to learn how to validate those keywords. Ahrefs has the best go-to tool for accomplishing this goal
Site Audits
Ahrefs has not introduced a Site Audit tool that can help to improve the technical performance of SEO.
Brand Management
Lastly, Ahrefs provide an influential feature for building the relationship and brand management by allowing you to lay alerts for keywords.
With the constantly improving SEO toolbox, introducing and trying diverse tools is not a shocker for Brand Management, Content writing, constant optimization, the famous keyword research and competitor research.
Whilst tools may not jot down our content it certainly helps us in different ways like: Managing our website in a new way, help us make the right choice about the kind of people we need to reach out to along with finding suitable people for our content and to choose the topics for content strategically.
Ahrefs – A Complete SaaS Tool
 When you go to Ahrefs webpage they direct you to their homepage that has information about everything in a systematic manner. All information from their data index to the testimonial of the experts of SEO around the globe is available at the homepage. Not that I am promoting Ahrefs blindly but they offer a Free Trial and I would recommend you to use it once because I can only provide substantial information unless you use the tool you will not understand its importance. So try the free trial once, for that you just need to sign up and the webpage will direct you to your dashboard where you can monitor old projects and input new ones.
When you are directed to the dashboard it overflows with various features and tools and for those who are new at this can find the tools quite technical. So that you don't need to Google every meaning of every feature I have provided the meaning and function of all the features that will display on the dashboard this will save a huge amount of your time. So let's get started:
Domain Rating:

This is like a scale that measures from 1-100, that provides your webpage's complete backlink profile strength. So obviously the greater the DR is the better.

URL Rating:

The concept is the same of Domain Rating with the difference that this scale measure individual URL backlink profile strength and provides the likelihood to get a higher position in Google's Search Engine Result Page).

Ahrefs Rank:

This is a crucial feature as this is your rank the rank of your website depending on the quality and range of your backlink profile. What makes this an interesting feature is that it isn't a stable ranking it changes constantly because most websites keep updating their backlink profile and you've had to compete with your personal backlink profile if you don't want to lose out on the Ahrefs rankings.

Organic Keywords:

This tool regardless of the location, enlists the keywords that ahrefs ranks in the first 100 search results.

Backlinks:

This is a technical feature that enlists all the backlinks that refer to a specific webpage and in most cases the website or our client.

Referring Domains:

It is analogous to the data of backlinks, it enlists all the domains that refer to a specific URL or website.

Targeted Keywords:

This is the most used feature as it shows the performance of the targeted keywords over some time.
Although the information I gave just provided a simple outline of the website, which is not limited to this, they get expanded on Ahrefs major sections. This was the first section let's move on to the most famous and crucial section that is the Site Explorer. Let's give it a look:
Site Explorer
This is the overview part, this is the place where you can locate almost everything about your website. It's inclusive with everything from graphs to number and figures, also all the changes that occurred in your website in enlisted altogether. Being a professional SEO, You should be habitual to adapt the SEO campaign instantly. And with upgraded feature recently introduced by Ahrefs you'll know all the changes you need to make to progress your profile and webpage. One will agree the thing that sets ahrefs apart is that ahrefs as a whole constantly update all the data that they display, this means a lot for the campaign.
Features of Site Explorer's Data
One of the most important features is the Inbound Links. They are usually used by the search engines for human endorsement through proxies. The trick is that the higher the links are from genuine and reliable sites on the recognized pages will mean higher organic traffic. What links feature special is that it allows you to draw all links to a particular URL and then you can sort and jot down all information you want at one place. Imagine the amount of workload that is decreased for you.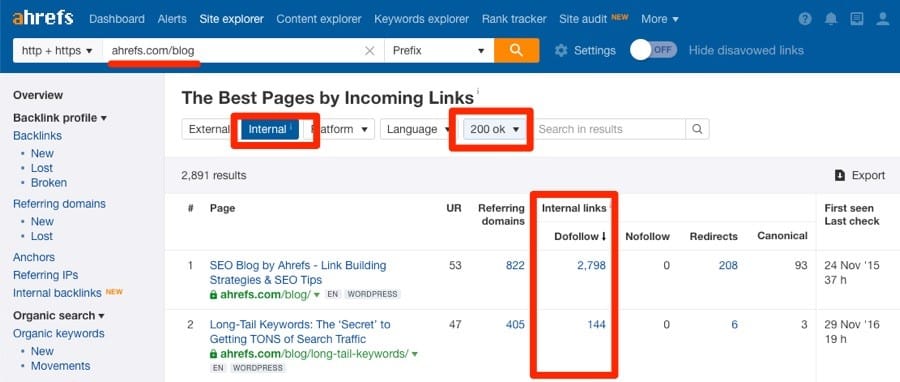 The second feature is Top Referring Content. This is one of the most intrigued features as it enlists the name of all content available on the internet that has a link to the specific URL, you were exploring, has the highest shares or links or traffic for that matter. This feature provides an estimate as of what specific link directs traffic to your URL.
The third key feature is Top Content. This feature helps you to understand how a particular page performs on a URL. You can again draw and sort shares, traffic, links or this is when Ahrefs weighted importance score comes in handy.
The last key feature is Broken Links; they appear in Inbound as well as Outbound Links. This segregates the links that are either linking to or out to a URL that is no more active.
Backlink Profile
Now let's discuss the most constantly used term in the article Backlink profile. This tool of ahrefs is the favorite of link builders and SEOs. It portrays an exhaustive data display of the backlink profile and when I say exhaustive I am certainly not exaggerating that they will display every last valuable information about your backlink profile.
First of all, when you go at Backlink profile dozens of files can be useful some of which are languages, various platforms, all links and link types, group similar links along with one link per domain just like domain ratings and URL ratings
Personally, I am intrigued by Group Similar Link because it is the most efficient. Also, there is a search box where you can type and find particular links or domains or URL or Anchors. There is one more important difference I would like to point out that is between "Fresh Index" and Live Index, one of the upgraded advantages introduced by Ahrefs. Both of them can be switched that portrays all the backlinks found by ahrefs crawler. The only difference amongst the two that the "Live Index" is constantly updated every 15 minutes, to enable live links on your profile. Now this leaves us with "Fresh Index" is updated after a long time, but the good part is besides the delay is it still shows dead links that give you the upper hand to either change or reclaim the dead links. Both of them come with their individual advantages but I personally prefer live index over fresh index because it provides a regular update on what is going on my profile.
This article primarily is an ahrefs review article, now how will a review article make any sense unless I compare it with other competitive tools and display all the pros and cons.
Can I interest you guys into a pretty simple exercise? Go and Google "The Best SEO tools". Done? You have a set of list. I hope we have the same name to make your life easier so here goes a comparative showdown between Ahrefs vs SpyFu vs SEMrush vs Moz Pro.
1) SEMrush
SEMrush is a globally leading research service. It is the top SEO tool in the market and provides the best competitive research service. SEMrush literally flows with the features and upgrades, be it spying on contenders or keywords, PPC strategies, Backlink Analysis, SEMrush has the best service for all of them and more.
Pros
No doubt the first choice for competitive research service intelligence tool available online. Uncovers PPC strategies, Backlink Analysis and much more.
SEMrush provides the platinum standard if you want keyword research. It is a magical tool that will assist you with the most favorable keywords and will enlist up to 2 million ideas for the keyword.
The SEO idea or the SEO checker tool will provide a well-researched catalog which would help you to utilize your rankings positively, for your target keywords for either specific or general URL. They have upgraded recently and provide now an option of semantically related keywords to add in your pages on to the backlink profile to counsel on the length of content and its readability.
There is a site audit tool on the home page that will aid you to discover the technical on-page SEO errors and caution on your profile, and will also endow you with an exhaustive well-researched list of advice to improve your SEO site.
Cons
The curve of learning is steep and precipitous which gives the competitors the upper hand.
The Backlink Tool isn't as accurate and comprehensive as the Ahrefs Explorer provides.
Cost
Pro (Beginners)– $99.95/month
Guru (small businesses and entrepreneurs and proprietors) – $199.95/month
Business (MNCs, Big company, cartels)– $399.95/month

Outcome
Now you know I am being completely honest when in an Ahrefs review article I am openly recommending SEMrush. If you are choosing among these four go with SEMrush. It is the ultimate research tool which will explicitly help you with your business or blog by unraveling list of most profitable keywords. SEMrush not only focuses on improving you it keeps a steady check on your competitors their search and PPC tactics which enables you to gain a higher rank in SERPs.
Click here to read SEMRush review:
2) Ahrefs
First let's get our priorities straight if your requirement is high-quality backlinks, Ahrefs is your Knight in the Shining Armour. Ahrefs provides the finest link index compared to the other three tools. Ahrefs is the best there is for backlink as it will unravel every last shred of information of your contender's backlink profile and simultaneously build your backlink.
Pros
The rank tracking tool is the most reliable an accurate, won't find anything like these.
Backlink Analysis is second to none.
The outreach tool is excellent in every sense. This tool is adaptable with other marketing tools like Mailshake or Buzzsumo even Ninja Outreach.
The tool provides email alerts in case you are offline providing a list of new, lost or dead backlinks along with rankings of important keywords.
There is an upgrade of Keyword Explorer 2.0 which is an advanced tool for keyword research.
Cons
Ahrefs is comparatively expensively to other research tools like Spyfu and Majestic SEO
Cost
Lite(Beginners) – $99/month
Standard (Bloggers)– $179/month
Advanced (small businesses and entrepreneurs and proprietors)– $399/month
Agency (MNCs, Big company, cartels)– $999/month

Outcome:
If your priority is Backlink Profiling, this is the best to invest. Ahrefs might seem expensive but the strong ROI will prove its worth to you.
3) Moz Pro
It was started by the famous Wizard of Moz (Rand Fishkin) way back in 2004. Owing to the cult followers makes Moz the most popular SEO tool in our list. Moz Pro goodwill lies on the metrics of SEO, such as the page authority and domain authority which provides insight on-page optimization reports, link equities and much more,
Pros
The famous features of page optimization identify and repair on-page troubles and boost search rankings.
The customer support they provide is commendable as it offers 1 on 1 product available on every plan.
Cons
Their Backline data sometimes is inaccurate.
The curve of learning is steep and precipitous also it is not a beginner-friendly tool.
Pricing
Standard– (Beginners) $99/Month
Medium– (Bloggers)  $179/Month
Large–(SEO Agencies) $249/Month
Premium– (MNCs, Big company, cartels)  $599/Month
Outcome
With the upgraded advanced focus on research, Moz is undeniably the best SEO tool present in the market.
4) SpyFu
SpyFu is a famous Competitive Tool for online research marketers. SpyFu often provides a piece of good information related to SEO and PPC, and it often advances the search ranking for your convenience, by getting into your contender's keyword and profiles.
Pros
The only plan that offers the customer a one-month money-back guarantee.
It is cheaper compared to other intelligence tools.
Cons
It is the newest member and relatively inexperienced tool which makes it less favorable.
There isn't any free trial option.
That layout is non-coherent and confusing.
Pricing
Basic (Beginners)– $39/month
Professional(Bloggers) – $39/1st month, $78/month
Business (MNCs, Big company, cartels)– $299/month

Outcome
SpyFu although inexperienced nut gives a decent competition as compared to other search tools. The plans are not so expensive, and $39/month is giving stiff competition to other search tools in the market. This shows that the tool is ready to face the competition and get better. We know it has its limitation due to lack of experience, and often the data accuracy level is unsatisfactory and the UI might get overwhelmed now and then, but it is one of the reliable tools that doesn't get too heavy on the pocket.
Conclusion
Ahrefs is genuinely a reliable SEO search tool with a great amount of substantial data, best backlink checker and importantly it is an influential and authoritative suite. Not to mention the keyword rankings and content alert is splendid. It might seem a little heavy on the pocket but it is worth investing every penny. From homepage to dead links it has upgraded and improved every segment of itself. I would rate Ahrefs 4.5/5 on a personal level. Among the competition, it never fails to astonish the users with its customer care. These features make Ahrefs to be an influential and authoritative suite of SEO tools along with social media and the users.