Amrutanjan Relief (@WuhooRelief) a 2 months old brand on Twitter is now ensuring to provide Relief and homemade remedy solutions to people suffering from Cough, Cold or Sore Throat on Twitter. Keeping it clean, it also recommends its congestion management products to the needy suffering from the same.
The dedicated team behind WuhooRelief actively listens to people suffering from cough and cold, sore throat and recommend them the Relief products / home remedies / gets little personal by asking 'if they are ok and also checks the status of their described illness in tweets to recommend solutions accordingly'.
In less than 2 months of time Amrutanjan Relief (@WuhooRelief) has made around 700+ tweets got about 350 RTs and about 260 Mentions more than that it has got some great responses from people who were surprised to see a healthcare product brand getting concerned about them. Below mentioned are few print screens of conversations for your reference:
From Listening, Conversing to Fan: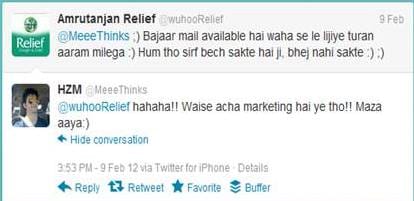 Amrutanjan Relief ended up conversation saying "Have a Good Day"

Followed by Amrutanjan Relief requested Zakiy to become part of their Facebook family and Zakiy readily accepted the invitation to join.
Request For Trial, Resulting in Purchase of Product:
Amrutanjan Relief Getting Genuinely Concerned:
Carefully Listening, Conversing & Offering Product:
Most cases I have seen bots directly responding back with links or recommendations as soon as you tweet the words listed in their directory. Amrutanjan Relief ensures to take up conversation in most cases before offering a product or takes up conversation after offering a product solution:
Listening, Responding, Getting Appreciated & Increasing Followers: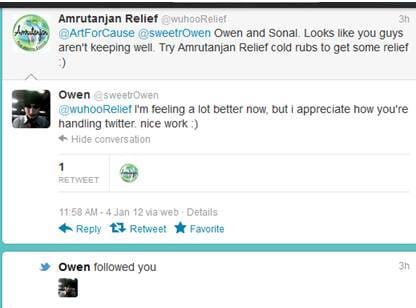 Concerned Conversations, Precautionary Advice:
Recommendations:
Listening to Sufferers and their Responses: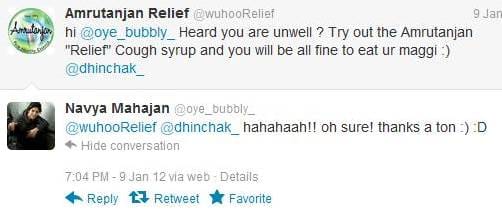 Listening, Getting Concerned:
Responses When @Annkur Retweeted Amrutanjan Relief's (@WuhooRelief) Tweet to Him:

Some More Conversations & Appreciations Are In the Print Screens Below: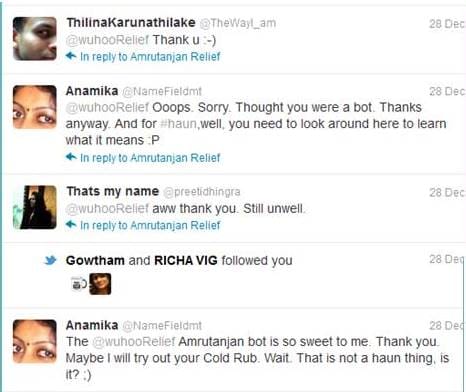 We are glad Amrutanjan Relief (WuhooRelief) is creating relevant engagements on Twitter unlike many other brands that are merely there for the sake of Tweeting/Broadcasting. After all Social Media is all about engagement and brand needs to Listen, Converse! Converse right! Converse relevant!