Are you hooked on to your phone? Do you randomly feel your phone vibrate, even while it barely moved? Is your addiction slowly eating away from your productivity?
Well, it's time you hit the detox button!
I have been there, in the shoes of a smartphone addict. My field of work also requires me to constantly stay within a few inches from my phone. But this doesn't mean I have to fully immerse myself into it, keeping my productivity at stake.
There is hope for all of us!
I got into researching some of these tools and also got my hands on some of them. Here are some of the most used and efficient de-addiction apps to help you get rid of your smartphone addiction.
#1. Forest:
The app promises to plant real trees while you spend your virtual coins you earned on the app. So here's how it works – you open the app to plant a virtual sapling, as long as you are on the app, the tree keeps growing. The moment you exit the app, the tree is killed.
This is my personal favourite and it's so much fun.
#2. App Detox:
App Detox enables this user with the options to lock apps, limit the heavy usage and also stop procrastination. Every time you break a rule, the app reminds you to take a break. Parents also use the app to monitor and control their children's usage time.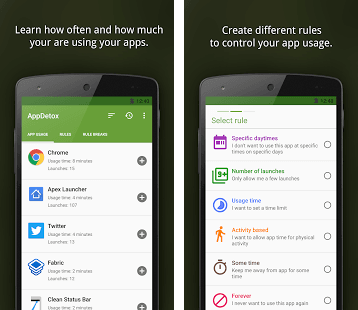 #3. Offtime:
You can create profiles where you can block calls and notifications. You can set VIP contacts from which you will continue to receive calls. Restrict your internet activity, overall phone usage and get alerts when you begin to overuse your device.
#4. Stay Focused:
While the app has most of the common features of the other apps, it has two add-on features – strict mode and lock mode. Strict mode doesn't allow you to change your settings at all while lock mode requires you to enter a password to change them.
 
#5. Antisocial:
Unlike other apps, this app doesn't enable the user to block calls, apps or notifications. Once installed, the app runs on the background with minimal data and battery usage. Its main function is to benchmark your usage with all the other usage to give you a fair understanding of what 'normal usage' is. You get an easily understandable report two weeks from the day you installed the app.
#6.  Flipd:
Challenge yourself to complete your tasks while staying unplugged. This app comes in handy for both classrooms and workplaces. While in classrooms you can set alarms, which then the app will use to remind you to take your lessons on time. At work you can use the app to keep yourself motivated by looking at the time you have saved and also set reminder to when you need to flip off.
#7. UnPlug:
Unplug helps you monitor your iPhone usage and presents you with reports which include things like hours of usage, number of times you unlocked the phone. You can set daily usage limits and win reward points every time you cut down your usage.
#8. Freedom:
Available exclusively for iPhone, Freedom is the application you would turn to when all the others fail to work for you. It allows you to block sites you frequently waste time with. You can either block them with a schedule or unlock them at will.

#9. Checky:
Checky is a simple application that shows you the number of times you've checked your phone on that particular day. It's up to you to then cut down on your mobile usage.
#10. Space:
Space aims at interrupting your unhealthy phone usage with non-intrusive notifications. It also gives you reports about your usage and the progress you've made in the last 60 days.
Let me know which of these apps you've used. I would insist to have at least one of these and become more productive.
Sometimes it is good to be away from Digital. 🙂