Looks like Indian brands are now leveraging Twitter more than other social media channels these days! I noticed more than 20 brands got their contest based hashtags trending on Twitter in March 2013 (up till now) and most of the hashtags were demanding for ideas, creativity, knowledge and expressions. In fact, they were asking for people to talk about their brand.

Apparently, I am big fan of Audi since 2008 when I first drove it in Leeds (United Kingdom) for a long drive from Leeds to London and I completely loved the luxury. On March 20th Audi India (@AudiIn) announced a contest asking tweeters to give a reason why they really love Audi with hashtag #LoveAudi the best tweets are to win iphone, ipad, ipod and merchandise from Audi.
So the question was clear: "Give a reason why you #LoveAudi" but the answers were tremendous! People went way beyond than just expressing in tweets – which turned out to be a fantastic marketing campaign. People were pleasing Audi enough with enormous number of creative tweets, customized videos, poetic blog posts, a fully fledged micro site and lot more that made #LoveAudi trending nationally (for 2 consecutive days)
So here are some tweets from participants that were unusual:
Tweeters were making customized videos to showcase how much they loved Audi:
Some were making blog posts: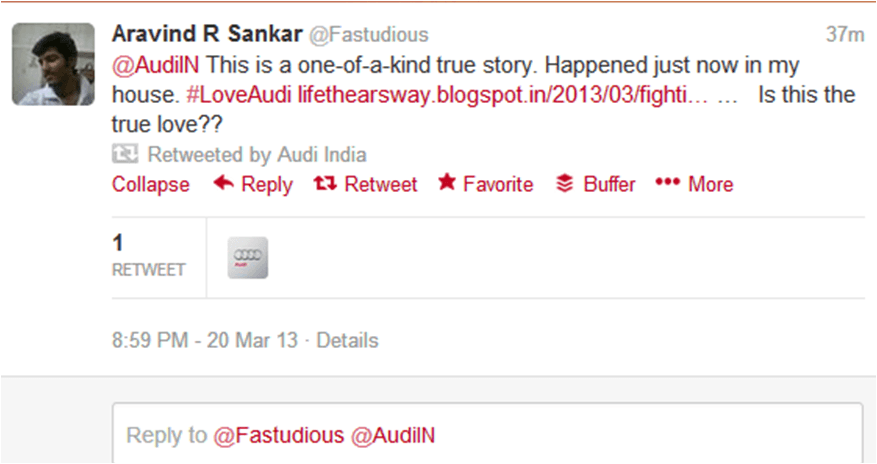 Some were making poems and customized pictures:
Photo Collages:
Getting a Audi Tattoo in Place:
Buttering the Brand Enough: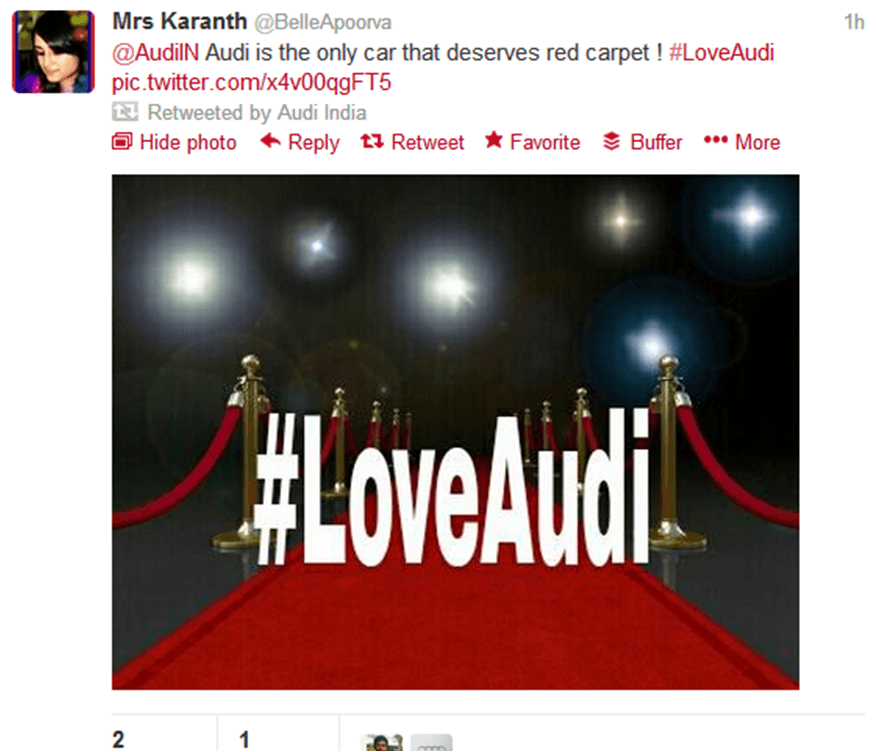 Creating Customized Posters: 
Thousands of tweets poured in from different audience across the country, most of the tweets were poetic enough to impress Audi India some where way too emotional and some had a lot of creativity and hard work involved in it., which I truly appreciate. But, the way audience was reacting to the whole campaign reminds me of what Volkswagen did last year by bringing #Anything4Jetta campaign in effect which had a tagline 'what is the craziest thing you can do to win #Anything4Jetta' and as I evaluate tweets from participants, I understand Audi has a campaign in resemblance. Though it lacks innovation it is still a very smart move as I also saw some celebrities tweeting about it:
Tweets from Actors Supporting #LoveAudi: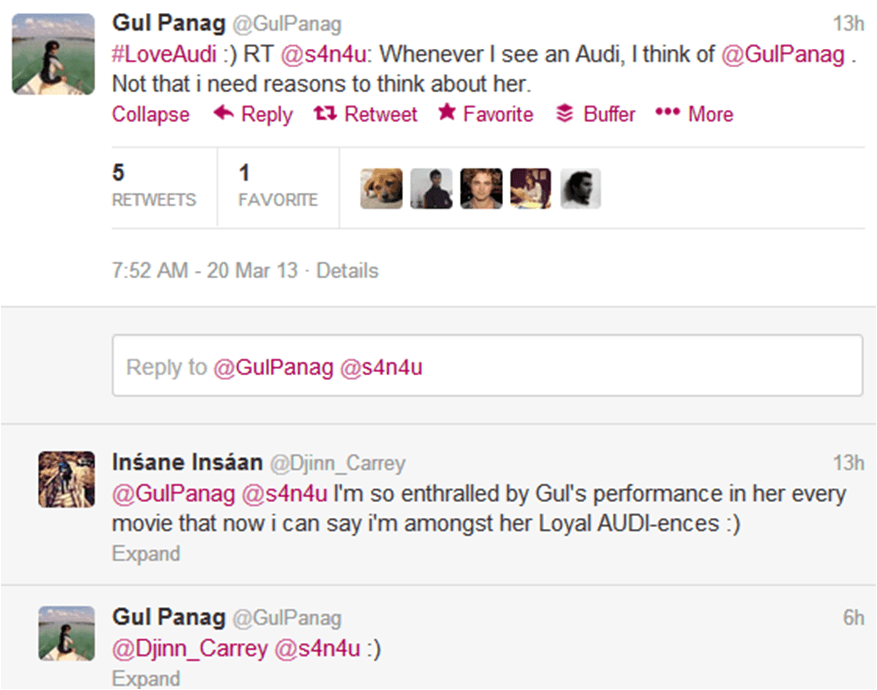 Audi India drove traffic to the campaign via Facebook as well by running continuous advertisements about this contest. The efforts  put in helped them make #LoveAudi and Audi both trending nationally. So now the question is: Does Such Twitter Campaigns Really Help?
There can be two mixed perspectives here: 
Perspective 1: Many people have participated in the contest because of the freebies/giveaways and their opinions about the car are not really honest. This wouldn't have happened if the brand had not offered freebies.
Perspective 2: Though many people are not being very honest about this contest. It still matters to brand as I could see the enormous amount of time people are spending to tweet about it, go creative about their tweets to express love in a different way, and the national level listing in trending topics reaching out to high net-worth individuals who probably would really #LoveAudi and this campaign will help them make a perception. The only reason I love this contest is because of the enormous number of creative tweets that have been pouring in since 2 days and I did notice people were tweeting all through out on the night of 20th March.
Social Media Tip: 
The contest has no rules and regulation as such – It was started on March 20th 2013 and is still continued (March 21st 2013) and no body knows if it is going to end today.
No time intervals for announcement of giveaways or the number of giveaways has been previously told. I see  the give aways are announced then and there.
A announcement like 'we shall be announcing the winner at 6 PM today, keep your tweets going' would really help as it will increase the enthusiasm and pace.
There is no microsite built for this contest which talks about Audi in exclusivity for people to learn more about it or a video on YouTube which introduces people to contest by taking them through the journey of car and its accessories could have been a better idea.
I suggest they compile all the crazy tweets and crazy things people are doing and add it on a blog post or a website, this will immensely help brand in getting some fantastic traffic to the blog post at the same time showcase gratitude to participants.
Oh by the way, I had made few tweets on the contest in fact, got a pic clicked with the 'Celebrity Audi' and I guess it went really hay-while as there was a hugeeee traffic of twe
My next blog post in the category would be on all the hashtags relevant to brands that became trending topic in this month.
Answering a Tweet Here on Blog:
After I uploaded this post and tweeted about it, Madhurjya from Delhi had asked me a very good question that I think probably must have frequented most of the Marketer's minds.
Answer: Audi in India surely doesn't qualify the mass, it probably would be dream car for many and hardly few owns them in the country who probably are the richest business personalities or well known celebrities.  What Audi India did on twitter has more to do with the individuals and the incentives they are to offer.
In the whole process of this campaign..
Contest was Announced —> Mass Participates to Win the Freebies —> Making the Topic a Trending Topic on Twitter —> Increasing Visibility —> Celebrities and Top Notch Business Individuals on Twitter Notices it —> Helps Brand Increase Visibility to Right Kind Of Audience —> They Make a Perception about the Brand and Very Few Participate in The Contest
In simple terms again: Through the mass, reach the handful!