Many people come to me asking, Sorav have you used Aweber Free Email Marketing Tools? How is it? And to educate my readers here am starting a new series of blog posts highlighting details and reviews of various tools/products/services I have used and how it can help. Hope you enjoy reading! You can also download a Free Email Marketing Guide from Aweber after you complete reading this article.
I was not a great fan of Email Marketing until I tested my hands on it. This blog post is a detailed review of Aweber Free Email Marketing platform and here are few key reasons why I use Aweber:
All the emails you receive for the Free Digital Marketing Course also weekly updates on New Things in Digital I use Aweber extensively.
I use Aweber for Marketing Automation – It offers me forms that I can integrate it on my website. For example: The pop up that you see when you visit my website asking you to register for my Free Course is an Aweber feature.
Third Party Integrations: You can connect your Facebook advertisements or other form of ads directly to aweber through tools like zapier. This makes your Legacy follow-up series all the more activated.
Interest Levels: Every time I send an email. Aweber shows me how many people open the emails, how many people click on the links. What's the total percentage of people showing interest in things that you send. This is absolutely outstanding a feature. Helps you in understanding your consumer behavior so well.
I learnt this all by subscribing to Aweber's Free Email Marketing Guide.
What is AWeber?
AWeber is an Email Marketing and Autoresponder Service
AWeber is an Pennsylvania based company offering email marketing solution, sign up form, and autoresponder software that helps you to send out sequence of email marketing messages to subscribers in a particular order or frequently. It delivers your blog post/content in best possible way so that your subscribers are glad every time they read your written piece. Since, 1998 AWeber communication started by Tom Kulzer is been serving more than 120,000 small businesses, blogger, and entrepreneurs across the globe with complete Email Marketing Solution.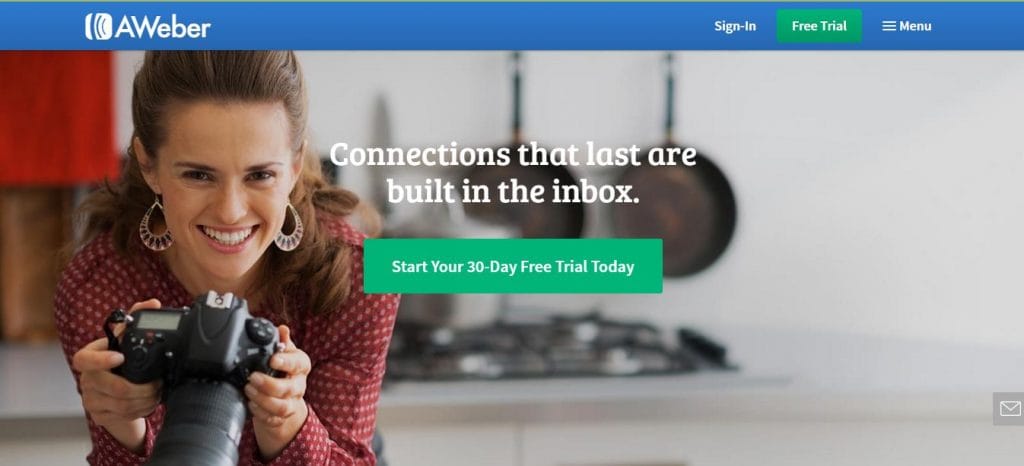 Why should we use it?
Generally people get confused about using FeedBurner over Autoresponder service, FeedBurner send updates to your site subscriber every time you do a new post. On the other hand, autoresponder will help you send out specific set of messages/post automatically to reader and also allows setting the time gap between each mail. Now that is the job of any autoresponder service, how AWeber is different?
AWeber collects and manage the contact details of your website visitors when they leave their name, email id, or contact number on your site. This helps to build real subscriber in the mailing list.
Each person on the mailing list will be sent series of pre-written emails at defined intervals will save lot of time and effort.
AWeber allows great customization options to improve the look and feel of emails, personalize them with subscribers' name, and other features will help you build strong relationship with customers and subscribers, eventually boosting leads and sales.
It also let you measure/track each email response, like who opened the mail, who read it or clicked on the link provided, how much revenue earned etc.
Most importantly you can be sure of mail delivery in the Inbox of reader and not in spam when using AWeber.
I have learnt the art of marketing on aweber using their free guide and I would recommend most of you to download the guide and try their 30 days free trial from the link below.
Functionality and Features of AWeber
Currently am using AWeber for many of my email marketing campaign and I must say it does lot of hard work to make sure my mails are delivered to all subscribers without much of bounce back rate. There are many functionality and features of the tool to bring out best of this autoresponder, here are some of my favourite features:
Email Deliverability Rate

– AWeber proactively seek out and resolve potential deliverability issues to ensure maximum deliverability of emails.

Drag and Drop Editor

– Drag and drop is always fun feature to deal with and here you can create professional looking emails adding rich-images and links in no time.

RSS to Email

– AWeber not only send out pre-designed emails to subscriber but also transform any recent article from your blog into a newsletter to broadcast them.

HTML Email Templates

– You can create stunningly impressive emails by choosing over 700 HTML email marketing templates from the tool.

Manage Subscribers

– AWeber does everything right from collecting, managing and segmenting subscriber and also tracking their actions.
More features like Atom App, Traffic and Click Monitoring, Email Marketing API and Autoresponder Follow up are also interesting enough to try.
What all we need to use the tool?
First of all you need to have a small/large business over internet to get started with AWeber autoresponder. Building list and marketing via email is proven methods to get your product/service reach the customer base. Remember it is a marketing tool for online business, so you must be capable of writing a marketing piece that encourages readers to become buyers. Just sign-up with AWeber to use the service, either by 30-days free trial or follow their plans.
How to use the AWeber?
It took me less than 20 minutes to understand the working process of AWeber, which is quite impressive. Here is the AWeber guide
Step-by-step Guide to use AWeber
Login to your account to create and manage list here , which will allow you to create a list of people who will be receiving your sequence write-up.
Next get started with creating a new list. It will ask for "Tell Us About Yourself" Your Company Name, Your Website Name, Address to be included at Bottom Email, Sender Name and Email, List Name, Subject line etc, just make sure all information provided are true and relevant to avoid bounce back rate. Click on Approve Message and Create List and move on to next step.
Then learn how to create a Signup Forms for your list which offers adding Subscriber's Name, Email, Address and Phone Number by selecting any of the ready templates forms. Once you save the form and move ahead, you get an embed code for your blog or in the plugin where the subscription form will be displayed.

Now it's time to learn about List Option that worked great for my Free Digital Marketing Course campaign. Here you need to key in the basic settings (List Name, List Description, From Name and Address, and Contact Address). You can personalize the setting by adding your company, social media info, signature etc. Don't forget to fill-in Confirmed Opt-in message that can be sent to new subscriber asking their permission to receive your mails. And if you have huge business that has different offers at different hours, you might want to consider this advance feature called global text snippets.
Creating a message over AWeber is more like WordPress, it allows you to add content, bold it, make it bigger, change the font or anything you would do with WordPress draft. Soon after you will feel like sending that mail to subscriber, however make sure you a check before hitting send button to avoid any blooper.
Legacy Follow Up Series
A Legacy Followup Series consists of a sequence of messages that are automatically sent to subscribers in sequence order. The legacy follow ups are sent to the subscribers once they reach the time interval you have set for each message. Legacy follow up #1 will always be delivered instantaneously once subscribers become active on the list.
Legacy follow up send messages to all subscribers included in the list. These messages are sent to the subscribers until they complete the legacy follow ups. A legacy follow up can be closed, paused or remain in the draft.
Here are few simple steps to be carried out in control panel in order to create and edit a legacy follow up message
Step-by-step Instructions
Step 1 : Click on "Legacy Follow Up Series" under "Messages" tab.
Step 2: Now, click on "create new message" button.

Step 3: Click on "Drag and drop Email Builder" from the drop down menu that appears.
Step 4: Enter the subject for your message at the top of the message editor. Message editor will have an option for adding subject line (you can personalize it by clicking on personalize).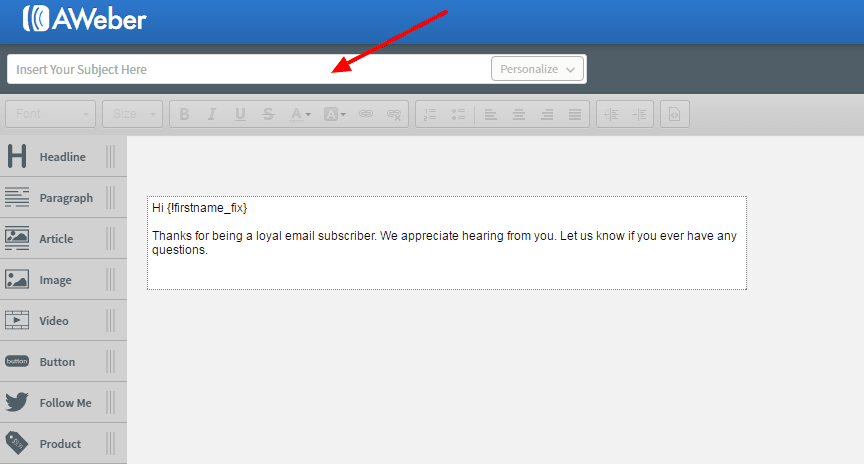 Now start using Drag and Drop Email Builder.  The editor has two major components "Sections" and "Blocks"
You can use the sections tabs to update the content, image, video, button, logo, signature etc.,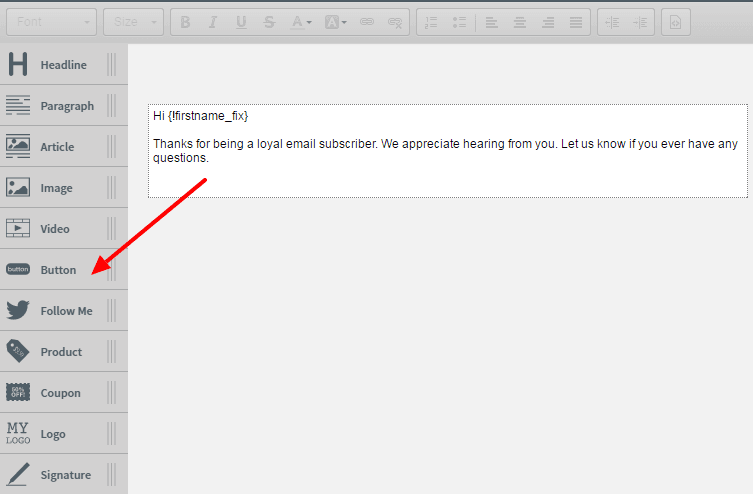 Step 5: We can also use predefined template for mail builder. For that go with "Templates" under Message Properties, select that works best for you and click on "Apply" button.
Once you are ready with the template, you can start adding row and column from the menu bar right above the template that you are already working. You will have 5 icons, last two "Vertical Split" and "Horizontal Spit" will allow you to add row and column accordingly.
Now you can do some adjustment using alignment of the posted content – top, center, or bottom like how you do it in WordPress draft.
In the left Menu Bar you will notice many blocks which can be added using drag and drop. Example – Headline block will allow you to add headline message and Image block will allow you to insert image, Follow Me block will allow your reader to follow you on Facebook and Twitter. Explore all options to create a best message layout.
Once the message layout is ready, start adding actual text and to create hyperlink on click hyperlink button in the toolbar and paste the URL you want to add.
You can also personalize the message using "Personalize" Button, where subscriber's Info can be edited.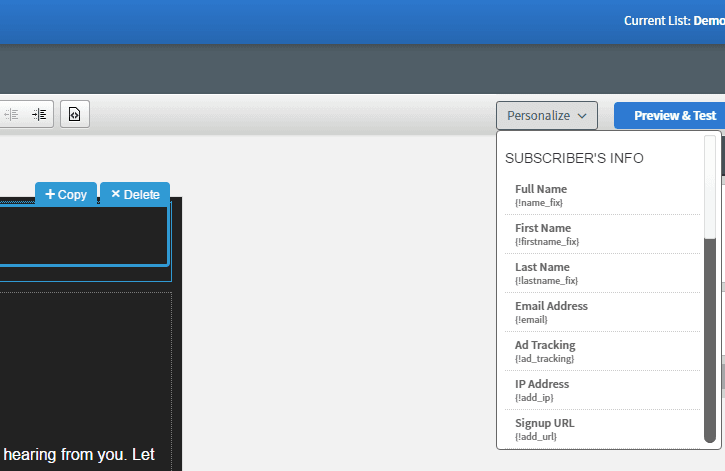 Step 6: Now that you are done with adding message, click "Save and Exit" to help Aweber save your message.
Step 7: Go to Drafts, click on "Send Options" button and select "Add to Follow Up Series". Here you need to set intervals of sending message between each email.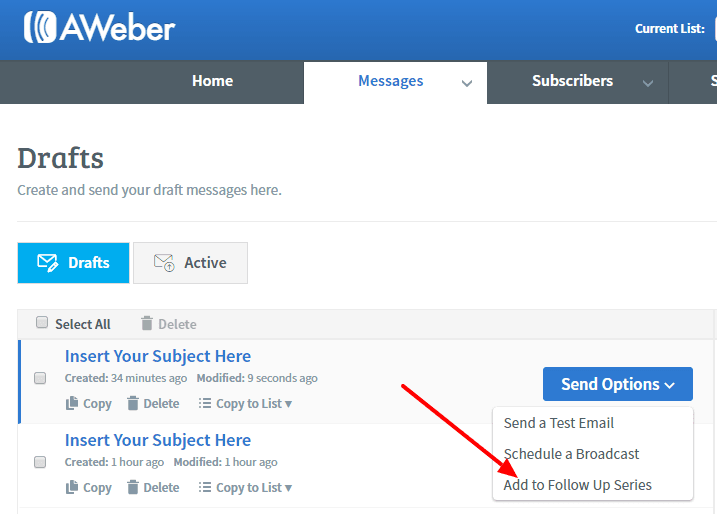 You also have an option to send out message based on particular time and date by selecting "Send Window" under "Edit". Set you preferred Day and Time, click on Apply and finally click the "Add to Follow Up Series" button.
After all your settings are saved people will receive your message when they opt for it. However you can modify the setting whenever you feel like and start the campaign using AWeber. Note that you are free to pause, reactivate or stop the pre-determined series to be sent out. Easy to understand interface of AWeber is what caught my attention, that's why I was able to create Follow-Up series right on the first day. So keep adding more emails and autoresponder using another follow-up or just by copying the previous one.
Ways to use the tool? (ex: integrating with any other tools )
To take your entire online business for a smoother ride, AWeber has an amazing list of tools it easily gets integrate with. These are the services that integrates with AWeber and here are some that I tried:
Connectio – Connectio is one of the most powerful Facebook marketing tools available to small businesses and enterprises of any size. It helps me to collect the leads from facebook one click lead generation ads. I can redirect all the leads from connectio to aweber.
SumoME – The AWeber integration with List Builder by SumoMe allows subscribers to be added to one of your lists within your AWeber account when they fill out a SumoMe sign up form.
Zapier – Zapier is a service designed around allowing users to create custom integrations between different services in just a few clicks. By integrating aweber with zapier, we can redirect all new subscribers in to our Google drive sheet.
I'm soon trying out more options for integration as it is making the entire process of email marketing more efficient.
What Results Can This Tool Bring To You? 
I often face this question, why a newsletter after all? What are the results? Especially when communication is rising over social media, do we really need newsletter? Here is why you need it:
Your readership will increase
Promoting a post is much easier
You will form community
It builds strong relationship with readers and subscribers
It drives leads and sales
Email is easier to use than other means
Your blog gets regularized when people expect your newsletter
Is Aweber Really Helpful? Well, Read On! 
Using AWeber for my campaign I realized:
A free digital marketing course just for a sign up was powerful and effective marketing tool for me and impressive deal for my readers.
Now I don't spend crazy amount of time on social networks, AWeber brings half of my leads by sending follow up mails automatically.
2k users responded to my recent broadcast "Wish to Connect with Me on Whatsapp"
A Minimum of 100 readers subscribes to my Free digital marketing course everyday!
I now have around 5000+ subscribers for that campaign, which wouldn't have been possible without AWeber.
Now I'm able to communicate with my subscribers more often and solve their issues.
Pros and cons of the tools
Here are some pros of AWeber
You can create up to 500 subscribers list and unlimited emails in one account
Autoresponder feature obviously
Maximum deliverability of mails gives me peace of mind
You have both version HTML and Text Emails
Unbeatable Analytics
24-Hours Customer Service
Here are some cons of AWeber
Little high on price
It charges me if anyone unsubscribe
Even duplicate emails are chargeable
Not all features are useful or required
Price
Pricing of course is the most important factor when considering any business. What's good about AWeber is even though it is little high on price, it does offer maximum benefits. Moreover it does have flexible options to choose from, the standard pricing starts from $19 and high value pricing goes up to $149.
Conclusion
AWeber is not only for newsletter, you can use the service to send out upcoming product release, invitation to meet, online courses, e-Book or even birthday wishes. The bottom point is it is "useful" to grow your business in number of ways including make money online. I would recommend investing in AWeber if you have strong online presence and great brand value! Have you tried any of the autoresponder service, let us know!