Look no further if you're looking for the best digital marketing courses in Coimbatore! We've compiled a list of the top 16 digital marketing courses in Coimbatore with course curriculum, course duration, course fees, and job placement information.
Allow us to assist you understand the importance and growth of the digital marketing business in Coimbatore before we dive into this list of digital marketing courses in Coimbatore.
Over the last decade, India has seen an exponential increase in the number of Internet users. As per the latest studies, a huge percentage of the Indian population mostly use the internet as a source of information than any other forms of media. This has led people to shift their businesses and services online, to catch the attention of their consumers.
As a result of this, many entrepreneurs and businessmen who are looking to grow their businesses are becoming more tech savvy. They have started using Digital Marketing as a medium, to have an edge over their competitors online.
Choosing Right Digital Marketing Course in Coimbatore
Choosing the right institute is very important, if you want to be a business-ready Digital Marketer. Keep the following things in mind before choosing your preferred course.
Curriculum – It is better to be the master of one art. Therefore, find the apt course that covers topics catering to your interests.
Value for Money – Everything does come at a cost. But before deciding on the course, ensure that the program is worth the fees paid. For this, you can consider the duration of the entire course, certifications offered and so on.
Trainers – Go through the profile of Trainers to get a clear understanding of their expertise. A student is only as good as his or her trainer.
Location – Check if the institute where you are going pursue the course is accessible. This will enable you to visit frequently to clarify doubts and also save you travel time to let you focus on other tasks.
Reputation through Reviews – Search for the institution on multiple platforms and figure what others have to say about the institution. Each person is bound to have their own experience, but testimonials give an overall view about the course and the institute's functioning.
Top 16 Digital Marketing Courses in Coimbatore
Like mentioned earlier, Digital Marketing is great way to increase the growth of a Business. However, the subject is not just limited to Business owners. Students and Professionals looking for job opportunities in the field can also consider learning Digital Marketing. On that note, here are some of the Digital Marketing courses in Coimbatore. Please note that this list is in no particular order or ranking.
1. Digital Scholar
Digital Scholar is India's premier digital marketing institute offering offline and online digital marketing courses. Digital Scholar is a great choice if you are an aspiring digital marketing professional looking for a digital marketing institute to learn from. Founded in 2019 by Sorav Jain, one of the leading digital marketers and Instagram influencers, the institute is known to have produced digital marketers who have gone on to make their mark in the industry.
Headquartered in Chennai, Digital Scholar is the educational extension of echoVME, one of Chennai's leading digital marketing agencies spearheaded by Sorav. The course at Digital Scholar is built exclusively for students by Sorav himself, along with a team of digital marketing professionals who are experts in their respective domains. The institute follows a unique agency-style training methodology – under this approach, students are divided into groups that function as an agency throughout the course duration. So, they approach every assignment, just like an agency would, under the able guidance of the expert faculty.
Digital Scholar offers a comprehensive course curriculum that ensures that students are trained in all aspects of the subject. The course is taught by industry professionals who have solid experience in digital marketing. With the aim of bridging the gap between the industry's need for professionals and the availability of fresh talent with their 100% placement support.
The institute has partnered with well-established digital marketing agencies, including the in-house echoVME, Social Beat, Internet Moguls, Social Kinnect, AliveNow, O3MDigital Marketing, and more. Their dedicated placement cell ensures students get the best launch to their careers.
If you are an aspiring digital marketing professional looking to get certified, Digital Scholar is one of the best places you can learn from. The institute offers a course that provides value for the money you will be spending. To get in touch with them, visit www.digitalscholar.in.
Digital Marketing Course Highlights
100% Internship guarantee by echoVME Digital.
4+ LIVE projects.
100% Placement assistance with average salary hike of 110%.
International freelance marketplace forever.
18+ Advanced Modules including copywriting, affiliate marketing and ecommerce Management.
Affordable Fees
2,000 Rs advertisement budgets
Free domain & hosting for 1 year.
Assured internship cashback
25+ Certifications
Most intense modules at half the price
Learn from world's best digital marketing influencer, Sorav Jain
Harvard-Style case-studies
National & international trainers
Become an international freelancer with this course
Learn complete automation
Digital Marketing Course Trainers
Google Reviews and Ratings
1769 reviews and 4.9 average ratings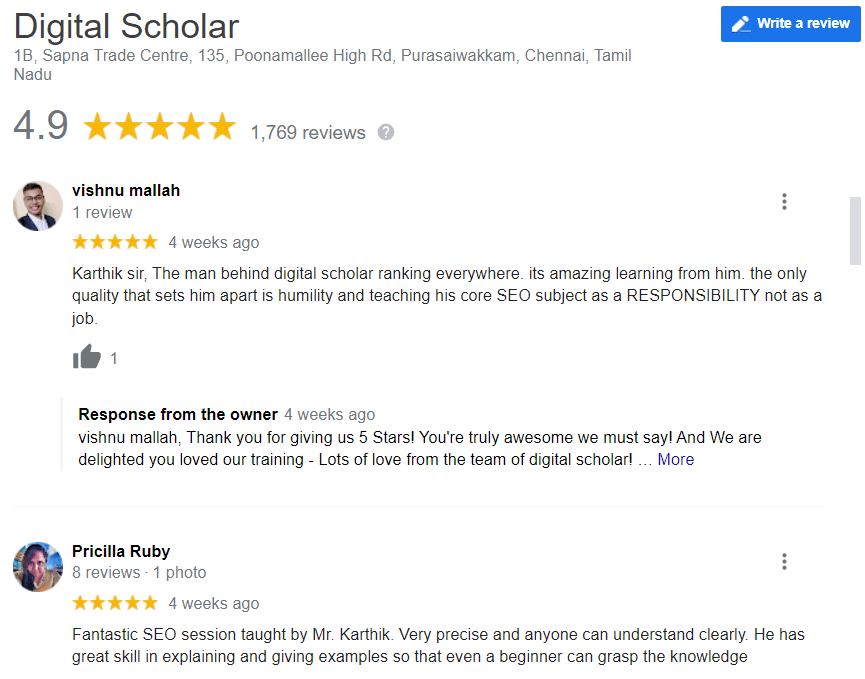 👆 3 Months advanced program in digital marketing course details by Digital Scholar
2. Knowledge Vibes Academy
Knowledge Vibes Academy is an institute in Coimbatore, that teaches trending Digital Marketing topics such as SEO, Lead Generation Ads, E-mail Marketing, etc. The course is offered in three packages, tailored as per the student's requirements. With the expertise of Google certified trainers, who have worked in the field for 8 years, the academy teaches its students complex topics in a practical approach.
Course Content – Search Engine Optimization (SEO), Branding, Lead Generation Ads, Google Ads, Keyword Research and more
Address – No. 4, Om Ganesh Nagar, Vadavalli, Coimbatore 641041
E-Mail – info@knowledgevibes.in
Phone Number – +91 63838 43638
3. Appin Coimbatore
Appin Coimbatore is a Child institute of the company Appin Group, Texas. Their desire is to educate people with the knowledge about various tools used in Digital Marketing. Headed by Mohan Natarajan, a Digital Marketing Specialist and external Consultant, the course promises to turn you into an industry-ready Digital Marketing Professional.
Course Duration – 2 Months
Course Content – Website Overview (C Panel and WordPress), SEO, Social Media Marketing, Lead Generation Ads, Google Ads, Keyword Research and more
Address – 144, Sengupta Street, Near Hotel City Towers, Ram Nagar, Coimbatore 641009
E-Mail – mohan@appincoimbatore.com
Phone Number – +91 77080 40308
4. SGS Media Soft & Traffic Crow Academy
Founded in 2010, Traffic Crow is a training institute that has trained over 175+ students and corporate groups in subjects like Digital Marketing, Web Design and SEO. Their vision is to give quality and professional training to people seeking to gain these skills and convert them into industrial experts. With their updated curriculum, Traffic Crow ensures that their students get the best training possible.
Course Duration – 1 Month
Fees – Rs 10,000 (Single payment) or Rs 12,000 (Double payment)
Course Content – Niche Marketing, Event Blogging, SEO, Social Media and Growth Analysis, WordPress Design, etc
Address – No: 29, Sarojini Street 4, VKK Menon Road, Women's Polytechnic College Bus Stop, Gandhipuram, Coimbatore – 641044
E-Mail – hello@sgsmediasoft.com
Phone Number – +91 95979 67636
5. Q Tree Technologies
Q Tree technologies is an institute that trains aspirants to become well-equipped working professionals. They offer a variety of courses, ranging from IT to Digital Marketing and conduct practical training, that simulate the real-world projects for their students. With a team of experienced faculty, they can guide you to a number of opportunities.
Course Content – SEO and SEM, Basics of HTML and WordPress, Video Marketing, E-mail Marketing, Social Media Marketing and Inbound Marketing
Address – No 22,23, First floor, Sarojini Street, Ram Nagar, Opposite to Hotel Junior Kuppanna, Coimbatore – 641009
E-Mail – info@qtreetechnologies.com
Phone Number – +91 84899 00331 and +91 84899 00332
6. Pro Plus Academy
With flexible timings and 100% Placement guidance, Pro Plus Academy is a great option for students and professionals who are looking to learn Digital Marketing part-time and find relevant job opportunities. They offer students with life-time support so that students can come back and clarify their doubts post the training. They also help students with preparation for job interviews for Digital Marketing roles.
Course Content – Digital Promotion, Search Engine Optimization, SEM, Social Media Marketing, SMO
Address – No. 49A, Raja Street, Sanganoor Road, Ganapathy, Coimbatore, Tamil Nadu 641006
E-Mail – info@proplusacademy.com
Phone Number – +91 93610 00444
7. IPCS Digital
Known for their Information Technology and Digital Marketing training programs, IPCS Digital is a reputed institute that focuses on imparting theoretical knowledge with a practical learning method. The course curriculum caters to the need of the Industries, so that students can become adept Digital Marketers.
Course Content – Keyword Research, SEO and Competitor Analysis, Content Planning, SMM, Google Analytics and more
Address – IPCS Digital, DS Complex, Nehru Street, Ram Nagar, Gandhipuram, Coimbatore – 641009
E-Mail – info@ipcsdigital.in
Phone Number – +91 95855 26664 or +91 8489 846664
8. Learning Dude
Learning Dude Institute is a specialized Digital Marketing institute in Coimbatore that helps students become skilled at various techniques and strategies of Digital Marketing. They provide students with placement assistance through resume building sessions, sourcing and interview scheduling. Their goal as an institute is to ensure that all the students are granted opportunities in the Digital Marketing Industry as trained professionals.
Course Content – SEO, SMO, SEM, E-mail and Text marketing, Lead Generation
Address – 2A, Kondasamy Naidu Layout, Masakali Palayam Road, Hope College, Coimbatore 641014
E-Mail – info@learningdude.com
Phone Number – +91 86678 01764
9. Kambaa Academy
Kambaa Academy strives to provide people from marketing and non-marketing backgrounds with a clear idea and understanding of Digital Marketing. By training them with real-time projects and through a number of tasks, the trainees are made ready to take up challenging roles in the Marketing sector.
Course Content – SEO, SEM, SMO, SMM, PPC Advertising
Address – 10 A, Pricol Caledon Square, 348, Avinashi Road, Peelamedu, Coimbatore 641004
E-Mail – contactus@kambaaacademy.com
Phone Number – +91 70944 90097
10. Traffic Integration
Recognized as one of the top Digital Marketing firms in Coimbatore, Traffic Integration is known for their premium SEO and SEM services. Acknowledging the fact that most of their non techie clients needed an extensive explanation their strategies, the firm started providing Digital Marketing training for people who lacked understanding in its fundamentals. Through their course curriculum and case studies, they were able to help students learn the concepts better. At present, they offer three packages at different pricing models
Course Duration – 1. Free Plan for One Week
Intermediate Plan for 40 Days
Pro Plan for 90 Days
Fees – Intermediate Plan: Rs. 12,000/-
Pro Plan: Rs. 25,000/-
Course Content – Marketing Analytics, AI, Agile Marketing, SEM, SEO, SMM, Content Marketing, Campaign Optimization, Search Engine Anatomy, Etc..
Address – 52/1, Kongu Nagar, Kallimadai, Ramanathapuram, Coimbatore 641045
E-Mail – info@trafficintegration.com
Phone Number – +91 97918 04290
11. PG Softwares
PG Softwares is a company that was established in the year 1998 to provide people and businesses with IT Solutions. However, the company now renders Digital Marketing services and training in Coimbatore with a curriculum inclusive of all the Digital trends and topics. They also offer live projects training and certification, that can help students with future career opportunities.
Course Duration – 1 Month
Fee – Rs.10,000 /-
Course Content – Overview of Digital Marketing, Digital Marketing Trends, SEO, SMO, SEM, Traffic and Leads.
Address – #63 ARPEE Center, #320 NSR Rd, Kuppakonam Pudur, Saibaba Colony, Coimbatore 641011
E-Mail – info@pgsoftwares.com
Phone Number – +91 99444 75341
12. Kamala Technologies
Kamala Technologies is a Web Design company that is located in Coimbatore. They offer Web services and solutions to retails brands and small-scale companies. Having worked with many units in the past, they understood the Digital requirements of businesses and framed a course program that elaborates on those subjects.
Course Content – SEO Tools and Techniques, Content Marketing, SMM and SMO, Search Engine Marketing
Address – 74 A1, Suguna Nagar, Nallam Palayam Road, Kavundampalayam, Coimbatore 641030
E-Mail – kamalatechnologies@outlook.com
Phone Number – +91 99433 23304 or +91 97892 39293
13. Spectrum Digital Infocom
Spectrum Digital Infocom is a Digital Marketing Training Institute and IT service provider that is situated in Coimbatore. They are known for offering crash courses and implant trainings for their students and also provide them with internship opportunities in other companies. The trainers here are certified and have worked as consultants in top MNCs within and outside Coimbatore.
Course Content – Content Marketing, Social Media Optimization (SMO), Social Media Marketing (SMM), Affiliate Marketing, SEO, Search Engine Marketing (SEM), Google AdWords, Pay per Click Advertising, Blogging, Google My Business
Address – No. 5, First Floor, Selvanayagi Complex, Gokhale Street, Ram Nagar, Gandhipuram, Coimbatore 641009
E-Mail – info@spectrumdigitalinfocom.com
Phone Number – +91 88387 02802
14. CodeBind Technologies
CodeBind Technologies is a Google Partner and also an ISO & IAF certified company. They offer Engineering solutions to people at a reasonable cost. With branches in different places across Tamil Nadu, they have trained over 25,000 students. Having a vast knowledge in the field for almost 8+ years, the trainers here are skilled at what they do. The timings and batches are made flexible, to accommodate the schedules of their students.
Course Content – Google SEO, Content Research and Optimization, Online Reputation Management, SEM, PPC, Website Fundamentals and more
Address – 406, 6th Street Extension, 100 Feet Road, Gandhipuram, Coimbatore
E-Mail – info@codebindtechnologies.com
Phone Number – +91 97511 11343
15. Rich SEO
Rich SEO is Digital Marketing Company that specializes in SEO and Social Media Marketing. Their entire course of Digital Marketing is divided into smaller modules that makes it easier for students to learn and understand, even the most difficult concepts. From SEO Analytics to Marketing on Digital Platforms, the syllabus covers all aspects of Marketing Online.
Course Packages –
| | | | |
| --- | --- | --- | --- |
| Course Type | Fees | Duration | Hours |
| Complete Digital Marketing and Web Design | Rs. 15,000 | 3 Months | 3 Hours |
| Only Digital Marketing and SEO | Rs. 10,000 | 1 Month | 3 Hours |
| Only SEO | Rs. 5,000 | 1 Month | 3 Hours |
Course Content – Overview of Digital Marketing, Search Engine Optimization and Web Design
Address – 130, Thaneer Panthal Road, Hopes college, Coimbatore.
E-Mail – contact@richseo.in
Phone Number – +91 80124 08078
16. Digital Branding
Digital Branding is an agency and training institute that offers a Digital Marketing course, covering all the latest and significant topics of the subject. The syllabus is well-drafted, considering the requirements of the Digital World. As an agency, they have worked with numerous renowned brands such as Honda, P&G, Credai Coimbatore, USHA and Shriram Properties. Hence, these trainers are aware of the strategies and tools that deliver best results. The course also comes with 10+ certifications from Google, Hubspot and Facebook.
Course Content – Marketing Automation, Google Ads, Digital Marketing Strategy, SEO, SMM, Creative Marketing, Lead Generation, ROI and KPI, etc.
Address – 95A, Vyshnav Complex, Race Course Road, Coimbatore 641018
E-Mail – academy@thedigitalbranding.com
Phone Number – +91 95668 89275 or +0422 437 9440
The Digital Marketing courses mentioned above can help you get started on your online marketing journey. If you live in Coimbatore or in the surrounding areas, looking to learn Digital Marketing, do check out and consider these courses. Let us know in the comments if you know any other institutes that we may have missed out on. For more things in digital, have a look at my blog soravjain.com
Frequently Asked Questions (FAQs)
Q: Do any digital marketing institutes offer both offline and online courses?
A: Some of the top digital marketing courses in Coimbatore do offer offline and online course infrastructure. It is best if you enquire with the concerned institute beforehand.
Q: Will I get a demo class before enrolling in the course?
A: If you want a demo class to get a feel of the course, submit a request with the concerned institute. Take your pick from the best digital marketing training institutes in Coimbatore for higher chances!
Q: What is the mode of teaching and the typical salary of a digital marketer in Coimbatore?
A: The modes of teaching at the top digital marketing courses in the city are classroom courses with an emphasis on project-based evaluation. As for the salary, it is better to enquire with the placement cell of the respective institutes.
Q: How will I get placement assistance?
A: Placement assistance is offered by all the best digital marketing training institutes in Coimbatore upon completion of the course. You will be asked to undergo placement training before sitting for interviews.