Instagram is one of the most popular social networks that is being used today. This is a powerful medium where people are exclusively connected through various visual elements. Given below are a set of incredible tools that can draw more engagement to your posts. Check out these free Instagram marketing tools in 2020!
#1.
Lumen5:
Lumen5 turns text into social media videos in minutes. This Instagram marketing tool does this automatically by analyzing the text through AI and putting the best music, video, and images together accordingly. It's perfect for repurposing content in multiple formats, all while saving you a ton of time.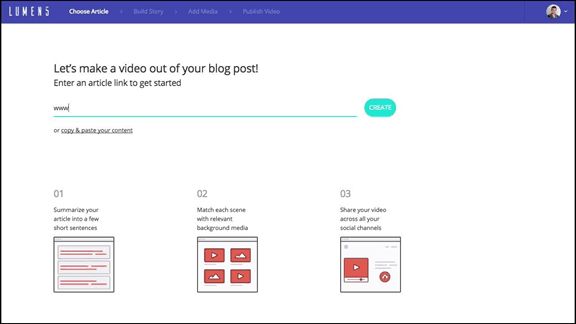 Key Features:
Easily transform articles and blog posts into video content

Create videos in minutes with the assistance of A.I.

Searchable library with millions of free media files

Customize your videos to match the look and feel of your brand

Optimize every video to improve performance and conversion rates
#2.
Unfold:
Unfold tool is the one that gives an aesthetically pleasing appearance to the stories that cater to the attention of engaged traffic that is there on Instagram.
Key features:
It provides an array of templates that users can use it to add multiple photos from their camera roll or from the stock imagery along with a description with frisky fonts before uploading the stories.

It is absolutely easy to use and the user need not pay a single penny for using this tool making it even more beneficial for them.
#3. Planoly:

This tool has got a drag and drop feature through which the bellwether or a brand can manage their content and marketing drives before posting it live. They can also schedule it all in advance not just by days or weeks but also in months and without pain can actively engage with the followers.
Key Features:
Allows you to schedule up to 30 posts and images per month

One can formulate their overall grid and can even split their Instagram grid beautifully through this tool.

Formatting can be easily done through this tool.
#4. Hootsuite:
Having trouble engaging with your audience? This is one of the Instagram marketing tools that enable the user to monitor what people are saying about your brand and respond to them immediately. It's one of the most comprehensive social media management tools where a user can keep a track of its multiple social network channels.
Key Features:
The user can connect to a lot of services together like posting updates, reading responses, scheduling messages, viewing statistics, and much more.

With this tool, one can strike a balance between continuously posting and connecting with the customer base.
#5. Over
If you want great looking captions then you must check out Over.  This makes it easier when the posts are uploaded with great looking captions to appeal to your customer base. Using this tool, the users can serve their need as it helps in being ingenious too.
Key features:
It has numerous graphics and set of varying fonts along with color and size modifications to create and contrive your caption and quotes.

Create your own innovative captions with the help of this ingenious app
#6. Repost
This free Instagram marketing tool in 2020 is very delightful for users who want to use someone else's photos and videos on their wall to acquaint their followers about the same. The users who have a community of customers who post user-generated content then the users can curate the photos, videos by clicking on the repost button while giving the credit to the real Instagrammers.
Key Features:
It's easy to grab things with Repost

Saves your valuable time with content distribution and marketing.

It makes it easy to build up a content library and also enables you to run several ads together thereby helping the marketers know the preferences of their audience quickly and work further accordingly.
#7. 
Iconsquare:
Iconosquare is an investigative free Instagram marketing tool committed to spading deep into the performance of your content on Instagram. Using Iconosquare, you can trace the regular engagement data like followers and likes. You can also get specific statistics about its followers including their geographic regions and level of social media influence.
Key Features:
By knowing your most influential fans, the users will be able to find out the right set of circumstances for influencer marketing and outreach.

Iconosquare also gives you the chance to correlate your performance against your competitors, helping you get a better vision of where you fit into your industry landscape.
#8.
FocalMark:
This is a highly specialized free Instagram marketing tool that generates the most popular hashtags for your uploads based on the variables like the location of the photo, the camera which was used to click that photo and subject of the image. This tool has a specific content-category which will then filter through numerous hand-collected hashtags and number them on the basis of their reach and authenticity.
Key features:
As the user gets a quick list of tags, it helps the users in keeping their posts more relevant by knowing correct hashtags for their subject, titles, etc.

Focal mark also helps you in blacklisting Certain hashtags that you don't want to see again

.
#9. Crowdfire
Tired of managing your posts? As one of the top free Instagram marketing tools, Crowdfire is the answer to your social media management. Crowdfire allows you to discover, schedule content, and manage all the social accounts from one place.
Key features:
Automatically searches and recommends articles and images that your audience will love. So that you can share them to all your profile and keep your timeline buzzing

Schedules all your posts in advance and post them automatically at your specified time thereby saving you a lot of time and effort.
Read the complete Crowdfire Review here.
Upgrade yourselves with these top free Instagram marketing tools and apply them in your daily life to optimize and create immersive visual content on Instagram.