Everything is getting smarter, hence is the way you use social media. IFTTT is the ultimate tool for all your social media account needs. It is a web-based service that allows you to create a trigger based 'recipe' for web services like Gmail, Twitter, ESPN, Reddit. For Example, Recipe where you automatically allow IFTTT "Post the final scores of my favourite team automatically". Here are some useful recipes for your twitter accounts that can make your day to day twitter activities easier.
We are sure, after reading this post you will definitely use one of this recipes. It is so delicious that no one can just avoid it.
1. Sync your Facebook and Twitter Profile Picture
Why do the same thing twice on the different site when you can complete it at once! This recipe allows you to sync your profile picture automatically. This way, you can keep your social display picture consistent. Once you change your profile picture on facebook, the display picture on twitter will get auto updated.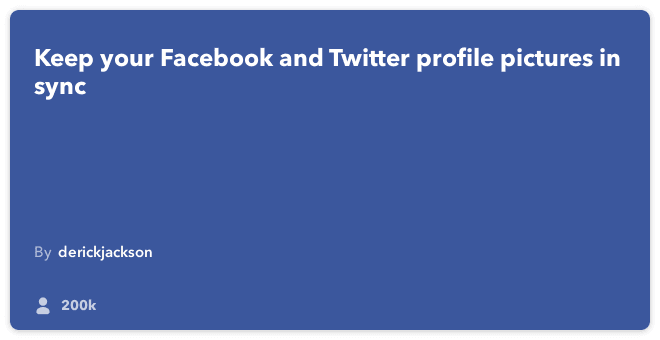 2. Post Instagram Picture as Twitter Picture
Twitter and Instagram won't cooperate with each other, but IFTTT can make your sharing between these platforms easier! A much-required tool, which will post your Instagram pictures on your twitter profile with twitter's image service.
3. Auto-create list from a #hashtag
This is one of the best recipes which will help you to add twitter users who use a specific hashtag, to your twitter list. For Instance, you're organising an event and the official hashtag being #Event2016. IFTTT will auto add users tweeting with the hashtag #Event2018 to the list you created for the same purpose.  This comes handy for purposes like events, common interests or building a specific list.
4. Backup your tweets
Twitter's archive is one way to find old tweets, but it requires constant updates and downloading. The Excel Sheet/Chrome archive access makes it complicated. Alternatively, you can backup all your tweets in Google's Cloud Service Drive, which is much simpler to access on various platforms anytime, anywhere! [This is also available on Evernote, and other few cloud services]
5. Automate tweets
If you have a bunch of tweets, you post regularly on twitter. Why type every single time? Just use this recipe! Specify the time, days on which the tweet is to be posted, and the tweet content. Voila! IFTTT will do the same for you.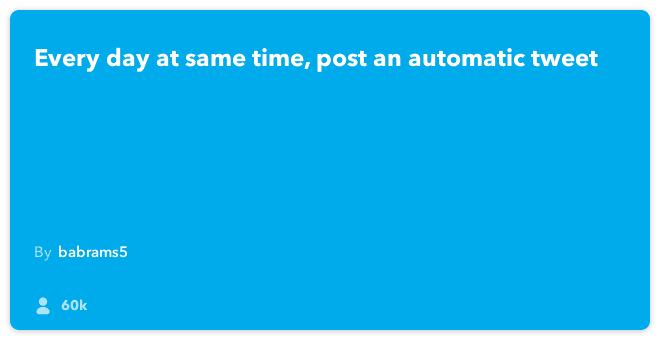 6. Have an eye on tweets around you!
How cool it would be if you got a mail every time someone in a particular specified location (set by you), tweets something? All you have to do in this recipe is to set a location and get mail when someone in that location tweets something. This way you can identify the twitter users around you/in the specified location for required purposes.
7. Get your liked tweets on notes
This recipe automatically transfers the tweets you like (favourite) to your evernote account. This can be useful way to access your liked tweets anywhere, even when you are offline. Also, sharing and searching the liked tweets becomes easier.
8. Auto add people to your favourite list
Timeline has too many tweets? Want to sort out the tweets by the people you like? This recipe is for you. This recipe auto builds a list of all the people whose tweets you have liked (favourite). This way you can access your favourite twitter users with ease.
9. Post Facebook page images as native twitter images
Finding facebook images on your twitter tweets with facebook links can be irritating. This recipe saves the effort of posting the same image on both platforms separately. All you have to do is link the Facebook Page to your Twitter account and every image posted on facebook page will be posted native twitter image.
10. Automate scores of your favourite team
Feeling happy about your favourite team's excellent win? This recipe automatically shares the final results of your favourite team on twitter. For now, IFTTT supports only ESPN-Twitter and hopefully other sports websites would be added to the recipes. ESPN currently has bunch of football tournament-team like BPL-Manchester United scores to be posted automatically.
11. Auto-tweet liked videos on Youtube
Liked a Youtube Video and feel like sharing it? You have two options:
Select Share > Copy link to clipboard > Open Twitter > New Tweet > Paste The Link > Post Tweet.
Or you could just use this recipe which automatically shares your liked video on twitter, instantly!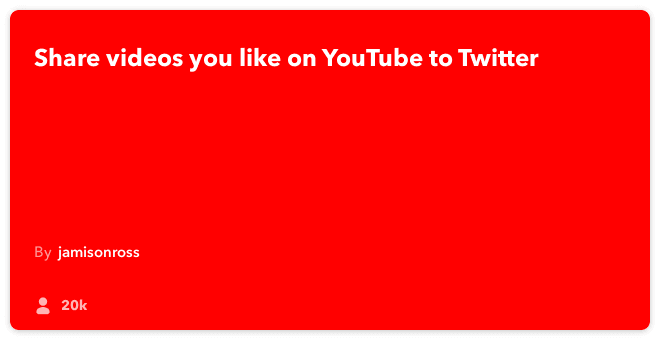 12. Auto-retweet a specific user's tweet with specific #hashtag
Here, IFTTT automatically retweets a specified  twitter user when he/she tweets with the specified hashtag. Continuing the example from Recipe #3, if Mr. X is the organiser of #Event2016. You can set auto retweet Mr.X every time he posts a tweet with hashtag #Event2016. Useful, isn't it?
13. Give Friday Follow automatically
Want to give a big shoutout to people you've liked? Use this! Friday Follow (Hashtag: #FF )is a twitter tradition where you give shoutout to the awesome twitter users you follow. IFTTT will automatically give #FF Friday Follow tweet to all those user's tweet you have liked in the past week.
14. Tweet about your fitbit daily goal achievement
Automatically tweet about you achieving your daily goals on fitbit. This recipe allows you to do that. Once your daily step goal is achieved on  your fitbit account, this tool will post about it in the format you've pre-set on this recipe. 
15. Tweet about your favourite Spotify song
Love sharing your Currently Listening Track (Hashtag:  #CLT) on twitter? Let the world know what you're current favourite spotify track is. This IFTTT Recipe will automatically tweet your current favourite track so that your followers can hear it and definitely love it.
These are some recipes for twitter from IFTTT that can make the way you use twitter simpler, smarter and effective.  You can find others from www.ifttt.com/twitter/recipes  according to your requirements. As mentioned earlier, it supports various other sites too and we'll definitely post about them in upcoming posts.
It's Your Turn Now!
Tell us, what are the IFTTT Twitter recipes you use? Make sure you let us know by comment about them below!