WordPress helps small brands and businesses create a presence online without needing to hire a professional development team. Getting a WordPress site is one of the fastest and cheapest ways for any brand to get their business online and improve credibility.
However, for most businesses running e-commerce sites, having a dedicated 24-7 customer service team available for their customers just isn't feasible.
Nonetheless, WordPress is robust and versatile, and the live chat feature can be sideloaded into the software using plug-ins.
WordPress's class-leading live chat plug-ins enable all brands and businesses to provide customer service without needing to hire a dedicated team. This saves the company a lot of money and also boosts customer engagement, which helps generate leads.
You'll find live chat pop-ups on both small and large e-commerce businesses alike, and adding one to your site is a great idea.
However, the multitude of options available online makes finding the right chatbot for your WordPress site very challenging. There's no need to worry though; we've got you covered.
In this post, we will compare seven of the best live chat plug-ins available for WordPress.
Let's begin.
Best Live Chat Plug-ins for WordPress
If you're going to manage all your leads on your own, and don't want to automate, installing Tawk.To on your WordPress site is a great idea.
The plug-in is completely free to use and has no ads.
The plug-in is used by over 2,200,000 businesses to monitor and chat with visitors on their site. One of the best things about the plug-in is that you can chat with active visitors from a computer or a phone.
Talking to customers right as they visit your site is a great way to help them through pain points and nudge them into conversion. It is also a great way to ensure that your customers' complaints are resolved quickly.
You can customize the widget's design and also control specifically which pages the widget appears on. You can also apply an active schedule to the widget. It will only show up on your website when you or your team is online and ready to help prospects and customers out.
Multiple members from your team can use the widget on your site at once, and each member can handle numerous customers concurrently.
One downside of using Tawk.To is that there is no automation feature, and you won't be able to engage with customers when you're not online.
If you're looking for a live chat plug-in that supports chatbot integration, Tidio is for you.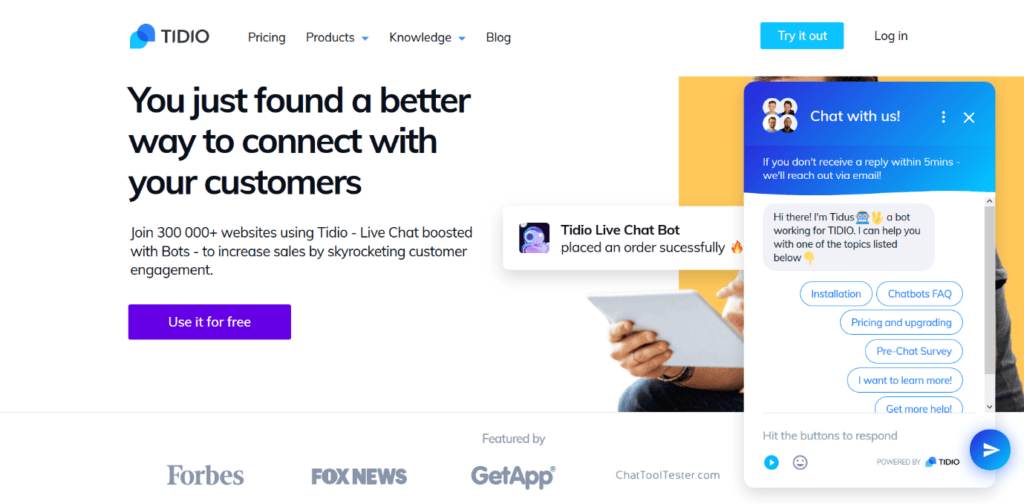 The interface is bubbly, and it comes with three design schemes. You can change the color scheme of the chat bubble to match the theme of your website and also chat with your visitors in the region's native language.
The position of the chat pop-up can be changed, and each member of your team gets their own avatar to chat from. If no one from your team is around, the widget can be set up to ask for an e-mail address to get back to.
The widget supports Facebook Messenger and e-mail integration, and you or your team can handle all of your visitors' queries in one place.
Yes, there is a free plan. But if you wish to take advantage of the widget's chatbots, you will need to avail of one of their paid plans.
Building better relationships with your customers is easier when you have a slick-looking chatbox on your website.
LiveChat is trusted by over 28,000 companies worldwide, and its modern interface goes well with every website.
With LiveChat, you don't have to wait for the customer to interact with the chatbox. You or a member of your team can make the first move to engage the customer.
You can change the look and feel of the chat window as you see fit. Also, the plug-in makes connecting to multiple visitors possible, since all your conversations are visible in a single dashboard.
Each customer is marked with a circle that indicates how long the person has been waiting. Using this feature, you can keep track of every customer's interaction and keep them engaged for longer.
Longer engagements not only improve your SERP rating (by reducing bounce back rates), but it also increases the likelihood of the visitor converting into a customer.
LiveChat is a premium tool, but they do offer a 14-day free trial if you want to test it out first.
If you're looking for a chat-cum-data-analysis tool, Olark is perfect for you.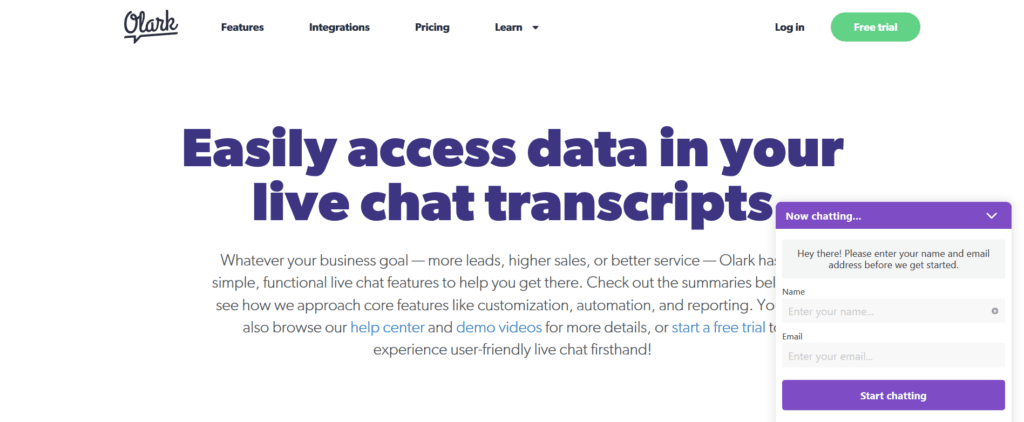 Olark is packed with features; it enables you to engage customers as they open your page with prechat forms and triggered messages, which primes your visitors for conversion.
If you don't have a team for customer service, or you're not available to chat, with Olark, you can let customers leave a message and follow up via email.
Customer records are easy to access and enable you to track visits and page views as you chat. This feature allows you to see what product the customer is most interested in and offer a discount code so they would convert.
If you use other sales and support tools, you can integrate Olark with them and send all your chats directly to that software.
You can also leverage the Google Analytics integration to add Olark events to your WordPress setup. It gives you a better view of your current conversion funnel, and it is a super-handy way to track progress.
If you need a live chat solution that also doubles as a chatbot, Live Chat by Formilla is perfect for you.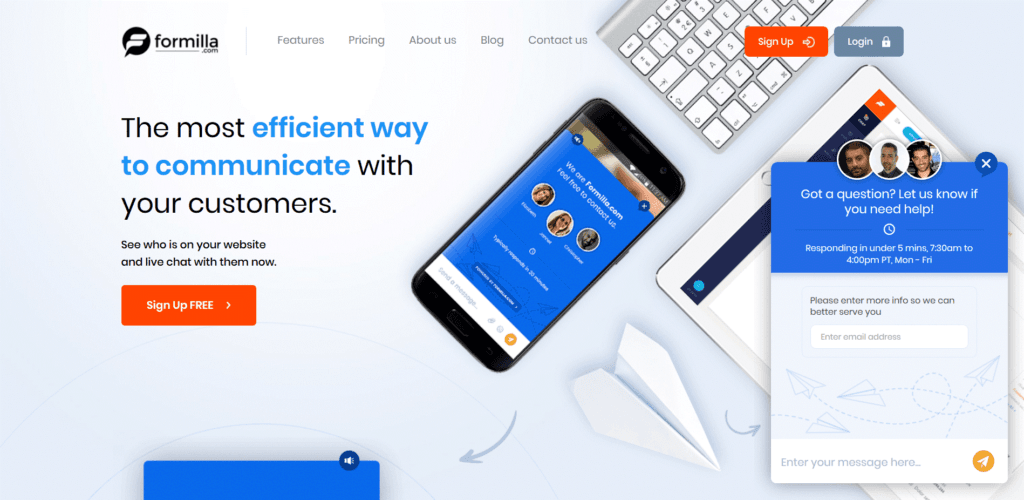 This widget installs instantly and works right out of the box, no setup required.
You can connect with your customers on any device—phone, tablet, or computer. The Formilla app is available on both the Google Play Store and the iOS App Store, and you can convert customers while you're on the move.
The chat widget works seamlessly even on mobile phones, and you will have no trouble connecting with your prospects regardless of what platform they're on.
The proactive chat features and the AI-powered chatbot reduce support time, and the international language support enables you to do business with customers overseas.
The plug-in's canned replies, marketing automation, and smart message features make it well worth the price.
If voguish and effective chat boxes are more your taste, getting Zendesk chat is a great idea.
Zendesk chat is one of WordPress's most popular live chat plug-ins—and for good reason.
The chat badge is completely customizable. You can choose from different layouts and themes, or even switch up the design entirely.
Triggers, prechat and offline forms, and chat ratings are built in. This allows you to convert visitors faster and better. The visitor list feature enables you to monitor your visitors and the pages they are browsing. Thus, you can target specific users and offer help when you think they need it.
You can also integrate chatbots via Zendesk's API, which can reduce workload for your agents and effectively speed up conversion. Tracking conversions and monitoring live data on chat volume can be done in a few clicks.
Zendesk is very affordable, and the exceptional features make it a must-have for any e-commerce site.
If you need a stylish-yet-reliable free live chat plug-in, WP-Live Chat is your best option.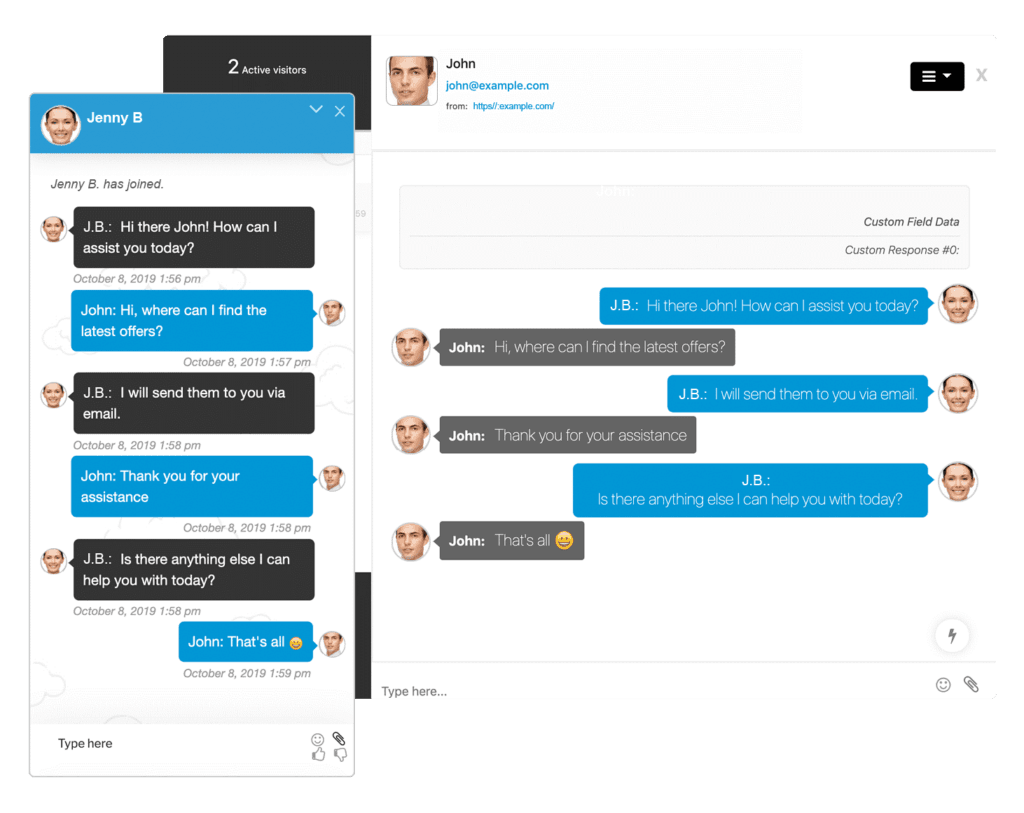 Whether you work alone, have a small team, or are scaling up, WP-Live Chat can help you increase sales by enabling you to initiate chats with your visitors.
You can pick from six themes and customize the colors and text fields as you please. You can also apply enticing animations to the chat window.
It has an astonishing amount of features for a free plug-in. You can create a custom message for when you're offline and view missed live chats when you come back.
You can also transfer a chat to an agent in another department and help the customer resolve their issue. If you're speaking to a customer with an account with you, you can view the customer's chat history and make use of the data to sell them another product.
The ability to set data triggers and predefined responses make the chat experience fast and convenient.
The plug-in is free for unlimited agents, and there are no hidden costs or ads, making it the best free option on this list.
Conclusion
If you need a simple and free live chat plug-in, go for Tawk.To. If you need a feature-rich but free plug-in, WP-Live Chat is perfect for you.
However, if you're looking for a premium live chat plug-in loaded with features, you should look into Zendesk and Olark.
All premium plug-ins on this list offer free trials, and you can try out whichever plug-in you think will fit your site best.
With this list handy, all you need to do is tally your preferences against the plug-ins' features, and you will have found the perfect live chat plug-in in no time.