In the modern age digital era, online course creation platforms have gained immense popularity. Thanks to the internet, everybody now has access to a wide range of online course platforms across different fields of study. This enables people to expand their learning potential, by not limiting their study to a particular niche. For instance, a student going to law school could simultaneously choose an online course platform on marketing. This ensures that students are equipped with as many skills pertaining to their interests, as possible. That's the appeal of online course software.
Since graduates seeking job opportunities and professionals looking for a career shift are constantly looking for ways to equip themselves with the required skills, the demand for online course platforms has continued to increase over the last decade. This eventually led to forums like Skillshare and Udemy encouraging educators to come forth with newly designed and updated courses in trending subjects.
What is an Online Course Software?
Online course software is a medium that lets you design, host, and integrate a course curriculum on your preferred channel. These course creation platforms have changed the way online education works, providing flexibility for both content creators, educators, and students. As the creator, using a course creation platform lets you have complete access and control over the design, theme, and layout of your course. As a result, you can break down heavy and complex subjects into small and absorbable topics, letting users learn at a comfortable pace.
Why should I opt for an Online Course Software for my business?
Whether you are a beginner looking to launch your first course or a trained professional with expertise, using an online course creation software does wonder for you and your business. Most beginners usually opt for course marketplaces or prefer using third-party software to host their online courses. While this is a safe bet, since the promotion and marketing are taken care of, these two options do not allow you to have much control over your course post hosting. 
This is why most online educators would recommend you to choose an online course creation software. Platforms like these come with a number of features, including the integration of Email marketing tools. These features let you track all the users and their course progress individually (which marketplaces do not allow). This can help you gain an overall understanding of your audience and their preferences. Having access to all these data, you can target and manage leads as well as customize your future courses. 
With all that being said, let us have a look at the top 10 online course software that can help you with your business.
Top 14 Online Course Software For 2020
Choosing the best online course creation software is absolutely crucial for your business. This is why we have compiled this list for you to compare and make the right choice. Do note that the purpose of this list is to solely provide you with the right information about each platform. This list is in no particular order. 
Zenler is an all – in – one online course creation software for professional course creators. The online course software was created with the intention to help its users with the delivery and marketing of their courses. The company launched the beta version of its product 'New Zenler', which comes with the integration of marketing and automation tools. This makes it easier for beginners and budding educators to work with the platform. With its numerous features and affordable pricing, this marvel is sure to strike the 'value for money' factor off your list. Some of the premium features which are usually found in the high-end packages of other course creation software, come in the basic version of Zenler at a reduced cost.
Sign Up For Zenler Free Zenler Course
Features: 
Zenler was built around the idea of providing a solution for course marketing objectives. This is why several marketing tools are incorporated into the platform to help your marketing needs. One of the best features available on this course creation software is the drag and drop page builder.
This easy – to – use page builder can help you design and publish your sales and landing pages in no time. You can use any media (forms, images, videos, etc) to make your pages stand out. The online course platform also lets you embed HTML and icons onto your pages.
Another great tool offered is the marketing funnel for your leads. With the help of lead magnets and video sequences, you will be able to categorize and cater to your potential leads. 
Once your students have enrolled for your online classes, you can conduct live sessions and host webinars on the same platform. With the live stream feature, you can connect with different audiences from different platforms through the same software.
With New Zenler, you can also interact with your students through E – mails or the online community (Which you can build using the platform). This will help you establish a strong relationship with your students. You can use these channels to communicate about the different trends in the industry or request for feedback on your classes.
You can also use the 'Live chats' feature, where you can have instant interactions with your students about the different topics within your niche. 
Also, check out the new zenler review, is it right for you?
Pricing:
Zenler currently offers two annual plans for all its users. The Pro plan is charged annually at $447 and the Premium plan is charged annually at $1167. The pro plan offers most of the premium features, except a few perks which is offered in the premium plan. Packed with a bunch of features, this is great software at a great price.
Sign Up For Zenler Free Zenler Course
Teachable is an all-in-one platform for creating online courses. You can do everything from web hosting to processing payments. There are various plans to choose from and by utilizing all the features the right way, you can focus more on creating a comprehensive and effective online school. It is one of the most convenient and better options to choose from when it comes to considering a platform for conducting online courses.
Features
The best feature of teachable is that it let you customize as per your convenience. There are easy-to-use features and very few technical aspects. You can create multimedia lectures, coaching sessions and videos. Another feature is the option to track sales. With the flexible page editor you can now make money-making sales pages. Teachable lets you bring your team onboard. You can allocate roles and give access accordingly. 
Pricing
There are three plans in Teachable. There's a basic plan for $29. The most popular plan is for $99 which gives you 5 admin level user options, lets you take advanced reports, course completion certificates, no transaction fee and much more. A higher version with better options comes in plan three which is for $249. This can be categorized as a business plan. All the plans include unlimited video option, integrated payment processing, lecture comments, student management and much more.
Spayee
is a unique entry in this list because their calling card is their transparency and user-friendliness as an online course creation platform. They have a respectable body of clients, with over 1000+ online institutes registered under their wing. You don't even need to have any coding knowledge to build a killer course on the platform, it's really that simple!
Features:
Spayee lets you take full control of the course creation process right out of the gate. You even have access to unlimited quizzes with ample marketing tools at your disposal. Spayee also offers you custom domains to further cement your presence. The icing on the cake is that you gain access to unlimited courses, practice quizzes and accounts, for your full benefits. You also get access to setting up
payment gateways
for your course. Spayee covers your every need, and they're always on the job, with 99.9% uptime!
Pricing:
To start things off, Spayee does offer a 2-week free trial on their software. Access is limited, but after the free trial you can sign up for one of their value-for-money plans. The fact that the core features are common across all their plans is a positive sign. The
Basic Plan starts at ₹2999 per month
but covers just the basics of the features. The best plan for your money is the Pro plan, which comes with all the premium features (aside from push notifications) under Spayee. If there's a course that you want to build online, Spayee is one of your best bets!
Kartra is an all-in-one LMS tool that promises to revolutionize the sector through its all-round services. Its services are geared towards online business management. The toolkit they provide makes for a perfect fit for people looking to create and market an online course effectively. Kartra promises transparency and ease of use through its multifaceted software suite.
Features:
Kartra's USP is that it offers multiple services under an affordable price tag. From email marketing to sales funnels, there's no dearth of options ahead of you to structure your course. For example, you can create video lessons using Kartra Videos, which you can subsequently market using Kartra emails and funnels. The services seamlessly integrate into one another and offer maximum functionality. Kartra also offers provisions for affiliate marketing and membership options for your clients, helping you build an empire online. Kartra rounds out the kit by offering prompt helpdesk support as well as third-party integrations. It's the complete user-friendly package!
Pricing:
As is usually the norm, Kartra offers a four-tier pricing plan that's based on user convenience. Compared to other players in the same bracket, Kartra is actually a lot cheaper than the rest (a fifth of the price, according to their claims). Kartra's plans start from $99/month to $499/month. The notable feature here is that all plans come with the bulk of the features, with only the capacities varying across plans. The most recommendable plan is the Silver Plan, especially if you're new to the field.
One of the top notable features available on this online course creation platform is the option to provide memberships and affiliate commissions. Podia allows the administrators to offer membership programs for their users. This creates a sense of exclusiveness amongst the audience, helping educators build a loyal student community.
Features:
Like most other platforms, Podia allows you to create and upload your products. You can also add downloadable digital products such as worksheets and reference materials to aid your students.
One of the top notable features available on this software is the option to provide memberships and affiliate commissions. Podia allows the administrators to offer membership programs for their users. This creates a sense of exclusiveness amongst the audience, helping educators build a loyal student community.
As a business, you can give your users an opportunity to learn and earn by requesting them to promote your products. In exchange, you can pay them a commission for every sale. Podia gives you the power to choose how much you want to pay as an affiliate commission. This gives an incentive for your members to actively promote your courses.
With Podia, you can also stay in touch with your students and have constant interactions. Thanks to the E – mail and automation tools such as Zapier, embedded within this software, you can notify your students about any information associated with your classes.
With the messaging tool feature, you can have chat sessions with your students. You also have the filter to choose online and offline users.
Podia also has the 'coupon' feature, wherein you can offer coupons and discount codes for your students on particular online courses. This could be a festive or seasonal offer, or an exclusive offer limited only to special candidates.
Pricing:
Podia is offering two monthly plans for its users. The 'Mover' plan and the 'Shaker' plan. The Mover plan is charged monthly at $39 and the Shaker plan is charged monthly at $79. Though both these plans are charged on a per month basis, you can pay for them annually and save $78 on the Mover plan and $158 on the Shaker plan.
To get started with Podia or to know more, check out the link below
Founded in 2012, Thinkific was one of the first few online course creation platforms introduced to help professionals and teachers create a learning atmosphere virtually
The software has helped several consultants, authors, trainers, teachers, coaches and industry experts with their branding and has gained a lot of credibility and trust over the years. With years of expertise and understanding of user's requirements, Thinkific has continued to upgrade itself and be prominent. 
Features:
Thinkific has been the go – to solution for pre selling and publishing online courses. With user – friendly site builders, admins can create various site pages for their platform. You can customize the sign – up page, the student dashboard and many more. Although most of the advanced features such as student engagement tracking, community and customizations are offered only in the premium plans, the basic plan is integrated with most of the best tools, including the best page builder to design your site.
Like all online course creation platforms, Thinkific also lets you create courses. But what sets this particular platform apart is its integration with Accredible, a tool used to issue legitimate credentials. Therefore, educators can certify their students with valid certifications which will benefit students in their professional lives.
Along with Accredible, Thinkific is integrated with several other tools to accommodate different tasks such as E – mail marketing, Automation, payments and E – Commerce. These tools help the person in charge link all the processes and administer them through a single platform.

At present, Thinkific is performing Beta Testing on its advanced reporting features. These features will help the admins track parameters such as revenue, orders and enrollments. With more advanced features in the making, Thinkific is a strong competitor in the digital market. 
Pricing:
Thinkific offers four monthly plans for its users. The 'Free' plan, 'Basic' plan, 'Pro' plan and the 'Premier' plan. The free plan lets users get a taste of what Thinkific is like. If interested, they can move further with a plan best suited for their needs. The Basic plan is charged monthly at $49. The Pro plan is charged monthly at $99 and the 'Premier' plan is charged monthly at $499.
To get started with Thinkific or to know more, check out the link below
LearnWorlds is a cloud – based solution for entrepreneurs and educators to create and publish online courses. Ranked highly for their customer support, this online course creation platform is definitely an option to consider for beginners. The software is filled with course supporting tools such as quizzes, to make the course more interactive. Editing videos is also possible, with the various editing tools available. Admins can add elements to their videos, to make them more appealing. LearnWorlds is also one of the very few platforms that has copyright protecting features, assuring course ownership.
Features:
LearnWorlds provides users with a very elaborate and detailed Dashboard, displaying an overview of all performance parameters. This lets the owner view and compare the performance of their courses. You can see the number of new sign ups, users who are online, product sales and so on. 
On the left – hand side, you will have access to all the features offered by LearnWorlds. You can also design your own landing page, that will lead viewers directly to your course. You can use the available default template or make changes to the draft.
As a marketer or business owner, you would want to keep track of all your leads from a single platform. This is where LearnWorlds comes into the picture. With this online course software, you can export all of your leads and manage them. This will help you in your future marketing campaigns.
Like any business, you would want to stay in touch with your leads. With E – mail tools integrated, users can send automated mails to all potential leads. But that's not all. You can also set webhooks to stay updated with any action that happens on the platform. By setting up this system, you can be instantly notified to help you proceed with the next step.
Once you establish a decent following, you can build a community for all students to come forth with their thoughts, suggestions and ideas. You can conduct polls and surveys to understand what your students' requirements are. You can also have Q & A sessions with them and invite everybody to participate.
LearnWorlds also has a bunch of growth tools integrated within it, to help you with growing your platform and to reach a wider audience base. You can access these tools using the toolbar on the side. Activating these tools will help you find where you currently stand and how you can grow further.
Pricing:
LearnWorlds offers three monthly packs and also a customizable pack for users who are not satisfied with the already available packs. The Starter pack is charged monthly at $24. The Pro Trainer pack is charged monthly at $79 and the Learning Center pack is charged monthly at $249. You can also avail a 30 – day free trial, before choosing to upgrade your plan.
To get started with LearnWorlds or to know more, check out the link below
If you are somebody who gets overwhelmed with too much data and continuous updates and are seeking a much simpler and basic solution, then Teachery might be the answer for you. With a simple layout and almost every feature available in the market, this platform is great for professionals who are not too tech – savvy. Teachery was designed around the idea to make the course creation a simple process, since every task that follows it can be hectic. They also enable you to avail custom domains and subdomains, helping you stay unique.
Features:
Like mentioned earlier, Teachery is simple and straightforward. The design is such that, you will be able to access all options easily. There are also several guides available to help you with creating courses. Here is how the page looks like.
As you can see, educators can add header images to give their courses a visual appeal. You can also give a small brief about the course and what your teaching approach is like. This will give it a touch of personalization and make students feel welcomed.
Here is a small preview of what the course layout looks like. The lessons are placed in a structured pattern, creating a sense of order. You can also add headings and subheadings to break down the agendas of each lesson. Here is another preview of how the lessons would appear to the students.
Teachery also comes with Stripe and MailChimp Integrations to help you with the payment and E – mail processes. These applications automate the process, making it easier for both you and your students.
The best part about Teachery is that, you can also individually design each page of your website. This will give the students a clear idea about each page without much description. For Instance, the image below shows how you can design and preview the payment page.
Pricing:
Teachery offers two plans for its users. The 'Monthly' plan and the 'Annual' plan. Both these plans do not charge any transaction fees, which you have to pay from your end. The Monthly plan is charged at $49 per month and the Annual plan is charged at $470 per year. 
To get started with Teachery or to know more, check out the link below
9.

TalentLMS
TalentLMS' claim to fame is that their platform is one of the most intuitive and affordable cloud LMS software in the market. To their credit, TalentLMS has pulled out all the stops to ensure streamlined user experience for online course creators. Through their platform, you can create powerful and compelling online courses and market them effectively to a vast audience.
Features:
One of the biggest trump cards that TalentLMS offers is the ease of automation across the board. As an administrator, you can have full control over how your course shapes up. You can also host live sessions to effectively connect with your audience, along with the user-friendliness in creating the courses you want. TalentLMS also offers valuable insights on how your courses are doing.
Pricing:
TalentLMS lets you try things out for free through their base plan, letting you learn the ropes of the platform. The subsequent plans offer increased value but maintain the functionality across the board. The best plan for your money is the Plus plan, offering all the top-tier features like Single Sign On at a nominal price. TalentLMS is fairly economical, given that it's a platform completely geared towards creating online courses!
10.

Kajabi
Kajabi is a course creating and selling software that also offers membership sites for users to create subscription packages for their customers. With over 25,000+ customers, Kajabi has gained a reputation for excelling in customer service and customer satisfaction. The software offers unlimited video hosting and access to your website, products and community, from a single dashboard (Although some features are restricted to the premier packages and come at a huge price) 
Features:
Kajabi lets you upload different types of digital products, based on your business. You can upload online lessons as well as coaching and training programs. With the simple – to – use user interface, you can build a product from scratch in no time. 
Now let us talk about the website. Kajabi's website designer is very easy to use and requires no technical knowledge. With hundreds of templates available in the 'Theme Library', you can easily pick a template of your choice and start using it right away.
If you have a blog for your business, then try giving Kajabi a shot. The platform has the facility to accommodate your blogs as well. You can create and upload blogs from the same software. The course platform also comes with all the formatting tools, that you can use to write appealing blogs.
Using Kajabi, you can create reports and webinars. You can also have pages for your promotional offers and product launches, creating a marketing funnel for your leads. The integrated marketing tools help you with your email campaigns, by automating the entire process.
Pricing:
Kajabi is offering three plans for its users. The 'Basic' plan, the 'Growth' plan and the 'Pro' plan. The Basic plan is charged monthly at $119, the Growth plan is charged monthly at $159 and the Pro plan is charged monthly at $319. But if you want to save some money, you can choose the Annual plans and avail a 20% discount. 
Trial Period:  14 days
To get started with Kajabi or to know more, check out the link below
kajabi.com
Course Craft is a branding – centric platform that lets you host free and paid online courses. This is a wonderful option for influencers and entrepreneurs who are looking to establish their brand presence online. The online course software lets you have a dedicated profile, where you can give a short description about yourself and the work you do. You can also add your logo and social media links, to encourage your audience to interact with you on other channels as well. Course Craft offers inexpensive premium packages, with exclusive features like affiliate programs, custom branding and setting payment plans.
Features:
With a highly – responsive interface, you can create and upload a course on Course Craft within a few minutes. All you need to do is add the titles, descriptions and the necessary files when each trigger appears, and you are good to go. Once done, you can create a landing page for your course and set the price (none, if the course is free) before uploading the course.
If you want to build a personal brand for yourselves and want your students to know about you, then you can make use of the creator profile feature. This feature lets you build an online portfolio, helping build credibility for you and your course. In other words, it adds a face to your brand.
After students begin enrolling for your courses, you can then keep track of the sales using the 'Sales Report' option available on Course Craft. This option lets you select a particular timeline, and view all the sales that happened during that timeline. This can help you keep track and see when your courses are in high demand.
When you upgrade your package, you will have access to more advanced options. You can then collaborate with other experts in the same field using this same platform, as well as configure your sales taxes to help you save time. You can also set the terms and conditions for your students, to bring in order and discipline among the students.
Pricing:
Course Craft offers three plans i.e Free, Club and society. The Free plan is $0, but has a number of limitations, such as participant count, course file size, etc. The Club plan costs around $29 per month and the Society plan costs around $59 per month. However, you can save 20%, if you choose to pay for the annual package. 
To get started with Course Craft or to know more, check out the link below
Coursecraft Create and Sell Course
If you are looking to provide a community – driven learning atmosphere, then Mighty Networks can help you with it. Having helped several working professionals and entrepreneurs shift their services and communities online, Mighty Networks has gained immense recognition in a short span of time. Understanding the importance of online communities and the value it provides, this software has continued to upgrade itself to be more 'community – compliant'.
Mighty Networks Start For Free
Features:
Mighty Networks has a very minimalistic design structure with limited options, to avoid overwhelming its users with complex metrics. Once you create an account, you can instantly access your dashboard and invite other industry experts to connect and collaborate with you. This can open your community to a broad range of discussions on your niche. Inviting guests to co–host with you can also help with your brand credibility, as it will showcase you as a veteran in your field.
Like stated earlier, Mighty Networks is a community – centric space. This means that you can build valuable relationships with your audience through the various tools available on the platform.
Mighty Networks Start For Free
With the 'Members' feature, you can welcome and connect with all members. In Mighty Networks, you can create member lists to segregate your audience into different categories. You can also use the chat feature to chat with your members.
To have tabs on what is happening in your online school, you can make use of the Mighty Networks app. Once you enable the notifications tab, you will be notified instantaneously when the set triggers go off.
Mighty Networks Start For Free
Pricing:
Mighty Networks is offering three plans for its users. The 'Free' plan, the 'Business' plan and the 'Community' plan. The Free plan offers most features with limitations. The Community plan is charged monthly at $23 and the Business plan is charged monthly at $81. But if you want to save some money, you can choose the Annual plans and get two months free. 
To get started with Mighty Networks or to know more, check out the link below
Mighty Networks Start For Free
LearnDash is a WordPress LMS Plugin that can be integrated with your WordPress website to create customized courses for your audience. Although there are a number of plugins available, LearnDash has consistently proven itself to be the best LMS plugin. It is also highly preferred by several organizations and NGOs, who do not prefer using an external software. With exclusive features such as in – built video progression and drip – feed course lessons, LearnDash is definitely worth considering.   
Features:
Once you set it up, navigating around your site is easy. With a click – and – drag page builder and course creator, you can create courses and host them on your own website with full ownership. Not only that, LearnDash also lets you reuse and repurpose your lessons and its content in the form of quizzes.
LearnDash can also help you with your custom branding. With the provision to change your site's theme and colors, you can use your brand's colors and upload your photo and logo to help viewers identify you. You can also make use of other customization settings available. 
After you have set up your course, you can then set the pre – requirements and restriction levels for your courses. You can choose who can access each course, thus categorizing courses based on value.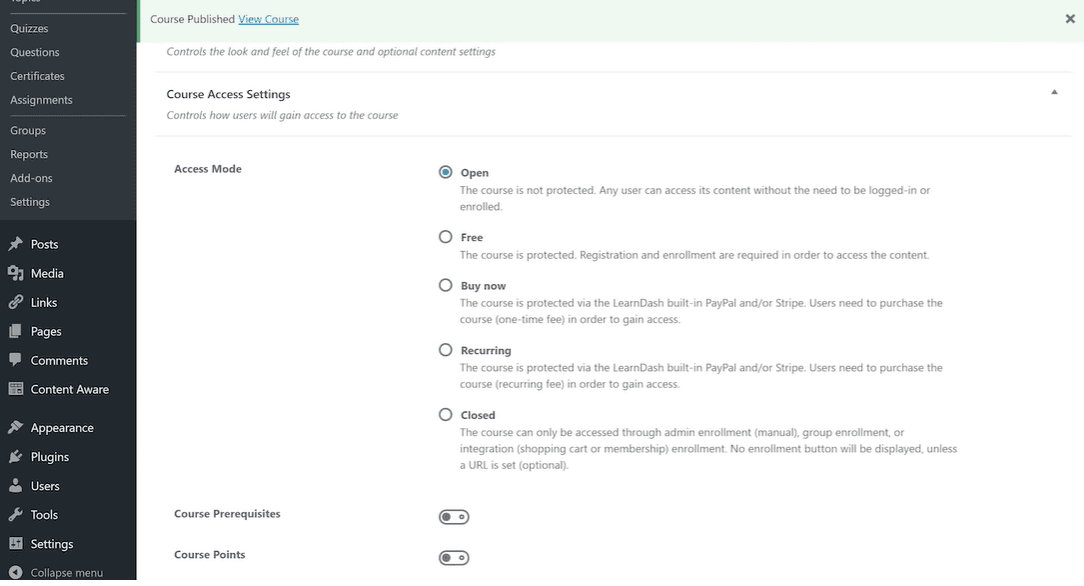 Along with course access, you can also set access restrictions for other material such as certifications and course – related materials. 
Pricing:
LearnDash has three plans for its users. The 'Basic' package, the 'Plus' package and the 'Pro' package. The Basic package is charged annually at $159, the Plus package is charged annually at $189 and the Pro plan is charged annually at $329. 
To get started with LearnDash or to know more, check out the link below
14.
Academy of Mine
Academy of Mine is an online learning management system, that helps educators teach and earn for the information and knowledge that they provide. Founded in 2014, they were one of the forerunners in the digital market with highly advanced tools and features. The software also comes with custom page builders and high security, making it more user – friendly and reliable. Unlike most other platforms, Academy of Mine has a diverse appeal, since they allow teachers to train students in multiple languages. German, English, Spanish and French are some of the commonly used ones. 
Features:
Academy of Mine lets you create lessons in a sequential manner. Understanding how your course progresses, you can arrange your lessons in the order of difficulty. This can help your classes be more self – paced for your students. You can also add quizzes and exams in between to check their understanding of the subject.
You can build your site and design it with your brand colors, visually attractive elements, customized texts and fonts. Academy of Mine gives both students and trainers a dedicated dashboard to track progress and course – related parameters. With all these elements, you can have an attractive online presence. 
You can also add a 'Frequently Asked Questions' Section, to help new comers with the most common queries. This helps the customer navigate accordingly, as they know what to expect before enrolling for the course.
Apart from these, Academy of Mine is also compatible with SCORM and HTML5. This lets educators work with multiple types of files. Other features might include Developer Access and API, Single Sign On, Custom Payment Gateways, Group Onboarding and integrated e – commerce. The software also works with Adobe Captivate, helping the tech – savvy instructors to enhance the learning environment that they provide for their students. 
Pricing:
Academy of Mine offers only one annual plan for its users at $9997 for the whole year (Although, this package offers unlimited everything). However before choosing this software, users can request for a free trial and a demo. The demo will guide the users with all the tools and features available. 
To get started with Academy of Mine or to know more, check out the link below
Conclusion
In conclusion, the concept of online course software is becoming more and more popular. With most students preferring to study from the comfort of their own homes, educators are looking to get onboard with LMS platforms. The above list features some of the top and well – known online course platforms, that aim to provide instructors with a good teaching environment and students with a good learning atmosphere. 
Do let us know in the comments, which platform you are most likely to use. 
FAQs – Online Course Creation Software Ultimate Guide
1) How do I create an online course?
– To create your very own online course, you can sign up and use any of the online course creation software as a service products present in the market, like Teachable or Thinkific.
2) How much does it cost to create an online course?
– To launch an online course with just the basic features, it costs nothing on most online course creation platforms. Pick a plan based on your preference.
3) How long does it take to create an online course?
– On average, if you use online course creation software, it takes around one week of work to get your online course up and running.
4) What makes an online course successful?
– Success on any online course platform is measured by the enrolments and engagements that you sustain.
5) How do I create an online course in 2021?
– To start off, you should look up a list of the best online course software in 2021 and choose the right SaaS for you.
6) What does it take to succeed in creating an online course?
– Content is king in online course platforms. If you have that, then you need good marketing. Your course will definitely succeed!