Nothing can substitute great graphic design. Whether you're creating a logo for a company or if you're designing image content for your social media pages, if it looks good, you'll stand out and get more attention.
Besides having good knowledge of color theory and knowing your strokes, finding the right tool is of paramount importance to the quality of your work. Yes, there are a lot of offline tools like Adobe Photoshop and Corel PaintShop that can help you execute your ideas with ease, but they can often be expensive.
These programs also require powerful hardware to run, and if you have an older computer, these programs won't work well. Additionally, these programs are platform-dependent, restricting you from using certain computers and operating systems.
Using an online graphic designing tool can help you create beautiful designs from any computer you have. These aren't platform-dependent but only need a web browser to work.
However, there are thousands of online graphic design tools available out there. Trying out every single one of them could take a very, very long time.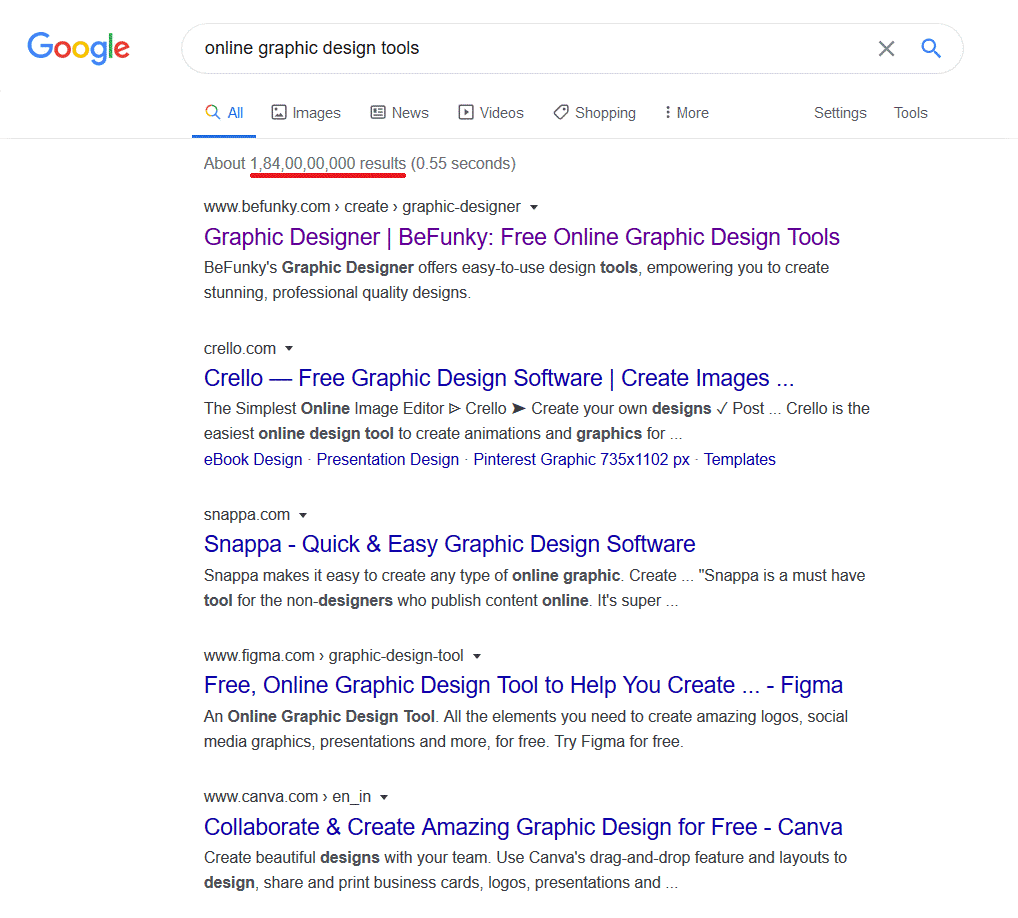 There's no need to feel swamped though—we've got you covered.
Here's a list of the best online tools you can use to create your next design.
Best Online Graphic Designing Tools
1. Canva
Canva is the perfect online alternative to Photoshop—except it's better. The tool gives you access to thousands of templates that you can freely edit and make your own.
Canva enables you to create posters, videos, flyers, presentations, cards, infographics, and much, much more in just a few clicks.
You can also design animated social media posts for Instagram and Facebook.
Canva gives you full control over what's on the canvas using its drag-and-drop editor. You can change colors, text, backgrounds, videos—anything and everything visible is editable.
One downside of Canva is that it doesn't give you access to a brush or a pen tool—which means you cannot create anything manually. You will either have to download elements from the internet and import them or use the elements Canva provides.
Although you can create logos with Canva, you cannot create vectors with it. It means you're restricted to using basic shapes and fonts to create a logo.
Canva is free to use, but you can also avail of premium plans to unlock more templates and features.
2. YouiDraw
If you want to make a digital painting or create a stunning vector logo for a client online, you should get YouiDraw.
It works as seamlessly as Adobe Illustrator does—except you don't have to install or configure anything. All you need to do is log in to get started.
You can access your work from anywhere, and the drag-and-drop interface makes arranging and rearranging elements on the canvas that much easier.
YouiDraw's functionality is split into three: a drawing section, a logo creation section, and a painting section.
The tool is free to use, but if you want to remove the watermark or use it for commercial purposes, you can avail of their monthly or yearly plan.
You can install the plug-in to your Chrome browser in just one click and start designing right away.
3. BeFunky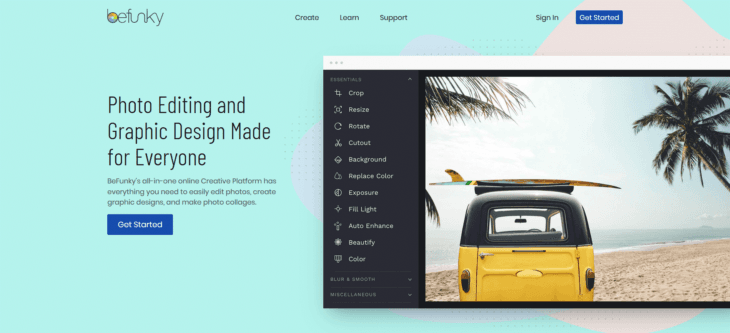 BeFunky brings the best graphic designing features to your fingertips. You can use BeFunky from any web browser. And since they also have a mobile app, you can design and edit on the go.
With BeFunky, making flyers, banners, posters, cards, infographics, and brochures is no longer a colossal task. You can touch, slide, and drop elements and create a unique design in minutes.
If you're short on time and don't want to start from scratch, you can use their fully customizable templates to create blog-friendly and social-media-friendly designs quickly.
The tool also enables you to remove objects from your photos, create collages, add effects, and do a lot more in just a few taps.
Getting a free account will enable you to do a lot, but getting their inexpensive premium subscription unlocks all of BeFunky's photo-editing features, enabling you to create enticing designs regardless of where you are.
4. Design Wizard
If feature-loaded interfaces are more your taste, Design Wizard is perfect for you.
The tool supplies you with thousands of aesthetically pleasing templates that you can use, whether you want a design for social media or print.
The 1,000,000+ high-quality images give you more than enough options to create a design unique to your tastes and requirements.
Design Wizard also gives you access to icons, vectors, and transparent images that you can use freely in your designs. The library is updated daily, and you'll never run out of design ideas.
Editing videos is super simple using their templates. You just upload your video and plug it in the right place. You have full control over the visible text and the length of the video, and the interface enables you to create a video for a client or a brand in minutes.
It integrates with Hubspot, Marketo, and Buffer, and you can schedule any of the content you create from the tool directly.
The Apprentice package is free, and the Pro package is super affordable. Considering the volume of resources the tool offers and its ease of use, Design Wizard is one of the best online designing tools available.
5. Crello
If you're a beginner but want to create professional-looking ads and social media posts, you will love Crello.
Crello boasts a massive image and video archive that has more than 140 million files!
It has 25,000+ templates you can use to create social media posts, blogs, or marketing material. You can create custom images, videos, and animations that fit your requirements perfectly.
The 4,000+ animated templates and 2,000+ animated objects make it very easy to create catchy designs for your Instagram or your blog.
There are hundreds of fonts you can pick from, and the sheer volume of options available make creating fresh designs unique to your taste and need extremely simple.
The animation templates enable you to attract a lot of views on your Instagram stories. The best thing about Crello is the interface—it makes images and videos very easy to edit!
It is also very versatile. You can create posters, flyers, cards, menus, display ads, Tumblr banners, thumbnails, and social media headers right from the templates.
It's priced aggressively, and if you want to try things out initially, you can create a free account in minutes.
6. Pixlr
Pixlr gives you full control over everything on the canvas—but you don't need to be a master to use it.
The Photoshop-style interface is loaded with features—but it is not overwhelming like Photoshop. All the features are simplified and accessible from organized panels, which makes it easy for even inexperienced folks to use it.
If you want to use almost every advanced feature that Photoshop offers, but don't want to spend as much or invest in a beefy computer, Pixlr is perfect for you.
They also have a mobile app, which allows you to design on the go. The tool is trusted by over 500 million users for their graphic design needs.
It gives you access to a vast array of free fonts, and the vector editor gives you full control over which element goes where. You can also draw, shade, and apply gradients to individual layers with ease.
One downside is that Pixlr doesn't have a library like some of the other options on this list. Regardless, all the features it offers at the low price make it one of the best online design tools around.
7. Snappa
Snappa is the perfect tool for marketers that need to publish a lot of content quickly. It's also perfect for beginners looking to expand their reach on social media using exciting designs.
It's super easy to use. You can find the image with the perfect dimensions in one click, regardless of if you're posting on your blog, advert, email, or social media post.
You won't need to start from scratch. The thousands of pre-made templates help you create professional content with ease. Getting more clicks is as easy as entering the right text!
Since you get access to 3,000,000+ high-resolution images for free, you can create a design from scratch. You don't have to pay extra for these images or worry about usage rights.
Adding text, effects, or other graphics to these images is as easy as picking the image. You just click and arrange, and you're good to go.
You can resize the same graphic for different social media. Snappa enables you to turn your Instagram post into a Facebook cover in just two clicks!
The aggressive pricing makes it an invaluable tool that every marketer should have.
8. Gravit Designer
Gravit is like a portable alternative to Adobe Illustrator. It's mainly focused around vector graphic design, but it can help you do a lot of other things.
It works on any web browser, and you can also use it on your phone by downloading the app. As long as you have an internet connection and a phone or a computer, you're all set to design.
The interface enables you to design vectors using the precision vector tools available. Combining the lines, shapes, and points give incredible form to all your work.
One of the most unique features of Gravit Designer is that it allows you to design user interfaces on the move. The built-in tools enable you to create mock-ups and wireframes directly.
If you work with a team, you can use shared styles, symbols, anchors, and pages to bring consistency to the UI.
That's not all! Editing images—enhancing color, adjusting the lighting, adding filters, blending images, and adding other photo effects—is made quicker and easier with Gravit.
9. Vectr
Vectr is, by far, the best free online designing tool available.
There's no learning curve with Vectr; you can learn it in an hour just playing with it. The interface is intuitive and focused on giving you just what you need to create beautiful designs.
The main advantage of Vectr is that you can scale your designs up or down as much as you like without losing any quality. You can also share your designs with clients or friends with ease. Vectr assigns a shareable URL for every design you make, and others can view and edit your design live.
You can Vectr on your web browser or install the desktop version. Both have the same features, and you won't miss out on any feature regardless of where you use it.
This tool is 100% free. All features are unlocked by default, and you don't have to pay a penny to use it. If you're a designer starting out or a marketer on a tight budget, Vectr is perfect for you.
10. Stencil
If you're trying to make simple yet beautiful designs for your social media, Stencil is perfect for you.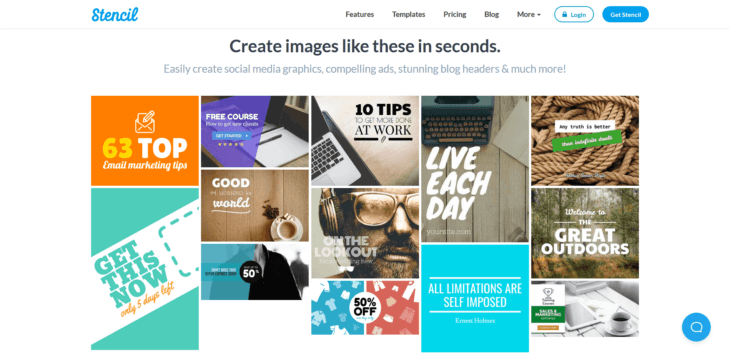 You get access to over 2 million stock photos, hundreds of thousands of quotes, and over a thousand templates, which makes creating content for your social media pages fast and easy.
You can pick from a massive collection of Google Web Fonts, or even upload your own fonts and use them. There's no shortage of icons and graphics either, and with direct access to over 2,000,000 royalty-free graphics, you'll never run out of content to put up.
Stencil is easy to use and works on Chrome, Firefox, and Safari. All you need to do is install the plug-in in one click, and you're ready to go.
As long as you have a computer and an internet connection, you can access a multitude of designing tools and create whatever comes to mind without much hassle.
Although trying out all of them individually may seem tempting, it's simply not possible.
Now that you have this list handy though, you can find your perfect online design tool quickly. All you need to do is tally your preferences against the tools on this list, and you'll be ready to design with the right editor in minutes!