Building an excellent website can be complicated using HTML coding, even if you're an experienced developer.
Even with WordPress themes, you would have to know some PHP or other coding languages to build a theme. To avoid these time-consuming tasks, you can use WordPress theme builders.
But with so many page builder plug-ins on the market, how do you choose the right one?
Almost all page builders come with drag-and-drop support and offer the same basic elements. However, the top-tier WordPress page builders go beyond that and offer so much more than just simple drag-and-drop elements.
We'll introduce you to five of our favorite WordPress page builder plug-ins today. And then we can compare them to help you pick the right one.
Whether you want to create a home page, a landing page, or build an entire WordPress theme from scratch, WordPress page builder plug-ins are the answer.
So let's get started.
5 Best WordPress Page Builder Plug-Ins
1. Thrive Architect
Thrive Architect is a visual page builder plug-in for WordPress that works with any theme. But I highly recommend you to use Thrive Architect with GeneratePress. Because the combination makes your website load fast and be SEO-optimized.
Thrive Architect is an actual WYSIWYG front-end editor where you can review changes rapidly to create great-looking, conversion-focused pages.
With Thrive Architect, you can build beautiful posts and pages via using an ever-growing list of elements. It also includes standard items like Heading, Text Color, Image, and much more.
You will also get access to more conversion-focused elements such as Call to Action Buttons, Testimonials Boxes, and Lead Generation Forms.
Thrive Architect can help you create full-width pages with your choice of background. Here you can add as many layers as you like to create the background effects you desire.
You could use an image with a high-opacity color overlay. Other options include a gradient color, a pattern, and a video background.
One of the best things in Thrive Architect is to include hundreds of awesome predesigned landing page templates. They are grouped into themed sets, so you get a consistent look and feel throughout your sales funnel in your Niche. Also, each set includes an opt-in page, a confirmation page, and a download page.
Every page you build with Thrive Architect, whether you start it from scratch or use a template, it will always be mobile-responsive.
Best features of Thrive Architect:
Easy-to-use visual editor

Creates full-width pages on any WordPress theme

Comes with 300+ landing page templates organized into sets

Conversion-focused elements

Mobile-specific customizations
Price:
Get it at $69 for a single-site license, which includes a 12-month support and lifetime updates. Get all Thrive Themes plug-ins and themes in just $19/month.
2. Elementor: WordPress Theme Builder
Elementor is the first-ever free and open-source advanced page builder for WordPress websites. With its quick drag-and-drop features, you can easily make instant page edits from the front end of your website. Elementor is well-known for its high speed, which makes it fun and easy to build with.
With its extensive and well-designed template library, you get 100+ beautiful WordPress templates, which can be exported to different websites through the page builder.
Elementor supports responsive, mobile-friendly design themes that allow you to build web pages that work great on any device.
Best features of Elementor:
Canvas

: Via this tool, you can build a brand-new landing page without header or footer and optimize it for higher conversions.
Maintenance mode: For maintenance, you need to install a specific plug-in. But in Elementor, there's no need for it; you can get your site offline with its built-in maintenance mode.

Zapier integration

: Integrating your website with a third-party web application is a breeze using its Zapier combination.
Price:
Get it at $49/year for a single-website license.
3. Beaver Builder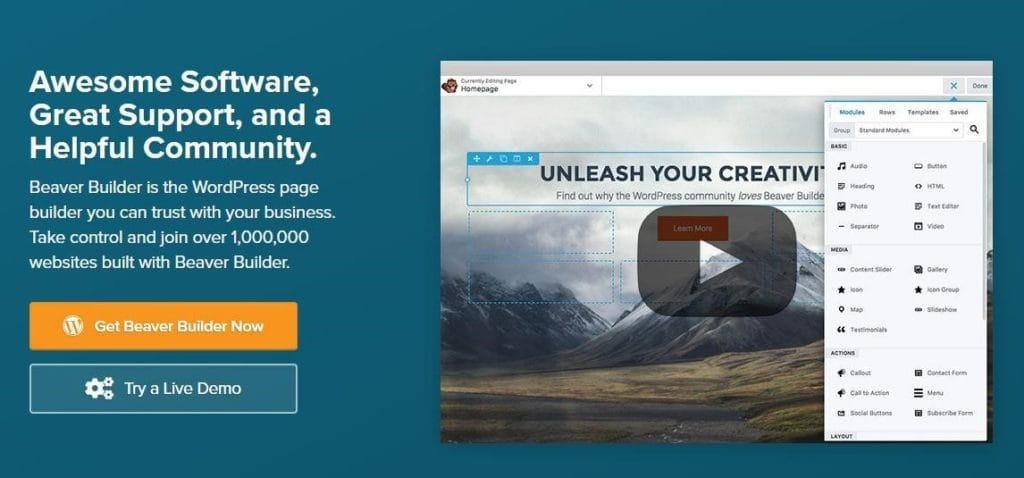 Beaver Builder is also one of the most famous drag-and-drop WordPress website builders. It gives you the ability to create the website you want without any HTML coding skills. You just need to do drag and drop to build beautiful pages with ease.
Beaver Builder comes with several gorgeous page templates. With these you can quickly start designing without starting from scratch.
You can choose a template and replace the images and text with your own content and then publish it.
Beaver Page Builder works with most of the SEO-friendly WordPress themes, giving you full control over your content. The best thing is, even if you stop using the plug-in, your content gets exported to the WordPress editor, which is also known as WYSIWYG editor.
With the pro plan and above, you'll get beautiful Beaver Builder compatible themes that allow you to modify your styles with the native WordPress Customizer.
Best features of Beaver Builder:
Get intuitive front-end editor

Beaver Builder has 30 stunning templates

Create a distraction-free landing pages with the Beaver Builder theme
Price:
Get it at $99/year for unlimited websites.
4. Divi Builder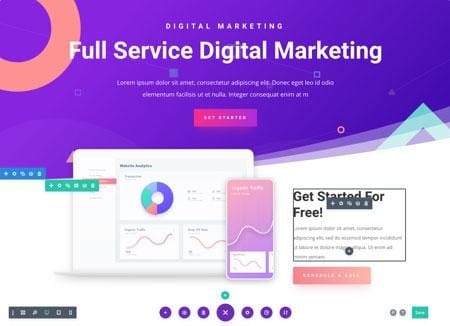 The only problem with the Divi theme is that if you want to switch to a different theme, you'll lose all of your custom page layouts.
Divi Builder, on the other hand, gives you the flexibility to create eye-catching layouts, without being locked into their Divi theme.
The Divi Builder comes in two types of forms: the original  one is "Back-End Builder," and the new one is the front-end "Visual Builder."
The Back-End Builder resides in the WordPress dashboard. It's best used for making quick changes rather than creating new pages, which can save you time.
The all-new Visual Builder lets you build your pages on the front end of your website so you can see precisely how they'd look when published.
With Divi Page Builder, you have 3 basic building blocks: 3 sections, 20 rows, and over 40 content modules. They allow you to add testimonials, portfolios, pricing tables, and many more things.
You can also customize each element using the Divi Builder's advanced design settings.
Divi Builder also includes Divi Leads, which can help you to increase your conversions. So you can split-test unlimited rows, columns, or modules and optimize every aspect of your page easily.
Best features of Divi Builder:
Drag-and-drop Visual Builder for every WordPress theme

Both back-end and front-end page builder options

Includes Divi Leads, for split-testing your pages

22+ premade best layouts

50+ content modules
Price:
Get it at $89/year or $249/onetime Elegant Themes package (consists of 87 themes and 3 plug-ins).
5. Themify Builder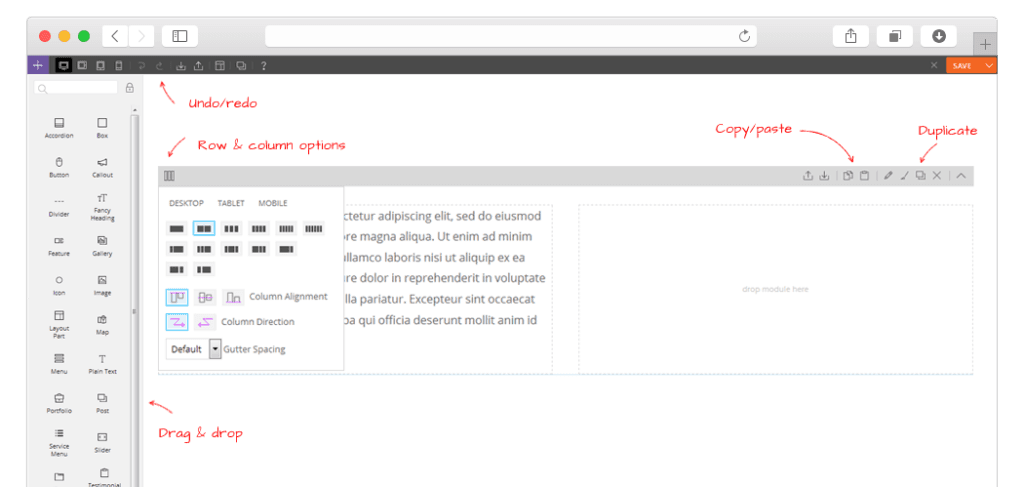 The Themify Builder also comes with a drag-and-drop interface that helps you create an outstanding and impressive layout that you can imagine with ease.
The builder comes with over 60-plus prebuilt layouts and animation effects that you can choose from.
This means you can quickly build beautiful pages without having to start from scratch. Just what you need to do is simply import the layouts you want to use, replace the images and text, and you're done.
The builder comes as an impressive feature for all Themify themes. You can also use their builder plug-in with any third-party WordPress theme, which can also help you to create your layouts
From the compact back-end interface, you can use the drag-and-drop feature to build modules quickly and easily. On the front end, you can preview the design and make live edits to your modules.
Pricing:
The core plug-in is free. It's $39/year for the add-on bundle.
Conclusion
So which page builder plug-in is right for you? Which one do you need most at this stage?
Building a website isn't some enormous task anymore. You can easily do this in just a few hours.
WordPress page builders can help you speed up the process, which especially helps you in SEO (search engine optimization). In most cases, they enable you to add complex elements to your site quickly and arrange them into any way you'd like.
So if you want to test one of these tools for yourself, here are our top three suggestions:
Thrive Architect: This is one of the most popular page builders, compatible with a lot of themes and very user-friendly.
Elementor: This modern page builder is an excellent choice for both newbies and experienced WordPress users.
Beaver Builder: It's hard to find a front-end builder, but Beaver Builder has it for you.
These three have well-detailed documentation and a customer support center to help you out with their respective platforms.
So there you go with the 5 best page builder plug-ins in 2020. We hope that after reading this, your questions have been addressed.
If you have any more questions or additions related to this topic, leave a comment below.
Related Read: Top 13 Amazon Affiliate WordPress Plugins for 2020