Facebook kicked the advertising game up a notch when it introduced carousel ads. Here, you can display an array of your products or services which can lead to different landing pages with different CTA(Call To Action). This means that you get to display 10 different images or videos and it also means a 10 times increase in click through rate without increasing the cost per click(CPC).  Here are some of the most creative ways of using carousel ads, which I have observed and have also tested with our clients.
1. Highlighting one of your products:
This can be used when a business has one product to sell. Most people make the mistake of assuming carousel ads are not for them as they have only one product. What they fail to understand is that they can use the carousel ads to highlight every single detail of their product. This can also be used for any of their best-sellers.
In the above example, the advertiser has displayed a woman's shoe in each of the tiles highlighting each feature on individual tiles.
Pros:
This is very unique, creative and stands distinguished.
Cons:
All the ads in the carousel don't come together, so innovation is lost.  Not many would get the pulse.
2. Demonstrate people how to use your product:
The best way to sell a particular product (especially if it's new in the market) is by showing people how to use it. The business has 10 slides to make a potential client understand how to use a particular product. Now that is what we call a WIN-WIN!
In the above example, an international brand has shown how to use their best seller product, i.e., a hair styling machine to get curly hair. And they did it in 3 slides! We bet you can imagine the possibilities of having 10 slides.
Point to be noted:
This is a great way to engage your audience and tell your story! As each board tries to convey one part of the process which gives enough reasons for people to buy your product.
3. Teach people about your app:
Every company is launching an app these days! And one of the best ways to market it is, obviously, scroll ads. If your objective is to get maximum downloads through your ad campaign, then show your audience the USP's of your app with carousel link ads. You can also show them the best features of the app and combine it with a video tutorial of how it works.
The images show how a company selling a music streaming app talks about the features of their app and also makes the customers aware of the features before installing.
Point to be noted:
Showcasing features is a commonly used strategy in the picture.  But, the problem with the above carousel is the placement of text. There is no clarity on that front and it's too cluttered.
4. Enlighten people indirectly about your content repository:
Carousel ads are not only for products, the service sector can also make use of it.  Services based businesses can make use of this by sharing blogs or articles on their website that talk about the advantages of such services.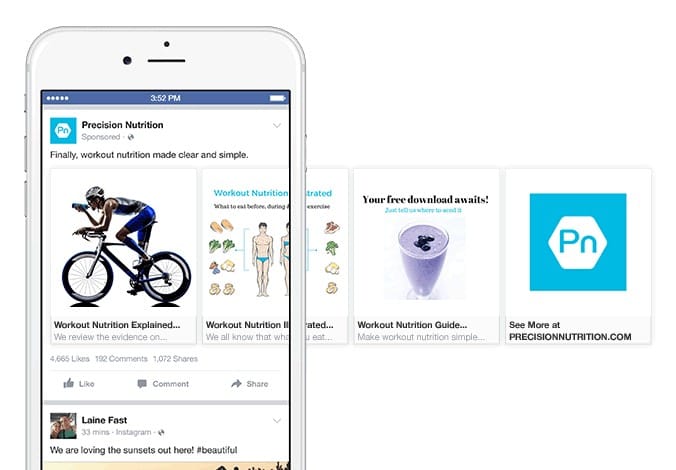 Precision nutrition used carousel ads to share articles on their website which resulted in a massive increase of its newsletter subscriptions at a lower cost per lead.
Point to be noted:
Using Carousel ads for promoting blogs is a great way to drive traffic, because you offer all your blog post as a menu and people can pick what they want to. Ensure, these articles belong to the same category.
5. Story telling:
Studies say that a story form of communication leaves a lasting impact on the minds of viewers. People easily remember and understand such communication. So instead of just displaying set pictures of your product, connect it with a story that makes people want to scroll through the ad.
A company sold their handmade bracelets online by connecting their bracelets with the life of the people on beach. So when one thinks of a beach, these bracelets are sure to pop up in the minds of your viewers.
Point to be noted:
I am a story teller and I love it when brands tell stories through carousel. People would always want more of it. Look at the images, there is no content. This carousel is a visual treat. But, looks like there is no customization as the headline of all the carousel ads are same.
6. Customer Testimonials.
The incredible importance of customer testimonials on social media is no secret to anyone! So why not use it to attract new customers? Ask your customer for their review of the product or their experience with the product along with their photos and share it in a carousel ad.
Trust us; no form of marketing is better than your customer's words.
Point to be noted:
Show 8 to 9 happy customer faces with their testimonies. Use them for re-targeting. This will help you deliver more ROI for the advertisements.
7. The Traditional Method
Tradition always works wonders! The most widely used method of carousel link ads is displaying a plethora of your products where you can describe each product and mention their respective prices. Like the one shown below!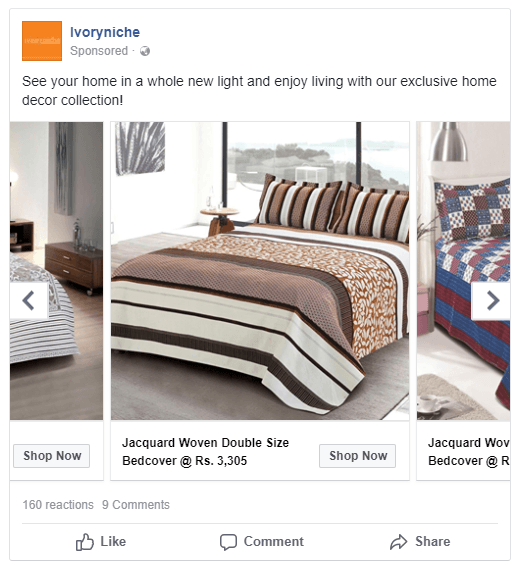 Point to be noted:
Same model, different sarees, different styles & great headlines. This is a perfect carousel ad.
8. Product catalogue
This one is the Facebook version of a Google dynamic ad campaign.  It displays the products that the existing website visitors search for. It is more like remarketing but with the products the customer is already interested in.
The Facebook carousel ad lets us show different products, share the details of a particular product and also lets you to be more creative with showcasing your product to the customer. So, start using carousel ads today for more conversion and be as creative as possible if you are already using it.
I've listed down every creative way that I have observed and tried with the versatile carousel ads. Let me know what you think and how you've profited from it in the comments section below.