Online Reputation Management is the most crucial aspect of strategic social media marketing. How much ever you invest in Social Media Marketing if you fail to manage your reputation online and do not  meet your customer's concerns on time- all your efforts of spending on a online channel for promotion is worthless.
I always say this: "if your brand has faced a negative concern from your customer – solve it than deleting or defending it' to avoid nuisances. Here is the perfect example of the same, Starbucks India quickly deleted one of the post made by his angry customer and that triggered a viral rage on Facebook &  Twitter.  Let's look into what has happened:
Issue Faced by Customer (@ArmaanKapur):
The above concern was posted on 'Starbucks'  Facebook page on 7th February and the post triggered 5,100+ likes, 250+ comments  in few hours. Armaan who was awaiting response from the brand later posted a print screen of post made on Starbucks India on the Global Starbucks page on 12th February 2013.  Both Starbucks and Starbucks India removed the post from the wall as it was getting more attention than their regular updates, triggering more criticism against the brand. Angry @ArmaanKapur had by then tweeted a printscreen of the post made on the Starbuck India's Facebook wall that also showed number of likes and comment received which got him more attention from the Twitter Community  resulting in further damage of Starbucks. Below are some print screens and response from the active twitter community: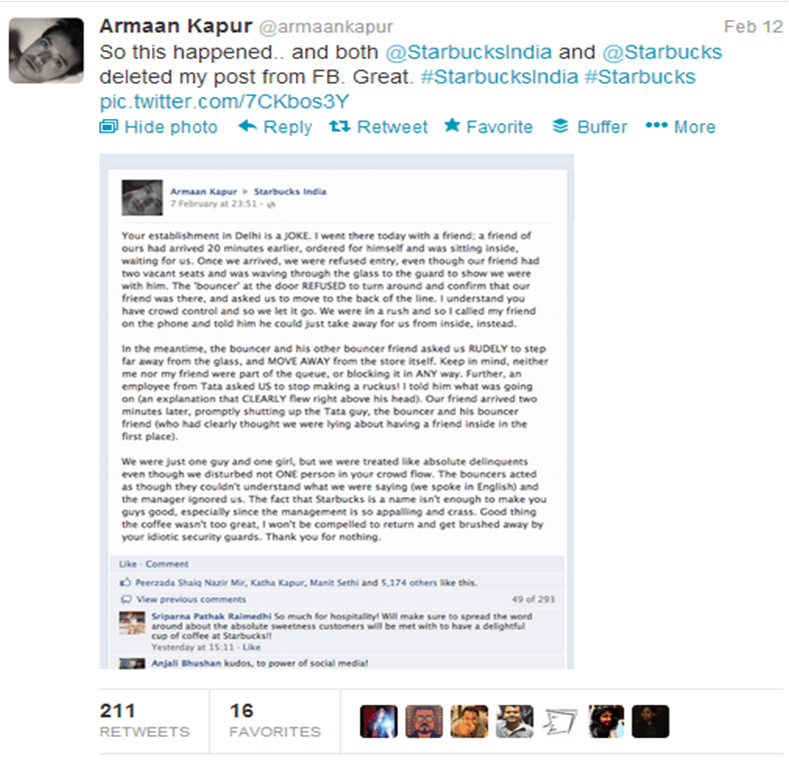 Starbucks India didn't response to the issue on Facebook and deleted the post made by Armaan. It stayed silent on Twitter despite many people asked for a response to the issue. Starbucks India remained thick skinned and continued to do its other Social Media Marketing content activities! This definitely is Shameful! Yes, it is!
The tweet made by @ArmaanKapur had received 211 automated Retweets and more than 70 manual Retweets which included tweets from many influencers and RTs obtained via them thus making this incident reach thousands of individuals including journalists from the mainstream media and triggered awesome support from the twitter community.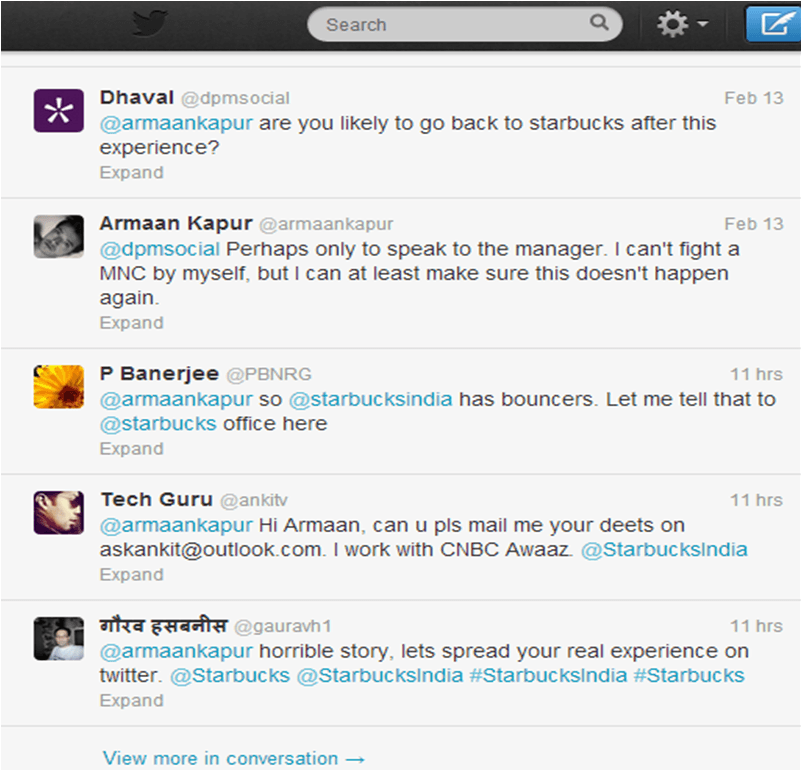 The brand which has just established its presence in India had a great opportunity to show people that they don't just claim to sell the best coffee in the world but also offers best customer service – even on Social Media. However, I always believed many Indian brands lack Social Media etiquette especially when it comes to 'Social Media and Customer Service' and Starbucks India has just fallen into that category – may be this could be a part of Glocalization!
The Best Way Starbucks Could Have Handled This: 
1. By taking a call personally / offline with customer and solve the issue amicably, requesting him to remove the post himself.
2. Identifying those bouncers and manager involved in the scene, recording a apologetic statement from them and posting the video on YouTube – Just going one step ahead to showcase 'The Best Customer Service' practice.
PS: We all know only one side of the story from @ArmaanKapur – We don't really know the @StarbucksIndia side of the story but the way Starbucks is staying silent over this issue shows something went wrong with the system! Starbucks India Please Clarify! 
Image Courtesy: @ArmaanKapur and Pirntscreen from Twitter.