Couple of Chennai folks had a dancing surprise for the shoppers at Ampa Skywalk Mall in Chennai on Saturday evening at 7.45 PM. A flash mob was well planned, practiced and executed with around 75-100 participants and I was one amongst them(figure out the guy above in Facebook blue color shirt on the left) to experience the mass group dancing at an odd location on a surprise note.
Organizers:
The flash mob idea was in notion past couple of months, but execution went happening when Gokul Krishnan, Remya Mariam and Shruthi Kannath  joined hands together to make this coordinated and happening.  I was part of the first initial conversation between organizers that happened in Café Coffee Day, Isphani Centre which was then followed by a closed group based community on Facebook and it went on the nerves of organizers and participants from there.  The community helped me connect Karthik Sundar, Benedict, Karthik Shankar, Somu Sundar and some college students who were all planning something on similar lines since long
Facebook Chennai Flash Mob Group:
The group 'Chennai Flash Mob'  (http://www.facebook.com/groups/107011822749037/?ref=notif&notif_t=group_activity) began with 20 members, now has around 120 members who coordinated with the choreographers and the practice sessions which was regularly announced on the community, community grew as folks were adding individuals who might be interested and this resulted in connecting likeminded individuals.
This group is now active and is planning something big after their first trial went successful, you can join the group if you really want to be part of something Big ;).
Performance:
The flash mob was on tunes of Tamil Kuthu Music followed by the nationwide popular number 'why this kolaveri di'. The flash mob started with 5-6 folks dancing on the tunes followed by another 75-100 individuals. The show stealers were few funny steps and the Why this Kolavery Di dance attempt. Everything went fantastic till the end and as the song got over, performers applauded along with the audience giving hifi and hugs for the success (which shouldn't have been, the performers should have walked their way post performance (the only glitch) but nevertheless, it was the first moment of joy so can't be avoided).
Looking at the audience expressions in the pics below, I must say great efforts Chennaites! We finally got a Flash Mob J Congratulations!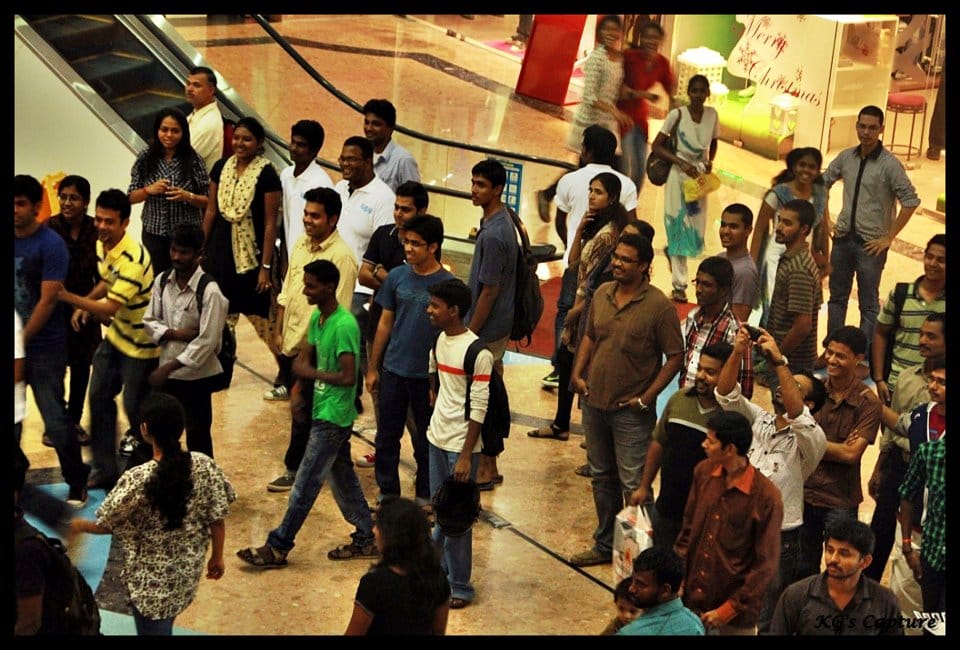 By the way, the editing of the video is in process and shall be posted soon.