About the Brand:
ChuChu TV is the third most subscribed YouTube channel in India ahead of giants like AIB and TVF. It is a channel designed to engage children through a series of upbeat nursery rhymes and educational songs with colorful animations. On YouTube it has over 17M subscribers and over 13 Billion video views. With time ChuChu TV has become the 'go to' place for ending all kinds of toddler tantrums that are faced by parents.
ChuChu TV, becoming a global brand, entrusted its digital marketing objectives to echoVME to make it a platform for parents to engage and interact. Ever since they joined hands with echoVME, ChuChuTV has gained maximum engagement through various methods. In this case study, we will take you through the methods adopted and results obtained from them.

ChuChu TV has been our baby and we truly love the way this brand has grown exponentially on social media in last 2 years, the growth has been organic on platforms like Instagram, Twitter and we have grown on Facebook through the means of sponsored stories and like campaigns. Above is an infographic that shows you where they were and where they are after team echoVME did their Social Media Magic on to the brand:
Objectives:
To transform the tone of the channel from children specific to parent-centric in the digital space (the brand was earlier only focusing on promoting rhymes and the goals were re-set)
Create content buckets that would help in increasing page engagement/ page likes/ page visits.
Hit the right sentiments of the target audience and make ChuChu TV a platform for parents to engage.
Make people spend more time with the social media channels and campaigns of the brand.
Make ChuChu TV a brand on the global space that people would visit to check the latest rhymes and parenting tips.
Solutions offered:
Already being a trusted brand made it easier for us to gain more trust and acquire followers for Chu Chu TV. We followed content marketing strategies to re-establish the brand under the following avenues:
Create high quality relatable and interactive content which would build trust and credibility among the audience.
Give parents tips and solutions that they can count on/ remember/ use in their day to day experiences with their children.
Make visitors aware every time a new video is uploaded through posts of various kinds.
Reroute the target audience to the YouTube Channel through creative posts.
Make ChuChu TV's presence felt on Social Media channels like Facebook, Twitter, LinkedIn, Snapchat, Instagram, and Pinterest.
Create a content bucket and follow a 4-step strategy which involved promotion on social media, revamp the blog tab, run email campaigns and promote the app.
Content Bucket:
Team echoVME for ChuChu TV did the following kinds of post (GIFs, Series Post, Videos, Rhyme based, Generic, Blogs, YouTube Links, Polls, Contest, and Stories) to promote their YouTube Channel, gain more blog subscribes and app installs. The content bucket was divided into the following categories.
Simple & Relatable post: Happiness is….., Parenting tips that would connect with the sentiments of the parents
Meme style post: To add a touch of humor while driving engagement
Puzzle: Generic and Rhyme based posts
Contest: To create engagement we had both Long Haul & Short Haul #MyChuChuBoatContest, #MomAndMe
Campaign: Posts based on the following hashtags #ChuChuTVRealityCheck, #BeingAMom
Product Based post: To highlight the rhymes that are new in the market
Interactive post: To know what the audience views are while bringing in engagement GIFs
Informative Series Post
Global Festive posts: To celebrate the festivals of the world to enhance the already global brand
4-Step Brand Revamping Process:
Step 1 – Social Media Promotion
When ChuChu TV came forth to us it already had a Facebook page with around 2 Lakh page likes. It was known only for having links of the rhymes on their YouTube channel. According to the content bucket that was framed, we started designing posts on various series to promote the rhymes, interact with parents, entertain kids while being both generic and parent-centric. The posts on social media were run and boosted to get the following results:
Crowd-sourced content
A billion likes on Facebook
Ran campaigns that revolved around challenges faced by parents
Innovative contests
The following are our best posts till date under each category:
#1. Simple & Relatable
Simple and relatable posts connect with the viewers in an emotional way. This type of content became the most selling one as it would gel with the sentiments of the people. For simple and relatable content we did the following:
Happiness is…..series
A series of generic posts is made every week, that begins with 'Happiness is…' The posts are as simple as 'Happiness is… taking a nap when your kid takes a nap' and 'Happiness is… your dad saying "I know you can do it".' The post below was the best performing post in the series.
How many of you enjoy your favourite TV show when your toddler sleeps quickly? What are the hacks you follow? Share them in the comments below. 😀 #ChuChuTV #Parenting #Happiness #ParentingHacks

ChuChu TV Nursery Rhymes यांनी वर पोस्ट केले गुरुवार, २९ मार्च, २०१८
Parenting Tips
The team incorporated the idea of tips and suggestions for ChuChu TV  so that it becomes a brand that is known for helping parents all around with everyday challenges that come with the package of parenting. It's a strategy to make parents, especially new parents, get better at it. Both image and video based posts were made for giving tips. The best performing post is shown below.
– Image based
– Videographics based:
Images, content, music clubbed together these videos were made. There are many that went viral.
Another note-worthy thing was that every post that offered tips the hashtag "#ParentingTip" was used.
#2. Memes that would connect to the sentiments of the Parents
Memes, while connecting to the sentiments of the parents, are the best way to add a touch of humor. ChuChu was already known for being a page parents would look up to for tips and suggestions. We wanted to make it a page parents would look at when they needed a laugh. By far the best way to de-stress on social media is through memes and ChuChu TV aced at it while connecting to the sentiments of people.
#3. Puzzles
To keep kids engaged on Social Media, we started with the puzzle segment. It was both generic and rhyme based.
– Generic
This included crosswords and other kinds of puzzles aiming at driving engagement.
– Rhyme based
The rhyme based puzzle videos were linked to the rhymes; the answers of which would be found in the rhyme. They offered a giveaway in the form of a voucher in return to gain more engagement. This way we would pull in more people to our YouTube channel and make them watch out videos.
#4. Contest
These were a set of posts aiming at driving engagement with a special take-away for one lucky winner. Every week, we have one contest posts.
– Long Haul Contest
The below contests got us thousands of entries from across the world and took the engagement to a very personalized level.
Remember, long-haul contests take a lot of time and effort and hence we started hosting short haul contest that wouldn't take much time to start and conclude.
– Short Haul Contest
These contests are usually run within a span of a few days and the winners are announced at the earliest.
#5. Campaigns
A campaign called #ChuChuTVRealityCheck was run, which went live on Twitter, Instagram, LinkedIn, Facebook and Snapchat. Additionally, #BeingAMom and #DigitalAddiction campaigns were also promoted, the focus of campaign is to do content marketing with a specific objective. For example:
#ChuChuTVRealityCheck objective was to give parents a parenting reality check
#BeingAMom objective was to connect with audience around mother's day and let world know how difficult it is to be a mom
#DigitalAddiction – This was to eradicate digital addiction in kids
#6. Product Based post
These were basically posts that were used to promote the rhymes on their YouTube channel which also included a few contest posts.
#7. Interactive Post
– Poll
Generic poll posts like the one below have displayed a great potential for engagement.
– Tagging post
'Tag a Mom' & 'Tag a Dad' style of post are have also shown great potential for reach and engagement for ChuChu TV. One post of this kind is posted every week. The #IAppreciateU was used in every tagging post and the best performing tag posts are given below. This is a great tactic to generate a lot of comments.
– This or that
Another form of interactive post was This or That, or Like or Heart as it is called on Facebook where parents had to choose either. This was purely technology enabled and people could vote live, their reactions would immediately reflect on the posts and it was so much fun!
#8. GIFs
Parenting was the theme again. The GIFs contained glimpses from a parent's everyday life.
#9. Informative Series Post
Informative posts were made in the form of series posts giving parents tips on child health and better ways of parenting – 5 yoga moves that strengthen your body for work, How using Cellphone while breastfeeding can affect your baby, 6 Traits of highly effective parents are some the informative series post.
#10. Global Festivals
ChuChu, being a global brand, celebrates all the festivals from around the world. Posts were made in accordance to the upcoming festival and boosted. Creative posts that would connect with the children, (highlighting the factor that it's a kid's channel)were made.
Step 2 – Parenting Blog
When ChuChu TV came to the team, it already had a blog tab with around 10 blog posts on their website. We revamped the blog page and did the following to gain more transaction.
Set a new theme for the page that revolved around the brand and used colors incorporated in the logo.
Looked up for keywords that were most searched by new moms and developed blog content around it.
Spoke about real stories of parents, for example- there is a blog which talks about '5 heart wrenching stories which will change the way you look at your children'.
Blogs that revolved around child health and parenting tips while also connecting to the sentiments of the parents.
Integrated collect chat on the blog page which asked the viewers of the blog if they wanted to subscribe for 'ChuChuTV's Free Parenting Blog'. The subscribers of the blog were sent a notification every time a new blog was published.
A total of 161 blogs have been published till date and there are about 1000+ blog subscribers. All the blogs published are SEO optimized and interlinked for better visibility and optimal results. The following are the best performing blogs
How are Social and Emotional Development Related to Nursery Rhymes
10 Ways Dads Can Bond With Their Unborn Babies
Ways To Make Your Kids A Genius
30 Quotes On Parenting
How to Deal With A Curious Child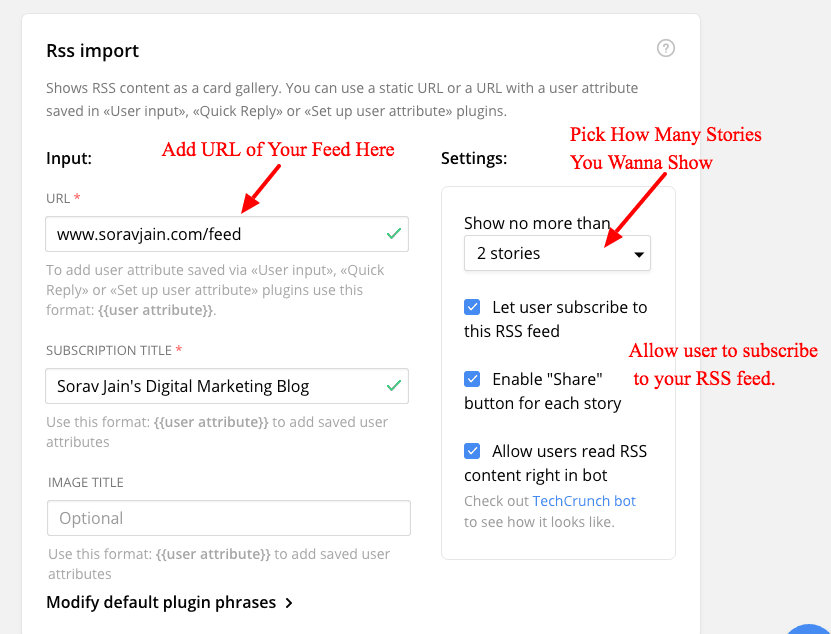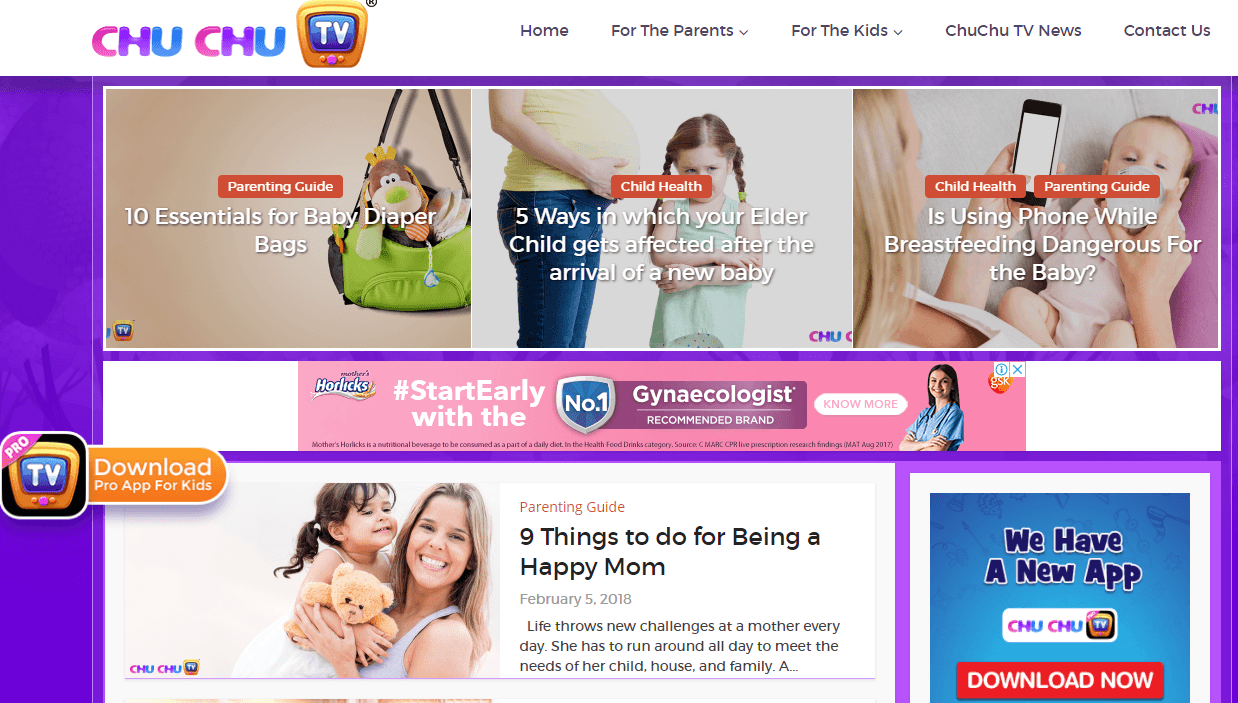 Step 3 – Email Campaigns
A"30 Days Parenting Tips" Email campaign was integrated for ChuChu TV in which Infographics were sent in the form of an Emailer to new parents for 30 days. This Infographic had parenting tips and solutions that would help parents get better at parenting. It also included Do's and Don'ts of parenting which helped the new parents. One such Infographic is given below.
These E-mailers were sent to those who have subscribed for this campaign and the blog subscribers as well. The database of these emailers was then included in the blog subscribers list.
Now, two emails are sent every month to the subscribers which include the 3 best rhymes of the month, festive wishes and contest promotions.
Step 4 – App Installs
ChuChu TV got into the segment of app installs and the team had to get as many installs as it can through the medium of social media. Following were various types of posts that were created for it and boosted to get more app downloads:
Series post
A series highlighting the features of the app was promoted. It spoke about how ChuChu TV is easier to access through the app, is flexible and has preventive parental control methods with a CTA which asked parents to download it.
Blog 
A blog was published on the ChuChu blog page which spoke about how learning with the app would be simple and easier. The blog included the features of the app, the different series, characters and a CTA.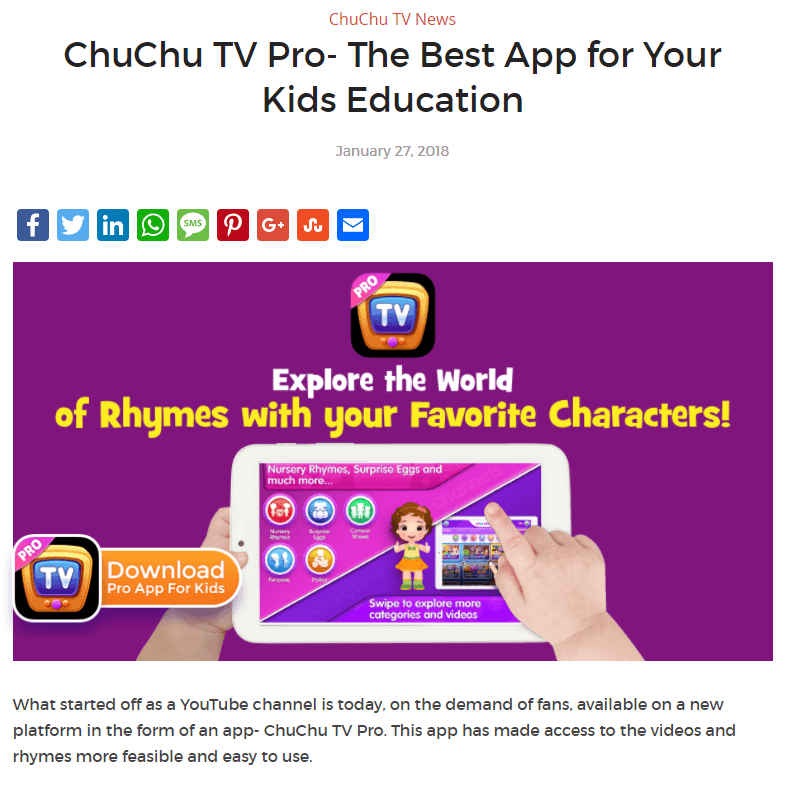 Contest promotion
Contests were made revolving around the pro app giving an Amazon voucher of worth $20 in return. A total of 6,790 people reacted to the post and it got 79 comments in all.
Generic promotion
A generic post on how the app would be the reason for your kid's smile and happiness was made to get more installs. This again included a CTA to download the app.
Ads promotion
To get more app downloads ads were run on Instagram and Facebook with a CTA. An example of one such ad is given below. It got us a total of 3,667 app installs.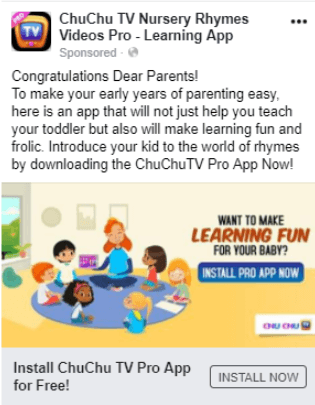 Promo videos link
A lot of promo videos have also been made for ChuChu TV which in the end has the character ChuChu saying 'to watch the full video download the ChuChu TV Pro App now'. One such promo video is given below.
Other than this we changed the CTA button on Facebook, Blog and Emailer's template from 'watch video' to 'app download'.
Results:
1) The agency's efforts have brought in a Global Audience Reach of 34,084,746 as of June 2017.
2) While having better Google visibility and crossing a lot of small milestones, the channel it has also changed the characters it features on the videos.
3) It is the third channel to have received the 'Diamond Play Button' in India and second channel worldwide in the family of entertainment and pre-school education space.
4) The Emailer campaign "30 Day Parenting Tip" bagged the best campaign award from Maddy's.
5) Team echoVME, is now starting with new DIY crafts segment where there are videos of DIY crafts that parents can make with their children at home. They are simple crafts that would help parents spend more time with their children thus helping them connect better.