Last Saturday 5th Sept I had opportunity to meet my client 'Jessie Paul' the CMO of Wipro and author of book 'No Money Marketing'. The interaction with her was of great experience since we entailed inexpensive marketing thoughts in our conversation.
All I could see is the innovative marketing glimpse in her eyes, talks and thoughts. As soon as I got the signed copy of her book I rejoiced reading it completely on the weekend. The book speaks about Jessie's experiences with her employers on a frugal marketing note and also covers thoughts of various experts on the same.
From social media perspective, Jessie feels 'New Media' and online presence for any company is essential to expand and grow in an inexpensive way. Jessie suggests being CRISP in online campaigns will help company make an impact in the market. CRISP stands for
• Coherent – United Communication Platform
• Relevant – Context and Media Sensitive Communication
• Interactive – Allows target audience to interact with the company
• Simple – Brief encapsulation of message
• Pervasive – Present in all relevant social medias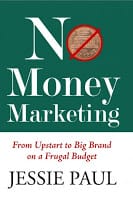 Jessie is active user of Twitter, Facebook and LinkedIn and believes it is necessary for a marketer to be active on these networking hubs as it entertains opportunities to interact with different people. Jessie's book which is going to be launched on 16th September by Mr. Narayan Murthy (CEO of Infosys) is available on sale, you can buy this book from Flipkart. I recommend this book to all the marketers as it creates marketing from frugal perspective.
Also, Thank You Jessie for your Kind words:
Dear Sorav,

Thanks for all your help in frugal marketing of this book. Wish you luck in building many super brands

– Jessie Paul, 5th Sept 2009, Chennai