What is Collect.chat?
Through the years I've gotten my hands on a number of chatbots and my favourite has been Collect.chat which I even use on my blog to connect and collect data from my visitors. I love it for its simplicity and amazing features it brings in!
It has helped me in building email lists, scheduling appointments, generating leads, collecting feedback, making surveys and much more. A chatbot is the best way to convert your website visitors into customers by engaging them in a conversation rather than asking them to fill forms.  Using a chatbot would mean spending 50% less on sales.
You would no longer have to deal with lines of codes to create a chatbot as collect.chat would do it for you. You save on a lot of time, as all you have to do is create a chat widget. It supports multiple languages and helps you easily track your chatbot conversations. It also gives you insights on the customer responses that you would receive.
Step-by-step process to set-up your chatbot:
#Step 1
The first step is to login. In case you don't have an account, you can create one. It is FREE!
#Step 2 
The next step is to create a New bot. You just have to paste in your website address and you can get started. If you don't want to do that, you can choose a template and get started.
Collect.chat has a lot of templates that you can choose from, having relevant questions that you would want to ask your customers.
#Step 3
The next thing to do is to get the chatbot ready. Type the text you would want to start the conversation within the Launcher text box. Select the theme colour that you want and the avatar that would suit you. I uploaded my picture in the place of an avatar to add a personal touch.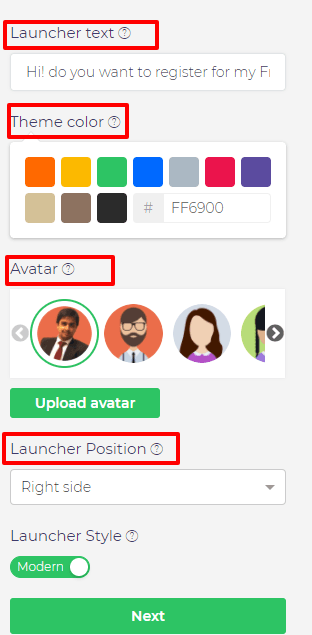 You can also set the position as to where you would want your chatbot to appear.
#Step 4
Now you have to select the script that you would want to include in your Chabot. It can be a statement or a question. You can also ask for suggestions & feedbacks, your visitor's email or their contact details. Every answer that you receive would be replied to. For instance, if it is a question which has two options, both the options would have different replies. You can preview how the chat would look like once it is done.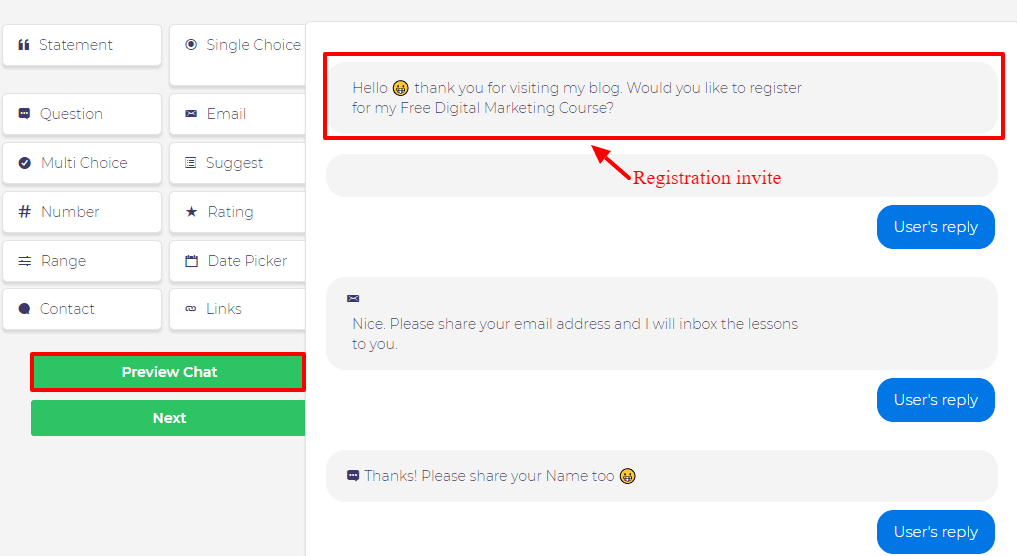 #Step 5
The next step is to install the code in your website. This can be done in three ways-
Copy-paste the code snippet
WordPress plugin
Mail the developer
Preview the chatbot once it's done to see how it would appear. And then your work is done! Now you would get instant notifications in the form of Emails.
Features
The best feature of collect.chat is that if you are too busy to build one for your business, it will make one for you. All you have to do is give in your website URL and it will create a template for you.
Having an active Chabot on your website would increase your conversions as customers are likely to interact 3X more.
Collect.chat is fully automated, needs no human involvement at all. It doesn't let your business sleep as it is 24*7 available.
With the help of Collect.chat you can have engaging conversations with your customers. It is highly interactive as it lets you talk in your customer's native language, gives them handcrafted questions, GIFs and templates.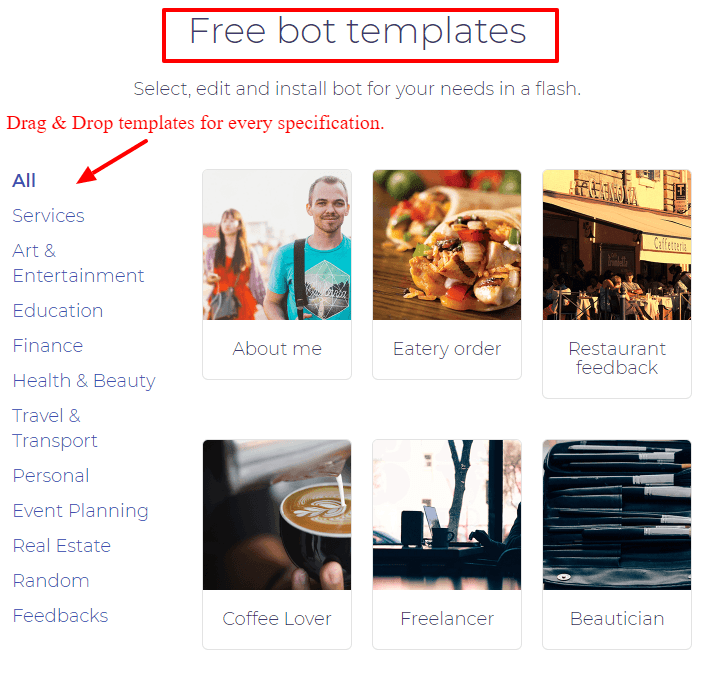 Integrations that can be made:
Zapier is the super power tool that helps us integrate Collect.chat with hundreds of apps like Google sheets, Gmail, Salesforce, LinkedIn, Slack and many more. It will help you automate this tedious task in your workflow.
Pricing plans:
Below is a screenshot of the pricing plans Collect.chat provides. It ranges from a free plan to $50/month plan and also a custom enterprise plan for people with specific requirements.
I also make use of the feature to keep exporting the interaction that happens with my website visitors.
Results:
Collect.Chat has made a total of 10,000+ conversations with my website visitors as you can see on the screenshot below.
All being said, this tool is on the top of my recommendations if you'd like to set up a chatbot. Try setting up this chatbot for your own website and let me know how you liked it in the comments section!