I recently got my hands on Times Internet ads network called Colombia. This is a platform created by Times Network Group to run advertisements on their platforms. Smart move, instead of relying on Google, InMobi or any 3rd party ad network they have built their own which is an open platform for anyone to run advertisements.
Colombia has a wider publisher network including music sites, news sites, entertainment sites and more. They have close to about 150M consumers in India. You can target people on the basis of interest (currently) that's the only feature available when it comes to targeting people, apart from choice of location and placement.
How Colombia Embraces Native Advertising
What is Native Advertising?
As per Colombia, Native ads are personalized ads that are shown to the web users based on their past browsing history, interests, etc., and are usually text ads as opposed to display/banner ads. In a nutshell, it's all about ad platforms with relevant advertising. A music site might probably show you label of Arijit Singh's latest album and a sports website will talk about the upcoming event as an ad. It makes more sense for both advertiser and consumer.
My Small Stint with Colombia
I have been a trainer with Times Internet for quite sometime. I have trained their teams in offices across India under the banner of Times University, teaching people social media, digital marketing and content marketing related subjects. I was happy to learn from one of my conversations with Rob Peck – Google Adwords Expert, how they have been using Colombia to get enough relevant leads for the Real Estate brands that they have been offering their Google Adwords services to. Ever since then, I have been curious about using Colombia and decided to spend about 7000 Rs (That's the minimum you need to spend to run your advertisements)
So, Here Is A Step By Step Process to Run Your Advertisements on Colombia Times Network
Step 1: Log on to Colombia Ads Network 
and create your account.
Step 2: Choose your objective:
You have four options to pick from:
General Promotions:

You can choose your call to action here.

Promote Content:

To promote blog posts.

App Install / Engagements:

To drive more people

Target Interest Categories:

This is the objective you might want to pick if you want to target specific group of people on the basis of interests. I picked this.

Step 3: Design Your Ads:
There is not much you could do with their ads. Just 1 image and text of about 45 to 100 characters. Advanced setting allows you add little more.
Step 4: Choose Your Placement, Location and Interest:
When you pick target interest categories you get to choose the location and the interests. There are various interest categories pre-defined:
Classified (0.7 M ), Pets and Animals (0 M ), Online Communication (13.72 M ), Entertainment – Radio (2.19 M ), People & Society – Family & Parenting (2.19 M ), Entertainment – Music (17.93 M ), LifeStyle – Style & Fashion (1.74 M ), Travel – Bus/rail ticket (0.55 M ), Travel – Air ticket (0.18 M ), People & Society – Astrology (2.63 M ), Ecommerce – Shopping (6.04 M ), Online Communication – Social Media (12.21 M ), People & Society – Religion & Spirituality (2.61 M ), LifeStyle – NRI (1.01 M ), Food & Drinks – Food (1.12 M ), Arts and Culture – Historical Architecture (0.03 M ), People & Society (8.91 M ), News – Crime News (0.55 M ), Home and Living – Furniture (0 M ), Real Estate – Rent (3.3 M ) and 50+ more such categories.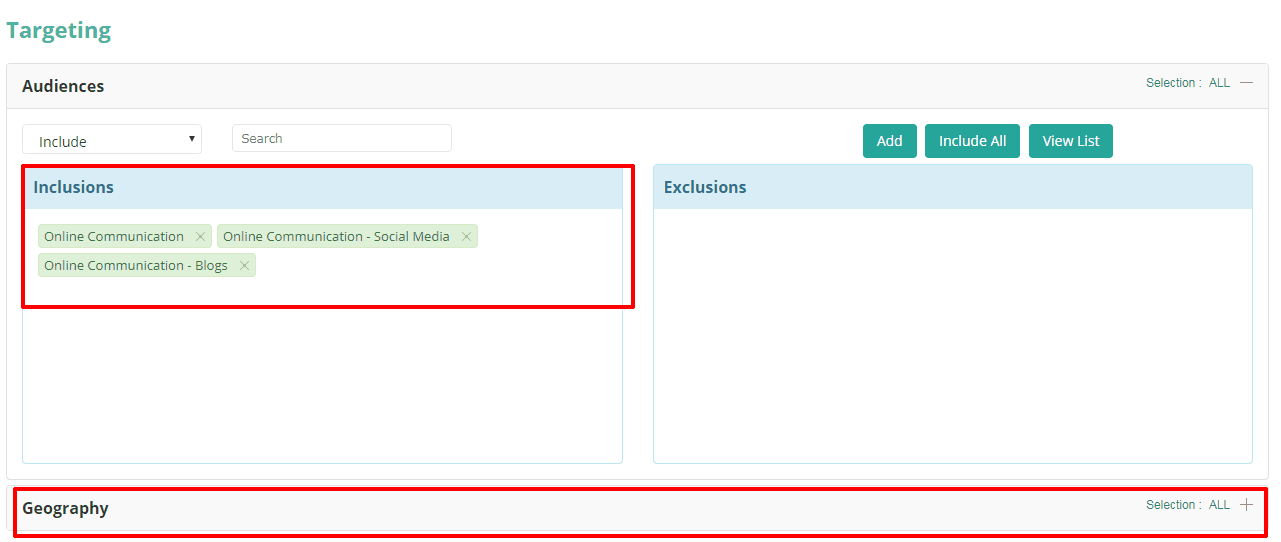 I picked a particular audience with the title online communication – social media.
Step 5: Make payment:

Colombia Ad Network works like Google Ads, you need to make payments in advance. They will generate a report and invoice soon after your campaign is over. Check below:
Result: Now let's look at the Results:
For a spend of Rs. 4937 I had close to about 1,800 visitors and 79 leads in total. Average cost per click was Rs. 2.66/- and a CTR of 0.82% was recorded. The advertisement in total generated about 225.97L impressions. 

Cost Per Lead: Rs. 71/- 
Convincing Enough?
Well, I have got far better leads for a price point of Rs. 5 to Rs. 10 for my Free Digital Marketing Course. This is way too much. However, there has been some good results from Real Estate point of view.
Add on Points: 
People from Mumbai had shown more interest in Free digital marketing course.
Major users or impressions were on Android app than on web.