When it comes to generating leads, some of the best practice can help. Like, you can exchange business cards, keep 30-second pitch handy, use LinkedIn/Quora to answer question, respond to blog comments, Twitter and Facebook and finally listen to prospect coming from various ad channels you might be using. But how do you scale up all this? It would be silly, to manually export a CSV file and import it to the CRM like AWeber or MailChimp to keep track of email subscriber list. Not anymore, some smart developer at Connectio came up with a tool that can automate the integration between Facebook Lead ad and CRM.
Introduction – What is ConnectLeads?
To understand how ConnectLeads work, you should first know how Facebook Lead Ads works.
What is Facebook Leads Ads?
Facebook users have the convenience of filling out forms for things that they find interesting right from their Smartphone while browsing Facebook newsfeed. So users no more have to leave Facebook and go to another app in order to enter their contact information, all can be done using Facebook Leads Ads. This not only improves user experience but also helps advertisers in cutting cost per lead. Read objectives of Facebook Advertisements, if you haven't yet started using Facebook Leads ads.
While the idea behind Facebook Leads ads is a great one, still advertisers get annoyed to manually download the leads collected in a .csv file and then transfer it to the CRM. The process may consume more than 20 minutes, which becomes very tricky if you are running leads ads continuously. Here is where ConnectLeads can really help:
Understanding ConnectLeads
ConnectLeads is a systematic app created by Wilco de Kreij helps you extract data from generated Facebook Leads ads. It connects directly with the autoresponder you are using in real-time via Facebook Ads Platform API, so that the transfer work gets easier without consuming much time.
ConnectLeads works with all major autoresponder and CRM service providers. Once you are done with the linking, coordination between autoresponder and Facebook Leads Ads can be managed efficiently using ConnectLeads interface.
Why should we use ConnectLeads?
If you love to be productive at work, ConnectLeads is for you:
It removes the annoying step of downloading Facebook Leads ads and uploading it further.
Save enormous amount of wait time from downloading to uploading, in turn helps you maximize the power of Facebook Leads Ads.
Real-time seamless syncing between autoresponder and Facebook Ads Platform.
Offer webinars using ConnectLeads and interested prospects can sign up without leaving Facebook.
ConnectLeads can help to grow your current system in an attempt to build relationships with your shoppers and potential customers.
It's a cloud-based software that requires no software or installation. Can be used via any web browser like Windows, Max, Lunix and more.
Any business can leverage Facebook Leads Ads with no technical knowledge.
ConnectLeads also helps you increase FB's mobile subscribers.
Users can just click on subscribe and their email address gets registered automatically without manually typing.
Promote your business within in Facebook without having landing page or website.
Boost sales by running contest, offering give-aways and coupons etc – endless opportunities.
With ConnectLeads you get zero interruption, pure focus and massive results on Leads Ads.
List of Autoresponder and CRM supported by ConnectLeads:
GetResponse
MailChimp
Campaign Monitor
InfusionSoft
HubSpot
UpViral
Constant Contact
Active Campaign
ConvertKit
HTML Forms
iContact
MadMimi
Sendlane
SendReach
Sendy
WebinarJam
Functionality and features of the tool
Some of the interesting functions and features of ConnectLeads include:
Main function of CL is to generate leads coming from Facebook Traffic. This app creates new subscriber list quickly and automatically the list is sent to your Autoresponder/CRM. This helps your subscriber grow in real-time once the user clicks on subscribe button.
CL eliminates the tedious job of filling name, email, status or going through any app authorization verification. People only have to click the message and FB will pre-fill the required data on their behalf.
CL works perfectly with Facebook mobile app (IOS, Andriod, etc), so that mobile traffic is not missed. Also, being a cloud-based system, it can be used from anywhere and on any platform.
CL also allows promoting products right inside the Facebook Newsfeed apart from just collecting leads. This can be the next level of marketing for people that are serious about Facebook ads.
CL is fully integrated with Facebook ad account and the autoresponder you choose, helping you gain maximum efficiency.
You get complete custom data management features and capabilities such as field mapping for total control.
It has remarkable and dynamic segmenting possibilities that can be done based on Facebook Data without any additional input from subscribers. Don't forget proper segmenting can improve 40% of open rates, increase deliver-ability by 28% and reduce unsubscribe rates.
CL offers stats and analytical resource to monitor functionality in case of campaign performance.
Allows to create a specials user profile in order to speak to your customers suggesting them the best ways to business – it is much easier and quicker compared to any other third party application.
Basically, ConnectLeads can lower the cost, improve productivity and boost profits.
What all we need to use the tool? (requirements)
You will need:
Facebook Leads Ads account
Any autoresponder/CRM account on above mentioned list
How to use the tool (getting started) – Step by Step Process:
Getting started with ConnectLeads is quite simple, here is how"
Step 1 – Go to https://app.connectio.io and create an account, login with credentials and go to settings – click "Connect with Facebook". It will connect you to Facebook Business Manager page.

Step 2 – You now have to add your autoresponder to ConnectLeads, click "Manage autoresponder" from the dashboard on the left menu. Click on "Add New Autoresponder". You can add up to 5 autoresponder at a time.
Step 3 – Click on ConnectLeads from left menu, select "New Lead Form" – select your Facebook Page and Lead Form, click continue.
Step 4 – Next page will route you to selecting "Autoresponder List" where all generated leads will be stored. Select the autoresponder you are already using and the list.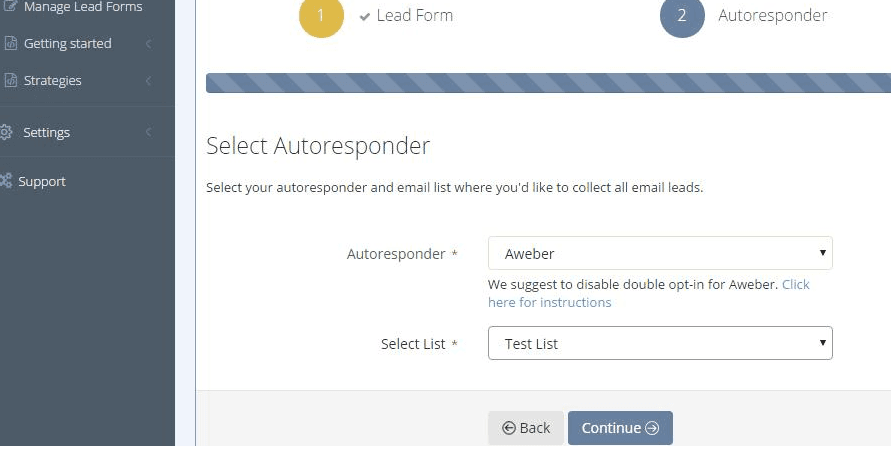 Step 5 – Click continue and select custom fields that are added on your Facebook Leads Ad.

Once you fill the required data and press save. Now every time a prospect submits your Lead Form, ConnectLeads will push the lead data and feed it on your autoresponder in a usable email list manner.
Results that the ConnectLeads Bring:
Here are some great results I got using ConnectLeads
It generates powerful leads
Save time and energy
Increase in Subscriber list
Higher conversion rate
Boost productivity
Less cost, more profit
Pros and cons of ConnectLeads:
Pros
Easy to use interface
Great for any virtual business using Facebook ads
Mobile-friendly app
Powerful automation
2 step process – offer and confirm
Unlimited email subscriber list can be collected
Cheaper than competitors
Discount Coupons
Cons
Major price rise in less than a year of launch.
Price
There are three packages available on ConnectLeads –
Monthly – $47
Yearly – $197
Lifetime – $297
Conclusion
Today having an email subscriber list is the key to promoting business. You can keep your subscriber informed about the new offers, campaign, discounts, or key notes using the list. That's why it is time to take advantage of Facebook's Lead Ads and maximize your profit using ConnectLeads app. Start building your Facebook email list, get them feed automatically to your autoresponder and build deeper relationship with your prospect customer.