Social Media Managers always have a full to do list, but very little time to tick things off.
So how does one simplify social media management while also saving time? To find out a solution, I decided to give Crowdfire a try for my social accounts. Read on to find out what this tool is all about ?
What is Crowdfire?
Crowdfire is an easy to use social media management app that helps you manage all of your social accounts in one place. Crowdfire is your Twitter manager, post scheduler, content curator and an analytics tool all rolled into one sleek social media management product.
It helps you curate, discover, schedule and share content, while also helping you manage all your social accounts from one place. It's a tool that simplifies social media management for your brand and provides detailed insights for you.
Crowdfire has helped more than 19 million users grow and manage their online presence since its inception in 2010 by Nischal Shetty.
Why should you be using Crowdfire?
After using this tool for a while, I think I'm qualified enough to list down the benefits of using Crowdfire, and some of the pain points that this tool helps pacify.
1. You will have access to unlimited content that you can share on your social accounts and keep your timelines updated and active.
2. Queue Meter – This feature tells you exactly when you've run out of posts and need to schedule more posts.
3. Crowdfire Chrome extension – You can share anything you find interesting on the internet in one click without opening the Crowdfire dashboard.
4. All features from content scheduling to discovering new content to managing Twitter followers to monitoring social mentions to analytics and more are available in a single dashboard.
5. You get everything at a fraction of the cost when compared to other tools in the market. Their Plus plan starts for as low as $9.99 pm. That's a steal!
Sounds all well and good, but what about the features? Glad you asked!
Features that Crowdfire offers
1. Content curation and discovery
One of Crowdfire's biggest selling points is their Content Discovery feature, which is a big hit with the fans. With Crowdfire, you no longer have to spend hours curating and discovering new and relevant content anymore. Crowdfire gives you a ready-made content pool based on the topics you've set for your Crowdfire account.
These are handpicked article and image recommendations that are delivered to you with every refresh, right on your screen. You can share these with your audience on Twitter, Instagram, Facebook, Pinterest and Linkedin in just two taps.
2. RSS Feeds
Everyone has a list of content sources that they follow everyday to bring them their daily news right? Like Economic Times, Entertainment Weekly, TechCrunch etc. Crowdfire now lets you add these feeds to your account so that the tool can pull content directly from these sources for you to share.
You no longer have go to these sites and look for content to post. Crowdfire brings you all of their content within your dashboard, which you can sift through and post to your social media.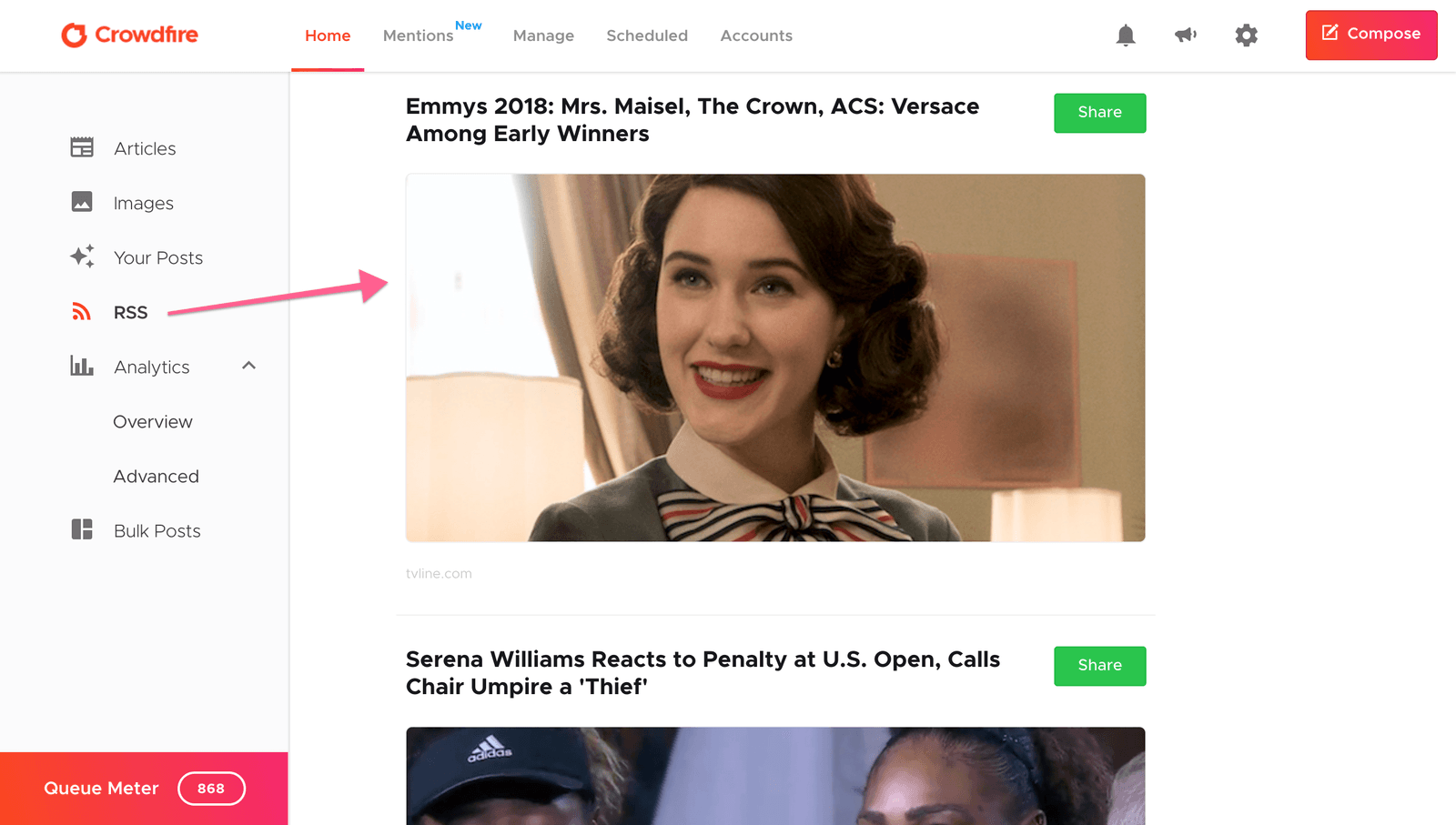 3. Content scheduling
Crowdfire also lets you schedule your posts and other content at the best time for your social accounts in just a couple of taps. That means, you can now automate your social media posts in advance and save tons of time.
The best time feature on Crowdfire lets you schedule content for a time when your followers are most active, hence getting you better reach and engagement.
You can also set up manual best time, that lets you schedule content for a time you think is highly engaging.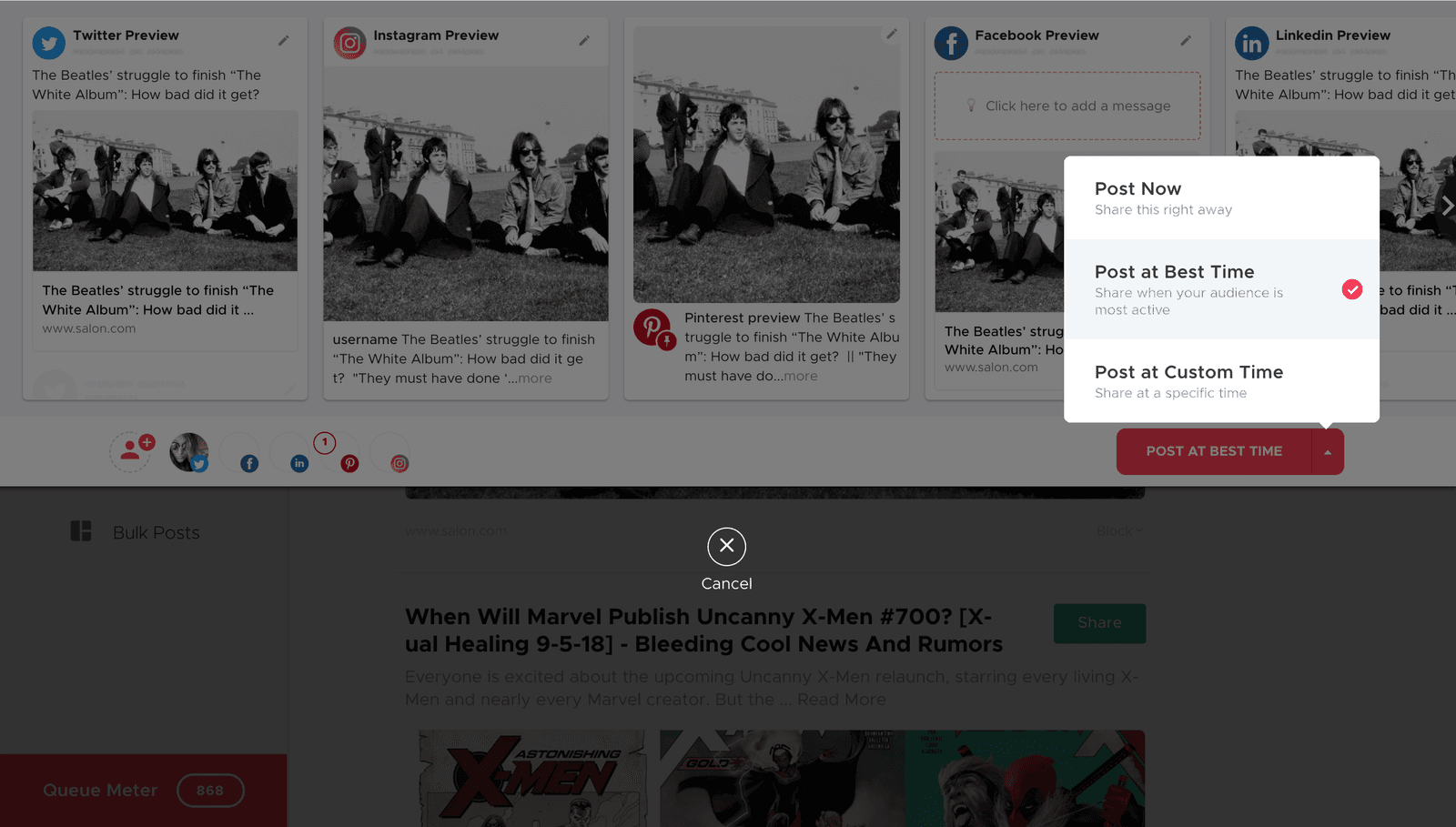 4. Crowdfire Chrome Extension
Crowdfire's super handy Chrome extension allows you to share and schedule content from anywhere on the web without having to open the Crowdfire dashboard. Not only articles, but you can also share images and retweets using the Chrome Extension.
Sharing content has never been this easier!
5. Bulk Uploads
Crowdfire's Bulk Upload feature helps you schedule posts in bulk and saves you a ton of time. With this feature you can schedule multiple posts across multiple social networks at once.
All you need to do is, simply enter all the posts in an excel sheet / google sheets or any other document and then convert it to a .csv format and then upload it. Easy peasy!
Do note that this feature is only available on the Premium plan and above, and available for Twitter, Linkedin and Facebook groups/pages only.
6. Mentions feature to track all of your Twitter mentions
With Crowdfire's Mentions, you now get a list of all your Twitter mentions and notifications in a single space for you to sift through and reply to. This makes sure you never miss out on a conversation around you and your brand.
The team at Crowdfire is also working on rolling out Mentions for Facebook in the coming weeks!
7. Twitter follower management
Apart from these features, Crowdfire also lets you see your Non-Followers, Fans, Recent Unfollowers and Recent Followers within the same dashboard. You can choose to follow or unfollow these users on Crowdfire.
You can even discover new people to follow using Crowdfire's Keyword Search feature (which displays a list of people tweeting about the keyword of your choice) and Competitor Follow feature (which displays a list of the followers of the account you enter).
8. Analytics
With Crowdfire's analytics, you can now check which tweets get the most engagement in the form of likes and retweets and also how many followers you gain or lose for your Twitter account.
It also shows analytics for Facebook and Pinterest in the form of page likes, unlikes, comments, pins and saves!
How to set up your Crowdfire account?
1. Hop onto https://www.soravjain.com/go/crowdfire
2. Sign up with your Facebook, Twitter or Instagram
3. Once signed in, set up your Topics (areas of interest) and sit back while Crowdire onboards you. Simple!
Pricing
One of Crowdfire's biggest USPs is its pricing. From content scheduling, to posting, to content curation, to advanced analytics, to social monitoring, you get all of all of these things under one roof at a super competitive price.
Crowdfire's pricing structure caters to everyone, from individuals to small social media managers and even big agencies.
Their Plus plan (perfect for individuals) is priced for as low as $9.99 pm and $89.88 for the whole year! That yearly amount is a lot less than some of it's competitors monthly price.
I have used Buffer and Hootsuite but now prefer Crowdfire especially when I have to use the paid tool as this tool is cheaper comparatively and have a lot of features

Check out their pricing here – crowdfireapp.com/pricing
There you have it! Crowdfire is available on web, iOS and Android so go ahead and give it a spin for yourself.
Do you already use Crowdfire for your brand? Do you have some points to share yourself? Go ahead and tell me all about it in the comments!
How to set topics for Article and Image recommendations
1. Tap on Topics on the main dashboard
2. Select your topics from the list shown and tap on Save
How to share a post from the Crowdfire article recommendations
1. Tap on Share beside an article
2. This will open the Publish tab tailored to the different social media platforms
3. Tap on the small Accounts icon on the bottom left to add more of your social accounts or remove some account.
4. Choose the accounts you want to publish it to from the box and click on Done
5. Lastly, you can select to post it at Best Time (Crowdfire automatically calculates this best time to get you maximum engagement) or you can choose to post it at a custom time and date of your choice. Or you could tap on Post Now and have the post published immediately to your selected social accounts.
How to manage your Twitter mentions and notifications on Crowdfire
1. Mentions is located on the menu bar at the top
2. All of your Twitter conversations will appear in the common Inbox tab. You'll also see 3 other views to filter the conversations too.
3. You can type out a reply to these conversations in the text box and then choose to set them as Open (if you still want them to appear in the main view), Pending (If you want to come back to the tweet later), or Closed (if you want to forget about the tweet and be done with it)
4. You also have a super handy emoji keyboard to add emojis to your reply and can also upload media along with them. Next, just hit Reply and you're done! Your tweet will immediately be posted!
There you have it! Those were some of the features I wanted to take you through step by step.
Crowdfire is available on web, iOS and Android so go ahead and give it a spin for yourself.
Do you already use Crowdfire for your brand? Do you have some points to share yourself? Go ahead and tell me all about it in the comments!