This is a question I come across frequently – 'Are Women Safe On The Internet?'. Here's a short and quick and short answer – Yes, they are! But it requires them to take a few steps because it's always better to be safe than sorry! Just when I was thinking of drafting a story on this topic, I got an opportunity to associate with U.S. Consulate Chennai to become part of their women's day week and transform this knowledge to them. I am no expert in Cyber Security, but I had to talk about this topic after I learnt someone hacked my Facebook account and un-friended some of best friends and tampered with my privacy settings.
Most of our lives are public today on Social Media while many are flamboyant and okay with sharing everything some are really concerned about their profiles and who they connect with, most of the cyber crimes are either done by fraudsters or by someone you know in the close circle. It could be your friend, relative, employee, colleague, your ex-boyfriend/girlfriend. It is essential to have your privacy settings have to be set in such a way that individuals you are not connected don't get to see a lot of your personal information. Secondly, everything doesn't necessarily have to go on social media.
I still remember a post made by a girl viral on Social Media when she took a selfie with one of her friends and shared it with the hashtag #Thevidyas – apparently both the girls had the same name and hence the hashtag 'Thevidyas' which is an abusive term in Tamil language. One of their friends took a screenshot of their photos with this hashtag and circulated it in some groups which went viral overnight, humiliating both the girls.
In a similar incident, an ex-colleague of mine (a typical traditional Tamil girl) had gone for holidays with her friends. these girls who were all traditionally dressed took a photograph while sitting in a circle and placing their hands on a 'brandy' bottle which was in the centre of the circle. Girl who wanted to share this photograph with her friends, uploaded them on Google drive and kept the settings public which made the image discoverable and the photo that was clicked in 2010 is still viral with a meme titled 'Kudumba  kuthuvilakku'
Many a times they had approached police but it wasn't of great help. This picture has really caused a huge distress in their lives as it has hindered their personal lives to some extent.
Let's Look At Cyber Crime Scenario in India:
About 27000+ cybercrimes reported in 2017 with an average of one every ten minutes.
Here are the types of cyber crimes that were reported
A huge number of these cases were addressed last year, but then almost the same number of cases lie un-addressed.
Remember, it's very difficult to remove the viral content on Social Media so it's always better to be safe than sorry.  Cyber crimes are many, but here are some of the most common type of Social Media Crimes that I often come across:
7 Types of Social Media Crime Faced:
1. Profile Hacking
Profile hacking happens when, as a user,  you are not able to log in to your account. Someone has complete control of your account and has changed all the credentials. Facebook is the most hacked social networking site and it generally happens because of the following reasons:
Not logging out from the account
Sharing passwords or having passwords that are easily predicted
Hacking the email with which you login to your Facebook account
Logging in through Facebook options for apps
What if your Facebook profile gets hacked? You can log on to: www.facebook.com/hacked and follow the procedure in order to claim your profile back.
Since, Facebook's service is really slow, you should raise the alarm through someone you know at Facebook or people who deals with Facebook advertisement team, this way you are probably getting this sorted on a lot quicker note.
How to avoid your profile from hacking on Facebook:
Ensure that your password is a mixture of words and special characters. Don't have the same passwords for various social media accounts. Most girls try to have same password for all their social media channels. They try to keep it simple so that they could remember. Have multiple passwords for different accounts and try to use password manager in order to remember them.
Log out every time you login from a device that is unfamiliar to you or not in use. Most case hacking takes place in this case, people tend to update something funny so that people can make fun of you creating an embarrassing scenario for you.
Be aware of the malicious apps that you subscribe to from your Facebook account.  Below is an example of multiple apps that I don't use but have subscribe too. Beware of games you play on Social Media 'Know when are you going to die' 'Check out which actor do you resemble' – most of these apps try to source your data and since you are in so much hurry to know when are you going to die you actually don't check the alert that it tries to create where they ask you to access public profile (in most case), malicious apps are more likely to ask you for your personal data too which could include passwords.
2. Photo Morphing
Photo morphing is a special effect that allows a person to morph or change one image or shape into another without any difficulty. As per the 4th quadrant of 2017, there is roughly around 3.2 Billion images shared every day. It is easy for a hacker to use your images, morph it and then use it for porn sites or blackmailing for financial/sexual gains.
You can't stop anyone from morphing. If your images are publicly available, people can easily access them and make use of them to morph. Every popular male and female celebrity are probably photo-shopped and used by most porn sites to satisfy sexual fantasies. You never know, when someone take your photographs and use them.
An example of photo morphing –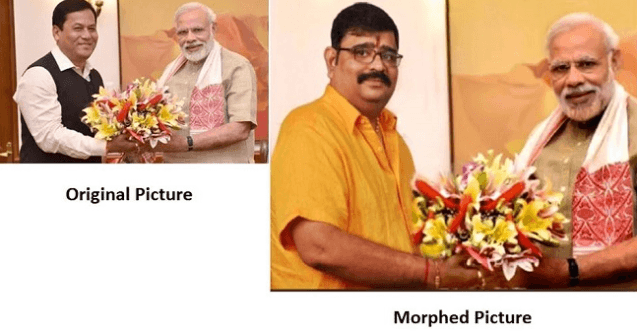 Tips to follow to be safe from photo morphing:
Facebook has strong privacy settings which protect your account and things you share on it. Don't add strangers, people who are mutual friends (unless and until you know them). Identify fake profiles or pages that are sending you request or asking you to follow them.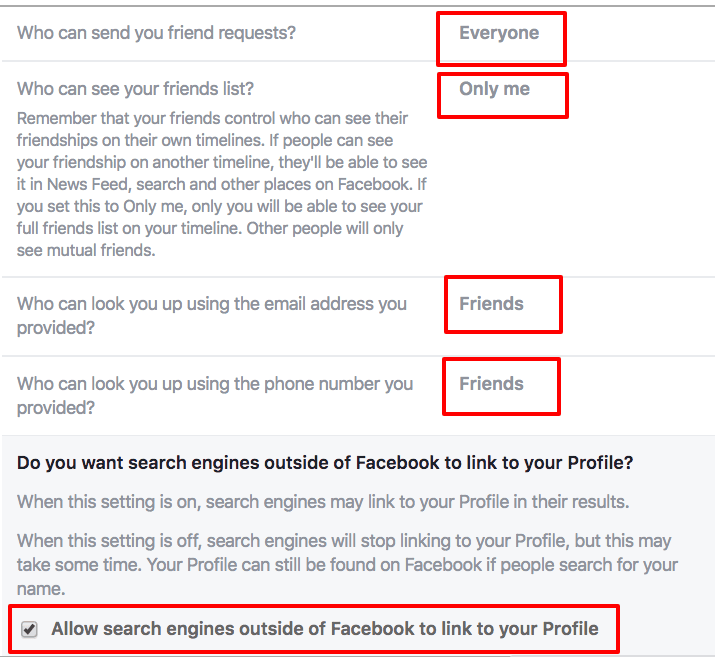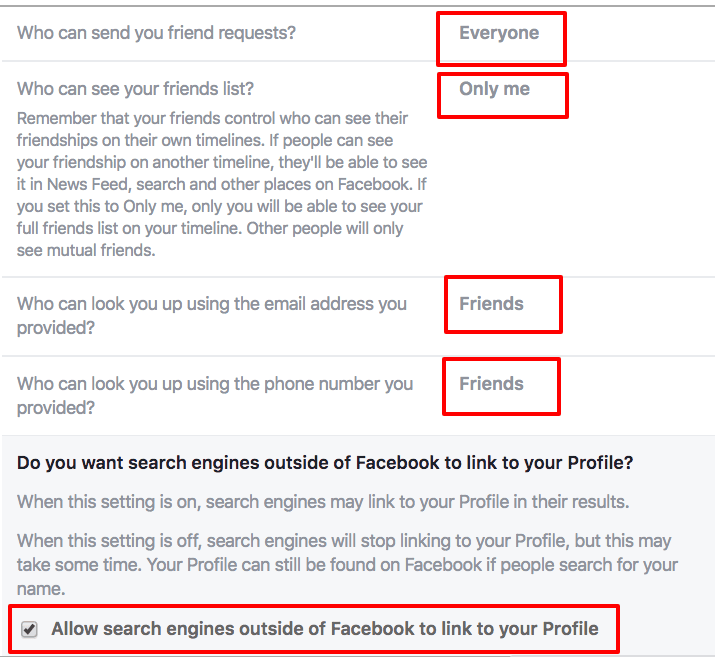 To keep your profile safe you shouldn't allow people to see photos tagged by your friends, you can have control over them and take a call on photos before it goes all public.
In case you are receiving threats or your friends are receiving any videos/images of yours immediately report it to the police.  Police today is slowly getting charged with respect to growing cybercrimes.
3. Offer and Shopping Scams
You would often come across messages, post which would say 'Click on the link to claim the offer' or 'spin the wheel to win.' These offers would generally ask you to forward the message to another 20 people once you have registered in order to get the code or coupon. You won't get coupons but the host would get your personal information.
Women tend to fall for this scam on OLX, where the buyers try to give amazing offers.  For example: iPhone X for Rs.25,000 and many do the advance transfer to make a booking and surprise their husbands. But, once the sellers get the advance, they tend to abscond. These guys will communicate genuinely till they get the required money.
Another example is here of the most common scam that you come across on Whatsapp. Where people will ask you to fill your personal data and forward the message to 20 people in order to get the voucher. This is the way they get all your personal data and make you a fool by making you forward it to the world out there.
Tips to follow to be safe from Offer and Shopping Scams:
The simplest thing to do is to make a quick check of the promotion/deal of the brand or the organization of their social media page/their homepage.
There are chances were the hacker would have made a fake profile. In such instances check is the site has a secured https://. Also check how well the website is made and if the tone of communication is too sloppy.
Don't buy fake social media followers as they are more likely to get your credit card details and later use it or ask you to share your id and password to get you genuine followers.
Do not transfer money or give in card details if the discounts are too-steep, or have poor reviews, or unclear refund policies.
A lot of people trust offers like shown below and end up shopping and getting no discount.
Trust your instincts and lodge a complaint if you ever think you are being scammed. But remember, this is the mostly not so entertained complaints of the internet world. So try to be as secure as you can when it comes to online shopping.
4. Romance and Dating Scams
There are people out there who would connect to you on social media, interact with you, and persuade you to move to a different form of communication through various excuses. Once they realize that you are falling for them, they would send you small gifts to show you that it's same on either side. After a point the romantic period would start declining and they would start asking for monetary help in the form of recharge, booking flight tickets to meet and the list only grows.
There are also extreme cases where a guy promises to marry the girl and before the marriage runs away with all her money.
It is basically a trick/scam which would begin with romantic intensions to build goodwill and later commit fraud.
The other form of romance scam is where the person who you fall in love with will ask you to strip naked in front of cam. He is more likely to chat with you on skype and you might be so much in love with the person opposite that you wouldn't mind doing him/her a favor. This is the last time he/ she would chat with you and then you will start receiving blackmail calls.
Many people try to take an offline scam to online where they record videos of girls in compromising positions for porn sites.
Tips to follow to be safe from Romance and Dating Scams:
Don't accept friend requests from random people. Don't reply to messages to people who are not in your friend list. Facebook generally warns people when they get messages from people who are not in their friend list. Do not chat with anyone and everyone especially someone you don't know.
If the fraudster is calling you to some place, alone to give you something or asking you to go on a date then don't go.
Don't transfer your card or bank details with anybody at any cost. If somebody is threatening you, report about it to the police.
Don't strip or send your nudes through digital.
Now look at the images below on asking people who they find more genuine, they raised hands for Anusaya because she has about 2000+ friends and also photograph of Sai Baba. But the truth us both the profiles are fake and I found them on one of the Sex Groups on Facebook that I happen to come across during my research. That group had about 5000+ members and since most of them want to chat and talk about 'sex' they were fake.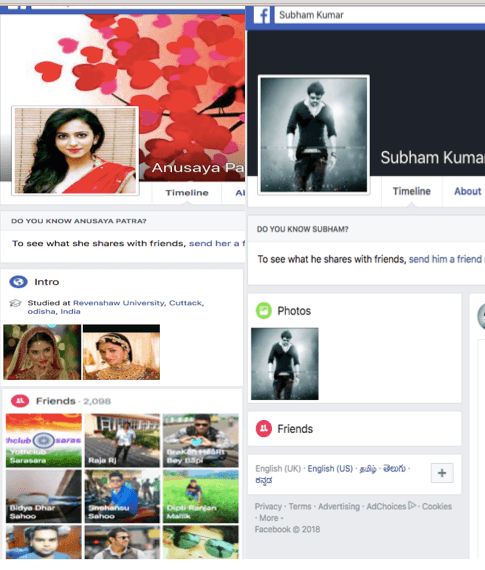 How to identify if the profiles are genuine or fake?
A fake profile on Facebook will not use their genuine pictures (Having said this there are people who takes photographs of other genuine people as their profiles are public and use it to create a fake profile)
They don't have many friends.
Their profiles are just recently built.
Even if you make someone your friend, try to scroll their profile to check their status updates and their experiences they share, if there are not any – they are more likely to be fake.
5. Link Baiting
Link bait happens when the content of your website or pages gets linked to other sites because they want to and not because they have asked you. A few instances where link bait has been showcased are-
Your photo just got leaked on internet, check here:
Look what people are talking about you:
This video of yours is going viral. To know more click here:
When clicking on any of these links, there are chances where you are likely to send the same message to the people from your profile. This link would be sent from your name and would make people think that you are the one doing it.
Tips to follow to be safe from Link Baiting:
Make sure that you don't click on these links. Check where these links are coming from. They usually come through WhatsApp or Messenger. Reply to the message and ask them 'I this really you' – this is when they get to know that a situation like this has happened with their profile or call them and let them know that you are receiving such messages from their name.
On open platforms like Twitter, people tend to create fake accounts of your genuine profiles and they use this identity to strike a conversation. For example when you Tweet to banks or online transaction companies, fraudsters are more likely to create fake bank accounts for communication and tweet back to you, check the below example: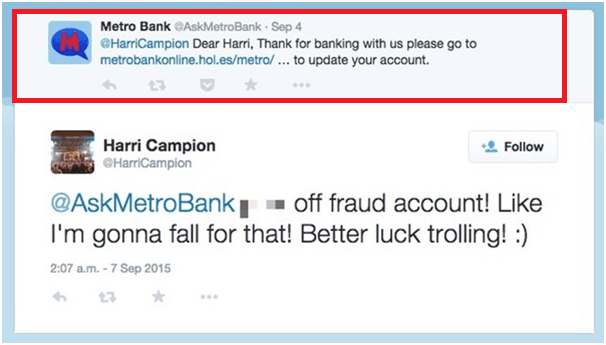 6. Information Theft
Informational theft occurs when an imposter identifies key pieces of personally identifiable information like social security, driving license number in order to impersonate someone else. Many people tend to store passwords or bank details on their email. Many people try to have very private conversation on Facebook or Instagram messengers. Businesswomen are also more likely to be at the risk of information theft especially with respect to her organization.
Women bloggers these days are faced by plagiarism of various types. When they try to open their business page on Facebook for the first time, there are chances that their competitors would already have promoted bad things to bring down their reputation.
Tips to follow to be safe from Information Theft:
If you have a name which is common differentiate it with something that people know would connect to your business.
Ensure that you get the right SEO and report your business page through Facebook India.
It is possible to merge pages on Facebook, so you can merge the fake page with yours and claim that you are the official owner of the page.
Ensure that you don't store credit card details and crucial passwords on Social Media messengers too.
When you use email extensions on chrome, beware they are genuine one as they are reading through your emails and have access to all the data.
7. Cyber Bullying
Posting any kind of humiliating content on the social media or sending vulgar messages online, or threatening to commit any act of violence, or stalking by means of calls, messages or threatening of child pornography is called as cyberbullying. There are many Indian laws that can allow a woman to deal with this and with the help of Indian police, you can sort this particular issue.
One of the best examples here is singer Chinmayi was threatened by few bunch of people on Twitter and she took police's help to detain them as she was getting rape and murder threats from people for quite some time.
Tips to follow to stay safe from cyberbullying:
Approach the police when you are getting harassed online.
Do not sit idle as that would only make the bully think that you are scared and won't be of any harm to them.
Here is where you can know some of our cyber laws:
https://www.cybercrimecomplaints.com/cyber-crime-cells-india
I hope I have covered all the crucial factors with respect to cyber crimes that happen in India. Please keep tabs on the kind of people you befriend on social media and also always have a check on your privacy.
Never tell people more than what they need to know!