Running a Facebook ad campaign is essentially the job that most advertising professionals or digital marketing experts are known for doing. It doesn't necessarily mean that a layman can't do it at all. A lot of bloggers, entrepreneurs, and online marketers not only just design Facebook advertisements, but they also run Facebook ads all by themselves.
One of the secrets you should always remember when it comes to Facebook ads is that experimentation would make you successful. Most people who try out Facebook ads quit at an early stage; they don't experiment with Facebook ads.
You might wonder what you should experiment with. Well, you could experiment with the following things:
Facebook Ad Design
Ad Headline
Picture in the Ad Design
Ad Copy
Audience
Behaviors
And the list goes on.
However, the design of your Facebook ad is one of the most deserving element to be tested out; it could either make or break your ad campaign and by that, I mean to experiment with different versions of the same ad.
Before we proceed to the steps of designing the best Facebook advertisements, let's shed some light on the key factors of an excellent Facebook ad design:
Appealing to the Eye
The fundamental idea of a good Facebook ad design is that it looks appealing to the eye, and attraction matters in online marketing. It could be the colors, text, pictures, or the design that makes it stand out. Have you noticed when you're scrolling through the Facebook feed, you keep on scrolling down? It's because there is a lot of stuff to go through; you keep checking out interesting videos, posts, articles, and memes. So to make people stop for a while and click-through your Facebook ad, you got to make it appealing enough to get the attention of the viewers.
Clarity of Text
Copy is always important in ads because you don't have much space to explain the narrative. So you have to come up with a few words that explain the point pretty quickly. It does seem a simple job, but copywriters brainstorm a lot about the ad taglines or body texts on the ad designs. You don't get to write loads of text in the Facebook ad so you have to be precise, to-the-point, and clear about your message. The ad text must be giving a clear message.
Aesthetically Pleasing
What this means is that your Facebook ad design must be creative, elegant, and stylish too. It must give a good vibe as well as deliver the message. Sometimes, an ad makes sense and people take action on the ad because it sends out the message and attracts the audience to respond quickly. It could be the copy, CTA button, or the ad design that makes it aesthetically pleasing.
Meet the Requirements
There are certain ad design requirements for Image ads that you need to take care of to comply with Facebook ad requirements. For example, the image should be either jpg or png, image ratio should be 9:16 to 16:9 without links and 1.91:1 to 1:1 with links, images with more than 20% text may experience reduced delivery, the image resolution should be at least 1080x1080px, headline could be 25 characters long, and the description must not exceed 30 characters.
Here's the step-by-step guide to designing Facebook advertisements to scale your business 10x:
#1 Conceptualize Your Ad Design
To get started with designing your Facebook advertisement, it's essential to idealize your required ad design. It gets easier when you have an idea what type of ad design you're looking for. The desired goal, however, could be vital in conceptualizing the ad design.
For instance, if you're a photographer and you're designing your ad image, you might want a picture of yourself with a DSLR camera or a person taking a photograph of a model or looking through the camera lens. It's just conjecture for the sake of an example. You may like to just display a camera or a client's wedding picture to let the audience know about your photography business.
Here are three elements of conceptualizing the ad design:
a) Understand Your Target Market
Before you decide what kind of ad design you should go for, take a moment and think about the target audience you're trying to reach out to through your ad. You must contemplate what language your audience speaks, what type of colors they might like, what online tools they may prefer, and what sort of brands they could be working with.
There are different ways to assess these things, for instance, some companies spy on the competitors' keywords to reach out to their audience and some survey their audience to find out what they like.
Have you not received a survey email from any company? We often get asked to respond to the feedback after the live chats with the customer care departments of companies.
Marie Forleo is a life coach, author, and the host of Marie TV on YouTube. She knows who she should reach through social media, and her Facebook ad shows that she is well aware of her target audience. Her Facebook ad seems creative and sends out a message of inspiration.
The purpose is always to understand the audience to make better decisions afterwards. So understanding your target audience would reflect in your Facebook ad designing too.
b) Add Your Brand's Personality
A brand's personality is a combination of everything a company is known for, for instance, the color scheme, a specific font, or a design pattern in their images. The idea behind adding a brand's personality is leaving a mark without giving away the whole picture. For instance, if you read somewhere a tagline called "Just Do It," it would immediately remind you of Nike.
Let's take a look at an example:
An online store ran a Facebook ad targeting Nikon camera fans. The ad features a discount up to $1000 on Nikon cameras, whereas the CTA leads to the seller's website. The brand didn't mention its own name anywhere. Instead, they tried to cash in on the brand positioning of Nikon.
Don't hesitate to test out your brand's value as well as your other brands and partners associated with you.
Therefore, while conceptualizing your Facebook ad design, try adding your brand's personality so that people would start to associate your brand with the specific patterns and design elements.
c) Infuse the Colors Psychology
Colors psychology is a huge element in graphics designing, especially in ad designing. Have you noticed companies often use green call-to-action button in opt-in forms and banner ads? The reason behind this is that it stands out and attracts people to click on it. There is no guarantee though, but notice that green CTAs are very common.
ContentStudio knows how to use the brand's theme color. When they ran a Facebook ad, they opted the same color for their ad design. Take a look at this example:
Integrating colors into the mix might trigger more ideas. For instance, the rainbow flag is associated with the LGBT community all over the world. So understanding the colors psychology may help you come up with better Facebook ad designs.
So first things first, sit back and brainstorm on your possible ad designs. Keep the factors like audience-type, demographics, and brand's infusion in mind while shaping the Facebook ad design.
#2 Prepare Your Ad Copy
Designing the Facebook ad doesn't necessarily mean putting together an image and some text. It does require a lot of work to come up with all the ingredients of a perfect Facebook ad design.
One of those ingredients of a Facebook ad design is the copy of the ad, which means the written text on the ad image. It's not compulsory to insert the text on the image, but brands and entrepreneurs like to use text to give a message and attract the audience. It hints the audience to what to expect or what the offer is all about.
Facebook used to be quite strict with the text percentage on the ad images, but they've changed the terms and conditions lately. In the past, they used to reject the advertisements that didn't meet the design criteria, especially with the text percentage on the ad image. Now, more than 20% text on the image may reduce the delivery of the ad, which means, it could affect the ad performance, but it may not be rejected. Read more about this by clicking here.
Keep the following points in mind while writing your ad copy:
Trying using fewer words in your ad copy
Consider using smaller font sizes in your ad design, but make sure it's visible
Don't repeat the text on the image if it's already in the body text of the advertisement
You can avoid using the text on the ad image if it's not necessary
There are exceptions for the product images, in case, if the packaging or product is in the design
Moreover, Facebook created a useful tool for testing the ad image to help advertisers guide on the ad image qualification. This tool requires you to upload the ad image and it'd let you know whether or not the text percentage is alright on the ad image. Click here to check that tool.
Paramusical chose a rather simple ad copy in their Facebook ad. They wrote simple, to-the-point, and short phrases in their Facebook ad.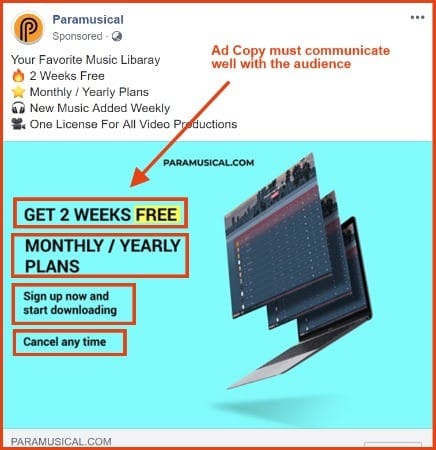 Consult your copywriter before you put up a few words on your Facebook advertisement. Share your ad's intent, target audience, demographics, and ad image with the copywriter. You may end up putting together a rather attractive ad copy.
#3 Allocate the Task to the Graphics Designer
The designing-part of the Facebook advertisement is one of the important areas to ponder. Sure, at this point, you might have figured out what type of ad design you're looking for and what text goes on the ad body. Let's come to the part where you allocate the designing task to a graphics designer. Chances are, you have no idea about graphics designing so why not to take a professional guy on board.
Hire a freelance graphics designer through Fiverr. It's one of the most popular platforms for hiring freelancers.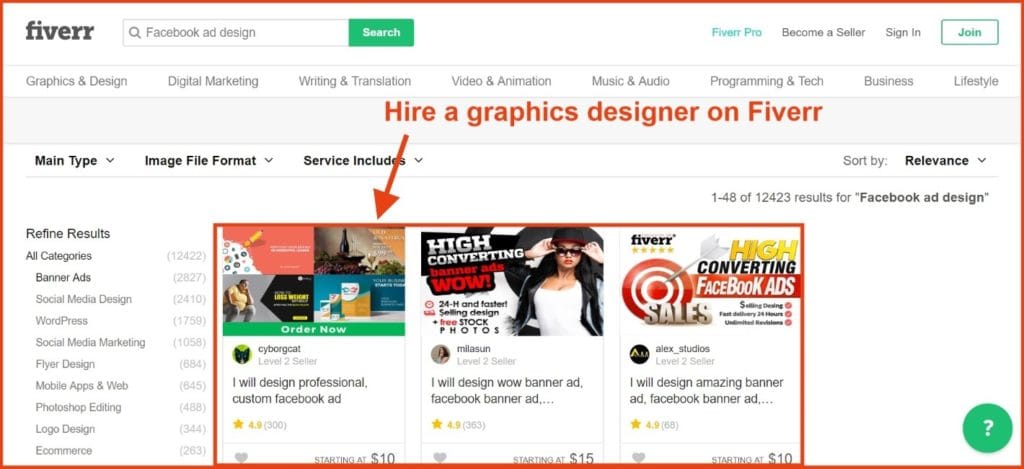 99designs is another platform for hiring freelance graphics designers. The best part about 99designs is that it's a design-specific and creative platform to meet the world's best graphic designers.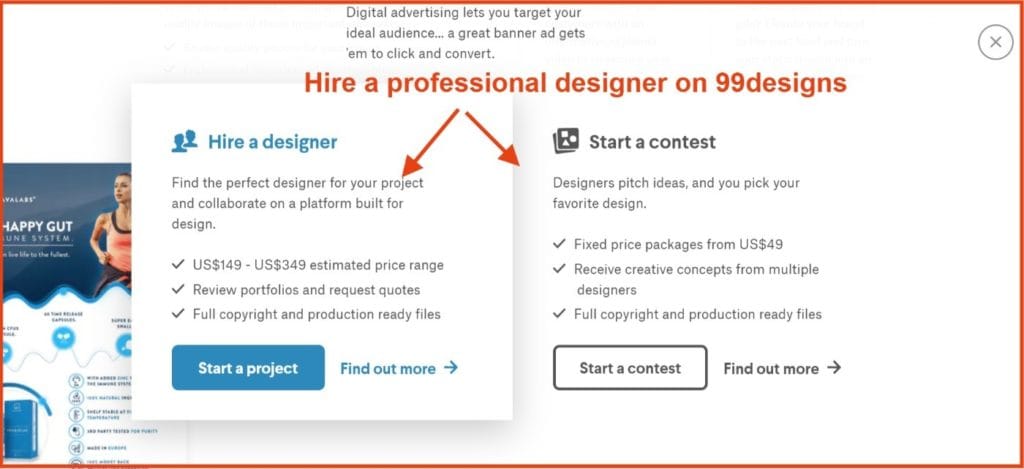 if you don't have a full-time graphics designer in your team, one of those platforms might help you get through this stage. This may seem a little intimidating task to do if you haven't done it before, but one thing could make it a whole lot easier. Prepare a document to send over to your graphics designer and mention the details that you want to see in your ad design. You'd be better off if you come up with bullet points to let the designer know what you're expecting.
For instance, you can highlight such details:
Use the (royalty-free) pet pictures for the ad layout design
The background could be a little mild and blurry
The design elements must be prominent
The color of the text should be white
Use simple fonts such as Calibri or Cambria
Use the smaller text and keep the design clean
So these were a few example instructions to show you. You can advise your graphics designer according to your conceptualized ad design and idea. It'll be better to let the professional graphics designer do his/her job if you don't have much experience in graphics designing.
However, it's not necessary to delegate the ad designing job to a graphics designer. You can design the ad yourself if you like designing business cards, invitations, and ad banners. Moreover, it's not even required to have software like Adobe Photoshop or Corel Draw; simply use the online tools like Canva to get the ad designing done.
Here's how you can use Canva:
Go to canva.com and create your account.
Choose Facebook ad option from the social media section to start designing your Facebook ad: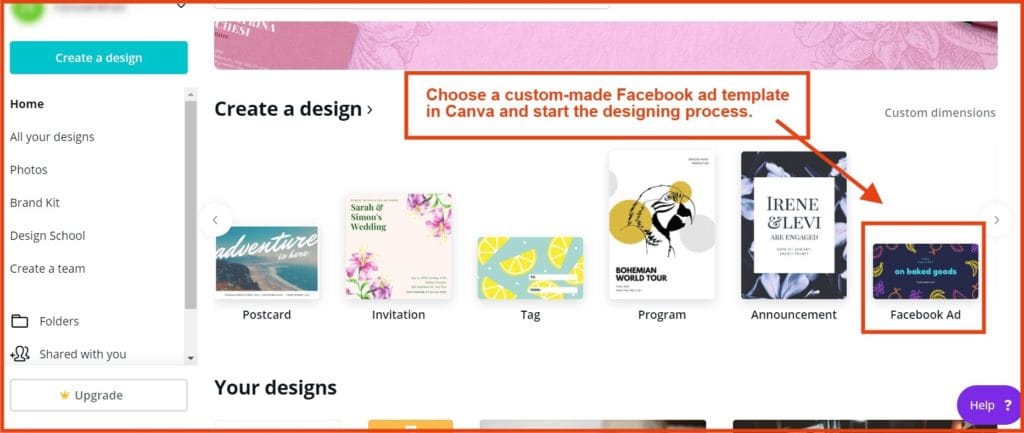 Now use the design options to create your Facebook ad. There are options to add pictures, elements, and upload pictures on the left side of the page.
Once you've finished designing your Facebook ad, feel free to download your ad design and move forward with your Facebook advertising process.
#4 Get Different Ad Design Variants Ready
Most of the Facebook advertisers who haven't had much experience in digital marketing and online advertising make a mistake: they only get one ad image designed for their ad campaign.
You might not want to get a single ad image designed and go for running your ad campaign. A lot of beginners make this mistake; they start off their Facebook ad campaign with a single ad design. It's important to have multiple options when it comes to ad images so that you'd A/B test, which you'd read in the next step.
Adespresso shared a fantastic example of multiple ad variants in their article. They showed multiple ad designs for Asana's Facebook ad campaign.
Businesses want to scale 10x and even more, but all of them don't succeed at Facebook advertising. No wonder your first Facebook ad campaign failed. The majority of advertisers' first attempts fail because they haven't figured it out yet. When you design multiple ad variants for the same campaign, not only do you get to see which ad variant works, but you also get experience for the next campaigns. You learn what works for your niche and the specific audience.
The best thing about Facebook advertising is that you could add multiple ad images for your campaign, which essentially shows the performance of every ad image you added.
Here are a few tips for designing multiple ad designs for the same Facebook ad campaign:
Try using different colors for all of your ad variants
Use different call-to-action in your Facebook ad campaign
Pay close attention to the colors ad designs and see which ones beat others in the performance
Different types of pictures and colors work for every industry; understand your target audience
Try out ad variants with text and without text
Use high-quality royalty-free pictures in some of the ad design variants
Ad copy must be different according to the design and picture
So having multiple ad variants would only help you improve your Facebook ad campaign.
#5 A/B Test to Analyze the Performance
A/B testing is a strategy of comparing two cases such as A and B and analyzing which works better than the other. For instance, you put up a banner for a product for 30 days, and then you change the banner with a different one for the same product for the next 30 days. It means you A/B tested two banners to find out which one performed better than the other.
A/B Testing may seem irrelevant in designing your Facebook advertising material, but it does have a role in improving your Facebook ad designing. Normally, when we A/B test in Facebook advertising, we try out different types of ads see what works for our business.
Klientboost shared how Mailchimp tested two versions of Facebook ads, which is fascinating to see. It validates our point of testing the designs and analyzing the performance.
Never hesitate to A/B test with your Facebook ad designs. Your campaign would only get better if you keep experimenting with different kinds of ad designs.
Besides adding multiple ad design variants, you'd analyze how a certain campaign performed with a specific type of ad image. People in every industry respond to colors, designs, and elements in different ways. Moreover, A/B testing isn't limited to Facebook advertising, but it's also an integral part of online marketing.
Businesses, entrepreneurs, and bloggers test out banner ads, website designs, call-to-action buttons all the time — they analyze how a certain text, CTA, color, or design works for them.
So don't neglect A/B testing the performance of different ad designs along the way.
Your Part
We laid out a 5-part strategy of designing Facebook advertising for you.
Always remember that it doesn't happen quickly for anyone. You may see some marketers who have been doing extremely well with Facebook ads, but you don't see that kind of results in the beginning.
It's because they have been there where you're right now; they also failed, tried, and learned lots of things.
Sure, designing a Facebook ad seems a 10-minute job, but in reality, it's a lot more than that.
You could waste hundreds of thousands of dollars in Facebook advertising if you don't have a solid ad design. On the other side, you could make a lot of money by spending a few bucks on a couple of ads because of the perfect ad designs.
It's your turn to respond to us and tell us something in the comments section:
Would you spend a little more time tweaking and improving your ad design after reading this article?
If you would, the mission is accomplished.
P.S. If you want to learn more about Facebook Marketing and Facebook Messenger Marketing,
I'm offering you an in-depth course on this subject with exclusive case-studies from the field of Jewellery business, Real Estate, Personal branding, Salon, Information Technology and much more.
Avail both these courses @ 2999/- instead of 9999/- !