Sri Lanka (formerly known as Ceylon) is an island nation in the Indian Ocean and is situated in the south of India. It is believed that as with the rest of the world, Sri Lanka Digital Marketing is always changing. Digital and social media marketing is gaining a lot of importance across the world. Sri Lanka is also not far behind.
Internet usage has grown at a significant rate of 20% to 25% every year during last 5 to 6 years in Sri Lanka. It is also believed that 63% of all Sri Lankan internet visits happen on a mobile device. Starting from mid-2016, the number of Facebook users in Sri Lanka increased from 4 million to 5 million and incidentally more women between the ages of 18-24 were on Facebook than men.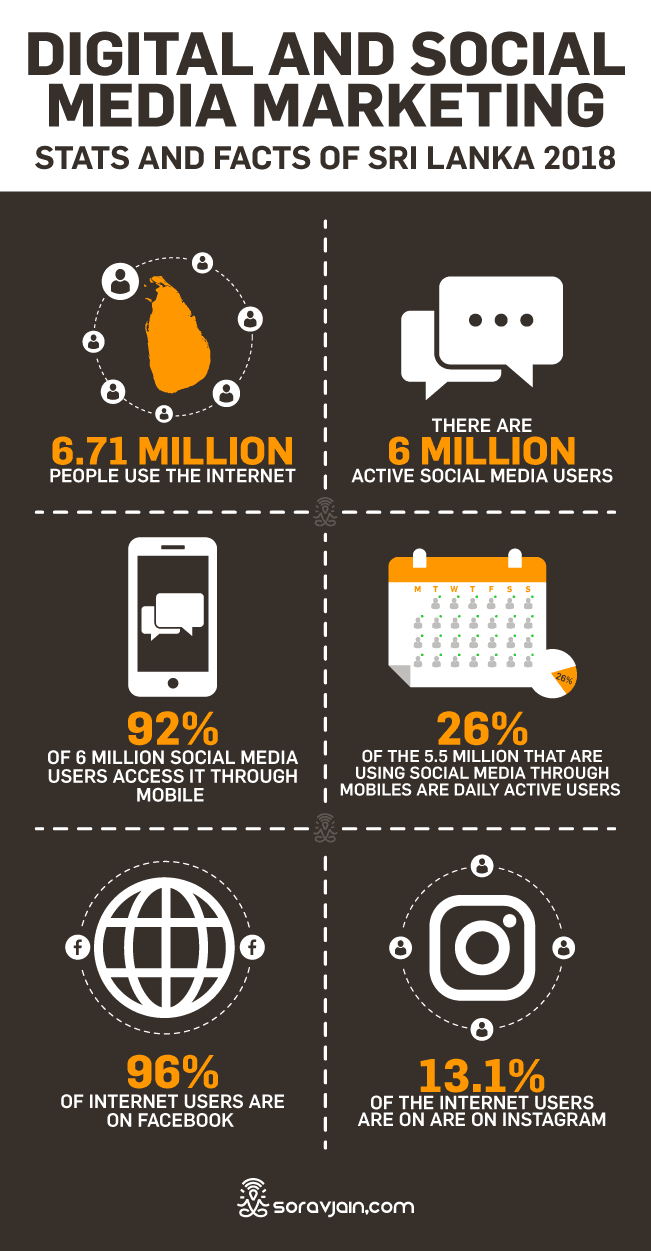 For a nation that has 20.19 Million population and growing, here are some of the facts and statistics about its internet and social media usage:
6.71 million

Users use the internet in that country.
There are

6 million

active social media users in Sri Lanka.
There are close to

27.38 million

mobile phone connections in Sri Lanka.

5.5 million

people are active mobile social media users.

32% of the total population

are internet users.

20% of the total population

are mobile internet users.

96% of internet users

are on Facebook as of February 2018.

14.6% are on Instagram

3.86% are on YouTube

as of February 2018.

3.85% are on Pinterest.

2.13% are on Twitter.

0.27% are on Google plus.

Web traffic based on device usage suggests that desktops and laptop usage have dipped

by 11% to 23%.

Web traffic based on device usage suggests that desktops and laptop usage have increased

by 5% to 76%.

Tablet usage has reduced by 23% to 2%.
With over

6 million social media users

, 29% are active users of social media.
Of the

5.5 million

that are using social media through mobiles, 26% are daily active users.
Of the

6 million Social Media users

, 92% of them access it through mobile.

68% of Facebook users

identify as male.

32% of Facebook users

identify as female.
When talking about Facebook's page post reach,

13.3% are using paid media

.
Average paid reach versus total reach is at

33.4% on Facebook

.
Average post reach versus page likes is at

9.4% on Facebook

.
There are a total of

880 thousand users

of Instagram.
Of the total population,

4% are active Instagram users

.

30% of all Instagram active users

are women.
Male users of Instagram constitute

70% of all active Instagram users

.

55% of the users of mobiles

have 3G and 4G data.

2% of the population shops online

or pays bills online.
The overall mobile connectivity index of Sri Lanka from a maximum of

100 points is at 61.06.

97% of businesses

feel machine learning based solutions are the future.

Data visualization

is the future in 2018.
Sharing is being done on different platforms like WhatsApp, email and other sources. This constitutes

84% of the information circulated.

46% of consumers

over the age of 55 primarily use dark social to share information, to protect their privacy.

19% of those

between the age of 16 to 34 share content using dark social.
A majority of the people use

Smartphone to research.

Micro-moments

will be on the rise.
A lot of

mobile first websites

will offer instant information to its customers.

Video advertising

will be the future with more people preferring to watch videos as short as 6-second ads.
Personalization is becoming increasingly important. People tend to respond more to

personalized information

rather than generic emails.
Overall, it is fairly obvious that digital and social media marketing has become ever so important now and is growing in its ability to influence users. So, it becomes that much more important to stay focused on the messaging and continue to use this as an important option. Additionally, it seems like particularly in Sri Lanka, this is going to be a force to reckon with and is growing very fast. So, as a business, if you are not tuned in to it, you will be left behind.