Internet technology is evolving and that has resulted in advanced advertising techniques. Businesses are making the most of this technology to reach their target audience. Many believe that the Digital Word of Mouth is taking the place of traditional ways of WOM. This research article published by Engagement Labs shows things shared in the digital world also becomes the topic of discussions In Real World (IRL).
This is a very interesting study that we should carry out in India amongst the urban crowd how URL content reaches to the IRL audience. Many a times, a thing that goes viral on Social Media gets covered by journalists of traditional channels which are the best example.
As per the report by Engagement labs, one in 4 conversations about brands in the US involves some reference to information seen online, and this doubling since 2008.
Every day for 10 years, a new random sample of 100 consumers — over 36,000 annually—reports have been derived on basis of the conversation with them across 15 broad categories of products and services, from cars and financial services, to beauty products and travel services.
5 facts the report reveals that can help marketers to understand the impact of digital content offline
Fact 1: Conversations that happen face-to-face have declined from 77% in 2008 to 72% in 2015 yet the vast majority of brand-related conversations still take offline. Share of social conversations is growing from 4% in 2008 to 9% in 2015 as it is the digital era.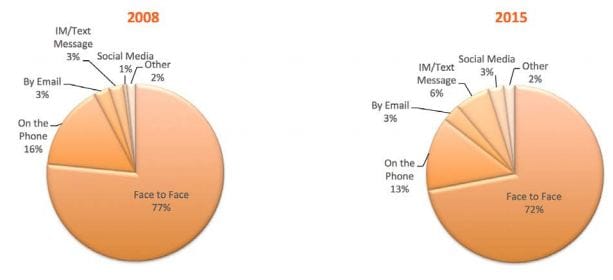 Fact 2: 24 percent of their consumer-related conversations refer to some type of digital content. That's half a billion conversations related to digital content in the U.S. every day.
Fact 3: Brand websites have been the most frequently quoted digital sources of content discussed in consumer conversations about brands, representing over 6.3% of consumer-related conversations, up from 4.4% in 2008.
Social media have also grown to 5.3% when compared to 1.3% in 2008. Indeed, every digital content source is growing, including online consumer reviews, paid internet ads, and mobile apps.
Fact 4: When it comes to digital content discussed offline, Asians and Hispanics lead the pack at 30 percent and 27 percent respectively, followed by fathers of children under 18, and teens themselves. Women and older consumers are the least likely to make a conversation referring digital content.
Fact 5: Categories are another aspect of digital content that are part of offline conversations. More than 1 in 3 travel and technology conversations involve people talking about information seen online; it is the most talked about category offline because of the increasing purchases done online.
With the rise of digital content as a topic of conversation, most of which still happens face-to-face, if you are only measuring the digital impact of any digital campaign then you are losing on the impact of conversations that happens offline about that digital campaign. Face-to-face conversations lead to digital content, which leads to more offline conversations, and ultimately a purchase. This bridges the online and offline divide.
Though these facts are based on US consumers, the study help us learn consumer behaviour and how these offline conversations help a marketer to achieve better results. What consumers see and talk about online also becomes fodder for face-to-face conversations.
This report brings to us a Total Social Strategy that includes both online and offline interactions of any digital content and maximizes the marketing performance. Therefore, brands must develop this holistic strategy that drives business outcomes. Marketers have the opportunity to create and design campaign that get people talking about their brand, both online and offline. The digital content can spark a tremendous amount of face-to-face conversation and reach a wider audience.