Recently, when I was in Indore, Madhya Pradesh for a meeting I made sure that I met Dr Raj Padhiyar, a fellow digital marketer and a thought-leader. With a Masters in Digital marketing from Ireland and doctorate in digital marketing from the U.S, he has given some amazing campaigns through his digital marketing agency Social Laddoo. His digital marketing training institute, Digital Gurukul has trained over 4850+ students, which is huge! It was awarded as Asia's best digital marketing institute by the IEA. So, when our conversation led to the rising demand for trained digital marketers in India, I asked him the reason for him starting Digital Gurukul. All he said was that it was started to impart practical digital knowledge and to deliver professional digital marketers with industry standards. Even I have contemplated a lot on this situation. There is a gap in the market for professional digital marketers and we need to fill that gap.
Digital Gurukul is a benchmark for digital marketing classroom training in India. They have very committed management that is open to students 24/7. This is something that not many training institutes offer. The whole idea of collaboration between Dr. Raj's agency and the institute is itself a great strategy for various reasons. Digital marketers are always learning and updating. Digital Gurukul students are projected to live projects through the agency. Most of their learning is through these live-projects. Let me tell you that, any digital marketing institute that does not offer live-projects to its students isn't doing justice. Hands-on training is what matters.
Indore is one of the fastest-growing cities in India. Surely, within the next few years digitization is going to explode in Indore. So, it is going to open a humongous scope for job opportunities in Indore. As far as digital marketing goes, at present, there are several niches you could acquire expertise in. One of the unique aspects that I noticed in Digital Gurukul is that you can get a clear perspective on what is going to be your niche.
Learning digital marketing is a continuing process. You need to keep track of trends and new tools. Skills you can acquire but how will you stay updated? This is one of the perks of joining a classroom training institute. You build a community of digital marketers.
'At Digital Gurukul students are given access to a lifetime supply of digital knowledge'. – Dr. Raj Padhiyar
Here's a list of some of the practices that I found intriguing at Digital Gurukul:
— Digital Gurukul is a place where you can get hands-on project-based and practical based learning.
— Students are given time to discuss on topics and debate between themselves about various digital marketing topics.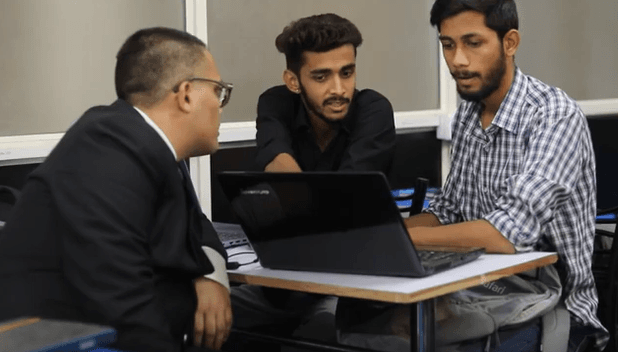 — Completely based on comprehensive modules that are prepared by industry experts you have a complete understanding of all the topics both theoretical and practical.
— Digital Gurukul offers lifetime access to all of these modules' presentations and videos. This is a rare opportunity that is exclusive to this training institute.
Apart from their exhaust module they offer 9 certifications such as:
AdWords Search
AdWords Display
AdWords Mobile
AdWords Video
AdWords Shopping
Google Analytics
Inbound
Email Marketing
Certificate of Completion
— They offer special 1-month Programs for Google AdWords, SEO, Website, Social Media Program. They have curated these 1-month programs for business for businesses and startups.
— They have a one-of-a-kind research library that is filled with digital marketing books and research papers from all over the world. Students are given access to this library 24/7.
— They have an in-house hostel and a mess facility if you want to get full-on digital learning mode.
–Digital Gurukul has a fully functioning placement & entrepreneurship cell.
— They also have franchise options. At present, they have nearly 130+ inquiries for franchise across Asia.
— They have an association with several reputed colleges such as IIM Indore, IIT Indore, NMIMS, DAVV, etc.
— Students are taken for educational trips.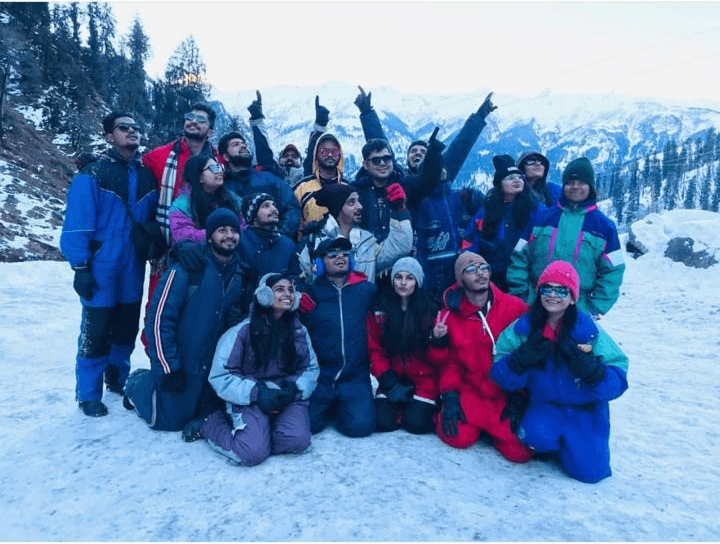 — More often there is a guest session by an industry expert in order to give industry exposure to the students.
— Digital Gurukul students are taken for industry visits to various agencies.
Courses & Module- 
They have a wide range of courses that aren't offered at any other digital training institute in India. All of their courses are directly in relationship with the current marketing trends. Take a look at the entire module:
A. Foundation in Digital Marketing (6 Modules/ 1.5 Months)
Internet Marketing – Evolution with Digital Branding & Marketing Mix
Search Engine Optimization
Email Marketing
Search Engine Marketing
Digital Consumer Behavior
Mobile Marketing & M-Commerce
B. Basic Diploma in Digital Marketing (15 Modules/2.5 Months)
Inbound Marketing
Consumer Information in the Digital Age
Social Media Marketing
Content Marketing
Google AdWords
Photography & Writing in the Digital Age
Website Creation Overview
Digital & Social Media Trends in the 21st Century
Digital Story Telling.
C. Advanced Diploma in Digital Marketing (25 Modules)
Digital Display Advertising
E-Commerce Marketing
Google AdSense & Blogging
Affiliate Marketing
Google Analytics
Influencer Marketing
Politics & Social Media (A Detailed Perspective)
Video Marketing
Live Streaming
Customer Relation in Online Environment
D. Master Diploma in Digital Marketing (38 Modules)
Integrated Digital Marketing Strategies
Online Lead Generation Techniques
Ethics & Social Responsibility in the Digital Age
Online Guerilla Marketing
Digital India Campaign & Impact Analysis
Online Reputation Management
Viral Marketing
Freelancing Techniques
Digital Campaign Management
Digital Marketing Tools
Online Customer Acquisition
Artificial Intelligence & Machine Learning
Facebook Analytics
If you could see there are some distinctive topics in their module. Digital customer behaviour, Photography & writing in the digital age, Digital storytelling, politics and social media, and Ethics a social responsibility in social media, are insightful and also necessary for a digital marketer.
— Take the topic Digital customer behaviour for instance, it is as important as learning about the technical aspects. You would have to have extensive knowledge about how the customer behaves to market stuff to them. I would strongly recommend that this topic be a mandatory part of the module in every digital training institute.
What will you learn under this topic at Digital Gurukul?
What consumer behaviour is, how digital media is changing people's behaviour; customer engagement; how does business promotions reflect on the audience; multi-channel communication and customer behaviour towards it & identifying and mapping digital consumer's journey.
— Digital Story Telling, one of my favourite part of being a marketer is telling the brand's story. Especially when you are marketing on various social platforms, your result is completely dependent on how you communicate to the audience. So, it is not only enough if you know the platform but also important that you know how to efficiently market in it.
What will you learn under this topic at Digital Gurukul?
What is digital storytelling; why is storytelling important in Social media; ways to use digital storytelling in Social media; Framework for the digital storyline & Examples using brands.
— Photography & writing in the digital age: Take any social platform, everything is visual. It's either an image or a video. So, as a digital marketer, it is important to know how image content works.
What will you learn under this topic at Digital Gurukul?
Why is photography important; how to reach images on social platforms to a maximum number of audiences, photography and writing tools & basics of content writing.
— Politics and social media: Politicians these days prefer young minds to run their digital marketing campaigns. It is of huge scope these days! Though it seems challenging and interesting, it is a sensitive subject. Do's and Don'ts of social media marketing associated with politics is the first thing that you should understand before starting to perform.
What will you learn under this topic at Digital Gurukul?
Students are tutored using case studies of successful political campaigns.
— Ethics a social responsibility in social media: Anything that we produce digitally should be of value and within the regulations of the society. Adhering to principles is important especially when you are performing for a client.
What will you learn under this topic at Digital Gurukul?
Brand reputation management, ethical practices and unethical practices & Employee responsibilities for each role.
Some of the other topics that I found to be interesting- Consumer Information in the Digital Age, Digital & Social Media Trends in the 21st Century, Video Marketing & Live streaming, Online Guerilla Marketing, Viral Marketing and Artificial Intelligence & Machine Learning.
The entire module is designed with a futuristic perspective. For Digital Gurukul's detailed module and topics check here: Module
Training process-
Their training process is also a fascinating one. They counsel students based on the level of knowledge they hold in digital marketing. Students journey begins at beginner level – they are provided with not only theory but intense practicals, assignments, case study. Evaluation of students are done through In-house examination conducted by Digital Gurukul. Once you complete the entire journey – you become an expert in Digital Marketing & awarded "Certified Digital Marketer". This is the most intense classroom digital marketing training I ever saw!
Digital Gurukul students; what do they have to say?
The journey of Chahat & Pooja at Digital Gurukul, an interesting conversation.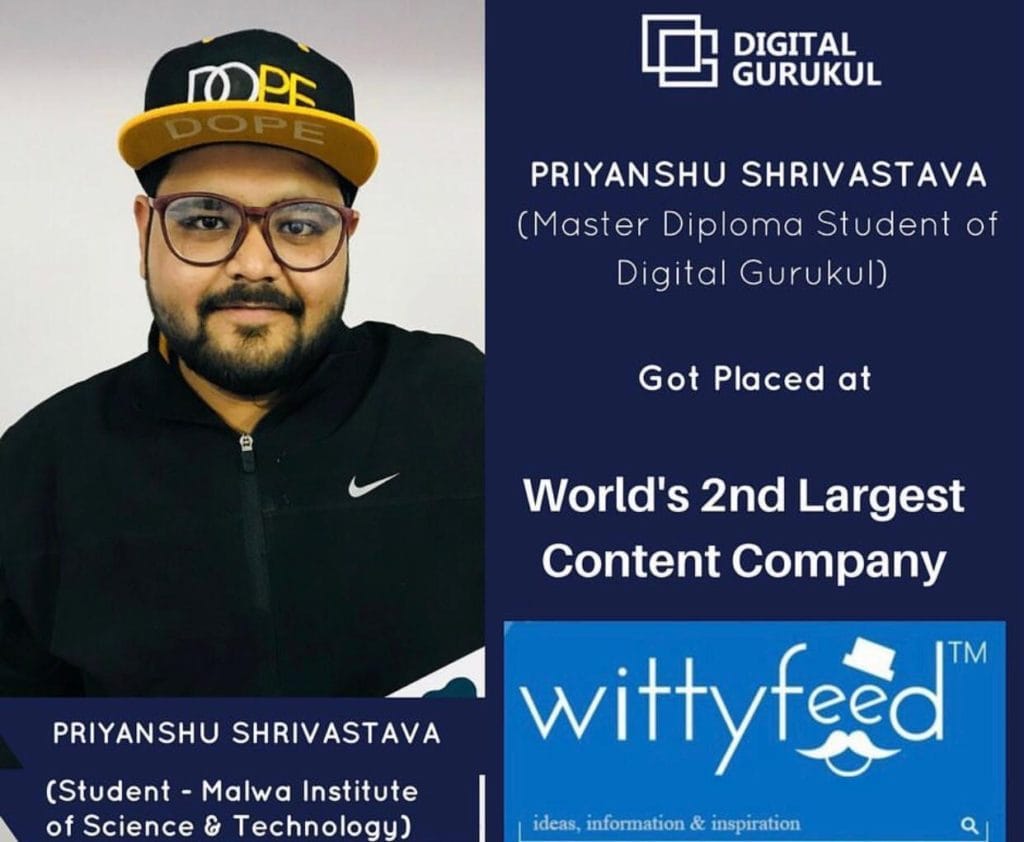 Social presence-
# Find-below their Instagram page overview, they put up interesting posts and stories not only about their training institute but also relevant digital insights.
# LinkedIn account of Dr. Raj, where he posts updates and trends in digital.
# Facebook page of Digital Gurukul; to know more about the culture at Digital Gurukul visit the page.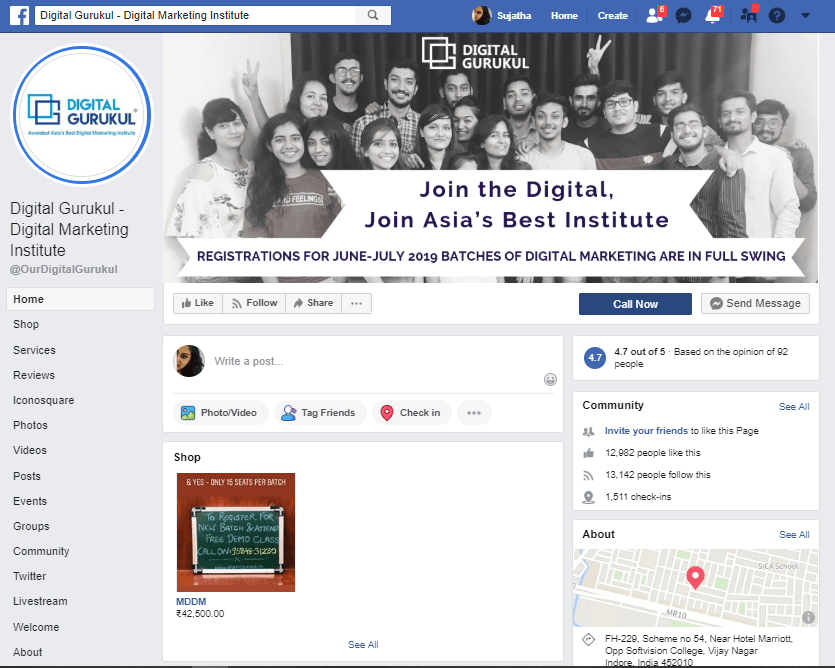 Eligibility- 'Anyone who is interested in or wants to pursue a career in Digital Marketing'. – Digital Gurukul.
They only have 2 criteria; one is passion and the other is creativity.
Fees- Digital Gurukul's fees structure.
Note: You can take their entrance test, DSAT (Digital Gurukul Scholarship cum Admission Test) to get Scholarship up to Rs 2 Lacs.
Internship- Research-based internships
Placement- 100% placement assistance
Recognition- IAMAI (Government of India) recognized digital marketing training institute
Contact- 9584831230 / 9022888883
Email- info@digitalgurukul.in
Address- Office Add. – FH-229, Scheme No.54, Near Hotel Marriott, Opposite Softvision College, Vijay Nagar, Indore-452010
Working Hours- Mon-Sat: 9:00am – 20:00pm
Sunday: 11:00am – 16:00pm
Website- Digital Gurukul