Digital Marketing and Social Media Marketing have been undergoing a big change in recent times, the world over. More people are moving online for the information. Decisions are being made by customers using social media and online resources, rather than just seeing ads. Digital is also giving customers the flexibility to consume what they are interested in.
With the changing trends, even brands and organizations are spending more resources on channelling their advertising online and to make information more relevant and focused on customers. Organizations, as they continue to invest in traditional media, are further creating digital marketing strategies and learning to manage their social marketing better. These trends are no different for the South Asian country of Bangladesh that is located to the east of India, above the Bay of Bengal.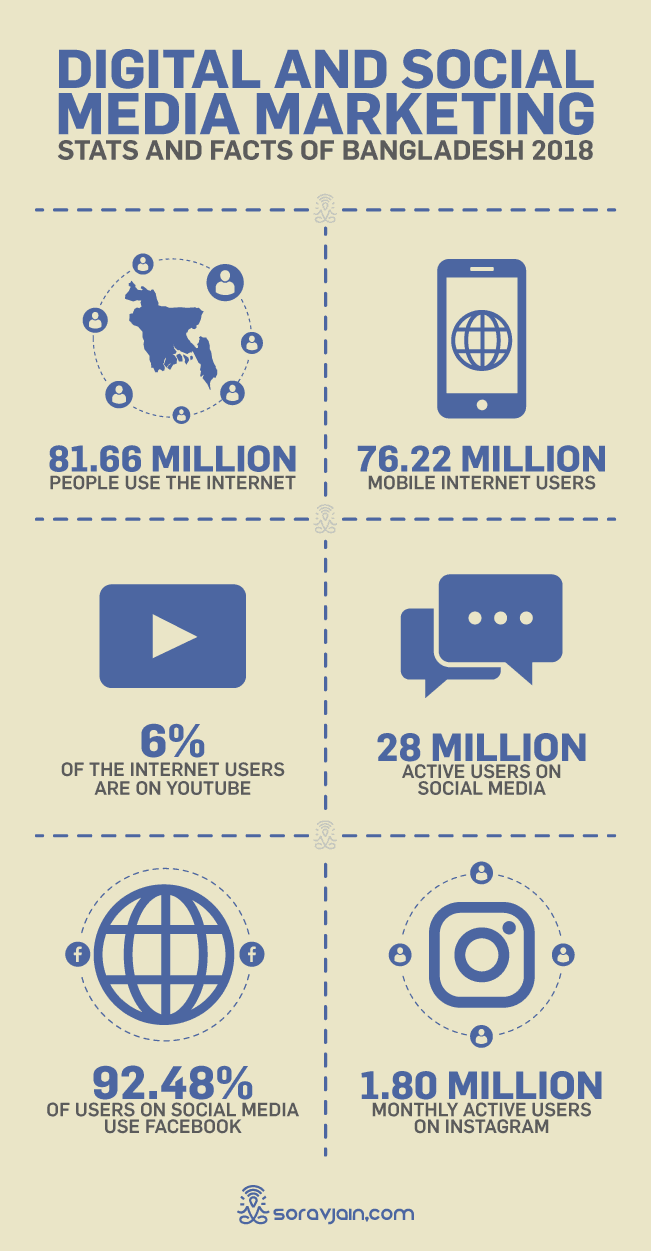 Over the past several years, digital and social media marketing has gained significant prominence. More and more brands are now getting routed to digital platforms right from Facebook to Instagram and other platforms. For digital marketers, it becomes important to keep track of the latest social media facts to make important decisions. That being said, here we have compiled the social media stats, facts and figures from Bangladesh in 2018 that should matter to digital marketers in making!
Here are some of the facts and statistics of Bangladesh's digital and social marketing growth in 2018.
Of the total population of 166.5 million, 36% are urbanized population.
There are close to 81.66 million internet users.
The internet usage penetration is 49% (81.7 Million).
There are over 30 million active social media users in Bangladesh.
The active social media penetration is at 18% (30.5 Million).
The mobile connections are at 83% (137.2 million).
Amongst the social media users, 74% identify as male and 26% identify as female.
The overall mobile connection penetration is at 83%.
There are 28 million active users on social media, access it through their phone.
The total number of active mobile Internet users as of now is 76.22 Million.
Active mobile social media user penetration is at 17% (28.0 Million).
There has been over 27% increase in internet users since January 2017.
There has been an increase of 15% active social media users since January 2017.
There is over 14% increase in mobile usage.
There has been over a 27% increase in active mobile social media users.
Laptop and desktop users have increased by 13% to 25%.
Usage of mobile phones is 74% and is expected to increase.
Tablet use has come down to 1% and reduced by 14%.
48% users in social media use Facebook. Facebook continues to be the most important platform for social media and digital marketing.
On an average, the engagement rate for a Facebook page post is 4.16% in Bangladesh.
Videos are becoming increasingly important to digital marketers also using videos to spread the word. This explains the 6% users that are on YouTube and it is forecasted to increase.
On an average, engagement rate for Facebook Video Posts is 5.44%
93% of the users are on Twitter.
66% of the users are on Pinterest.
17% of the users are on Google+.
13% of the users are on LinkedIn.
80 Million Users are active monthly on Instagram, 25% are female, while 75% are male.
3% of women prefer making payments online, while 0.5% are the men making internet payments in the country.
There is an increasing growth in the number of digital media organizations in Bangladesh because of the increasing number of people joining online.
Traditional forms advertisement in Bangladesh is been taken over by social media ads and will continue to as the year unfolds.
Digital technologies are slowly changing the fabric of our lives. Whether it is how we communicate, what information people consume, or how they consume the information is constantly changing. This trend promises to only grow and expand in the future. Product and service companies are changing how they are using the online platform and engaging more with their audiences. This is only bound to grow.