Accelerate your career with new-age marketing skills in the digital world. Digital marketing has become a buzzword recently. Digital marketers have ample knowledge of multiple online tools and platforms. If you study digital marketing skills thoroughly, you can start an online business, become a digital marketing consultant or begin a freelancing business. If you want to become a digital marketer, you will only need to practice the essential online techniques, create a portfolio, and you'll be good to go. The digital marketing field is amicable and provides a great learning experience. The top digital marketing institutes offer various digital marketing courses in Guwahati.
Undoubtedly, a professional course drives a student towards a bright career. A digital marketing course is the best choice for both short-term and long-term prospects. Digital marketing is one notable field in the world today, with tons of high-paying jobs available for skilled candidates. According to the reports, the scope of digital marketing in the Indian internet industry alone will be worth $160 billion by 2025. Does it sound too theoretical? Let's understand it from a practical point of view. 
Also Read: Digital Marketing Career in India
By 2021,2 million new digital jobs are expected in the U.K alone. You can become an agile and versatile professional in digital marketing due to the scope and benefits it has provided. The speed of digital marketing lends itself to experimentation, and there is plenty of room for day-to-day creativity. Future- proof your career with digital marketing to enjoy fast-paced growth and gain a competitive edge. Just go for the digital marketing courses in Guwahati offered by top digital training institutes and become one of the most competent professionals in this field.
Online Digital Marketing Course By Digital Scholar

If you are looking out for the best online digital marketing courses, we suggest you, Digital Scholar, Chennai. It offers various courses that provide a competitive edge to students as it is being offered by industry experts and tutors, which provides the best tutelage to students and professionals. We provide three months of comprehensive training to students, 100% placement assistance, and live project experience. We offer personalized resume feedback, mock interviews, best internship opportunities, and three industry specializations.
Courses offered:
Advanced Program in Digital Marketing
Online Live Digital Marketing Course
Digital Marketing Course Highlights
100% Internship guarantee by echoVME Digital.
4+ LIVE projects.
100% Placement assistance with average salary hike of 110%.
International freelance marketplace forever.
18+ Advanced Modules including copywriting, affiliate marketing and ecommerce Management.
Affordable Fees
2,000 Rs advertisement budgets
Free domain & hosting for 1 year.
Assured internship cashback
25+ Certifications
Most intense modules at half the price
Learn from world's best digital marketing influencer, Sorav Jain
Harvard-Style case-studies
National & international trainers
Become an international freelancer with this course
Learn complete automation
Google Reviews and Ratings
1613 reviews and 4.9 average ratings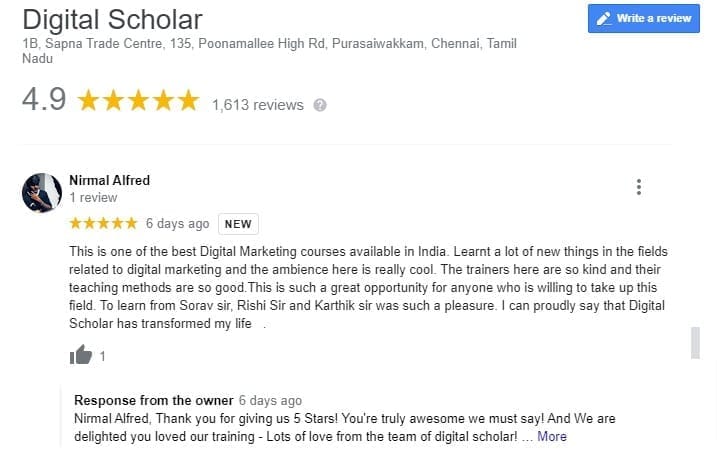 👆 3 Months advanced program in digital marketing course details by Digital Scholar
List of The Top 10 Digital Marketing Courses and Training Institutes in Guwahati
1. Nextop Academy
It is one of the most renowned digital marketing institutes offering advanced digital marketing courses in Guwahati with the latest reference materials. They focus on job-oriented programs providing in-depth knowledge of digital and social media marketing, analytics. It has won several awards for its leadership for India's most promising digital marketing agencies. The course helps understand all the core elements of social media planning, digital marketing tools, and techniques. They offer 100% placement assistance and offer preparation training for different certification exams. After successfully compiling the course, they provide an industry-recognized certificate with a star badge to students. The earned badges will help business owners or organizations to get access to portfolios directly & can contact directly for interview sessions.
The students also learn soft skills training, corporate etiquette advice, and effective resume building. They also offer an exclusive online study portal and doubt clearing sessions, and regular evaluations to test the skills.
Course Certifications
Google Awards Certification exam
Google analytics exam
Hubspot Certification exam
Facebook Certification exam
Course Features
120+ hours of live classes
100% Placement assistance
Complimentary three months assistance and training from experts
Access to leading online video training software.
Fundamentals of Marketing
Website Development
Google My Business Optimization
Email Marketing
Advanced Content Marketing
Advanced Search Engine Optimization
Youtube Video Advertising
Advanced Search Advertising
Social Media Optimization
Advanced Analytics
Conversion Rate Optimization
Online Money Marketing
Course Curriculum
B2B VS B2C marketing
Introduction to marketing
Growth of DM
Understanding of digital marketing channels
GMB Optimization
WordPress installation
Conversion tracking analysis
E-commerce SEO
Ad creation
Campaign setup
Mobile landscape in India
Ecommerce analytics setup
Address: 3 rd Floor, Borah market Complex, Zoo Road, Guwahati Assam 1024
Phone Number: 08876 74 1951
Website: www.nexopacademy.com
2. Digiperform Institute
Aimed for students, professionals, and business owners, it provides the best digital marketing course in Guwahati. They provide Live-Classroom Training in Guwahati to enhance student's digital marketing skills by getting one of the most valuable certifications in the industry for a better career and job. The advanced digital training program offers intensive training from fundamentals to advanced stages in digital marketing with 12 essential models. Specialized training in SEO, SMO, and online advertising provided by experts enhance student's knowledge. .Students get lifetime access to the course. They have an award-winning management system that offers up-to-date reference materials, exercises, and a well-crafted curriculum. They provide a holistic understanding of the digital marketing domain, its tools, and its techniques.
The training program starts with 12 essential digital marketing modules followed by the Specialization programs in Search Engine Optimization, Online Advertising, and Social Media Marketing. Additionally, we also have 2 Mastery programs in Digital Sales Optimization, Online Earning through Affiliate Marketing, and Freelancing.
Current Course: Advanced Digital marketing course
Course Training Module
Module 1: Introduction to Online Marketing
Module 2: How To Plan a Digital Marketing Campaign?
Module 3: Digital Banner Designing
Module 4: Ebooks Publishing
Module 5: Video Creation Strategy
Module 6: Youtube Marketing
Module 7: How To Generate Leads Online
Module 8: Email Marketing
Module 9: Building Your Website
Module 10: Web Analytics & Traffic Reporting
Module 11: Inbound Marketing
Module 12: Web Content Writing
Course Curriculum
Digital marketing essentials
Lead generation
Website building
Inbound marketing
Content writing
Online advertising
Google ads
Keyword planning and research
Customer persuasion science
Personal branding
Influencer marketing
Freelance marketing
Course Mastery
Sales Optimization- 6 modules
On; in learning- 5 modules
Address: Zoo Road, Tiniali Bus Stop, Hriday Ranjan Path, Above Central Bank Of India, Near Decora Vivah Bhawan, R.G. Baruah Road, Guwahati Assam 781003 
Phone: 09706 91700
Website: www.digiperform.com
3. IIM skills Institute
It is one of the leading digital marketing training institutes that offers the best digital marketing courses in Guwahati. It has a well-crafted curriculum comprising different components in digital marketing. It provides training for master certification examinations. It offers premium courses for rewarding careers. Each course taught by industry stalwarts, experts, helps in developing real-time implementation skills during the course. They have trained 14,300 professionals from 30 countries with 2500 training programs. The courses designed at IIM skills are industry-demand skills to compete with global requirements.
Current Course: Digital marketing master course
Course Duration: 3 Months
Course Fee: INR 29000
Course Training Module
Search Engine Optimization
Content Writing
Email Marketing
Google Adwords
Micro Video Marketing
Affiliate Marketing
Social Media Marketing
Web Development
Hands-On Assignments
Course Curriculum
Search Engine Optimization
Search Engine Marketing
Email marketing
Inbound marketing
Affiliate Marketing
Video Marketing
Web Analytics
Integrated Digital Marketing Strategy
Course Features
80 hours of comprehensive Digital Marketing training
Live online interactive classrooms
120+ hours of assignments and 60+ hours of live training
Phone:  92110 99503
4. Online marketing classes Institute
It provides the best practical oriented digital marketing courses in Guwahati. They have an experienced faculty that has more than ten years of experience in the digital marketing field. They train the students with updated reference materials and case studies to gain a great understanding of digital marketing.
Course Features
Best quality training in digital marketing courses,
Free demo class
Google certified trainer who offers the best training
Course Training
Digital Marketing Starter Online Training is of 2 months duration with 100% job assistance and costs Rs 25000
The Digital Marketing Professional Online Training is the most popular and is for three months with job assistance and costs Rs 30000
Another course is the Digital Marketing Classroom training at Guwahati, which is three months and costs Rs 30,000.
Course Curriculum
Introduction To Digital Marketing
Google Ads
Social Media Marketing
Search Engine Marketing
WordPress Content Marketing
Google Ads And Terms
Search Campaign
How To Create Display Campaigns
Video Ads And Shopping Campaign
WordPress Fundamentals And Uses
WordPress Development
Creating A Website Facebook Marketing
Landing Page Creation
Freelancing
Quora Content Marketing
Phone: 8527591043
Address: H.No. 5, Rodali Path , Jonakpur, Kahiliapara, Guwahati 781019
5. Digi Adzo Institute
It is a pioneer and a leading digital training institute in Guwahati. It provides classroom and online training to students across India, giving the best quality learning experience. It is regarded as the best professional course, understanding the pivotal importance of digital marketing in today's era. It helps teach students, professionals the art of digital marketing skills and their successful implementation in all fields.
Course Features
100% Placement assistance
150 hours of training excluding assignments
Faculty experts with more than six years of experience
Opportunities to work with corporate houses.
Certification eczema preparation
Ample projects
Post-placement assistance
Course Module
Google AdsFundamentals
Search advertising
Display advertising
Mobile advertising
Google Analytics
Course Curriculum
Fundamentals of digital marketing
SEO
Search engine marketing
Google Analytics
PPC and keywords
Brand building
Email marketing
Off-page and on-page optimization
Freelancing
Digital Marketing Integration.
Phone: 098 8703 9481
Address: 3rd Floor, Gulshan Grand Building, GS Road, Near SuperMarket, Dispur Guwahati Assam 781006
6. NIHT Institute
It is one of the leading digital marketing institutes in Guwahati, which offers the best digital marketing courses with an industry-validated syllabus. They offer several courses like web development, creative designing, video editing, advanced analytics apart from the digital marketing courses. The digital marketing master course covers 14 modules with an extended 220 + hours of digital marketing training. They provide placement support and post-placement assistance. Essential case studies included in the course module are to understand the digital marketing concepts better. They have trained 20,000 students and have conducted 5500 +days of learning programs.
Course Training
Expert instructors
Live projects
Placement support
Case studies
Course Content
Fundamentals Of Digital Marketing
Search Engine Optimization
Search Engine Marketing
E-commerce Marketing
Advanced Analytics
Virtual Reality and Live streaming
Programmatic Advertising
Artificial Intelligence
Usage In Digital Marketing
Email Marketing
Brand Building
Marketing Automation
Introduction To Conversion Rate Optimization
Phone:075 7809 3931
Address:1st Floor, Uma Building Bora Service Bye Lane Guwahati Assam 781007 
7. IIDE
It is India's leading digital marketing institute offering the best courses in .Guwahati. Awarded as "India's Best Digital Learning institute" by Indian Education Congress and Awards 2020, IIDE is now going global and raising the bar of imparting education all over. IIDE offers a comprehensive Online Digital Marketing Course with 13+ Certifications with an advanced teaching methodology. Each course taught by industry experts helps students gain insights into the corporate world.
Course Duration: 3-4 Months
Course Fee: INR 67,795
Course Highlights
40+ Hours of Video Learning
70+ Hours of Live Learning
20+ Industry Tools Mastery
7 Modular Assignments
13+ Certifications
8 Brand Projects
1-on-1 Mentoring
1 Final Project
100% placement assistance
250 + Hiring Partners
Course Curriculum
Digital Scenario in India
E-Commerce Marketing
Search Engine Optimization (SEO)
How to Monetize Your Blog
Search Engine Marketing (SEM) – Google Ads
Content Marketing
Advance Content Strategy
Design Essentials
Social Media Marketing
Influencer Marketing
Brand Reputation Management
Web Analytics
Phone: +91 7304442840
Email: connect@iide.co
8. Datacom IT institute
It is one of the famous leading digital training institutes In Guwahati. It provides courses in programming, web development and design, operating system administration, project-based software development courses. The Institute has conducted more than 75 batches, and 1200+ of their students and candidates have ventured out into freelancing and building their very own startups.
Course Duration: 4 Months
Course Training
Industry expert professionals
100% Practical learning experience
Lifetime access to the course
3500+ Trained professionals
800+ Successful placements
Course Curriculum
Digital Marketing Fundamentals
Website Planning And Structure
Facebook Marketing
Re-Marketing Strategies
YouTube Video Marketing
Email Marketing For Business
Lead Generation And Automation
E-commerce and Payment Gateway
Google Adwords And PPC
LinkedIn and Twitter Marketing
Google Analytics And Webmaster Tools
Search Engine Optimization
Affiliate Marketing
Google AdSense
Case Studies and Practical Assignments
Phone Number: 0986 4032 319
Address: Ganeshguri, GS-Road, Guwahati, Assam – PIN: 781006
9. Success Intensity digital marketing institute
It is one of the famous digital marketing institutes offering advanced digital marketing courses in Guwahati. The advanced certification is for three months for weekdays and six months for weekend batches. They are also adept at providing solutions in Facebook ads, Google AdWords, Instagram, Facebook Messenger, Twitter, LinkedIn.Many live projects work on and get practical hands-on learning experience implementing and executing Digital Marketing knowledge to real-time assignments. They provide full job placement assistance and a post-training assistant by giving valuable tips, techniques, and tools to create successful campaigns for business houses.
Course Fee: INR 45,000 – Advanced Course
Course Training
Advanced Certification in Digital Marketing
Diploma in Digital Marketing course
Placement assistance
3 Months internship opportunities
Course Curriculum
Fundamentals Of Digital Marketing
Future And Opportunities Of Digital Marketing
SEO Basics
Search Engine Marketing Basics
Social Media Marketing Basics
Email Marketing
Inbound Marketing
Online Profile Creation And Management
Customer Management and Selling Tactics
Freelancing
Content Marketing
ADDRESS: No 2 Ml Barua Road Near Lakhi Petrol Pump Silpukhuri Guwahati Assam 781003
CONTACT: 0863 876 4095
10. AIDM Institute
One of the known digital marketing agencies in Guwahati. They offer advanced SEO training and all branches of Digital marketing training and also provide certificates of Diploma, Graduate as well. They offer three courses – Certification Programme In Digital Marketing (CPDM), Professional Programme In Digital Marketing (PPDM) & Advanced Programme In Digital Marketing (APDM).
Course Curriculum
Search Engine Optimization
Keyword Research
Google Webmaster & Analytics
Social Media Optimization
WordPress
PPC Advertising
Campaign Management
Google AdWords
Bing Ads
Video Marketing
EMAIL: guwahati@aidm.in
Any best digital marketing courses missing from the list which meet the quality criteria? Do let us know.
The above-listed courses help in providing an analytical edge to students. They are the best digital marketing courses in Guwahati. It helps in accelerating the career of students who want to excel in digital marketing. They offer a practical-oriented experience to students to implement their skills in live projects. Digital marketing is a lucrative field with so many opportunities. So have a great start with the digital marketing courses, which help enhance your growth in the digital marketing field.