How well are you doing in your SEO? Every digital marketing professional needs to do their timely SEO analysis in order to tweak their content marketing strategies accordingly. There are several SEO tools and in this blog post, I am attempting to list all the FREE SEO Tools that can help you become a good SEO professional. The ideal analytical tool should be able to see the performance of off-page factors like link-building and social media engagements. With these analytical tools, you can understand how visitors and search engines are grading your website. Let us explore 20 SEO tools in this article:
List of Top 20 Free Digital Marketing Tools
Google Analytics is a free tool that helps you to track visitors behavior on the site.  This  SEO tool helps you to track which webpage is performing well on a monthly basis and which keywords are boosting website traffic. By using this tool, you will be able to develop a new digital marketing strategy or improvise on the existing strategy. It will also enable you to decide on distributing your monthly budget to the top performing digital marketing channel. Thereby achieve the ROI. This free tool is useful for you to make a comparison of the current figures with the historical data to help you analyze the impact of your digital marketing strategies implemented in the past.
There are several metrics available in this tool that provides valuable figures on the website traffic flow and lets you know of which areas to make changes. There are many important metrics that you can use for your website analysis. Here are the top 10 metrics that you should use daily for your website analysis.
Visitor Conversions – Google Analytics tool allows you to set a conversion metric that helps you to analyze how your website is performing so as to see a new visitor returning to your website after that visitor's first visit. This metric gives you an idea of what triggered a visitor to come back to your website again. You will be able to determine the reason that a visitor spent a long time browsing your website. So that you can make some required changes on the User Interface on your website. This helps you to see an improved time spent by the returning visitor and a possible conversion happening for your business. The conversion metrics is an ideal base for you to analyze the visitor's behavior coming to your website through various digital marketing channels.
Traffic Source – You receive website traffic data on a monthly basis in Google Analytics. But you would like to know through which source that the visitors have come to your website. In this metric, you get a breakdown of which digital marketing channel has contributed the most for the traffic out of the overall website traffic received for a particular period. This metric lets you decide on whether or not to increase the budget for ad words campaign, work on adding competitive keywords and removing non-performing keywords for your SEO campaign and looking at ways to improve your social media shares for every post that you publish on Facebook, Twitter, Linkedin and Instagram. Within this metric, there are secondary dimensions like behavior, acquisition, custom variables and more where you can get an idea from which location, devices used, landing pages and the exit page visited by the user.
Tracking Active Users – In the Audience section of the Google Analytics tool, we have the active users section. Now, you would not like to be a 'One Time Wonder' would you? In other words, you just don't want to see your website hitting the magic number of visitors browsing your website just for a day and not returning back later. That is why this metrics comes into the picture. It gives you an idea as to how much percentage of visitors land at your website more than once over a selected period of time.
Behavior Flow – Many visitors come to your website through a landing page. But there might be a tendency to bounce away from the website after spending some time on a particular page. It is important to identify the reasons why a visitor is not willing to navigate to other web pages before they go to the purchasing cart. This can be analyzed in the behavior flow of the Google Analytics tool. This metrics shows which are the low performing pages. So that you will be able to modify that particular page and make it more user-friendly.
Goals Setting – Google Analytics tool allows you to set your digital marketing goals for every month. This can be done by defining a goal in terms of users visiting the 'Thank You' page or by visiting a particular product or service page. You can set a Goal by going to settings and click on to the Goals section. You should set up the parameters and give the landing page along with the UTM code. This would enable Google to identify through which campaign a visitor has landed to your website. This metrics gives you an idea as to which particular digital marketing campaign is working for you.
Real Time – This is one of the metrics where you can track live of the number of visitors browsing through your website at the given time. Also can trace from which location are they visiting and also through the traffic source.
Bounce Rate – From an optimization point of view, Bounce Rate is one of the important metrics in determining how long a user is spending in your website. As per the SEO best practices, if the bounce rate is 42% or less than that means the website is doing well. Otherwise, the website needs an overhaul by improving the loading time, better user experience and quality content. So that a visitor spends more time in the website. In Google Analytics tool, you will be able to check out which pages or blog posts are receiving more bounce rate.
Search Console – In 2016, Google had integrated its Google Search Console (previously called Webmaster) with its Google Analytics. In this metrics, you can analyze the top performing landing pages, along with the device used to visit your website and also the keyword used. This metrics enables you to get an idea how your website is performing in the organic search result.
Average Session Duration – From your website's relevancy perspective, a session metrics is one of the key indicator of how good your website is for a visitor. If a visitor spends longer time and navigates to different pages then that means the website is relevant to the user where he is able to get the information that he is looking for and also there should be a call to action button. So that it becomes easier for the visitor to purchase your product or service.
Page Views – In Google Analytics, this is probably one of the most important metrics that needs to be followed. This metrics shows the top performing web pages with the most number of views. This helps you in optimizing the low performing pages by either adding the right keywords for the title tags and meta description or by modifying the web page all together. So that it becomes user friendly and more time will be spent by the user.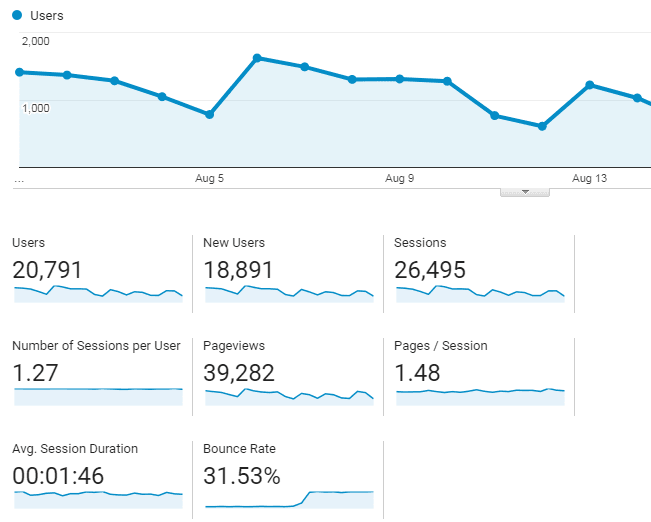 While Google Analytics provides you the numbers, Google Search Console will also give you great insights into people who search for the website and how Google interprets your website. It tells the indexability and crawlability of your website and search position and visibility.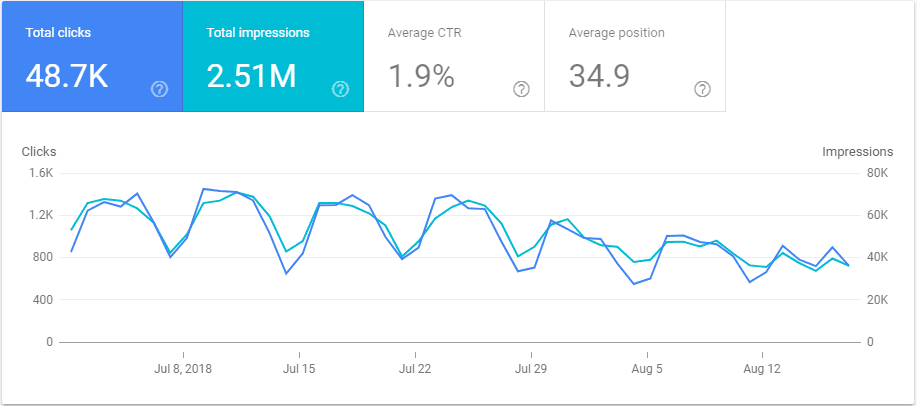 This is a great tool to check the page loading speed of your website. This is another major factor that affects your ranking by the search engines. You can check the speed against the industry standards and best practices.
This tool provides personalized inputs on SEO audit. It will tell you how much you need to optimize to get the best traffic, conversion, leads,and revenue. It analyses the performance of your website, how mobile-friendly it is, how much humans and bots understand your site and the security.
This tool reviews the website and provides a full report in PDF format. It also audits sub-pages and provides a report. The tool also offers suggestions about how you can improve the website for ranking.
The SEOptimer has the following metrics for your website analysis: HTML header, Body Content, Links, Sitemaps, Website Usability, and Page Speed. These are the indicators of your website's SEO that lets you know the number of characters that you have included in the title tags, the keyword consistency in your on-page content, content density, alt tags for images, the number of backlinks and the sitemap structure that your website has. This tool gives you an overall idea of where the website stands in both On-Page and Off-Page SEO structure.
This is a free crawling tool. It will check 500 pages or URL and provide a report.This SEO Tool gives you a comprehensive detail about all of your website's URL by providing report on pages that have duplicate content issues, those with both www and non-www version of the website live, URLs that have underscore or mixed cases and so on. From a technical SEO perspective this tool helps a webmaster in addressing the SEO issues and takes the necessary measures to ensure that the website is SEO compliant.
This tool is available for 15 days free of cost. It finds out errors on more than 6 dozen parameters including domain overview, image optimization, link data analysis, mobile friendliness, keyword grouping, competitor SEO etc.
This tool provides an audit report on three major sections viz. technical reports, content-based issues,and analysis of external links.
They have both free and paid packages. A free package is an ideal tool for SEO analysis offering reports on web analytics, real-time page per page optimization, website load time etc.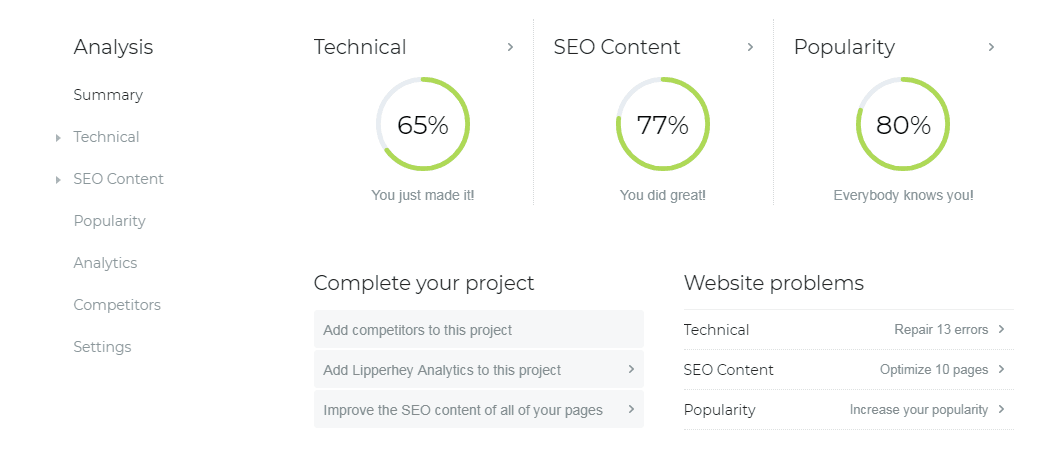 This is a comprehensive SEO inspection tool giving you reports on most important 20 on-page parameters. On-Pages parameters include: sitemaps presence, content structure, title tags and meta description, html markup, and URL structure. You get the website analysis report in the downloadable format.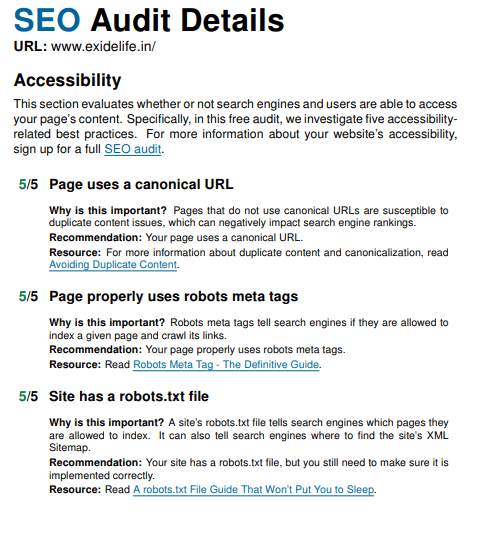 This tool provides an actionable report on SEO errors that can be understood easily and repaired. It analyses data that improves web load speed and quality.
An important tool giving you analysis on the length and relevance of title tag, description meta tag, keywords and keywords meta tag and robots meta tag directives. It analyses how the page is displayed within search engine results.
The noticeable difference between this SEO Tool and the other tool is that:
It has the Google webmaster help video featuring Matt Cutts for every SEO parameters for your website analysis.
This tool is best for a single small business where you can audit 50 pages per month free of cost. It will analyze the total health of your website.
This is an in-depth SEO analyzer which analyzes Googlebot access, mobile devices,and security accessibility. The unique feature of this tool is that it analyzes images to let you know if you need to improve the images.
An amazing tool for agencies and small businesses. It finds out broken links, page speed, missing images etc. It will also give easy to do tips on how you can fix the errors. The results are available in PDF format. If you use regularly they will send e-mail alerts when they get more errors.
This is a free tool for 15 days. It is SEO checker and site analyzer. It provides in-depth reviews and presents the report in branded PDF. It will also check your keyword status on the SERP by powerful tools for keyword analysis.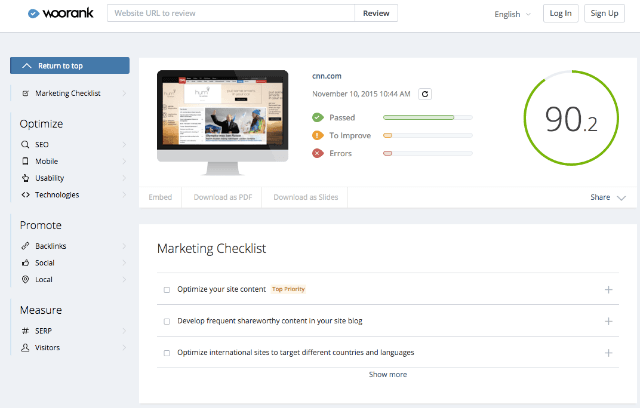 #17 WPromote
It is a web-based SEO audit tool which provides real-time analysis. It is a free tool that provides a comparative analysis between you and your best competitors. It is simple and authentic. It analyzes domain authority, Google indexed pages, Google link counts, top keyword rankings and robots.txt.
Nibbler is another free website analysis tool. But the analysis is restricted to five web pages in a single page detailed report.  You get SEO Report that mentions about your website's mobile friendliness, page loading time, URL format, social interest and many more. This SEO Tool also provides tips for website improvement.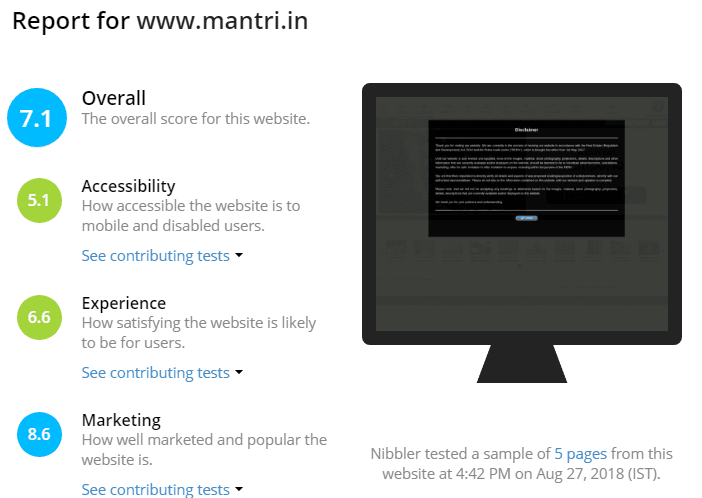 My Site Auditor provides a 10-day free trial offer. It is an excellent site audit tool that has a great demand among professionals. It reports on errors, obstacles, and quality of performance and gives the report on PDF format.

#20 SEM Rush
This is an SEO tool providing comprehensive actionable data. It provides the report in your convenient format. It provides accurate feedback on SEO issues. This tool has some of the key metrics like the following:
Organic Traffic Analysis: SEM Rush uses its own unique metrics to rank your website for the organic traffic. It also shows the number of keywords that your website is indexed in the search engine result.
Backlink Analysis: Being aware of the number of backlinks that your website is getting is very important for preparing your SEO campaign plan. This tool gives you an idea as to how many backlinks their website is receiving and also from the source
Competitor Analysis: This is probably the most important metrics that is required for your website analysis. This tool allows you to compare the SEO performance to some of your competitors that you would like to target.
Keyword Performance: In this metrics, SEM Rush lets you know of the number of organic keywords that your website is ranking for.