Session:
1. Introduction to Location Based Social Media Marketing & Importance
2. What Popular Brands in India do on Social Media (From 'Unmetrics' Point of View)
3. Social Media Marketing Intelligence & Analytics from Media (From 'Unmetrics' point of view)
Speaker profile: Lakshmanan (Lux) Narayan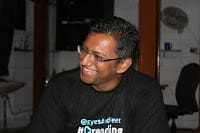 CEO & Co-Founder, TechOrigami Software (EyesAndFeet.com and Unmetric.com), Director at Vembu Technologies. Director & volunteer at Sharemycake, a non for profit organization
Previously, he has played pivotal roles in some of the well –known companies such as Initiative Media Middle East, Lowe and Partners Worldwide, Amitabh Bachchan Corporation Ltd. He has been an entrepreneur while he co-founded IdeaLogic & Alliance Media. ?Lakshman has done his MBA in Marketing from IIM C and his B.E in Mechanical Engineering from IIT Madras.
EyesAndFeet.com, is a web application that provides competitive information and on-boarding module for local businesses that are using/considering using social media to get new customers and retain existing ones. Unmetric.com – provides detailed analytics on the facebook & twitter avatars of established brands in selected sectors.