Email used as a marketing tool to deliver a commercial message to a person or group of people is Email Marketing. Since there has been a sharp increase in the number of internet users in India, Email Marketing comes in handy for brands and companies from various sectors to communicate with their followers, existing or prospective customers.
India has picked up a fast growing moment in terms of Internet users. According to a report, 42% of Indians now has access to Internet, mostly lead by mobile platforms. This has in turn facilitated the growth of e-commerce in India which was valued at $16 Billion in 2013 and is expected to grow by 35% to reach $56 Billion in 2023.
Digital Marketing has also grown at a rapid pace. The major share of Digital Marketing can be differentiated into Social Media Marketing (66%), Websites (54%) and Email Marketing (53%). The survey suggests email marketing is to to achieve substantial growth in 2015-16.
Top 9 Email Marketing Trends in India
1. Frequency of Emails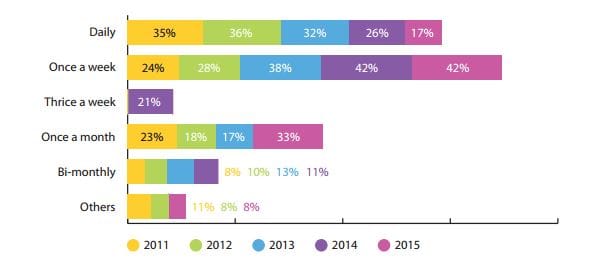 Companies have been focusing on delivering value to their users. In the year 2015, 17% of companies preferred sending emails on a daily basis. The frequency of emails on a daily basis have been pushed down and a weekly email has gained its popularity over the years. Tuesday and Friday are the days on which the Emails receive highest open rates by Indian users.
2. Email Deliverability Responsibilities
The department responsible for delivering the marketing emails to your inbox is predominantly done by the marketing team (68%) of the respective company. With all the automation techniques and advanced creative methods, it is easier for a marketing team to plan up the fastest and most effective ways to reach the target user's inbox.
3. Budget Allotment
It isn't surprising to see almost 11-30% of the budget by 32% of companies is allotted for email marketing. A report from AIMA suggests 45% of Indians give a positive response to such marketing emails received. From the given graph, we can also conclude that 51% of marketers want to increase their budgets from 11-30% in the forthcoming years.

4. Segmentation Techniques for Email Marketing
Breaking down the target users according to various segments is an important aspect of email marketing. A successful email campaign can be done only when these segments are properly exploited with the preferred email content. The year 2016 will see a sharp increase as 40% of marketers believe in targeting the user on their purchase history.
5. Tracking Effectiveness
With 41% percent of companies sending more than 50000 emails per month, tracking their effectiveness becomes an important component of email marketing. 89% of the voters believed that email marketing is an effective way of promotion. The given graph shows the response of effectiveness the companies believed in when asked about behavioral targeting.
6. Inbox Deliverability – Factors
It is clear that 57% of the marketers depend on frequency of emails sent for impacting the delivery rates. Delivery Rates are also backed by Content, Sender Reputation, Subject lines which share 45%, 42% and 30% respectively.  However we see that there is a shift in focus from "Content" to "Frequency" of mails which is true for both BSFI and Retail Sectors. For e-Commerce sector, from 9am to 12 noon there is an almost 300% increase in Open Rate.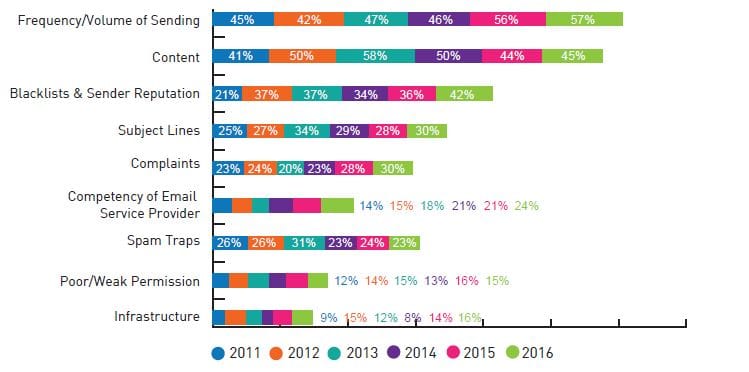 7. Spam Reductions Techniques
Being marked as spam is one of the biggest challenges for an email marketer. Gmail introducing unsubscribe and block options to protect users have safeguarded them from receiving spam. This has made email marketing even tougher as 84% of India's users use Gmail. 67% of marketers believe in personalized targeting accompanied by Use of Proper Subject Lines and Right time to send emails.
8. Challenges Faced
Top two challenges faced in email marketing are reaching out to the proper target audience and acquisition of new email address. Achieving open rates, delivery of the email in inboxes, finding the right segmentation are other challenges faced in Email marketing. Reports suggest that the top reason for unsubscription is "Do not remember signing up".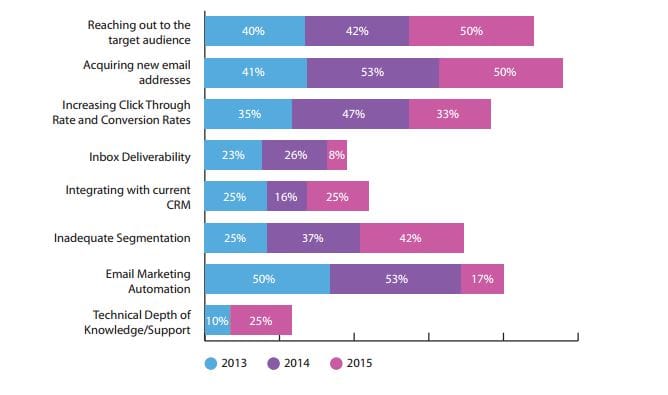 Email marketing is still one of the most preferred ways of marketing in today's era, the marketers have to complete the cycle of the campaign i.e. the process of sending email to consumer, getting appropriate response and then the final analysis. Another development has been the usage of mobile phones which records maximum email receiving and open rates (74%) and continues to grow with each day.
9. Email Personalization
The email personalization features within today's marketing automation platforms (MAP) have made it easier to drive engagement and ultimately conversions.
Sending these emails first to segmented emails lists based on their interactions and behaviour is more effective than sending "one-size-fits-all" emails.
By segmenting email subscribers and automating personalized emails, marketers can spend less time on email tasks and more time on strategy. These marketing automation vendors offer useful email personalization features to marketers who are looking to better connect with their audience.
As an email marketer, you should once consider all the factors to make their campaign successful. Mobile Optimized Emails, Agile Content, Automated Email Services are recommended for such marketing promotions as these play an important role in the evolution of emails. It is also necessary to analyze and evaluate the data of your results in order to achieve success and forecast the future trends for similar campaigns.
[The statistics given above are taken from a survey done Octane Research on 400+ companies and industries over a period of time from 2011-2015 and statistic for 2016 are considered to be forecast]