Employee Advocacy is the talk of the Business World these days! Social Media is driving it all. In the era, where influencers are many – fake and genuine – it becomes difficult for marketers to deal with them. With growing popularity of influencer marketing, with influencers talking about anything and everything it becomes difficult for their followers to trust their words at times. Influencer marketing is becoming expensive and many brands have started identifying influencers internally to get the message of the company rolling or to get the first few level of engagement on Social Media for an organic reach. This has given rise to a new concept called 'Employee Advocacy'.
Employee Advocacy is a process where employer involves employees to promote the content and offers on Social Media. In return, they are either given scores for their assistance or there is an affiliate comission associated with the unique transactions that happens via their Social Media channels.With more than 10 years of industry experience, I have mastered the nuts and bolts of social media business and I can boldly say employee's engagement, advocacy and their social media efforts surely helps to boost sales or drive new talent. By considering employees as the most valuable marketing assets, businesses can generate brand awareness, increase revenue flow and social engagement.
Breaking down the silos and pushing content marketing beyond just marketing plans has always been my focus. Because empowering employees through your content is a top way for gaining coalition within company. Moreover, you can also be sure of right information is mobilizing and your internal communication efforts are been streamlined. That's why with right culture, often my employees showcase their work across social media and word-of-mouth. But what exactly is Employee Advocacy on Social Media?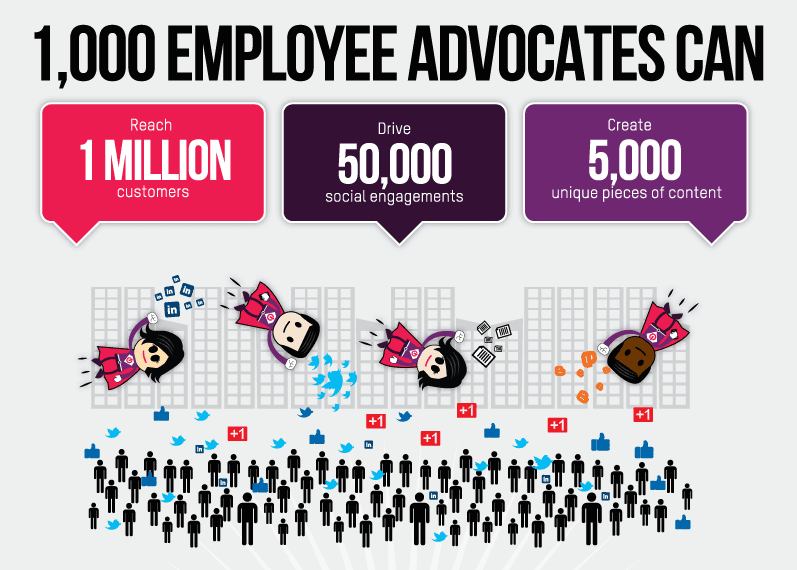 Understanding Employee Advocacy on Social Media
Employee advocacy on social media can be simply described as the "exposure that your employees generate for brands using their own personal/professional online sources". These sources may include, email, forums, chat, social networks, discussion boards and more. In simple terms, promotion of an organization by its staff on digital platforms is EA.
Employee Advocacy can be looked at from various angles:
Employee Advocacy from Sales Point of view:
Employee promote products and services on Social Media which helps company in driving sales. There is an affiliate comission allocated through the platforms. When an employee registers on this platform he/she is given a unique URLS which helps track transactions that took place due to the influence of employees.
Employee Advocacy from Content Marketing point of view:
One of the golden rule of a campaign's success on Social Media is engagement and the diamond rule is organic engagement for which one needs to drive first level of traction to the content posted. While the reach of pages are already getting detiorated, incentivizing engagement through the means of employees and scoring them on a Leadership Board on the basis of their influence and the engagement they bring to the content.
Employee Advocacy from Human Resource point of view:
For example – when your employee mention their job on Facebook or Tweet about their work experience on Twitter, that's employee advocacy through social media.
Keeping employees engaged in company and retain them is important, as you might have trained them at great cost. While you may not be as big as Google to offer 5-star luxury to employee you can surely involve them in a structured employee advocacy program that can bring number of benefits to business. A happy employee brings more happy employees and an Employee Advocacy campaign can help you spread happiness faster and create more positivity about your organization.
Here are some benefits of Employee Advocacy on Social Media:
Benefits of Employee Advocacy on Social Media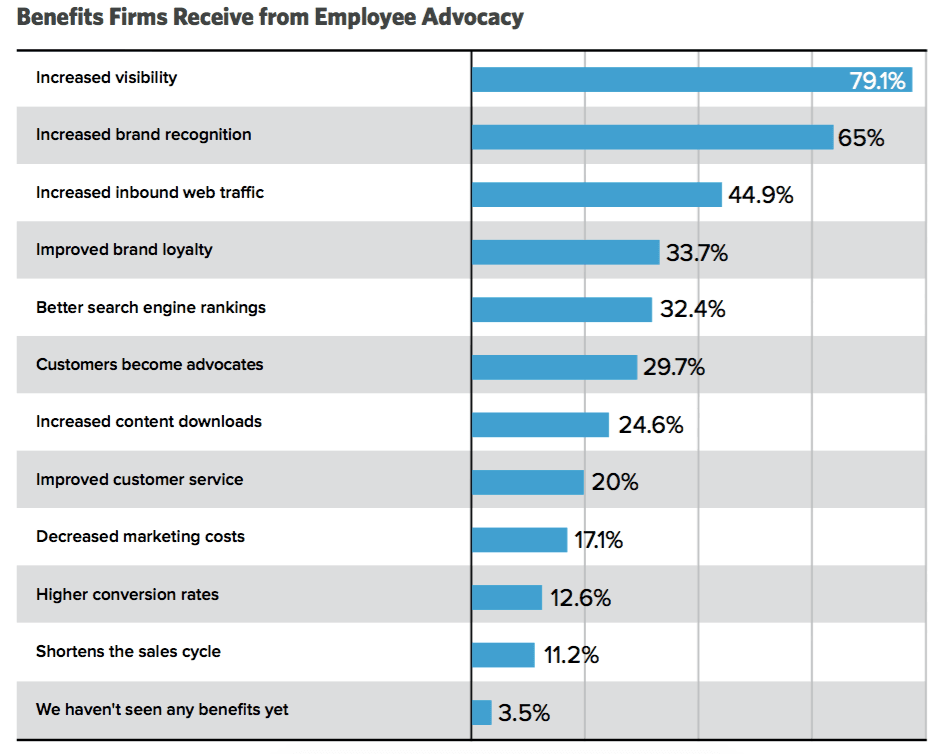 Influence – The recent social media facts says 50% of shoppers buy products online based on recommendation through social media networks and 74% of customers rely on social media for making their purchase decisions. That's how social media has evolved and when dynamic content is shared by your employee it will automatically support your brand. Not to forget, some of your employee may hold more online reach and influence over their followers, friends and connections than the company's brand itself. However, regardless of employee's influence or reach, they can surely make your brand popular by advocating!
Build Trust – On an average employee advocacy over social media or word-of-mouth is 2 times more trusted than your CEO. Employee advocacy comes with two-way benefits, one shows that employers have faith in employees to act on behalf of brand and secondly it displays that your brand has multi-dimensional workforce. According to webershandwick, 39% of employees shared praise or positive comments online about their employer. Out of which 33% post messages, pictures and videos on social media about their employers without even getting encouraged by employer. That's why when you build trust with your employees; it cultivates company's social presence in a positive way.
New Audience – Employee's advocacy is more trusted because they hold personal relationship with their audience who in turn want to help them. These audiences hardly overlap with the audience of brand, so the shared content has higher chance to make new audience. And don't we already know how quick content gets viral over social media? Here is an example viral video marketing campaign. Practical and useful content is more likely to go viral than negative content. Encourage your employees to share positive uplifting content in order help their friends and fans. In the end "Traffic Wins".
Almost Risk-free – Employee Advocacy is one of the most interesting yet almost risk-free marketing strategy brand can involve in. Here brand gain more transparency in what content workforce is sharing and focused on. That's not the case in hiring external advocates, as internal employees are more likely to see brand success and they also understand the brands better. For research and developers this can be the best way to share new concepts and ideas across social channel to figure out what resonates and what doesn't at minimum risk.
Lower Cost, Greater Returns – According to social media facts 2013, cost-per-click for Facebook ads augmented 24% and one share by employee generates 4 clicks on Facebook. Further a study by Fred Reichheld found – 12% increase in brand advocacy, on average, generates a 2x increase in revenue growth rate plus boosts market share. That proves employee advocacy does bring great returns with lower cost (possible cost could be on employee advocacy program). Hence it is not surprising to know interest in employee advocacy has grown 191% since 2013, with 45% of respondents naming it a top external objective.
What are the Key Ingredients? How to turn your employee into advocates?
Counting on numerous benefits of EA, we must focus on turning employees into advocates to leverage their social connections for expanding company's brand reach exponentially. Here are some key ingredients that our company follow to keep the employees motivated and hooked!
Trust and Transparency – It's no secret, trusted employees are happy employees and only happy employees can become brand advocates. When employees are trusted they feel less compelled, uninterrupted and give them a sense of working proactively. Here word of mouth marketing and regular social media updates from employees are two major benefits a brand can enjoy from them naturally. Transparency at work place is the royal mantra these days, when trust develops employees are less likely to be fragile. Be transparent in your ideas, goals, guideless, expenses and even bad news. Deliver everything you need to with honestly and conviction, your staff will appreciate it in the future.
Culture and Comradeship – Culture at organization has lately become a great buzzword in the business and entrepreneurial space. Being a young CEO myself, I believe core of business success can be achieved if we have strong culture at workplace. But that goes beyond the typical perk of giving away annual bonus or increment; it is more about the atmosphere where your staffs feel positive, engaged and purposeful. We build strong culture with teamwork, collaboration and fun. For example, at EchoVme, we build a sense of comradeship with our #inspiringfriday section where every Friday we invite some awesome people to inspire us on topic of their expertise. This inspires my team to share more content and updates on their personal social handles, which helps their friends and followers understand they are working in a fun and relaxed space. Further, I often organize outing, free lunch (we sit on floor and eat together), and never miss a chance to celebrate any festivals at office to maintain the right culture.
Communication and Feedback – An organization can never fail if the goals are communicated appropriately to the team. Set prior goals (not too restrictive) when developing employee advocacy on social media, but don't totally control employee's online behaviour off the clock. However, basic KPIs need to be in place, let them know what you are expecting out of EA.
Approximate time an employee should spend on EA
Number of share per day
Organic content sharing is best
Monitor and measure the benefits with tools
Setting up goals helps employee understand the terms better and also becomes easier to achieve. Give them feedback on their posts, appreciate if it is working and address if it is creating a problem. When there is positive reinforcement in the strategy more likely workers will feel confident about giving honest feedback and suggesting improvements. Trust opinions and follow ideas offered by your employees to see win-win situation for everyone!
Rewards and Recognitions – While an organization earns the benefits from employee advocacy through social media, what does employee get? Praising employees for a job done well is very important, because it makes feel good about themselves. It also motivates the person to keep the good work going. Positive reinforcement can set best examples for other people in the company, showing what kind of work you value the most. Incentives can be attractive, but are short-term motivator for them. Be creative and give them something exclusive that is worth cherishing long. Company apparel, lunch with CEO, virtual badges, certificate of achievement, shopping coupon, applauding welcome, and hand written testimonial are just some of the way you can reward your employees for the good work!
Support, Share and Appreciate – Treat your employees as human and not a productivity machine, it is ok if they do mistake or take time to learn. When employee feel cared about, they will feel satisfaction in their work done. According to a study by Nielsen– 85% of the total new graduates or new workforce said employee treatment/welfare was more important than other factors when deciding which company to work for. Happy employees at work stay longer, work smarter, and produce more, which make them leader of future. Remember, there is no empowerment better than self-empowerment. It is best to relocate thoughts that are destructive to support them in all possible ways. Lead the team by example – if you share and appreciate employees work across social media, for sure the result will be vice versa for your brand.
Using these key ingredients you can build a workplace that is filled with innovation, creativity, positivity and profit for all!
Best Platforms Related to Employee Advocacy on Social Media
Employee advocacy is not a small task, that's why you'll probably need a great employee advocacy took to make thinks as simpler as possible. I have listed 7 best employee advocacy platforms comparatively that you will probably need if EA is a part of your marketing strategy

Click on the image to have a larger view
Final word – Your employees can be your best advocates only if they understand and respect your brand. It would be clever to explain organization's band to employees in both ways implicitly and explicitly. After all, the power of employees that are engaged in brand advocacy is difficult for your competitors to replicate.
Remember, brand advocacy should come naturally, trying to force employee to be brand advocates will not work. Come up with some excellent campaigns, come up with some great incentives and bring in a culture to share things first and then ask others to share.
We have recently launched our very own Employee Advocacy Platform called Social10X – Employee Advocacy. You might want to check out for a Free Demo! It can create magic that you are looking forward to 🙂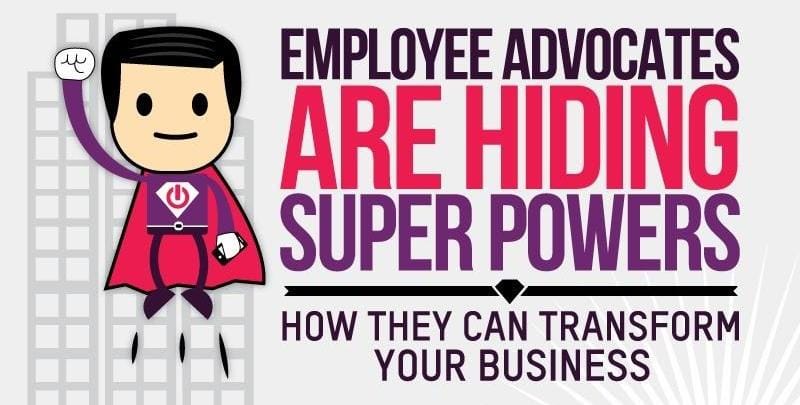 Agree? Please share your thoughts in the comment section below.