Released in August 2016, Instagram stories now have 150 million daily users contributing to the growth and success of it. Instagram is still growing insanely fast with 15% growth rate and is expected to grow further. But what next?  People and businesses post stories, share their experiences, receive and send direct messages, does it stop here?
Come on! Stop underestimating Mark Zuckerberg!
Facebook brings full screen ads to Instagram stories, eager to see revenue from its photo acquisition. These ads will be seen while a user is watching multiple friends' stories in sequence with sponsored label.
How to activate Ads in Instagram Stories?
Instagram stories are now one of the placement options available to you while running ads under the reach objective. Before you start running ads, make sure you have connected your Instagram account to the Facebook ad account.
Objective: Begin your campaign with the reach objective. Other objectives are ineligible now and are to roll out soon, says Facebook.                                                                                                                                                              
Placement: Set your target audience and budget like you usually do. Select the placement option; "Stories" under Instagram. Once you have selected Stories as your placement, other placement options get unchecked. No other placement can be added to it when the stories box is checked.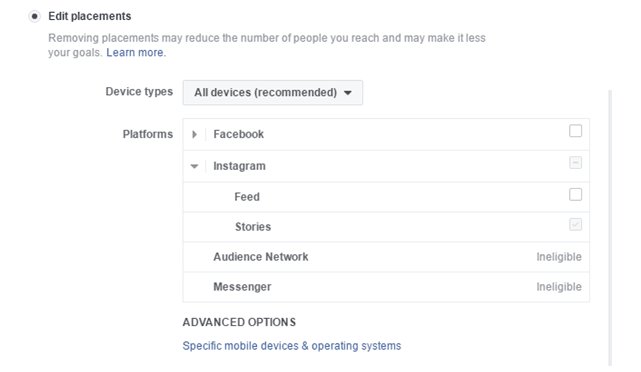 Set your Advert
The format available for ads in instagram stories is a single image or a single video. Your video cannot be more than 15 seconds and image will be shown for 5 seconds. Also, you cannot add any text or links for the ad. It is only for reaching your targeted audience and not for increasing traffic. Incase of video ad, you can later target the people who viewed the video with a link, using other objectives.
Single image specifications:
Image size: 1080 x 1920 pixels
Image ratio: 9:16
Video Specifications:
Format: .mov, .mp4 or .gif
Resolution: at least 720p
File size: 2.3 GB max.
Aspect ratio: 9:16
Your campaign is ready to start unless; you have tags or any tracking code to be placed. Place your order and measure the metrics to further facilitate your awareness campaign.
Note: Ads will be seen to users while they are seeing their friend's stories in sequence and can swipe to skip it.
Young people love Instagram and it is a great opportunity to reach out to the users with their interests. One cannot choose stories in which your ad will be shown as it is an automated process by Facebook. Another barrier would be that there is no option to click or swipe up to open your business's website, though these will be rolled out soon while you are tapping on the benefits of the former.