I have been planning, strategizing and executing ad campaigns on Facebook since the inception of my career in social media marketing. I have also indulged myself in a lot of experimentation and have also adopted new methods to run my campaigns. Here are 15 Facebook ads hack, that I have tried and tested, which every Facebook advertiser must know to achieve their campaign goals.

#1. Seed A Highly Relevant Audience For Creating Lookalike:
When you create a Lookalike audience out of people in your database ensure that you upload a highly relevant audience. Quality of audience matters more than the quantity of audience here. So keep that seed audience small but highly relevant. Even if your seed audience is of 200 people, it is absolutely okay.
#2. Narrow Down To Define Precise Interests:
Narrow down and further narrow down to reach your desired audience. Instead of adding all interests together, narrow down from one interest to another to bring in the relevant audience. Most of the time people add interests together and that makes the audience selection vague.
#3. Use Triggering Keywords:
Your advertisement copy makes a larger impact on your lead generation campaigns. I see a lot of advertisements that just talk about products but don't really create a sense of urgency in minds of the audience. When you design your ads, use triggering keywords that can really make people take immediate action. Use Triggering Keywords Like: Last Offer, Limited Seats, Only 10 Seats Left, and Only 5 Pieces available, this will help you create a sense of urgency and drive more clicks and conversions.
#4. Use Social Proof:
Running an advertisement is easy but winning credibility is tough and hence when you run them, use Social Proof. This makes people trust your ads before taking action.  For example, award-winning campaigns designed, 50,000+ subscribers, trusted by 1 million Indians, 100+ flats sold – This increases the credibility of your advertisement. Try to draw some inspirations from your client's history.
#5. Create a Video Funnel: 
Every advertisement campaign should be supported by a long video and build an audience out of it. Upload these videos as a post and make it reach to your target audience. Since Facebook allows you to build a custom audience out of people who have watched 25%, 50%, 75% and 90% of your video choose 25% if reach is less and choose 90% if you have heavily invested in the reach of your video. Video engagement is a lot cheaper than any other engagement currently. Build audience out of people who have watched your videos. Let them watch your video first and then show them your offer later. The video below is boosted since last few months, the focus is to build a fresh audience out of people who have watched at least 50% of this video. This is an 8-minute video, someone watching it for about 4 minutes would for sure know me and is more likely to show interest in my advertisements.
8 Skills To Become a Digital Marketer

Digital Marketing in 2018 is what Information Technology was in the late 90's. Digital Marketing has exploded in the past couple of years and it's only the beginning of the Digital Era. If you want to be a frontrunner in this field, opportunities are vast. However, there are some skills expected in a true Digital Marketer. Watch and know the skills you need to fortify to embrace Digital Marketing as your career! Point no 6 can be accomplished by following this link: https://www.soravjain.com/digital-marketing-course-for-free #DigitalMarketingYou can also explore The. FAQs on Digital Marketing Career and Jobs in India in this article: https://www.soravjain.com/building-career-digital-marketing-jobs-india

Sorav Jain यांनी वर पोस्ट केले शनिवार, १८ नोव्हेंबर, २०१७
#6. Create a Form Funnel:
People who are enrolled in your ad campaigns by filling the lead form are more likely to take your communication seriously. Boost your posts majorly to the audience who have interacted with your forms earlier, that's the best brand recall you can do. I often run follow up ads for those people who have interacted with my form. It is suggestible that you boost your posts to this audience especially as they are currently more likely to buy what you're selling.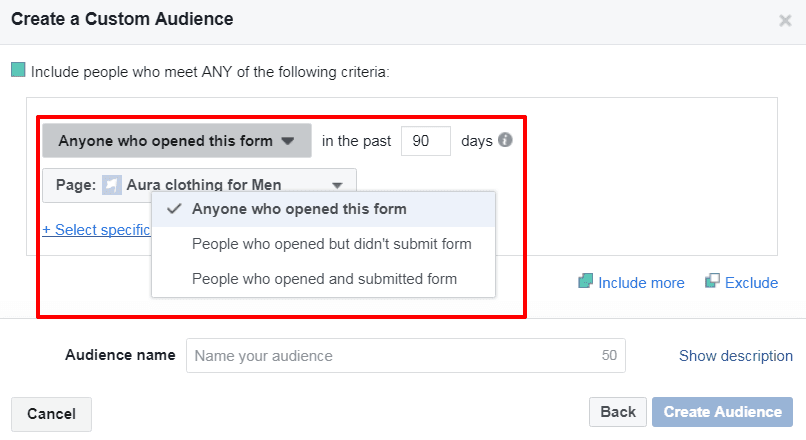 #7. Target Men and Women Separately:
When you run any ads campaign ensure you target men and women separately, especially in India, where Facebook is dominated by men. There are about 75% male Facebook users. When you target them separately you ensure your ad reaches to both men and women in equal ratio. Don't underestimate the power of women in decision making, by far they have been the best decision makers for some of the ad campaigns that we have run for real estate, healthcare, education, edutainment, carnivals, events and more. So please don't exhaust all your money on the boys. 😉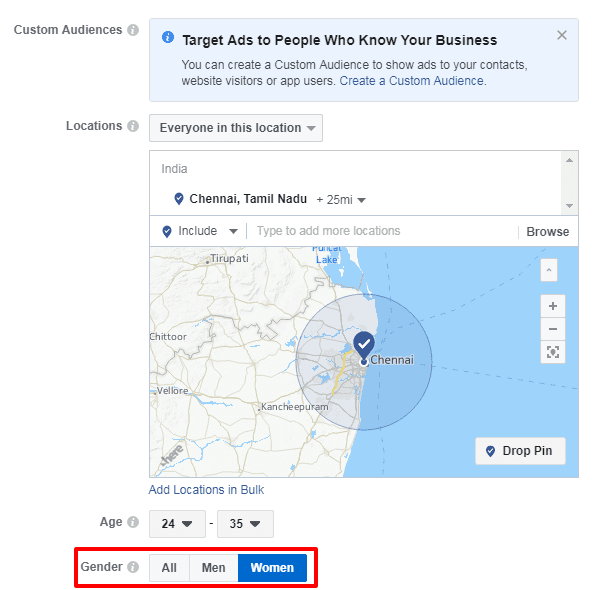 #8. Create Different Ads For Different Audience Persona:
You might be selling a Property Expo – It might be applicable for all but if you really keep your communication targeted it would be all the more effective to evoke emotions of the right kind of audience. For example a recent expo that we are selling showed different ads to different people. For a family person, the communication was different, for a person celebrating the anniversary the communication was different, for a generic audience the communication was different, for NRIs communication was different. By doing this you give them the reason they are looking for to attend this event. Remember, you are defining a purpose through this and giving your audience a reason to take a decision with respect to your ads.
#9. Make Shorter Video Ads:
As per my observation video lead generation ads bring more conversions. But, should this video be long? No! This video should be not more than 30 seconds. The purpose of this video should be to make the best use of Facebook's autoplay feature. Your video should create a flicker, something that can grab someone's attention. They should know that the video has just started.
300 WOW projects!72 WOW builders!Only at CREDAI FairPro 2018!At CREDAI all we make you say is WOW!CREDAI Chennai is bringing back the largest Property Expo of Chennai city on Feb 23rd, Feb 24th and Feb 25th 2018 @ Chennai Trade Centre.To avail your FREE VIP Pass, give a missed call to 9884053333We are privileged to take you closer to your dream abode!

Credai Chennai यांनी वर पोस्ट केले गुरुवार, १५ फेब्रुवारी, २०१८
Communicate the same thing that you try to communicate in your 20% text based lead ads. The flicker element required can be incorporated with the entry, exit of those texts and the music. For every brand we sign for advertisements, we create both image and video advertisements and do an A/B split test between both.
#10. Create a Free Funnel: 
If enquiries are very expensive through Facebook. Activate a Free download, free video session or a free crash course. It's easy to bring people in for free initiatives and master the art of selling from the stage to drive major conversions from the footfalls. Don't forget to add those people on your Whatsapp or e-mail lists so that you can nurture them further.
I recommend schools and play schools to do a free session for parents, the conversions are much better and when footfalls happen you can sell them your courses. Try to sell a free book, free report, free video – this is a great way to buy someone's time to sell what you really want to sell to them.
#11. Keep Your Daily Budgets Low Per Campaign / Focus on Lifetime Budget Campaigns:
Instead of investing all the money at one go in one campaign, create multiple advertisement sets and park lower daily budgets. Facebook likes to exhaust all your money. If your daily budgets are too high, the cost per lead is more likely to be high, as your impressions are divided by clicks and then the daily budget is tallied according to number of leads you have got. Multiple advertisement sets targeting different ad budgets is the key to keeping your costs low. I try to keep lifetime budgets these days, lifetime budgets works really well and keeps the cost low and focuses on reaching only those people who are more likely to click on your advertisements.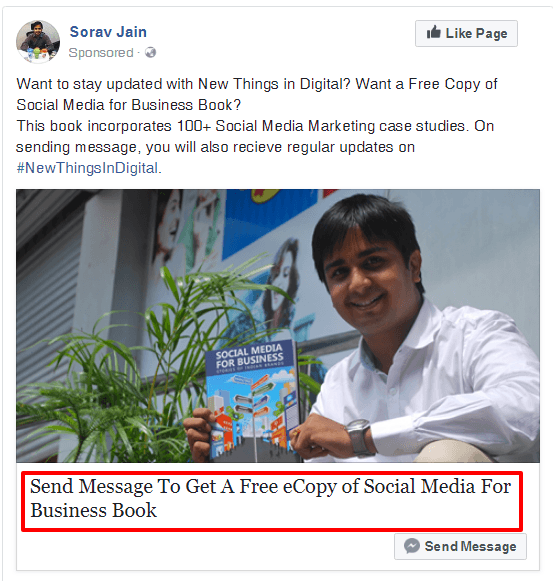 Here is an example of Chennai Social Media Marketing workshop advertisement, you can see how a lifetime campaign has kept the cost per lead really low. Earlier daily budgets would just exhaust money even if it would get you 3 leads a day and charge you exorbitantly for those 3 leads alone.
[lockercat]
[/lockercat]
#12. Exclude Audience:
There might be an audience that would overlap. You can exclude them. Example: People who have visited your website, people who have interacted with your page. People who have watched your video especially when you don't want the same audience to watch your advertisements again and again. Don't waste your money on the audience who you believe is already aware of what you are trying to sell.
For example: A video that I am running for quite some time, I try to exclude all the audience who has watched it, who has visited my page so that the ad doesn't go to the same person again and again.
#13. Target People Working in Certain Companies:
Now let me show you two crucial incidents. A playschool wanted to sell their day care services. They targeted the mothers working at a particular company, which was next door that immediately got them sales. At the same time, a builder in Chennai wanted to sell its flat, they targeted senior employees of a particular company.
This helped us reach the right decision makers. The company sometimes define the quality and lifestyle of people. For example, all IT company employees would want some good weekend plans, so if you have to offer something on the weekend try targeting employees of IT companies. This targeting has also helped many people who are already employed by displaying them job offers.
#14. Focus on Open-Ended Questions In Lead Form For Better Leads Quality:
Quality of the leads is the more important quantity of the leads. Imagine you give your Sales team about 3500+ leads and only 2% gets converted. It's super de-motivating for them. So you should be aiming at asking questions in your forms that will make people think before they submit their lead generation forms.
Remember, you will get less yet highly focussed leads.
#15. Create Vernacular Advertisements:
My experience with vernacular ads has been excellent. Whenever I run an ad campaign, I create advertisements in English, Hindi and Tamil and the response is spectacular. It just works. Look at these ads trying to sell a property expo. Most of the vernacular ones perform a lot better for us. Invest your money there guys, it is the secret sauce!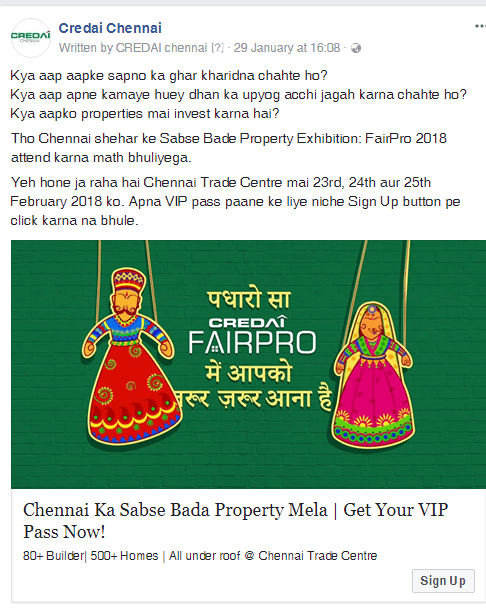 I personally run advertisements for my Hindi digital marketing course in vernacular language and the impact has been fantastic. You can check the result on how cost effective it is to enrol people in Free Digital Marketing Course by advertising in the Hindi language.
[lockercat]

[/lockercat]
These are some must-know hacks when you venture into Facebook Advertising and if you want such stellar work to be done to your brand, come work with echoVME, my Digital Marketing Agency based out of Chennai, India. I promise we will make some spectacular and lucrative advertisement campaigns for your brand!
Talk to me in the comments section below. 🙂