Facebook advertisements are easier to measure unlike the traditional means of advertising.  My  previous blog – "15 Possible Objectives of Facebook Advertisement – Getting Started" will give you an overall idea why a marketer should concentrate on Facebook Advertisements for better ROI. But how will you know if your efforts on Facebook Advertising have resulted in conversions on your website? To measure how many people have visited your website and performed actions like registering for an event or purchased a product, Facebook provides an option of creating pixel codes which can be incorporated in your website (which is not visible to the viewers) and can track actions performed by the website visitors landing on your site through your Facebook Ad.
Adding pixel codes is one of the best ways to know whether your ads are working for sure, instead of just wondering whether the increase of traffic or sales was from the ad or some other factor. Facebook's pixel follows users from your ad that they clicked on, all the way to the actions they take on your site.
But how do you truly know if your paid advertising efforts are resulting in conversions for your campaign?
Facebook offers two types of pixel codes – Conversion tracking Pixel and Custom Pixel. The number of objectives one can choose using the pixel codes are the same for both. The difference is that in Conversion Tracking Pixel you can track a given objective when the action is performed whereas with Custom Pixel you can track on which page a particular action is performed.
For example, the Facebook Ad for Free Digital Marketing Course directs a user to my landing page. If the user fills the registration form on the same page, the conversion tracking pixel will show the results. If the user, after viewing the information on the landing page, chooses to navigate to check out other services offered and fills up the registration form on a different page then the Custom Pixel will help track the action. Let us see how to go about create these pixels on Facebook before you get started on Facebook Ads.
Conversion Tracking Pixel
How to create a Facebook Conversion Pixel?
Step 1:
Go to your Ads Manager, click Tools and choose Pixels to go to Pixel dashboard.

Step 2:
Now you are on Pixel Dashboard. If you are setting up the Facebook pixel code for the first time, Facebook will prompt you to create a new pixel. If you had previously set-up pixel code you will see two tabs – 'Facebook Pixel' and 'Conversion Tracking Pixel (Old)'.  Click on Facebook Pixel.
Step 3:
Once you have set up your pixel code, click on Actions and click on View Pixel code to copy the pixel code or you mail it to yourself for future reference and if you have a developer working for your website, you can mail him the necessary codes based on your objectives for each page.
This is what you will see when you click on View pixel code.
Step 4:
Facebook tracks page views by default but apart from that, Facebook offers 20 different conversions to choose from. Place the Pixel code as default in all the pages of your website
Unless your objective is to track page views, choose from the list of conversions you would like to track and copy the corresponding code from the list as shown and place the copied code between the script tags below the default pixel.
Step 5:
Once the pixel code is added on the website, you can start with your Website Conversion Ad campaign. Login to Facebook account, and go to your Ad account through www.facebook.com/ads/manage
i) This will take you to the page where you choose your objective for your Ad campaign.
ii) You will have to key in the website URL which you would like to promote
iii) Choose the conversion pixel you have created and now you can continue to create your Ad by adding the creatives and defining your target audience.
For example, if your objective is to increase conversions on your website, choose 'Increase conversions on your website'
Custom Pixel
Custom pixels are very useful for ecommerce websites or any business that offers more than one service/product. Using custom pixel one can know, which product/service is more viewed and has triggered the action of registering/buying or added to cart based on your objective. For example: If your objective is to track leads, you can identify on which page the lead is created other than the landing page.
How to create a custom pixel on Facebook?
Step 1:
While creating an Ad, after choosing an objective and keying in your website to be promoted click on the box below and scroll down. Click on Set up a custom pixel.
( Or )
Directly go to pixel dashboard from www.facebook.com/ads/manage, choose create conversion and in the pop up window choose track custom conversions.
Both the above steps will take you to a window like this.
Step 2:
If you have dynamic URLs for your website, choose 'URL contains' and use keywords that remains constant in all the dynamic URLs. For example, in an e-commerce website, every time a person views a particular product, a different URL is created, so you can use the product name as the keyword as it will remain constant, say 'iphone'. With this you can track how many people have viewed a given product. This way you can track a customer's behavior more clearly.
The second option 'URL equals' can be used, when the URL is static. Key in the URL that you would like to set an objective for in the box.
Step 3:
Choose a category – This is where you set or define your objective. Choose the one that will best suit your objective and click next.
If you choose leads here, as explained earlier, you will know on which service or product page the lead has triggered.
For example: In a e-commerce website, iphone will be listed in categories like mobiles, iOS, mobile range between Rs. 30,000 to Rs. 80,000. You can choose URL contains and key in iPhone as a keyword and choose 'Add to Cart' as category. With this you can determine on which page the user has added iPhone in cart.
Similarly you can choose Add to Wishlist, Initiate Checkout and so on. This will help you to optimize your future campaigns.
Step 4:
Once you click in 'next' in the previous step, it will take you to this window.
Give a name to the custom conversion and click Create. This is for your reference to set it up while running Facebook Ads and track them in future.
Note: The option 'Set a conversion value' allows you to better understand the total value of your advertising.
Step 5:
Now the pixel code is generated and you can mail it to yourself and integrate it in your website. Once the custom pixel codes are integrated in your website, you can go ahead and start creating your ad by choosing the custom pixel.
Remarketing/ Retargeting Pixel
Remarketing is a technique to reach out your marketing campaigns or advertisements to people who have already visited your website.
This can be done in three ways.
Method 1:
If you have a database of email ids of people who visited your website, you can upload them as a csv file in create custom audience and create the adverts.
Method 2:
On your pixel dashboard, choose 'Create Audience'
Once you click on create audience, Facebook will show you a window in which you can key in the website URLs, that you would like to promote by retargeting it's previous visitors through your remarketing campaign.
You will see this pop up when you click on Create Audience:

In order for Facebook to capture your website visitors in the past, add the number of days from which you want the user data to be captured. For example, if you are retargeting people who visited your website in the last week, add '7 days'. The maximum number of days you can capture data is 180 days.
In the image, 1 is the place you will key in the URLs 2. is the place where you key in the number of days.
Method 3:
Use the Custom pixel option to target the visitors. This is most used by ecommerce. Have you ever wondered how Amazon or Flipkart haunt you on Facebook with the exact same product you viewed a week before on their website? This is how they do it. They either use the exact URL (by choosing URL equals to) to target you with the exact product or use 'URL contains' to show you the variants of the same product.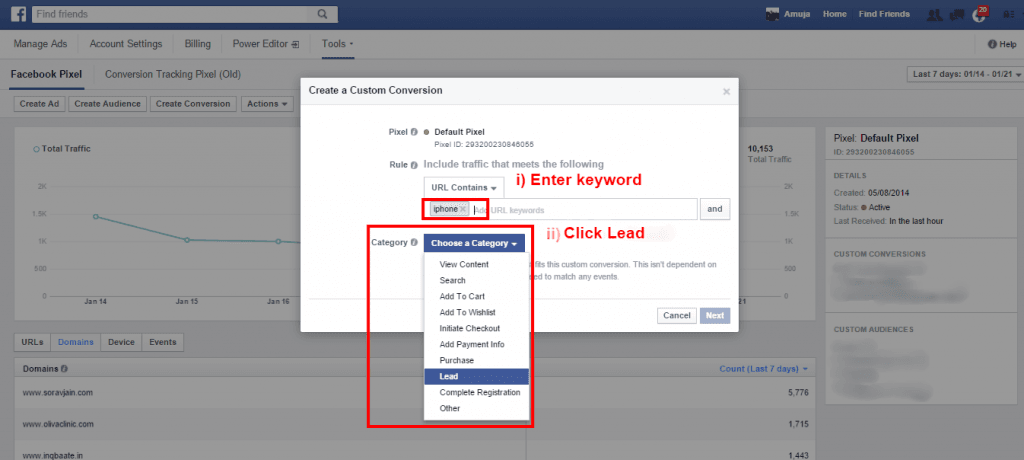 Now that you know the three techniques, go ahead define clear set objectives for your business and let us know which one worked the best for you in the comments below.