Facebook Statistics and Facts 2017
About Facebook
Facebook is an American for-profit organization based out of Melno Park California and was launched in 2004. It drives the idea of 'Give people the power to build community and bring the world closer together'. In today's day and age of social media, Facebook is the most popular social networking site in the world simply based on the number of active user accounts alone. The success of Facebook is attributed to its simple ability to appeal to both users and businesses. Facebook revolutionized interconnectivity by enabling the development of a tightly knit network. In just under 15 years of its existence, Facebook has established the "social media" market and connected marketers to their target groups. It represents a huge potential market for your social media efforts, which can ultimately help you, increase your return on investment, aiding to greater marketing success.
According to CNN, as of March 2017, Facebook has 1.94 billion MAU (monthly active users) which is about 25.86% of the world's population, and 1.28 DAU (daily active users). It has been declared the most popular social network, and would be the world's most populated country if it was one (China is at 1.3 billion). Hence it is very important to understand the facts and statistics about this site to increase your potential and unique reach.
Facebook Facts and Statistics
Worldwide, Total number of

Monthly Active Users: 2 billion.

Total number of

Mobile Monthly Active Users: 1.66 billion.

Total number of

Desktop Daily Active Users: 1.18 billion.

Total number of

Mobile Daily Active Users: 1.57 billion.

The gender split on Facebook is

46% men and 54% women.

One in five page views

in the

United States

occurs on Facebook.
More than

83% of daily active users

are outside the US and Canada.
The Facebook

like button

has been

pressed 1.13 trillion times.

The average time

spent on Facebook per visit is 20 minutes making the average monthly time spent to 600 hours.
At its current growth rate, Facebook acquires about

8 users per second.

That's 7,246 people every 15 minutes.

75% of all men and 83% of all women

who use the internet can be reached via Facebook.

Every 60 seconds,

this is what happens on Facebook: 3,000,000 items are shared, 243,000 images are uploaded and 3,125,000 likes are generated.
Currently, Facebook is available in

101 languages.

Any two people on Facebook are separated by an average of

57 degrees of separation.

Facebook Messenger and WhatsApp collectively process about

60 billion messages a day,

3 times the number of normal SMSes sent globally.
An average Facebook user has

155 friends.

87%

of online users of

age 18-29

are on Facebook.

56% of online Seniors

aged 65+ are on Facebook and 63% are between age 50-64.
About

66%

of Facebook users turn to the platform

for news.

As reported at the end of Q1, Facebook's revenue stands

at $8.03 billion, at a 49% increase year-on-year.

80% of Facebook's revenue

comes from ads, and 20% from virtual games.

65 million businesses

now have Facebook pages.

Nearly one-third of Facebook users

(32 percent) engage with brands regularly.

42% of marketers

report that Facebook is critical or important to their business.

42% of customer service

responses from brands on Facebook happen within the first 60 minutes.

70% marketers claimed

that they use Facebook to acquire new customers, while 47% have said that the social network was their top influence for purchases.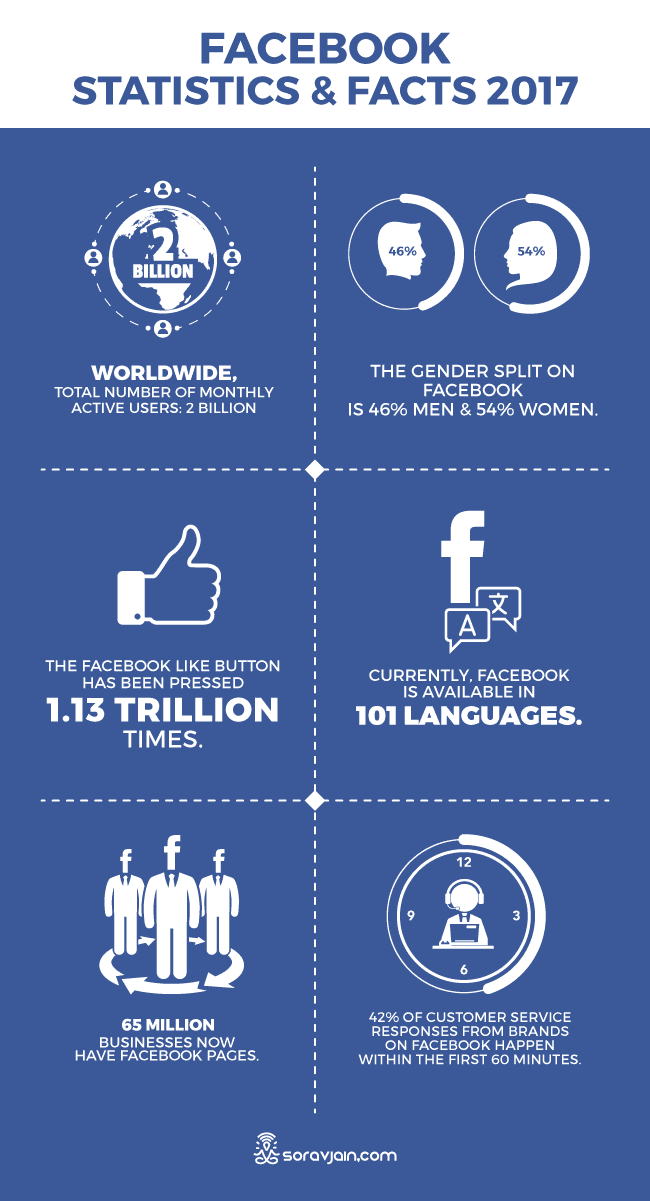 Source – Zephoria, Drumup, Wikipedia, Omnicoreagency
LinkedIn Statistics and Facts 2017
About LinkedIn
LinkedIn was founded in December 2002 and the site was first launched in May 2003. It is one of the most effective platforms to network professionally till date. Today, LinkedIn is a public company with a firm grip on business and going stronger than ever.
The following are a comprehensive list of 2017 stats that show LinkedIn as the world's largest social network for working professionals and B2B marketers.
LinkedIn stats:
LinkedIn is ranked as the

25th most popular website

on Alexa as of April 2017.
LinkedIn now has

more than 500 million members

globally.

Microsoft paid $26.2 billion

to buy LinkedIn.

LinkedIn sales hit $975million

in the first full quarter since the acquisition.
LinkedIn has

more than 10,000 full-time employees

with offices in 30 cities around the world.
LinkedIn is now

available in 24 languages.

At present

56% of LinkedIn users are men

and

44% are women.

Maximum site visitors are located in

USA (33%)

followed by

India (8.5%)

and

UK (5.7%).

The total number of

monthly active users

on LinkedIn is

106 million.

Presently, there are

1.5 million groups

on LinkedIn.
There are

10+ million active jobs

on the site currently.
LinkedIn provides

access to 9+ million companies

across the globe for a user.
LinkedIn's fastest growing demographic groups are

students and recent grads

which comprise of

40 million users.

13%

of LinkedIn's user group is

between the ages 15-34 years.

60%

of all LinkedIn traffic is

from mobile.

2 new members

are added to LinkedIn

every second.

An average user spends

17 minutes on the site per month.

LinkedIn's total

endorsements crossed 10 billion.

More than

100,000 articles are published

on this platform

every week.

At present LinkedIn is available across

200 countries and territories.

70%

of their users are located

outside the USA.

Profiles with

professional headshots get 14 times more profile views.

LinkedIn

profiles with photos get 21 times more profile views

and 36 times more messages.

3 million users share content

on LinkedIn weekly.

"Cloud and Distributed Computing"

and

"Statistical Analysis and Data Mining"

are the hottest skills registered on LinkedIn in 2017, on which most people got hired.
There is a

13x increase in profile views

for LinkedIn members that list skills on their profiles.

79% of B2B marketers

view LinkedIn as an effective source for

generating leads.

92% of B2B marketers leverage LinkedIn

over all other social platforms.

80% of B2B leads

come from LinkedIn.

94% of B2B marketers

use LinkedIn to

distribute content.

The use of LinkedIn

company pages grew from 24% to 57% YOY.

57% of companies have a LinkedIn

Company Page.

50% of B2B buyers use LinkedIn when making purchasing decisions.

71% of professionals

feel that LinkedIn is a

credible source

for professional content.
Linkedin

generates $371,474 per employee.