2017 is going to be the year of Facebook Marketing and Advertising. When brands think about Social Media trends the first thing that crosses their minds is Facebook, and in this article I cover things that every marketer should think about while investing in Facebook Marketing for the year 2017.
Here are some stats to believe in the growth of Facebook as an Advertising platform. Sheryl Sandberg, COO of Facebook, released these stats (Featured on Forbes):
Facebook crossed a 4-million advertiser mark in September 2016.
The company's global ad revenue is expected to cross $23.21 billion in the year 2016, making Facebook the largest ad publisher after Google.
Facebook Advertising Trends 2017
1. Instagram is the New Cool, Expect Stories to Shine, Filters to Come
 Millennials are gradually moving away from Snapchat after Instagram launched Stories, and is currently inventing on Stories. Filters are soon incoming. Instagram Stories has already integrated Boomerang, tagging of a friend, linking it to particular story (unusual of what snapchat offers currently). I foresee that the year 2016 has been successful for Facebook on Instagram. On their flagship mobile app they are to cross an advertising revenue of $ 1.5 billion, which indicates how brands have been investing heavily in reaching out to the target audience on Instagram. Watch out this space strictly and get your brand active on instagram (even if its B2B).
2. 2017 is Year of Video and Mobile Marketing on Facebook
Facebook has been pushing videos since 2014 and hence they brought autoplay which creates the moment of distraction but that's what stops people by to watch that moving image. Videos help pages get the biggest organic reach. In 2016 there was an increase in video production, video publishing and amplification on Facebook. In the second quarter of year 2016, mobile advertising made up 84% of total sales, up from 72% in the same period a year earlier. Mobile ads– in particular mobile video formats, have been key to driving Facebook's impressive revenue growth. As per Facebook, representatives video ads is seeing great growth. More than 20% of Facebook advertisers, close to about 8,00,000 businesses have created video ads in just one month of year 2016. In 2017, this number is about to rise.
Many brands have started parking big budgets on instant videos, videographics, emotional stories, cartoons based videos and real-time videos. It's time you move beyond series posts and cartoon series whilst move towards clubbing them together to create an amazing video.
According to Zuckerberg: "People are creating and sharing more videos, and we think it's pretty clear that video is only going to become more important. So that's why we're prioritising putting video first across our family of apps, and taking steps to make it even easier for people to express themselves in richer ways."
Some of the pages: Brightside, 5 minutes crafts, Ayurveda and many more have become exceptionally popular because of the simple yet effective videos they have delivered.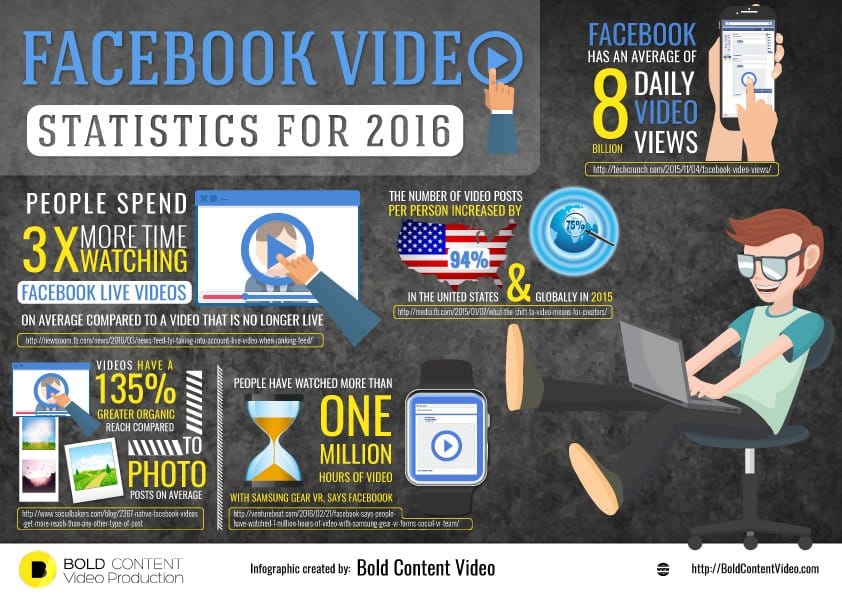 3. Custom Audience Is The Best Niche You Can Create
 If you run a small business and are aiming at driving sales or gaining leads through Facebook, you will have to strongly invest your time and budgets in building an effective custom audience. Jon Loomer in his blog says: 
You can reach out to  people who share your links from website.

You can reach out to audience who have interacted with your posts or a specific post in your community.

Reach out to people who have interacted with your Canvas Custom Audience ads.

Create and reach out to an audience who spend most of their time on your website.

Create custom audience for Lead Ad Form Engagement.

Reach out to Website visitors overall.

Reach out to Website visitors who have visited specific pages.

Specific Database of an audience that you would have built through email ids / phone numbers.
2017 is all about creating smarter custom audiences and creating a personalized experience on the basis of the choice of audience. Gone is the era where you would like to target your posts to anyone and everyone.
4. Quicker Contests Are More Impactful
A brand should always define the contest based marketing strategy as long -term and short-term. A long term is the one that brands run for a long duration that invites stories, videos, images, selfies, tagging etc. A short term contest is where the winners are declared by the end of the day in the same post that announces the contest. Contests that invite quick participation drive a great amount of engagement. 2017 is the year of quick contest strategies, live contests, lucky draw, complete the story, answer a question, quick quizzes, solve a puzzle. There are multiple types that can help you create a quicker impact. Here is an example of a post:

5. Organic Reach is Subjective & Will Continue to Be in 2017
 Many say that organic reach is dead. A research done by Locowise shows that pages with less than 1 post a week have far more reach than pages that post more.
Another research done by Locowise in year 2015, which is also featured in Neil Patel's blog says that pages with lesser number of likes have a more organic reach than pages with more number of likes:
This subject is very debatable as we still see some pages doing brilliant organically especially when the audience has a high affinity towards a particular page (example: ChuChuTV), pages from the media industry have a fairly more organic reach, pages that share a lot of interesting videos (example: Ayurveda, Brightside) and pages that define a content type (example: Wordporn). Here is a best example below: Every-time Word Porn posts content in the below format it has more impact than the links they share.
Remember, year 2017 is all about the post type charm of every page. If people like videos on your page, images on your page, gifs on your page or links on your page more often – they are likely to see that more often and you should continue to follow that style throughout your journey on Facebook pages.
6. Facebook Mobile Ads Will Dominate: 
 As per 2016 Q3 report released by Facebook, Facebook has about 1.66 billion monthly active Facebook mobile users out of which about 1.055 billion are active Facebook mobile only users. These numbers are huge, meaning Mobile is where the eye balls are. One click lead generation advertisements, canvas advertisements, audience network, extended audience networks are worth investing at this point of time. While you drive traffic to your website, you also need to smartly optimize your scroll ads that can drive immediate enquiries to you. Allocate your budgets wisely for Facebook as this platform is going to change the complete digital advertising ball game in the coming years. All thanks to the amount of data they own about people and their preferences.
7. Facebook Live Boosts Real Time
 Brands have started innovating on Facebook Live front in year 2016. Many individuals have started using Facebook Live despite not having broadcasting rights. This is the new craze which is to grow in year 2017. Instagram recently launched Live videos as well.  While brands are trying to run polls currently with Facebook Live being connected with reactions, this space is for people to watch out for webinars, live shows, special shows, live practices, live product launches, celebrity interaction and more. 
AdAge has recently reported that Facebook has started monetizing live videos. For publishers, here is an opportunity to innovate on Live video front and make some quick bucks by allowing brands to place ads in the live stream as video ads, display ads or during the breaks in the live event. These videos ads on the live stream would be drawn from videos that are already promoted through platform. Brands have choice to opt out of live broadcasts. 
It's time you buy your best mobile/camera, get the best WiFi connection and Go live with all the clarity and a great story board. 
8. Bots for Customer Service and Beyond
Facebook Mobile Messenger has about 1 billion users across the world. Bots are helping brands achieve business objective better than mobile website. Brands like Absolut, Timmy Hilfiger, Burberry have used Bots extensively for brand awareness and engagement. The Score, CNN, The Wall Street Journal has used messenger services to drive subscription and companies like L'Oreal, Sprint have used them exclusively for Customer Service. 2017 is about Bots. The image below shows a feature that is more likely to make Facebook a complete experience. 
9. Helpless Local Businesses Can Now Go Appless: 
Facebook recently launched Call to Action button on pages. Local businesses can cash big time on this feature of Facebook in year 2017. They don't have to really invest in Mobile apps as there is a lot that they can customize:
Start Order

– Accept orders with delivery.com or Slice.

Book Now

– Book appointments with HomeAdvisor, MyTime and other services.

Buy Tickets

– Sell tickets with Eventbrite or Ticketmaster.

Get Showtimes

– Provide show schedules and sell tickets with Fandango.

Get Quote

– Give people the option to request a quote for your service. Limited global availability for Pages at this time.

Request Time

– Coordinate your bookings. Available in the US to Pages that have added a Services section.

Shop Now

– Showcase products and let people make purchases from the Shop section. Globally available to all Pages. We're also rolling out a way for posts to be tagged with products from the Shop section.
What else do you think should be added to this list? Would love to hear your views.
At echoVME we have been practising Facebook Advertising ever since the platform was launched, if you are looking for any kind of Digital Marketing Agency services, please feel free to get in touch through the Digital Marketing Consultant page.