Facebook have introduced various new features in the past years providing better experience for the users.  These users include businesses and customers who expect information to be available at their fingertips and these users will reply to their messages as soon as possible. Right from Facebook messenger destination ads to a new custom audience feature there is lot more.
Messenger Destination Ads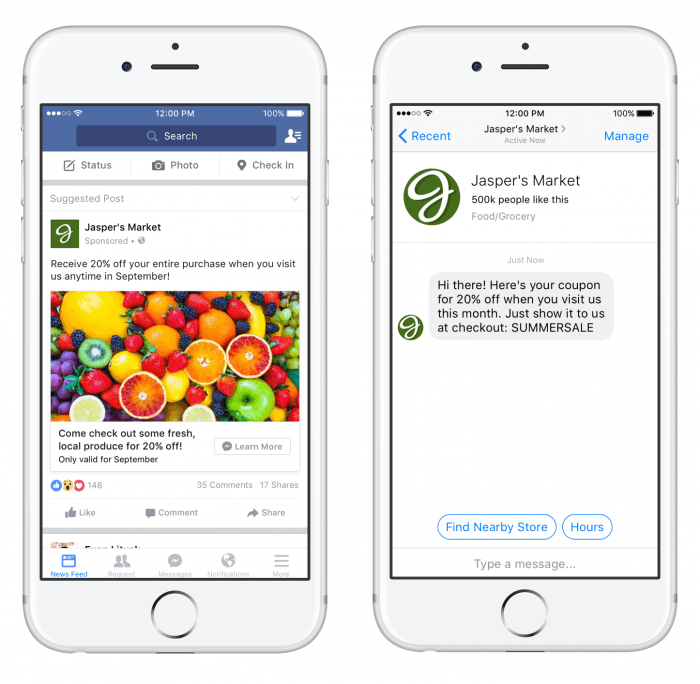 Facebook is now rolling out features for advertisers to drive potential customers clicking on their ads to messenger platform, a new ad destination for businesses to have a conversation with their customer. It looks like any other link share ad; however, all the links will open up a messenger thread with a scripted message for further engagement.
The user is presented with a prepared message — or greeting — within Messenger. That could be a bot or it could simply be the message that the advertiser wants to appear for this ad. The user can take any action on the message received. They can either respond and continue that conversation if they prefer, or act on whatever information is given to them.
With Messenger as a new ad destination, businesses and developers can drive more open threads with customers and people can now click a CTA button in the News Feed ads that opens a thread on Messenger.
How to Create a Messenger Destination Ad
Create a campaign with Clicks to website objective.
Set up the ad like the usual one except for the placement which will not include Instagram.
You will have an option, "Messenger" that will appear below the Canvas. Enter the message that you would want your customers to receive on clicking the ad.
Find new ways to communicate with customers and potential customers through the messenger destination ads. It is preferable to have a bot in place answering questions a customer would ask. Get creative and receive the best of facebook's development.
New Call to Action Buttons
With over one billion people visiting Pages every month, people are already turning to Pages to learn more about businesses. Meanwhile, Facebook leaves no opportunity to surprise us by introduce new updates frequently.
Up until now, Facebook has allowed brands to use call-to-action buttons on their posts and pages, but the actions were limited, which will be connected to third party apps, Facebook partners with. These have been rolled out for US and hoping for it to be soon available in India as well.
Let's see how these call to action buttons work in US. As per, Jon Loomer, a Facebook Advertising expert.
Facebook is partnering with several services to allow businesses to offer a seamless experience for buying a meal, purchasing tickets or booking an appointment.
The current list of services you can avail directly from Facebook:
HomeAdvisor
Microsoft Bookings
My Time
Booker by Booker Software
BookingBug
Front Desk
Porch
Setster
me
TalkLocal
There are also currently two services for making food orders through Facebook:
You can also buy tickets through:
Eventbrite
Ticketmaster
Fandago
How can these Call to Action buttons be integrated?
Note: An individual requires an account with the third party service for them to avail there services through Facebook.
Click on Add a "button" below the cover photo of your page.
You'll then see five different button options.
You can expand each item to get detailed options and click on "see options" for third party integration.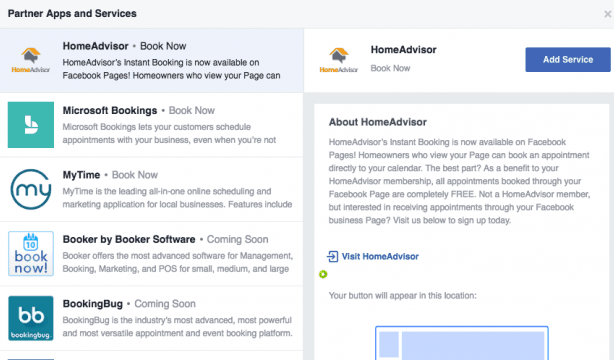 Pick on the service you like and add them to your CTA. You'll then need to log into that account to proceed.
Book Appointments with Messenger
When these services do not fit in your requirements then you can use the CTA buttons to drive appointments and conversations through Messenger.
Here's what will be available:
Waiting for these options to be rolled out soon to all users to try and test this cool new feature.
Create a new Custom Audience of people sharing articles from your Website
A soon to be rolled out feature adding on to give you another audience to target. Earlier this year, Facebook announced some new ways of creating custom audience on basis of engagement on Facebook which had: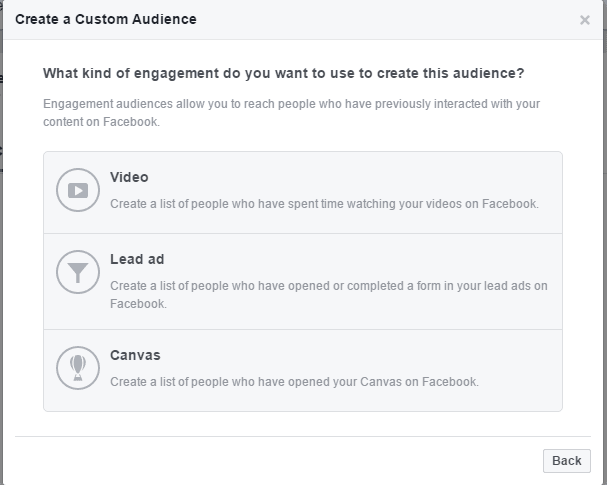 And now it is testing on another audience "Link Sharing", Create an audience based on people who share your content on Facebook.
What is it all about?
Duration of that audience will be 30 days. Anybody sharing or engaging with the content of your website and Facebook will be captured in this audience for 30 days until his/her next visit.
Create an audience of people who shared any URLs from your site or you can enter one or multiple URLs as the source.
A small but highly useful audience as these are the people who have like your content and engaged with it in a window of 30 days.
Track offline conversions received from Facebook advertisements.
The ads dashboard gives us statistics of every campaign but, there are times when potential customers visit your offline store after seeing Facebook advertisements. How do you track these conversions?
Facebook introduced offline events feature in June and by now it has been rolled out to all users. So, with this feature, a offline purchase file can be uploaded and Facebook will match the list with people who have seen that ad or was involved in any engagement. Measurement is the key to understand what, why and how any campaign worked or didn't.
How can you create an Offline event set?
Go to offline events with in your business manager.
Get started with creating an offline event set. Click on the "create offline event" set button.
Give a name and a description to your offline event.
Then, choose the ad account that is to be assigned to the offline event set.
Turn on auto tracking and Facebook will track offline events that are paired to respective account.
The Offline event set is created which can then be uploaded in a csv format or text file or copy and paste the data. The process is same as the data custom audience creation.
Note that: the three types of events you can use are "Purchase," "Lead" and "Other."
Go to next and map the data with Facebook to check the information contained in each column.
The green check is the confirmation of data uploaded. Once done, the offline event is added to your ad account.
While running an ad which requires offline tracking, choose "offline tracking" below pixel tracking.
Select the offline set you created and place the order.
Offline events API will allow you to automatically update your offline events. Whereas, the manual process will not do the same.
Reporting
Click on the "Customize Columns" option within the Columns dropdown.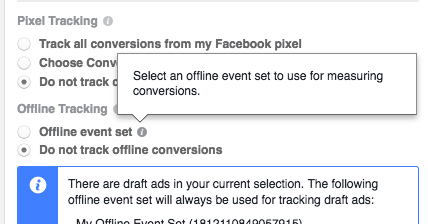 Go to the offline category seen on left.
Add the measurement metric columns required for knowing the offline events of the campaign.
Now that you can track both online and offline events, measuring the performance of campaigns which has an online and offline market will be easier. Tweak your campaigns on basis of your performance. What do you think about the updates Facebook have rolled out and about to introduce after the testing is over? Do let us know your thoughts.
Also read: Facebook Marketing and Advertising Trends for 2017.