I had kept myself busy the past week experimenting with the Facebook Messenger Destination Ads feature. I've picked up a few skills there and would like to share this extremely useful piece of knowledge with everyone.
In this article you will learn:
How to run Facebook Messenger Destination Ads to grow subscriber base.
How to Fix a Facebook Messenger Chat Bot.
How to send regular broadcasts to people through Facebook Chat.
Facebook messenger destination ads started rolling out in September 2016 and is available to every user by now. Leaving no opportunity to market your product or service to your potential audience, we are going to discuss how we can use Facebook messenger and bots to interact with our customers in this article.
What is Facebook Messenger Destination Ad?
The concept is simple where you drive people to Facebook messenger when they click on the ad. It looks like the normal website click ad on your news feed, taking you to a conversation within the messenger. The message can be a greeting or a solution to the problem the user is looking for. You can also connect it to your messenger bot, to answer and interact with the user. The prospect can either ignore or take actions as they move forward.
How to activate it? A step by step process
1. Choose the objective: Website clicks i.e., Traffic
Use the clicks to the website's objective which is named as 'Traffic' in your Ads manager dashboard. Here the objective is to drive the users, who click on the ad, to their messenger instead of a website or a landing page. You can begin by naming your campaign.
 2. Set up your advert set
At the advert set level,
Define your potential audience
Set a budget (daily or lifetime)
Choose the placement of your advert
Schedule the time period you want to run the ad
You can always check your potential reach of the audience targeted and the estimated daily reach of the budget set.
Note: Messenger can only be used in the desktop and mobile newsfeed. You cannot select Instagram audience network or right column advert placements.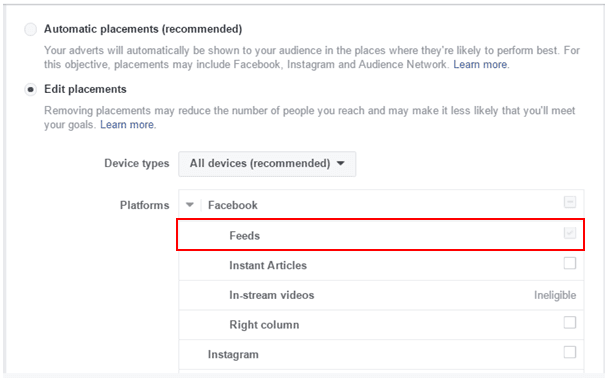 3. Set up your advert
The next step after setting up the advert is to choose the format, upload the image and set up the destination. Select the Facebook page that represents your business. You can choose how you want your advert to look and what you want to communicate through it. Facebook provides multiple options to creatively present your product or service to the potential audience.
Image specs specifications: It is the same as normal click to website specification i.e., 1200×628 pixels or image ratio- 1.91:1. Do not forget the 20% text rule as your reach might be lesser.
There are few other components of an advert:
Text: This appears above your ad and is a description to what you are selling.
Headline: Highlight the USP of your product or the service which motivates the audience to click on the ad.
Call to action: The content is your messaging and the call to action button helps the user identify what will happen when they click on it. I chose the "Contact us" button because the objective of the ad is to connect with the user.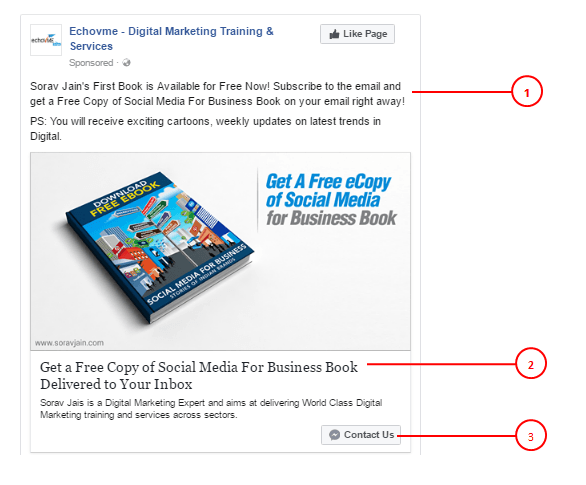 4. Choose Messenger as your destination
The prime difference between the making of a messenger destination ad and clicks to website ad is the destination you choose. Check the Messenger option for the former and the Website URL for the latter.
You can enter your message under the messenger text that will reach the people who click on the ad. There is another option available to structure your message:
You can use JavaScript Object Notation (JSON) to create a structured message that can include text, media, quick replies and a call-to-action button. People who click on your advert will receive your structured message.
5. Place the order
Your campaign is all set and you can place the order after reviewing it once, not losing on any aspect of the process. Keep a check on your messenger and respond to the customer queries for some great interaction.
This process can be automated by using bots. Bots are built to give automated responses, guiding the user to either solve a problem or for a purchase.
Facebook Messenger alone has over 1 billion monthly users  that send upwards of 60 billion chat messages a day and messenger bots can boost your interaction to reach a whole lot of mobile users. So, the above procedure will drive users to your messenger for a one to one conversation.
Now we come to the second step i.e., activating a messenger chatbot to interact and have a smarter way to receive/give information.
How to activate automated bot?
Create a personalized experience for your users by building a thread of messages and giving all possible answers to questions they are likely to ask. Your chatbot will be ready to respond to your customers with the features you build like images, text and call to action.
Send/ Receive API: Responses are in the form of images, text and call to action developed from a user point of view.
­­Generic message template: To make the experience fun and interactive, structured messages with call to actions, horizontal scroll, URLs and post backs are built to drive individuals through beautiful images and buttons rather than talking to a programming platform.
Welcome screen + Null state CTAs. Draft a message thread and customize it for a fine user experience. When people enter a conversation with a brand on messenger, a welcome screen with a greeting and a call to action to "Get Started" would initiate an interaction with your business.
Here are sample of channels which has messenger bots integrated. These two are echoVME's clients and for WINK Salon there are close to about 1000+ subscribers.

It is the need of the hour and businesses would also be only a click away.
According to a study by technology company Retale, 60% of the 500 Millennials surveyed have used chatbots. Chatbots are artificial intelligence in itself and if used in the right way, they can be used as a medium to promote your brand to the next level and convert prospects into loyal customers.
Besides the developers, marketers can create bots through these bot making tools available online:
Connect, Broadcast and Engage
We have learnt how to start a messenger destination ad and then further how you can use chatbot to send instant replies to the messages you receive. Now, I am introducing you to a step by step process of the ad I executed to increase my subscriber list with a chatbot.
While there are many free tools to creating a chatbot for your messenger, I am using chatfuel.com to increase my subscriber list and further send broadcasts that will help me share my knowledge about Digital marketing to my subscribers.
Read How To Create a Facebook Messenger Chat Bot to fix a chatbot for your Facebook business page.
How to send regular broadcasts to people through Facebook Chat
Once your chatbot is connected to your Facebook business page, this tool will record the number of people interacting with you on messenger and further help to send broadcast to the same people.
Select your chatbot and go to Broadcast from the menu on the left hand side.
After you have clicked on "Broadcast", draft a message for your audience and choose the cards that best fit in like text, gallery, image etc. You can choose the delivery schedule according to your convenience. I chose to deliver immediately and my broadcast content is one of my blog on "Certification That Will Add to Your Credibility".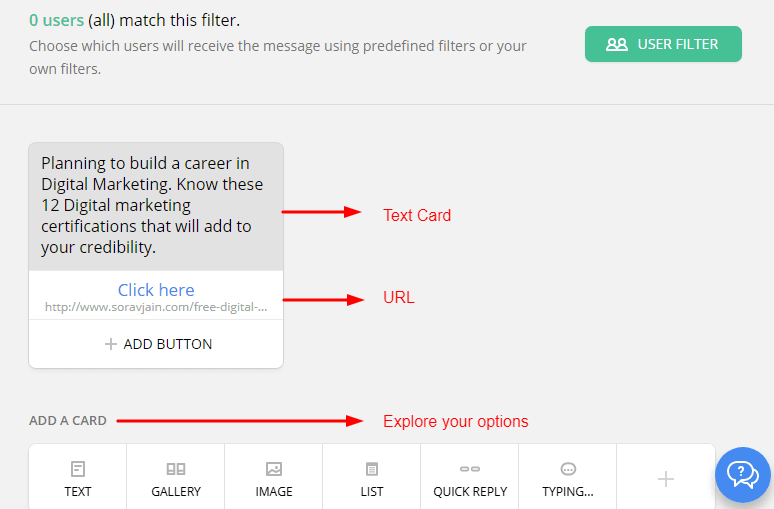 Delivery schedule: Choose your broadcast type from the below options and create content that will create good interactions. Make sure you don't spam your audience.

Deliver Immediately: Send your message the very moment with this option
Sequence: Sequence your message on basis of interaction and the time frame you make to send a message after the interaction. Like for example, send a message 1 minute after the first/Last interaction.
Schedule: Schedule your broadcast that will be received by everyone at the same time you mark it for. Set up daily, weekly or monthly broadcast at a specified time.
Autoposting: Here, you give an external source from which any new content can be automatically sent to the users.
The number of broadcast you send will be listed in the same tab. You can also check the metrics of how many messages have been sent and read.

Results:
You can test and try variations in your content, time the message is delivered and more. The opening rates of these messenger broadcast were higher than the usual email marketing broadcasts. Daily active Facebook messenger users are growing everyday and you can find better interaction on it. Off 281 unique messages delivered, 116 of them read the message. This is a must try to know if your business can profit from the potential audience on messenger for greater interaction.
Try these platforms to create a rich personal experience. What is your take? Let us know in the comment section below.