Facebook, was the first proper mainstream Social Media, that has both the common people and brands hooked up. While it helps people to communicate and connect, it helps brands target audience worldwide, which is not possible through traditional marketing.
The vastness of its user base has made Facebook the most populated place surpassing China's population by a Billion mark! To make this number grow even further Facebook has announced some big updates that will hit the market within this year.
This Social Media giant has some insane usage stats and it shows no signs of stopping.
Here are a few Facebook Usage Statistics:

On average, people spend 35 mins daily on Facebook
Users visit Facebook 8 times a day on an average
There are 1.57 billion active desktop users of Facebook
There are 1.74 billion active mobile users of Facebook
By May 2018, Facebook disabled 1.3 billion fake accounts
There are 1.2 billion users on FB messenger
There are in total of 2.27 billion monthly active users Worldwide
49% of users like pages to support brands
93% of marketers use FB advertising
Only 6 million advertisers are active on Facebook
60 million business pages on Facebook are active
$1.72 is the average cost per click (CPC) for Facebook ads across all industries
9% is the average click-through rate (CTR) for advertisements
Facebook contributes a 19.7% share in the global advertising market
An average click-through rate was 8 on Facebook ads in the past 30 days
Facebook has 8 billion average daily views
Facebook was the first Social Media Platforms to make the words, 'Like', 'Share', 'Comment' a day to day slang among its users.
Here is a list of Stats pertaining to the likes, shares, and comments: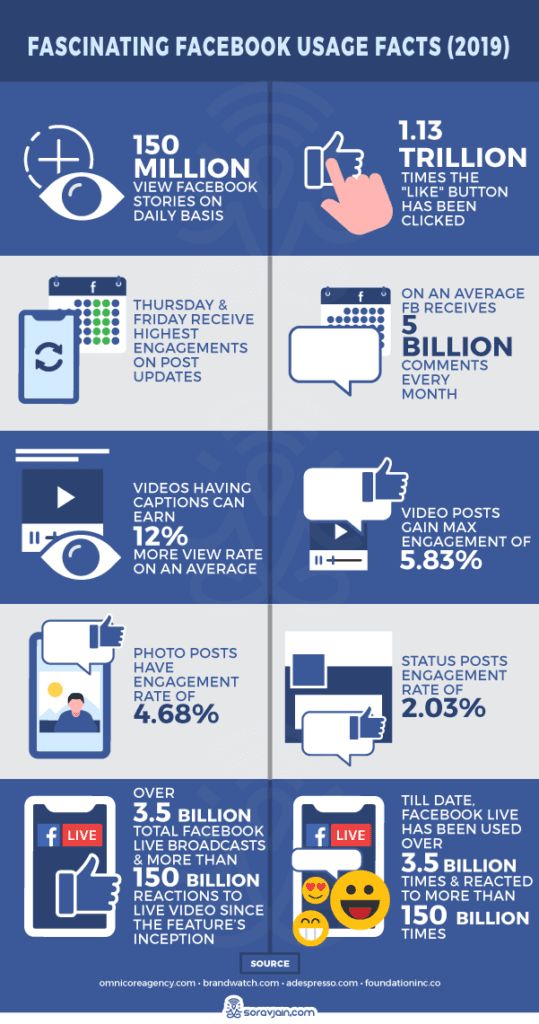 There are 150 million views to Facebook Stories on a daily basis
Total of 1.13 trillion times the "like" button has been clicked
Thursday and Friday receive highest engagements on post updates
On average, Facebook receives 5 billion comments every month
Videos having captions can earn 12% more view rate on an average
Video posts gain max engagement of 5.83%
Photo posts have an engagement rate of 4.68%
Status posts have an engagement rate of 2.03%
From messaging to connecting, Facebook has a dynamic Interface with so many options to choose from.
Here are a few stats based on the Users' activity on the platform:
There are 400 new Facebook users every minute
Over 22% of the World's population is online
Users upload 350 million photos every day and 14.58 million photos per hour.
Every 20 minutes, 20 million friends request are sent, 1 million links are shared and 3 million messages are exchanged.
Only 28% of Facebook friends are considered to be genuine or close friends.
39% of users are connected with people on Facebook they never met in person.
Facebook can be accessed in 101 languages with over 300,000 users helping in translation.
On average, each user has 155 friends on Facebook.
83% of parents are FB friends with their children
58% of users are friends with their work colleagues on FB
85% of users watch videos on mute, while 80% of users get annoyed when video auto-play sound.
Facebook is banned in North Korea and China
Facebook Mobile app and Facebook Lite has made it easy for people to access Facebook anywhere and anytime.
Take a look at a few Smartphone Stats:
85% of smartphone users are on FB.
There are over 2 billion smartphones globally.
India has the biggest base of Facebook users.
Here are some Facebook facts related to India:
India Has over 241 million monthly active users on Facebook.
There was a hike of 27% monthly active users in India in the year 2018.
Facebook has the highest potential reach of Facebook Advertisements accounting over 294 million audiences.
"Narendra Modi" has the largest audience of 43,550,970 fans.
Just like many other Social Media channels, Facebook is also a youth-centric one. With easy access to smartphones and cheap internet, the Youth category of people has given Facebook the big swing of 2 Billion.
Here are some Facebook Demographic Data: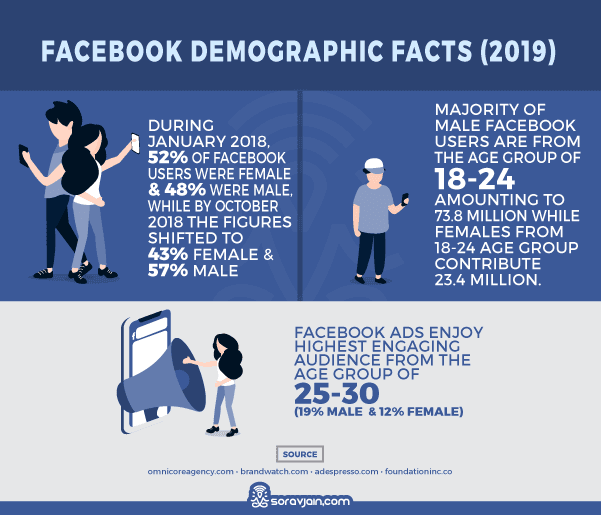 During January 2018, 52% of Facebook users were female and 48% were male, while by October 2018 the figures shifted to 43% female and 57% male.
Majority of male Facebook users are from the age group of 18-24 amounting to 73.8 million while females from 18-24 age group contribute 23.4 million.
Facebook ads enjoy highest engaging audience from the age group of 25-30 (19% male and 12% female).
These stats prove that Facebook is a mean to achieve a huge influence and it just cannot be ignored in anyone's marketing strategies.
What thing about Facebook left you in awe?