For all the retailers who are looking to communicate a lot more than a single image or video, Facebook is rolling out a new ad format which is a combination of both storytelling and product display in a single advert called COLLECTIONS. This new ad format is gradually rolling out and will give marketers a newer way to present their products in an advert.
Similar to Canvas, this ad format can be targeted to mobile users only and gives a fast-loading, full-screen shopping experience but highlights the products within user's Facebook app before driving them to the website to complete a purchase.
Facebook Business addresses that "Shoppers expect fast-loading, seamless and engaging shopping experiences on mobile. That's why we created collection, an advert format that makes it easier for people to discover, browse and purchase products in a visual and immersive way."
 Let's explore all about Collection
Available only for mobile users, this ad shows up in users' newsfeed with an image or a video communicating your story and 4 product images below that. Tapping on any of the product will take you to catalog of 50 other products to browse through. The users do not leave the Facebook app until now, clicking on the products you like will drive you the retailer's website to make the purchase.
Before you start running an ad, you will have to create a product catalog on your Facebook page.
How to create a product catalog?
A product catalog is a container that holds all your product information you want to advertise.
Step 1: Go to your advert account, under the drop down click on all tools. The product catalog is to be found under the assets category.

Step 2: Click on the button: Create a catalog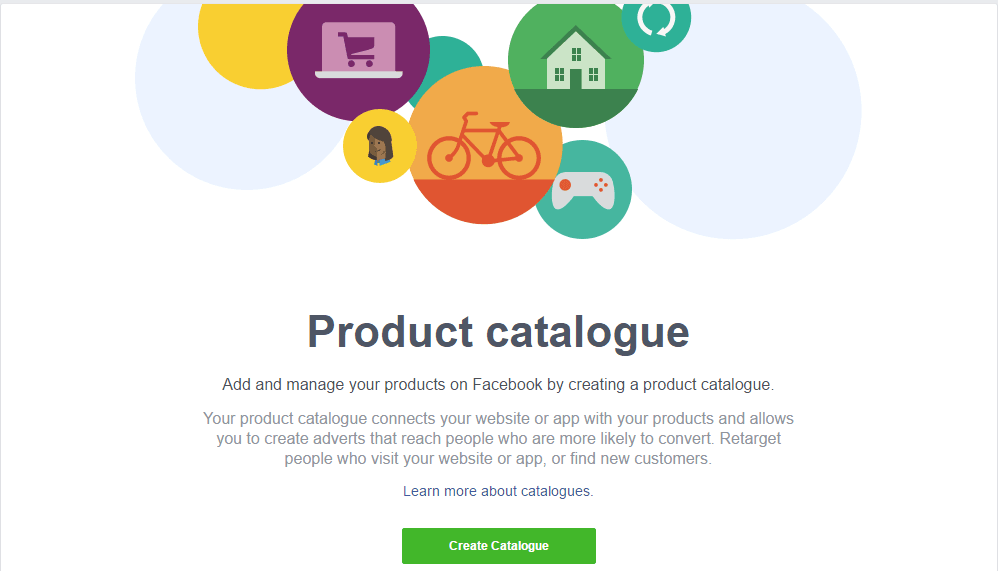 Step 3: Name your catalog and choose the catalog category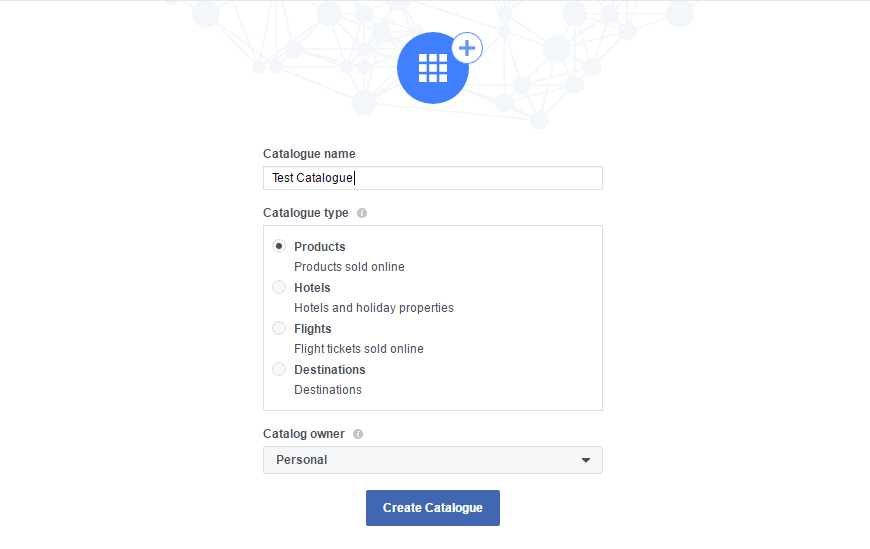 Step 4: To upload a file of products- Add Product Feed and enter the details asked for:
Name your feed
Choose the currency
Upload type: Choose single upload if there are no frequent updates in the product feed or you can select scheduled recurring uploads if you have an existing product catalog.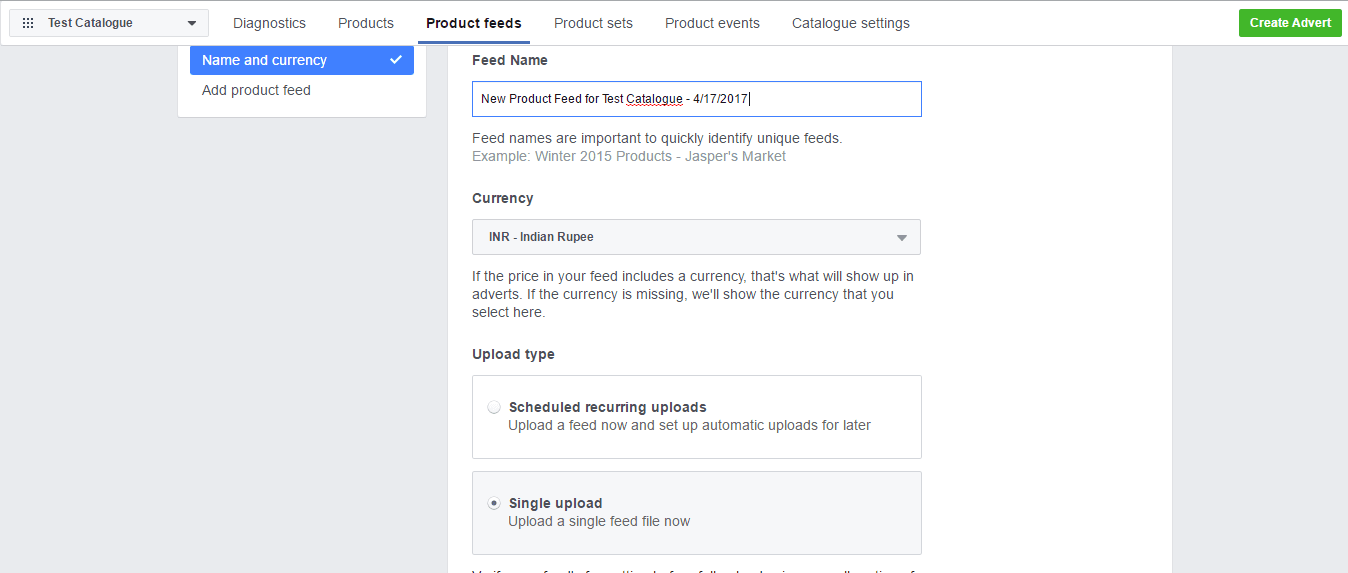 Step 5: Once the above details have been filled, go next to upload a CSV file with the details of the product. Make sure you have the following details in the file you are going to upload:
ID
Availability
Condition
Description
Image_link
Link
Title
Price
Gtin
Mpn
Brand
Step 6: The upload is done and it is now to be approved by Facebook before use. Facebook asks for 24 hours to approve, though it is not a long wait.
Your product catalog is ready to use and you can proceed with creating an ad using the collection ad format.
How to Create an Ad using Collection
1. Objective: Choose either conversions or traffic as your objective
2. Set up your advert set: Create your advert set as you normally do except for the placement. Since it is only for mobile users, select placement as newsfeed and device type as mobile only.
3. Now choose the ad format as collection at the advert level. Upload an image, video or a slideshow which will appear above the product. Enter all the required details such as; Facebook page, headline, text.
Note: The image specs will be like the normal conversion/ traffic campaign i.e, 1200×628 and 20% text rule is to be considered for wider reach.
4. Then select the product catalog you created. You can split it into product sets to control which product appears in your ad by clicking on + button. Among the list of filters available choose that fits for you the best.
5. Once you have completed setting up the catalog and feeds, you can check a preview and change the default image thumbnail with the image you want to feature. The image specs of the thumbnails are to be square (suggested: 1200 x 1200 pixels).
6. Review your order and place it.
The purpose to sync your product catalogue is that the social channel can choose which product is to be highlighted, "as relevant as possible for the consumer" said Facebook monetization director Maz Sharafi.
NEW METRICS: Outbound Click Metrics
With Collections, Facebook is also rolling out new metrics to measure outbound click metrics. This metric will give a better picture of path a user takes and when they leave Facebook through the ad. Outbound clicks are optimized for creative ad formats like canvas and collections giving advertisers an opportunity for better assessment.
When we talk about metrics, it is important that your Facebook pixels are rightly placed without which your efforts of giving an immersive and integrated experience to users cannot be measured.
Facebook also introduced WooCommerce, a new integration for setting up your pixel. If your brand is on WooCommerce, this new extension on Facebook can help you automatically place Facebook pixel in all the pages of your website in just few steps.
With number of other integration available like Magento, Shopify, BigCommerce, Segment and Google tag manager, WooCommerce is one another integration that can be used by the businesses on this platform.
Unlike these integration tools, placing the pixels correctly for a non-tech savy marketer is onerous. The pixel code is to be sent to the developer of your website and should further placed manually in each of your website's page according to the events.
With number of other integration available like Magento, Shopify, BigCommerce, Segment and Google tag manager, WooCommerce is one another integration that can be used by the businesses on this platform.
Is the new ad unit rolled out to you? Have you put it to use? Do let us know your thoughts.