Google Adwords Certification and Google Analytics Certification is one of the important certifications for a digital marketer as it is immensely recognized by expert Digital Marketers also by the companies who are recruiting digital marketing professionals. This certification is a brilliant way to test your knowledge in Google Adwords and let the world know that you are pro at it by passing the exams. As you clear the exams you get a certificate and also a Google Partner status that you can proudly showcase on your resume or website.
Honestly, I write these exams just to test my knowledge and you should write it for same purpose too! You cannot claim to become a PPC expert or Google Analytics expert just by cracking these exams – you need to prove the point by running some absolutely fantastic search  / display campaigns. Use this article as an opportunity to learn about Google Adwords and also take up examinations at the later part of your learning process.
Google Adwords and Analytics exam wasn't free before, you had to pay US $ 50 to US $ 100 in order to take the examination! It's completely free now. You can re-attempt the examination even if you fail – you just have to wait for a week. Log on to Google Partners using your Gmail Id to begin your Google Adwords Certification journey.
In order to get the certification you need to clear 2 out of 6 exams listed below: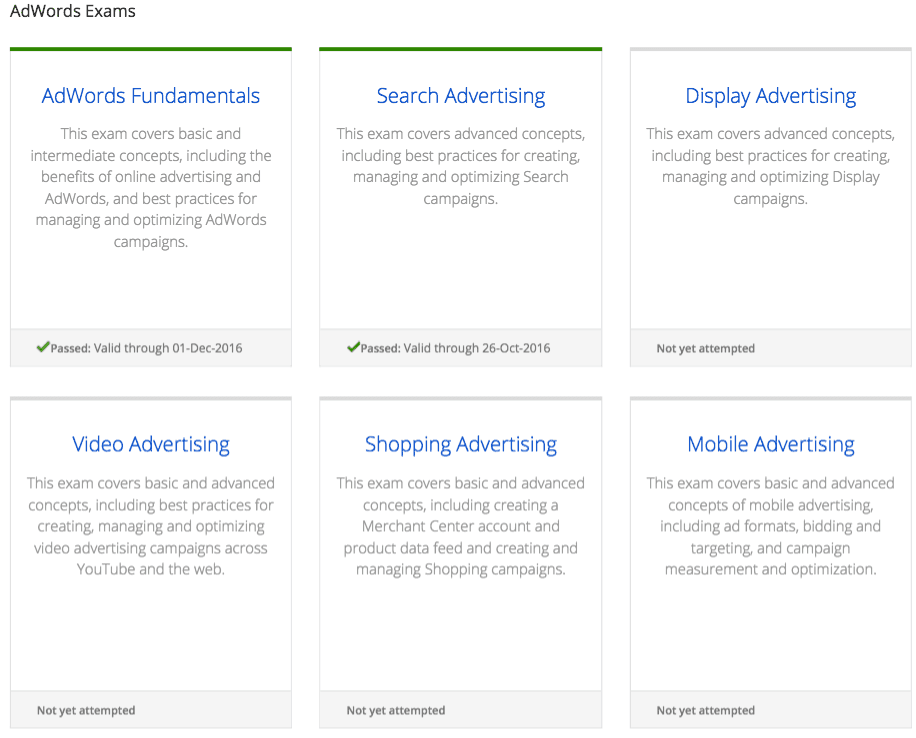 Subject 1: Google Adwords Fundamental is a mandate online test that you need to crack. The test has about 100 multiple choice questions. You will have to crack these questions in 120 minutes with a minimum score of 80. If you fail, don't worry you can give your exam again! This test has a validity of 12 months.
How to prepare for Google Adwords Fundamental Exam? 
Subject 2: Google Adwords Search is a little detailed subject, but this is one of the most important subjects from the list of 6 mentioned. You might find other ones easy to crack and clear, I would recommend you to crack this one as it is crucial to have knowledge in search advertisement for you to become a Digital Marketing Expert. Search Test has 98 questions and can be cracked in 120 minutes with 80% passing score. This test has a validity of 12 months.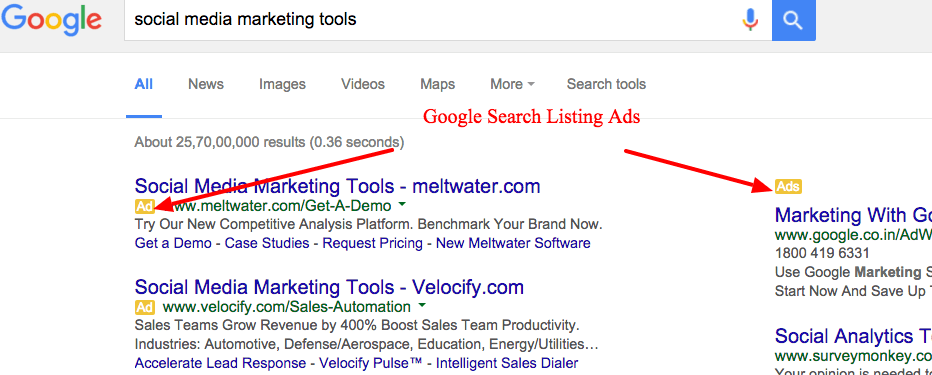 How to prepare for Google Adwords Advanced Search Advertising Exam?
By cracking the above two examinations I received my Google Adwords Certification. You can take a printed version of the same from your Google Partners account. You can also link your online profile to your Google profile that displays your certification.
Just for my satisfaction, I will also be taking the rest of the 4 exams:
Subject 3: Display Advertising – This exam covers advanced concepts, including best practices for creating, managing and optimizing Display campaigns as per Google Partners. You are given 120 minutes to crack 100 questions. 80% is minimum passing score and the validity of this examination is 12 months. By learning about Google Display Advertising you can make your advertisement copy super creative for re-targeting which can help in strong brand recall.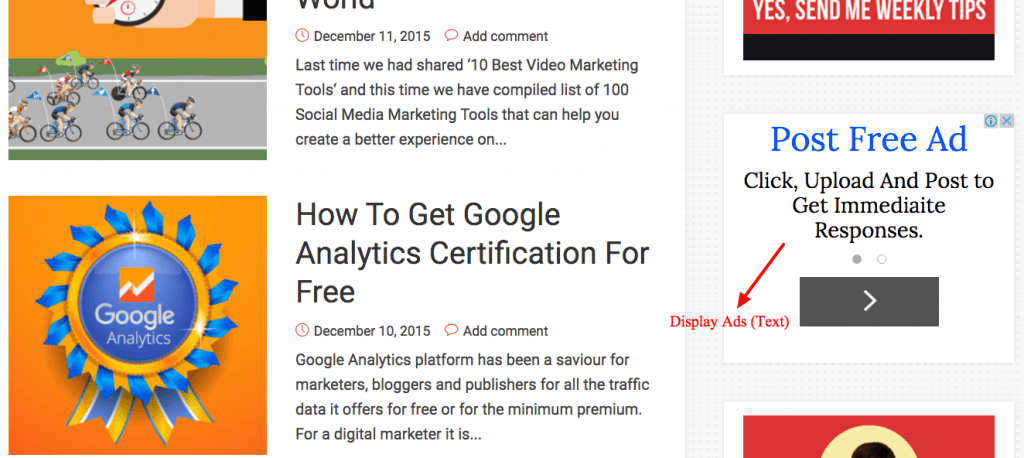 How to prepare for Google Display Advertising Exam?
Subject 4: Video Advertising is one of the best things to learn on internet today as Video ads are becoming more prominent as it comes along with an entertainment factor or they are visually appealing and engaging. There are more NLP factors associated with video advertisements. YouTube ads which comes along with Skip buttons or without skip buttons – everything about it can be learnt using this subject.
How to master Video Advertising Exam? 
Subject 5: Shopping Advertising is a great thing to learn, especially if you are interested in ecommerce marketing. Product listings, image specifications are few crucial things to discover from these lessons. The shopping advertising exam just has 63 questions which needs to be cracked in 90 minutes with 80% passion score.
How To Prepare for Shopping Advertisement Examination? 
Subject 6: Mobile Advertising is a crucial subject to learn if you have invested heavily in a mobile site or run an application on Google App Store. Today 80% of traffic for most of the websites come from mobile website and it becomes extremely important for you to create interesting mobile advertising campaigns in order to attract the mobile internet surfers. Mobile Advertising has 70 questions to be cracked in 90 minutes with 80% passing score.
How to Prepare for Mobile Advertising Exam?
I sincerely hope you have taken the above exams of planning to take! When we recruit people at echoVME for the post of Digital Marketing executives or Digital Marketing Head, such certification helps us build a trust factor. So, please do take up these exams and start working towards becoming a 'Digital Marketing Expert'.
Do you have any questions for me? Please feel free to ask, I would love to answer your queries.