Looking for BEST as well as free keyword research tools for your SEO campaign?
Then you are in the right place, read this blog till end to know more about list of 8 free keyword analysis tools, price, and more
Did you know a simple KEYWORD RESEARCH on internet could actually help your business become successful?
Keyword is nothing but the word that you look for in the search engines while probing for a product or looking for a solution or finding answers to your question.
Finding the right set of keywords is most vital in the field of online marketing.
Every marketer should be in a position to pick up the right and the relevant keywords that make sense to the brand and the demand fulfillment process of the business.
Why keywords matters in SEO
Do you agree keyword plays a crucial role in digital marketing?
If you are still creating content without your core focus on keywords, you need to read the below fact:
Eventually, ranking a key term of your page in the search engine results can make or break your business in the internet world.
If you can drive traffic organically there is nothing like that!
For organic traffic you need content and for the right content you need to understand 'Keywords' .
As per a report by Tung Tran, 80-90% of the marketers fail to research and find suitable keywords for their brand.
Remember, selecting wrong keywords can even damage your brand value.
So here we take some effort to make you understand the categorization of keywords:
Types of keywords
There are two types of keywords. First is Broad Keywords and other is Long Tail Keywords.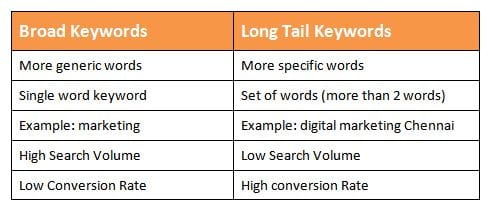 Broad Keywords
Broad keywords are usually short or single word relevant to your brand, industry or competitors, with very high search volume.
Broad keyword is generally very costly and drives less Click-Through-Rate (CTR) in both organic search and paid search.
Understanding long tail keywords
Long tail keywords are usually long words or set of words which are more specific to your business and the search volume is low.
Long tail keyword drives more CTR than Broad keywords.
As per the reports, the percentage of the CTR for long tail keywords is usually more and the quality of leads has better relevancy score.
There is no guarantee that all long tail keywords will work for you, but the traffic is mostly relevant when you use long tails keywords that makes sense to your business.
It is crucial for you to do your keywords research right and this article will help you do your keywords research.
How to do keyword research
There are numerous ways out there to research for potential keywords.
First and foremost way is using the keyword research tools. We have listed 8 free keywords analysis tools below, with a quick guide on how to make use of them.
Second is you can run a spider check on your competitor's website (who are competing organically with you) to collect more keywords.
You can find your long tail keywords in Google search results as well.
Check the tool #1 for more info. This small section may be your gold mine to find out your suitable keywords.
Okay, now let us see how can use free online keywords analysis tools for your business.
List of 8 best free keyword analysis tools in 2021
#1 Google Search Suggestions
Last month I was thinking of write an article on the topic "SEO Techniques". So I was researching suitable keywords for my article.
My way of finding Long Tail Keywords was simple. I made a search query on 'SEO techniques' and got some 10 results by the search engine.
At the bottom of the search page I saw a list of related keywords by Google.
I picked the topic "Off Page SEO Techniques", wrote a blog and published, within a week the blog started ranking on top and got thousands of visitors in a very small span of time.
#2 Google Keyword Planner
'Keywords Planner' is a Google product that can help you research keywords along with data like Average Monthly Searches, Average Cost-Per-Click, Adwords Competition, Adgroup Ideas etc.
This is a brilliant tool for you to quickly identify the keywords and group them together. In fact, this platform can help you get the grouped keywords.
How Google Keyword Planner works:
Step 1: Go to https://adwords.google.co.in/KeywordPlanner
Step 2: Login if you have an account already in keyword planner or signup with your Gmail id.
Step 3: Enter your root keyword or landing page in search box and click the button "Get Ideas"
Step 4: Now pick your suitable keywords from the list.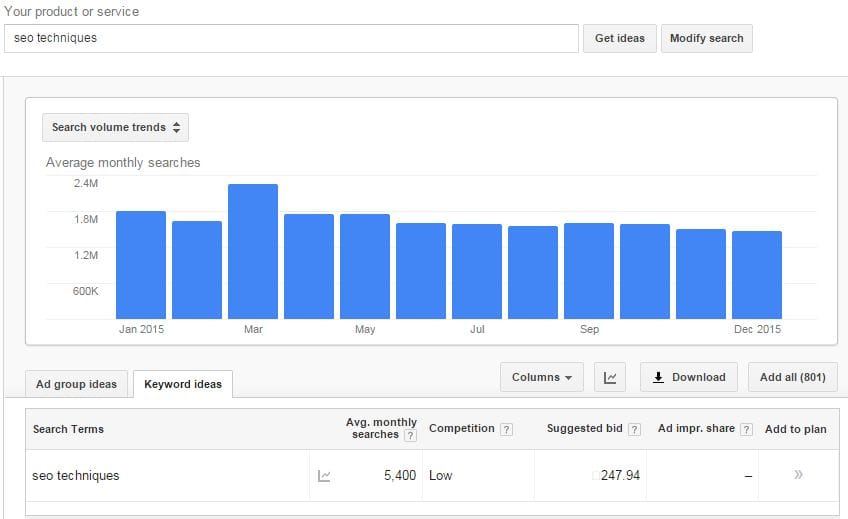 #3 SEMRush
'SEMRush' is another important tool to find your competitor's SEO and SEM keywords. It is highly important to dig deep in your competitor's strategies to beat the competition.
This is an excellent tool that you can use to spy on your competitor's activities. This tool is available with 29 databases in 27 regions and 17 languages.
How it works
Step 1: Go to semrush.com
Step 2: Enter the root keyword in search box.
Step 3: If you are not aware of root keywords, then enter your competitor's website that you believe are doing brilliant in the internet space.
Step 4: Select the target country you want to focus on.
Step 5: Export the keywords in excel format.

#4 Ubersuggest
Another free keyword tool is 'Ubersuggest', you can instantly get hundreds of keyword ideas and suggestions from real user queries!
How does it work?
Step 1: Go to ubersuggest.org
Step 2: Enter root keywords in the search box.
Step 3: Select a language and a source in dropdown. This tool usually gets suggestions both from regular Web search and from other search verticals like Shopping, News and Video.
Step 4: Ubersuggest takes your root term which you entered in search box, add a word or a digit in front and back of it, and extracts suggestions for it.
Step 5: You can click on each suggested word to get further suggestions based on that term.
Step 6: You can take those keywords which are relevant to your business.
#5 Internet Marketing Ninja
'Internet Marketing Ninja' is a keyword combination tool, where one can get the list of permutation and combination of keywords. You need to enter two things before generating the ideas. One is list of main phrases for which you want to add a prefix or suffix.
Once you get on the platform, you will see two columns. Enter the main phrases in first column and enter the prefix and suffix words and then press enter.
#6 Wordtracker
'Wordtracker' is another tool where a marketer can collect high performing keywords in minutes.
All they need to do is just enter a single word in the search box and they will get the relevant keywords along with some useful data like volume, competition and KEI (Keywords Effectiveness Index: a formula to achieve high ranking in the search engines.
It is a mathematical representation of popularity of keyword measured by the number of people who are searching (we can call it as demand) compared to the popularity of the number of search engine indexed pages with the relevant keywords).
#7 SEO Book Keyword Tool
'Keyword Tool' from SEO book is helpful to collect the related keywords along with data like monthly searches, daily searches, average CPC etc. With this tool one can export all the suggested keywords in to excel with a single click.
How it works:
Step 1: Go to the seobook.com
Step 2: Register an account (You need to have an account to use this tool)
Step 3: Access the tool with the login credential
Step 4: Enter the root keyword in the search box and press submit button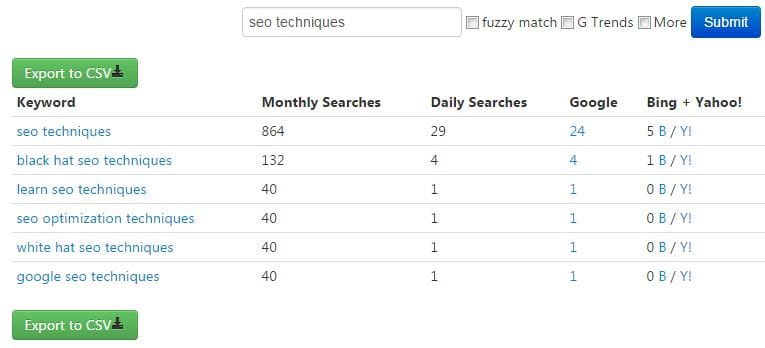 #8 Keyword Discovery Tool
'Keyword Discovery Tool' is another pioneer in keyword research innovation.
One can find the long tail keywords as well as generic keywords using this tool.
The suggestion of keywords are compiled and collected from nearly 200+ search engines in real time.
Be a smart digital marketer and reap the benefits of finding the right kind of potential keywords by avoiding keyword selection mistakes.

It's Your Turn Now!
These are some of the tools we use at echoVME – Digital Marketing Training and Services. Do you know of any other tools, which can help Digital Marketers to make their keywords research process easier?
This article was contributed by Karthik, Digital Marketing Head at echoVME under the guidance of Sorav Jain, Thinker in Chief – echoVME.